Boston Celtics:

Ronny Turiaf
April, 2, 2012
4/02/12
10:00
AM ET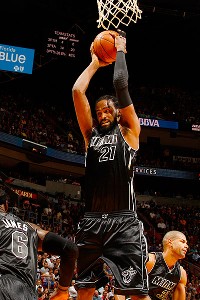 Issac Baldizon/NBAE/GettyRonny Turiaf at work for the Heat.
BOSTON -- Heat center Ronny Turiaf turned in 6½ underwhelming minutes during Boston's 91-72 triumph Sunday at TD Garden. Turiaf, who picked the Heat over the Celtics after being waived last month, got whistled for three fouls in under four minutes during his first stint, then missed the only shot he took on the night. Before the game, ESPN Boston's Peter May caught up with him to see how close he came to signing with the Celtics and to see if he's reached out to Jeff Green and Chris Wilcox to talk about their aortic ailments:
On choosing Miami over Boston:
"Boston came up close. It was down to the final two or three teams and I made a choice to go to Miami based on a whole bunch of factors. But Boston was a team I was very, very interested in by the simple fact of the way they play defense, that they are being coached by a future Hall of Famer coach and they have Hall of Fame basketball players on their squad. It was very appealing to me."
On having a second Frenchman [Mickael Pietrus] in the C's locker room
: "To be able to play with one of my national team members and friends would have been something very special. Unfortunately, it didn't happen."
On reaching out to Chris Wilcox
: "I want to reach out to him. It has been so hectic these last couple weeks and I didn't have time. I reached out to Jeff [Green] and I was going to use this opportunity to try and get [Wilcox's] phone number so I can reach out to him, because that's something that's very, very important to me. I have talked to many, many people about what it's like to go through this ordeal."
March, 21, 2012
3/21/12
2:04
PM ET
To quote
Queen
: And another one gone, and another one gone, another one bites the dust...
AGENT: TURIAF TO SIGN WITH THE HEAT
The Miami Heat are expected to add the size they have been looking for to their roster by signing veteran big man Ronny Turiaf, agent Mark Bartelstein said. Turiaf is expected to clear waivers today and could be in uniform by Friday when the Heat play at Detroit if the contract details can be ironed out. "We're trying to get a deal done and our plan is to get it done today," Bartelstein said Wednesday. "I think it it's a great fit for Ronny."
Talking to Bartelstein earlier this week, it seemed like a chance to win a championship was Turiaf's No. 1 priority and Bartlestein stressed that his client wanted to go to a top-caliber contender. The insinuation there -- and maybe it's not overly surprising -- is that players with a chance to pick their destination see better opportunities for playoff success elsewhere.
March, 19, 2012
3/19/12
1:38
PM ET

Celtics coach Doc Rivers told reporters at the team's morning shootaround in Atlanta on Monday that Boston is getting closer to adding a big man.
"We're close with a couple of free agents that we've looked at, but we'll see," Rivers said, according to the
Boston Herald
.
If something is imminent, don't expect it to be Ronny Turiaf, whose agent Mark Bartelstein indicated this afternoon that his client must still navigate the waiver process after being released by the Nuggets, then could take some time to assess his options with the goal of signing with a top contender.
That's not to rule out Boston as a potential landing spot and Turiaf drew immediate interest from the Green. But it's clear that Bartelstein is expecting numerous opportunities for his client and that could drag out the process.
As for a report earlier this week that said Bartelstein believes client Marquis Daniels is a buyout candidate, the agent noted Monday that it's merely a possibility depending on what the team envisions for Daniels' role moving forward and that the situation should play itself out this week. After struggling to get on the floor since late January, Daniels chipped in 8 points in 20 minutes of floor time in Denver.
March, 18, 2012
3/18/12
4:38
PM ET
Pierre Andrieu/AFP/Getty ImagesRonny Turiaf at work for his national team.
With news that the Denver Nuggets have waived recently acquired center Ronny Turiaf (received Thursday from the Wizards in a three-way deadline featuring Nene, JaVale McGee and Nick Young), the natural question for the big man-craving Celtics is whether they should be interested in pursuing him. A few things to consider:
* Turiaf is nursing a broken left hand he suffered in a game, coincidentally, against Boston on Jan. 1. More from the Washington Post, from an article earlier this month, detailing his slow return to action:
[Turiaf] said the Wizards' medical and training staff has been especially cautious with him since he injured the same hand last summer while playing for the French national team. "If it was just me, choosing to play, I would've been back a long time ago," Turiaf said. "They are putting the strain on myself, on me, because they know sometimes, I may not be the most rational guy when it comes to helping teammates and to do stuff."
* Injuries have limited Turiaf to four games and 14 minutes of playing time this season.
* When Turiaf is healthy, he's a rather efficient offensive player. In 64 appearances for the Knicks last season, he averaged 1.085 points per play, ranking him in the 95th percentile among all NBA players. He's actually one of the best at rolling to the hoop in the pick-and-roll and excels as a cutter. Don't get too excited, it only translated into 4.2 points over 17.8 minutes per game, but it shows that good things happen when he gets the ball.
* Defensively, the news isn't as sunny. Turiaf is middle of the pack, allowing 0.89 points per play last season (53rd percentile). His career defensive rating is 107 (and was only slightly better in his time with the Lakers than the Warriors and Knicks). And this may be the deal-breaker: Turiaf just isn't that good on the glass. For his career, he's averaged 3.8 rebounds over 17.9 minutes per game, but his total rebound percentage is just 11.9 percent (only slightly better than JaJuan Johnson this season). His career defensive rebounding percentage is 16.7 percent (Wilcox was at 20.2, while Jermaine O'Neal was 19.9 this year).
PODCASTS
Paul Solotaroff, NFL
Play Podcast Men's Journal's Paul Solotaroff weighs in on the characterization of Richard Sherman, the relationship between Sherman and Patrick Peterson and expectations for Darrelle Revis.
Baseball Tonight - Dominant Pitching
Play Podcast Adnan Virk talks to Tim Kurkjian about dominant pitching performances and the search for the next commissioner. Plus, Arash Madani on if the Blue Jays can make the playoffs.
Greg Cosell, NFL
Play Podcast NFL Films' Greg Cosell weighs in on whether the Browns should start Brian Hoyer or Johnny Manziel, the Jets' QB situation, Ryan Mallett's abilities and Robert Griffin III's development.