March, 27, 2012
3/27/12
8:00
AM ET
With Jermaine O'Neal out for the season as he preps for left wrist surgery, the Celtics have potential roster flexibility if they desired to buy out the rest of his contract and free a spot.
But Celtics coach Doc Rivers hinted Sunday that there's no players that were made available before Friday's playoff eligibility waiver deadline that currently interest the team. Which means the Celtics would likely only make a move for two reasons: 1) Emergency regular-season depth or 2) To add a player to the roster in order to have them part of the team during the summer workouts and get first crack at being a part of the team next year.
"We may add another guy just to get through the year," said Rivers. "But we'll see; there's no out there."
If the Celtics were looking to add a body with playoff eligibility, that player has to have been off an NBA roster by Friday. Even though Rivers had previously said the team might be interested in adding two bigs to help grind through the regular season after losing both O'Neal and Chris Wilcox in recent weeks, he backed off that talk and it appears the team is content with the mere addition of Ryan Hollins.
"Honestly, I'd be surprised if we brought a big in," said Rivers.
December, 21, 2011
12/21/11
11:14
PM ET

BOSTON -- The
Boston Celtics
did not officially announce roster cutdowns after Wednesday's game, hoping instead to inform players before making the cuts official. But coach Doc Rivers hinted the team is likely to trim down to 14 bodies with eyes towards keeping a roster spot open for an addition down the road.
The Celtics currently have 13 guaranteed contracts, which would mean only one roster spot would be available for camp invites
Greg Stiemsma
, Gilbert Brown,
Jamal Sampson
, and
Michael Sweetney
. Based on playing time, production, and need, it seems quite likely that Boston will carry Stiemsma out of camp, which could mean the end of the road is near for the others.
"I don't know [if the Celtics will carry 15 players], I would say most likely not," said Rivers. "There are guys still out there, unsigned. And we might want to sign them."
Pressed on potentially signing a veteran, Rivers cracked, "First come, first serve. Can we make an announcement to all the free agents?" He then laughed before turning more serious.
"Really, we're looking around. I still think there will be buyouts, probably starting [Thursday]. So there's so many things that could happen and we want to make sure if that happens, we're able to [sign a free agent] quick instead of a delay. We may keep 15 for a couple more days, but after that, we're probably going to go to 14."
Rivers noted he's comfortable with the team's size, even with only two legitimate centers in
Jermaine O'Neal
and Stiemsma. The team is well-stocked at power forward and flexibility with players like
Brandon Bass
and
Chris Wilcox
could satisfy the team's needs up front.
It would seem more likely that the team would target bench scoring, which Rivers highlighted as a chief concern entering the season. The Celtics like what they see out of young players
Avery Bradley
and
E'Twaun Moore
, but they could target a veteran scorer to ensure an offensive burst off the bench.
Asked about question marks going into the year, Rivers said: "Honestly, can we play a small lineup? Our size, everyone talks about our size -- which I like, I don't mind our size. Then our bench. I know, defensively, they'll be good enough -- I have no doubt about that. Can we score enough? Get enough scoring from our bench? I think those will be the question marks going into the year."
August, 10, 2010
8/10/10
1:45
PM ET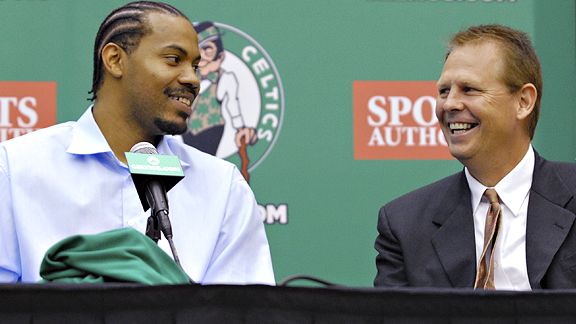 Brian Babineau/NBAE/Getty ImagesRasheed Wallace and Danny Ainge at his signing announcement last summer.
WALTHAM, Mass. -- A day after
Rasheed Wallace
's agent told the Boston Globe that his client
will indeed retire from basketball
this offseason, Celtics president of basketball operations Danny Ainge said that the situation will be resolved soon and hinted it would likely end with the team buying out the final two years of Wallace's contract.
"It is probably going to be resolved sooner rather than later," Ainge said on a conference call following
Shaquille O'Neal
's introduction. "I expect it to be done before training camp. We have looked at trade possibilities throughout the summer and will continue to look at those, but it will likely all be resolved shortly."
Reading between the lines, it appears the Celtics haven't found a deal that interests them this offseason and, with a maxed out roster at 15 players under contract for the 2010-11 season following Tuesday's signing of Luke Harangody, the team will likely move to open a valuable spot to sign one more veteran player.
Wallace is set to earn $13 million over the final two years of a three-year deal he inked with Boston last offseason, but told coach Doc Rivers before Game 7 of the NBA Finals that it would likely be his last game. Until he officially retires, the team can trade his contract, but Ainge suggested the team was more likely to add one more veteran free agent.
"One more piece is possible," said Ainge. "I like the pieces we have at this stage and would be happy going into training camp with this team. It is possible though we could add another player, most likely for the veteran's minimum, possibly a trade, but the most likely scenario is for the veteran's minimum."
Both Ainge and Rivers suggested they'd like to add another shooter to the roster, adding some depth at a swingman spot that remains the team's biggest area of need following the departure of
Tony Allen
.
Von Wafer
and
Marquis Daniels
are all that's behind
Ray Allen
and
Paul Pierce
on the depth chart at shooting guard/small forward.
"We'd like to get a [shooting guard], we'd like to get one more shooter," said Rivers. "Von's a hell of a shooter and that's good for us, but we'd love to get another veteran shooter."
Rivers waited a beat before adding a punchline, "Preferably one under 38."
What remains unclear is what that means for
Tony Gaffney
and
Oliver Lafayette
, a pair of young players with non-guaranteed contracts for next season. The duo can come to camp in search of a roster spot, but Boston might will have at least 14 guaranteed contracts at that point, and that's if they don't sign another veteran before camp opens.
The Celtics will start the year with
Kendrick Perkins
sidelined after offseason knee surgery, which makes even those final roster spots extra valuable at the start of the season.
Rivers did indicate that an addition could come after the season begins, provided Boston has that available roster spot (otherwise the team would need to eat a contract or make a trade). Rivers also didn't close the door on a possible Wallace return, noting, "You never know when a March call happens," suggesting Wallace could be lured out of retirement for one more (abbreviated) title run.