Boston Celtics:

Round1Game1
April, 18, 2010
4/18/10
8:10
AM ET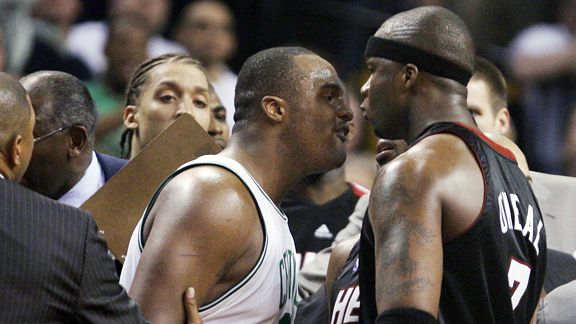 AP Photo/Charles KrupaGLen Davis and Jermaine O'Neal were in the middle of Saturday's scrum.
BOSTON -- A glimpse at the ESPN stories from Boston's Game 1 victory over Miami Saturday:
Sheridan: TA turns tide with defense on Wade
By the time the pushing, shoving, elbowing and jawing commenced late in the fourth quarter, and well before Quentin Richardson dismissed Paul Pierce and Kevin Garnett as "actresses," it was already too late for Dwyane Wade and the Miami Heat.



Brian Babineau/NBAE/Getty ImagesTony Allen goes hard to the basket.

He, and they, had already had the life smothered and squeezed out of them by Tony Allen, the designated defensive specialist on one of the league's most intense defensive-oriented teams.

For the first 27 1/2 minutes, this game was all Miami. For the final 20 1/2, it was all Boston -- and all because of the lesser-known of the Celtics' two Allens, the one without the sweet jump shot, the nine All-Star appearances and the Jesus Shuttlesworth movie role on his resume.

That other Allen, the one named Tony, put on a display of defensive proficiency against Wade that rendered the superstar a non-factor for a key long stretch of the second half as Boston came back from a 14-point deficit and defeated Miami 85-76 Saturday night in a game that featured a full-blown skirmish (not a fight, however, since there needs to be at least one punch thrown to qualify for a fight) with 40 seconds left that prompted Q-Rich to go after Pierce and Garnett afterward with everything short of a wheelchair reference.

But by then, this one was decided. And Allen was the reason why.
Click
HERE
to read the story in today's Daily Dime.
May: Pierce triggers turning point
There it was, the pre-recorded plea for all to see and hear. Paul Pierce, on the Jumbotron, reminding Celtics fans that it was, indeed, the playoffs, and to respond accordingly.



Brian Babineau/NBAE/Getty ImagesPaul Pierce shook off a tough shooting night to pace the Celtics.

Only problem: Pierce and the Celtics were playing like it was Game 83 of the uninspiring regular season they had just supposedly ended. They were losing. They looked detached. Their coach even told his players they looked as though they had quit.

It was midway through the third quarter and Miami was starting to pull away in Game 1 of the Celtics-Heat playoff series. Dwyane Wade was going into full Mariano Rivera mode a bit earlier than usual, scoring 10 points in a 15-2 run. The Celtics, meanwhile, were doing all the same, stupid things they had done so often in Games 1-82: too many turnovers, too many missed easy opportunities, surrendering the boards. When Wade went through the lane and casually tossed in a 10-foot floater, the Heat led 61-47 with 7:03 left in the game.

Pierce then heeded his own entreaty, snapping out of a funk and, in the process, dope-slapping the Celtics back into the here and now. The defense kicked in, which was a welcome sight to Celtics fans. So, too, was the sight of No. 34 at the other end of the floor. He had a team-high 16 points and the Celtics overcame their regular-season ways to take an important, if inelegant, 85-76 victory.

"We pride ourselves on our defense,'' Pierce said. "But at the end of the day, you do have to put the ball in the bucket."
Click
HERE
to read the full story.
Forsberg: The spark they've been missing?
Before Saturday, the Celtics and Heat didn't have any playoff history. But in the fracas that ensued in the waning moments of Boston's 85-76 Game 1 triumph, this series ratcheted up to an intensity typically reserved for Celtics-Lakers.



AP Photo/Elise AmendolaKevin Garnett jaws with the Heat during a fourth-quarter fracas.

Tempers flared after Paul Pierce tumbled to the ground in front of the Miami bench with an apparent right shoulder injury with 40 seconds to play. Miami's Quentin Richardson stood defiantly over Pierce and suggested he was exaggerating the injury, to which Kevin Garnett took umbrage and expressed such with an elbow to Richardson's head when pushing and shoving ensued.

After the game, Richardson sounded off on Pierce and Garnett, calling them "actresses" and summing up his feelings on the pair by saying, "I don't like them and they know it."

The Celtics have enough troubles now as, if the NBA keeps with past precedent, Garnett -- who was assessed with two technical fouls and was ejected -- is likely to be suspended for at least one game for the elbow incident.

But it might be Richardson's tirade that leaves the biggest mark on this series.
Click
HERE
to read the full story.
April, 17, 2010
4/17/10
11:57
PM ET
BOSTON -- Celtics forward
Kevin Garnett
earned a double technical and ejection during a fracas that unfolded after
Paul Pierce
tumbled to the ground near the Miami bench in the waning moments of Boston's Game 1 victory over the
Miami Heat
Saturday night at the TD Garden.
Garnett rushed over to aid a prone Pierce with 40 seconds remaining and, in the ensuing dust-up, landed an elbow to the face of
Quentin Richardson
, according to officials. Garnett is likely to face a suspension because of the elbow, as the NBA has often suspended players for simply swinging elbows in the past.
"I saw Paul grab his shoulder, as a stinger or whatever, so I just tried to immediately call [Celtics trainer] Ed [Lacerte] over," said Garnett. "I tried to give him some room and I just saw [Quentin Richardson] standing over him talking nonsense. I asked [Richardson] to give him some room and, before you knew it, mayhem started. That situation, man, I know these two [Richardson and Pierce] have competed against each other in the past and have history from bumping heads a little bit. I was just trying to give him the common courtesy for an injured player, that's all. Nothing more, nothing less.
"I have no beef with Q, I know him personally. I thought what he did was a bit disrespectful, standing over a guy hurt, you know, and talking nonsense. Before you knew it, it all just broke out. I gotta use my head, but all I saw was Paul hurt and that's all I cared about at that time."
Pierce went to the floor after experiencing numbness in a right shoulder that's bothered him throughout the end of the season. Pierce suffered a stinger in a loss to the Spurs on March 28, then suffered a similar injury two days later in practice.
Boston's captain said he didn't remember anything from the fracas that unfolded.
"I didn't really see anything, I just knew there was a commotion," said Pierce, who described how the pain flared up in his shoulder. "I hit the same spot that I had all season, it's happened a couple times now, a pinched nerve in there, and it numbed my whole arm up. I went to the ground and I didn't see much. I just knew it was a commotion."
The commotion led to technical fouls on
Glen Davis
,
Udonis Haslem
, Richardson, and the double technical on Garnett, forcing his ejection.
Referee Joe DeRosa released the following statement after the game: "[Garnett] was ejected for throwing an elbow that made contact with Quentin Richardson. He had already had one technical foul for taunting with Quentin Richardson before that. Then as the altercation went on, he threw an elbow that did make contact with Richardson, which was his second technical foul and he was ejected."
DeRosa also noted that, regardless if contact from the elbow had not occurred, Garnett would have been disqualified for a second technical for even throwing the elbow.
Richardson sounded off on both Garnett and Pierce after the game.
"I was trying to get over there to take the ball out of bounds and [Garnett] started to talk to me, so I talked back. I don't have any business talking to him, he was on the ground crying. I don't know what was going on, two actresses over there, that's what they are.
"I just get surprised by people's actions when I know them better than that. They're not those characters they portray., they're not who they say they are, Garnett and Pierce, they're good basketball players and that's about it.
"I said to Jermaine, he's OK because I knew nobody touched him," explained Richardson. "Is he taking another break like he does so many times? Sometimes he falls like he's about to be out for the season and then he gets right up, that's all I said.
"I don't like them, and they know it."
Rasheed Wallace
tried to squash the situation, but it's unlikely to extinguish the flames.
"I don't care about that, dog," said Wallace. "That wasn't a key factor in this game today, that little scuffle. Don't try to blow it up, it's already squashed.
April, 17, 2010
4/17/10
11:02
PM ET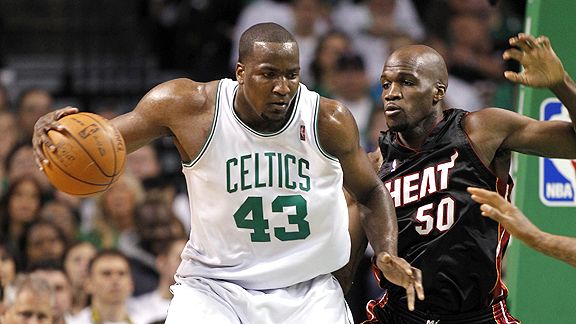 Greg M. Cooper/US PresswireThe Celtics needed to rally from 14 down, but defeated the Heat with a dominant second half.
BOSTON -- Instant reaction after the Boston Celtics posted an 85-76 triumph over the Miami Heat Saturday night in Game 1 of an Eastern Conference first-round series at the TD Garden:
How the game was won:
Tony Allen came off the bench to score 14 points and provided lockdown defense against Dwyane Wade to spark the Celtics. Paul Pierce overcame a poor shooting performance (4 of 12 overall) to score a team-high 16 points, while Kevin Garnett added 15 points and 9 rebounds before being ejected during a fracas at the end of the game. Dwyane Wade finished with a game-high 26 points for Miami.
Turning point I:
Trailing by 14 with under seven minutes to play in the third quarter, Boston closed out the frame on a 17-5 run to trim their deficit to a bucket. Kendrick Perkins sparked a brief 8-0 burst during the stretch with an 8-foot hook shot.
Turning point II:
Miami scored the first bucket of the fourth quarter, then went nearly five minutes without a point as Boston embarked on a 10-0 run, highlighted by Glen Davis, who produced an old-fashioned, three-point play (off a pretty feed from Rajon Rondo) and a tip-in of a Rondo miss, as the Celtics opened a 74-68 lead with 6:43 to go and held on from there.
Stat of the game:
After shooting 46.2 percent (18 of 39 overall) in the first half, the Heat finished at 39.7 percent (31 of 78 overall). Miami scored a mere 32 second-half points, including just 10 in the final frame.
Unsung hero:
It wasn't the best start for Glen Davis, who had his first field goal attempt blocked just 12 seconds after checking into the game. But he ultimately helped Boston even a rebounding battle that Miami dominated in the first half, while also chipping in a pair of big fourth-quarter buckets as Boston pulled away. Davis finished with 8 points and 8 rebounds.
Extracurricular activities:
When Pierce spilled to the floor in front of the Miami bench late in the fourth quarter, a dust-up ensued as Garnett and Davis wandered over to help pick him up. Garnett and Quentin Richardson got into a scuffle, which ultimately led to a double technical and an ejection for Garnett. Davis got an offsetting technical in the mess as well.
What it means:
Unfathomably, the Celtics came out with absolutely no energy and played uninspired ball for much of the first 30 minutes. But what could have been a demoralizing loss turned into a feel-good triumph as the Celtics rallied behind -- of all people -- Allen and Davis off the bench. The Celtics now lead the series, 1-0, with Game 2 set for Tuesday night at the Garden.
April, 17, 2010
4/17/10
7:47
PM ET
BOSTON -- A collection of pregame news and notes before the
Boston Celtics
host the
Miami Heat
in Game 1 of an Eastern Conference first-round series at the TD Garden:
The rundown
(a quick look at the pregame headlines)
* Doc: Rondo improves, unsure of energy level
* Rivers calls upon higher power to help with Wade
* Spoelstra: Heat are playing with more confidence
Doc: Rondo improves, unsure of energy level
Celtics coach
Doc Rivers
indicated that point guard
Rajon Rondo
has improved while battling the flu the past few days, and while he'll start Saturday's Game 1, Rivers is uncertain what his energy level is going to be on the floor.
"We had a little walkthrough this morning and he looked better," said Rivers. "I really don't think we'll know, the fact is that he hasn't been able to hold anything down for two days. That's not good for him, but you know how it is with a playoff game. The adrenaline gets going and you make it through. Hopefully he can be who he normally is, then we have a couple days for him to recover after the game."
Rondo is one of three players in the Celtics' locker room battling the flu.
Tony Allen
missed the final two games of the regular season due to illness, while
Glen Davis
is battling the bug right now as well (though not as severely as Rondo).
Allen noted before the game it didn't matter how much better he felt because it's playoff time.
"Tony's the only one that feels great since being sick," said Rivers. "Baby is feeling better, but not 100 percent. It's the card group that's sick. It tells us they have to play with gloves on from now on."
Asked what games they played, Rivers quipped: "I don't know what they're playing, but it has not been healthy for us."
Rivers holds out hope Rondo can perform at a high level.
"I'm hoping Rajon is OK, but you just don't know until the game starts," said Rivers. "A low-energy Rajon is not a good thing. We have to have him play normal, play hard. If he needs rest in shorter spurts, we'll do that."
Rivers calls upon higher power to help with Wade
Rivers can't avoid questions on how to slow down Miami's
Dwyane Wade
, so he keeps the punchlines coming about his fellow Marquette product.
"I called the priest at Marquette to see if he had any information," said Rivers. "He said, 'Pray.'
"Listen, the great players -- the Wades, the Kobes, the LeBrons -- if it was easy to game plan, they wouldn't be great players. They're great because they play well through the game plans. So that's part of it. The number that stands out to us is that he shot 50 percent and averaged 33 points [in three regular-season matchups against Boston]... and the number that really stands out is that he had a lot of assists. We can't allow him to have both. That's the troubling number."
Spoelstra: Heat are playing with more confidence
The last time the Celtics and Heat met, Boston's third triumph of the season series dropped Miami to 24-25 overall. The Heat proceeded to go 23-10 the rest of the way while surging from out of playoff contention, all the way to the fifth seed. So what's changed?
"We have more resiliency, more confidence," said Heat coach Erik Spoelstra. "Our defense at that time of year was just starting to come around. Then during a stretch in January, we built some toughness, some resiliency on the road. We played 21 out of 27 on the road and once the schedule started to turn, our confidence grew. We felt like we could win regardless of the building we were playing in.
"Those two games [against Boston in January and February] were competitive. Give Boston credit. They closed out each of those games in the fourth quarter. Both games we had almost double-digit leads. But Boston made the big play, the big shot, and the big defensive stops to win all those games."
On a lighter note, Spoelstra did say that, despite the rain and cool temperatures, the Heat's stay in Boston has been enjoyable with no technical difficulties that some playoffs team used to encounter in the past.
"No fire alarms and we had hot water," Spoelstra said with a smile. "If I hear another story from [assistant coach Ron] Rothstein about the old building and all the different antics they used. We haven't had that yet. The operative word being, 'yet.'"