Boston Celtics:

Round1Game2
April, 21, 2010
4/21/10
12:27
PM ET
Celtics forward
Glen Davis
, fresh from the postgame podium, to which he was invited after a 23-point effort in place of suspended
Kevin Garnett
in Boston's Game 2 victory over the
Miami Heat
Tuesday night, returned to the locker room to find a swarm of TV cameras near his locker as the media waited patiently to chat with
Ray Allen
.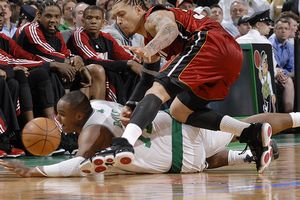 Brian Babineau/NBAE/Getty ImagesMichael Beasley avoided Glen Davis on this spill to the floor. Mario Chalmers wasn't so fortunate.
When Allen didn't immediately appear, reporters turned their attention to
Rasheed Wallace
, Davis' locker neighbor, but when asked if he wanted to talk, Wallace simply picked up his gear and said, "Talk to Baby; It's Baby's night."
And with that, Davis, looking dapper in a suit with red-striped button-down shirt and matching red pocket square, wheeled around for an unprecedented second tour of media duties.
Clearly, Davis loves a spotlight and a stage.
"I might have a problem with the camera in my face, because I like that a lot," Davis said with a smile. "I don't know. I just love the game. I love playing the game, especially on the big stage. Hopefully I can be a legend one day, do some big things."
Colleague Chris Sheridan
detailed Davis' legend-like performance
in a spot start for Garnett Tuesday. But here's one irrelevant, yet somewhat humorous Davis leftover from Tuesday's win:
Davis' final stat line read 23 points, 8 rebounds, 1 steal, and 1 block. If the NBA kept such a stat, Davis would have also been credited with a third-quarter pancake of Miami's
Mario Chalmers
.
The 6-foot-1, 190-pound Chalmers had the misfortune of getting caught in Davis' path while trying to defend Allen. Davis and Chalmers got tangled and spilled to the floor, Davis clearly utilizing his past success as a football fullback to fall on top of Chalmers in the paint.
Adding insult to injury, Chalmers was whistled for a blocking foul on the wince-inducing moment.
"I think he tried to hug me," said Davis. "He tried to show me how much he loves my game. He just hugged me, let me know everything was going to be alright."
It couldn't have felt good for either party, though. Right?
"It felt like Paul Bunyan's bed," quipped Davis. "Felt like pillows, a water bed."
But clearly Chalmers got the worst of it with 289-pound Davis falling down on top of him, no?
"I have no idea," said Davis. "I know I'm light."
April, 21, 2010
4/21/10
2:45
AM ET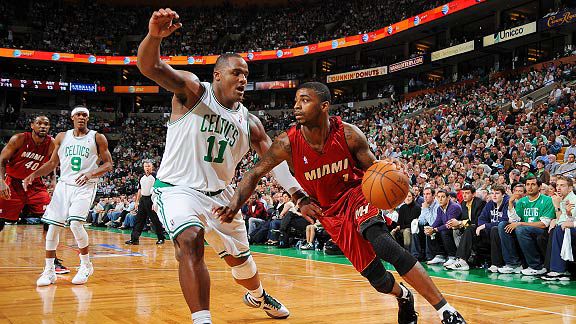 Brian Babineau/NBAE/Getty ImagesDoc Rivers chose to start Davis because of his foot speed. Davis made his coach look like a genius.
BOSTON -- A glimpse at the ESPN stories from Boston's Game 2 victory over Miami Tuesday:
Sheridan: Baby's outburst meant quiet night for KG's baby
This just in from Danny Ainge's basement: Kevin Garnett was vocal and animated while watching the game with a few buddies on Ainge's sofa, but he didn't break any furniture and he kept the decibel level low enough to avoid waking his 2-year-old daughter.

Which means only one thing went wrong for the Boston Celtics on Tuesday night: Paul Pierce guessed incorrectly afterward when he said Garnett "probably hit his head on the ceiling a couple of times."

Had that crashing of cranium and plaster actually happened, there's no doubt it would have been violent enough to awake not only Garnett's daughter, nicknamed "Peanut," but probably a few of the Ainge children, too.

Instead, peaceful slumber was all Garnett's toddler, Kapri, experienced as she slept upstairs while KG and a few buddies retreated to Ainge's man cave to watch Boston's 106-77 destruction of Miami in Game 2 of their first-round series.

"He has a lot of energy watching a game, I'll tell you that. It's fun," Ainge told ESPN.com. "He was up like he always is, very positive, talking all the time. And he was very excited for Baby.

"I had watched a game at his house but he had never done it here, and we were down in the basement, so I don't think he woke her up," Ainge said.
Click
HERE
to read the full story.
May: Vintage Ray makes Heat pay
Who knew Ray Allen was going to go Eyjafjallajokull? (That's the air travel-wrecking volcano in Iceland, but it also might be a loose translation of what Miami coach Erik Spoelstra was muttering to his assistants in the second half of Game 2 Tuesday night.)



Elsa/Getty ImagesRay Allen couldn't miss from beyond the arc.

Allen was dropping them from anywhere and everywhere, an explosion we haven't seen from him in awhile. We certainly know Allen has it in him. He will in all likelihood become the most productive three-point shooter in league history sometime next year. He dropped 51 points on the Bulls last year in the playoffs. He was arguably the Celtics' most consistent player this season after the All-Star Game.

But he was a non-factor in Game 1 of the Celtics-Heat playoff series, managing just 8 points on 2-of-9 shooting, bothered by an inconvenient, rhythm-distracting bloody nose. He then went shot-less in the first quarter of Game 2, content to observe the Celtics' Smashmouth Game Plan being exercised to near perfection by Glen Davis and Kendrick Perkins.

But Doc Rivers knew something had to change. "We had to get Ray some shots,'' he told anyone who would listen.

Allen's thoughts at that point? "I'm 100 percent. I haven't missed,'' he said.

Classic Ray.
Click
HERE
to read the full story.
Forsberg: A defense to make KG proud
A simple statistical comparison tells the story of the Celtics-Heat series through two games: Dwyane Wade is 22-of-36 shooting (61 percent) for 55 points. His supporting cast is 38-of-118 shooting (32.2 percent) for 98 points.

The Celtics never tried to hide their game plan entering this Eastern Conference first-round series. The strategy all along was to let Wade get his (while doing their best to limit him) and challenge his 11 teammates to beat them.

It hasn't happened. It hasn't even been close.

Despite playing without their emotional leader in Kevin Garnett (a one-game suspension), the Celtics cranked their defensive intensity to a KG-like level Tuesday night en route to a 106-77 triumph at the TD Garden.

"We're trying our best to stop Wade, it just hasn't been working out very well," said Celtics coach Doc Rivers. "But we absolutely have had a focus on everyone else. Our theory always is that the great players are going to be great. We try to make them shoot a poor percentage -- we've been unsuccessful in that part, but we can't let everybody else beat us as well.

"So we haven't had an adjustment as far as our game plan, but we have focused on everyone else. We've had a lot of focus on Wade, too, but what we don't want to do is be mesmerized by him and letting everybody else get off."
Click
HERE
to read the full story.
April, 21, 2010
4/21/10
1:19
AM ET
BOSTON -- A collection of postgames news and notes after the
Boston Celtics
defeated the
Miami Heat
in Game 2 of an Eastern Conference opening-round series at the TD Garden:
The rundown
(a quick look at postgame headlines)
* The key to Boston's run? Perk's pass
* TA enjoys the show from sideline
* Thibodeau to NJ? Doc wants jobs for his assistants
The key to Boston's run? Perk's pass
Maybe
Rajon Rondo
is rubbing off on
Kendrick Perkins
.
When
Doc Rivers
was analyzing the key moments from what evolved into a 44-8 run spanning the middle quarters, he pointed to -- of all things -- a skip pass from Perkins that led to a
Michael Finley
3-pointer and ignited the spurt.
Boston trailed, 29-25, when Perkins checked back into the game with 9:26 remaining in the second quarter. But Miami wouldn't score again over the next seven minutes and Finley's triple only lit the fuse on Boston's big run.
"We had a stretch... where we just stopped moving the ball -- the ball started sticking," said Rivers. "And I thought the single biggest play of the game, I think it was Perk's skip-pass to Michael Finley for the three, because that's what we kept saying: 'Big, big passes, big big passes.' We were on a stretch where the ball was just sticking offensively, and once the ball started moving and we started getting multiple stops, we were off and running."
After enjoying a 21-0 burst in the second quarter, not even halftime could take the wind out of their sails. Boston embarked on a 16-0 run in the third frame, holding Miami scoreless for a total of nearly 13 minutes during a stretch of little more than 16 minutes.
Rivers went so far as to call it the best stretch of basketball his team has played all season. "If you consider everything, it probably was," he said.
TA enjoys the show from sideline
Celtics guard
Tony Allen
didn't produce the sort of offense he did in Game 1, but that doesn't mean he didn't enjoy Game 2 just as much.
Allen might have been the most excited person in the building as Boston embarked on the 44-8 run. With every 3-pointer splashed by
Ray Allen
, Tony Allen popped to his feet and looked like he was going to come out of his skin. Numerous times he pumped up the crowd, imploring fans to get on their feet (not that they weren't obliging already). While waiting to check in, Boston enjoyed a fastbreak and Tony Allen nearly wandered into the Miami bench (a dangerous zone, just ask
Kevin Garnett
) while following the play down the sideline.
Tony Allen finished with 4 points on 2-of-5 shooting with 4 rebounds, 2 steals, and an assist over 17 minutes. He struggled to keep
Dwyane Wade
quiet at times, particularly late in the third quarter, but his energy seemed contagious for Boston.
"We had a tough practice [Monday] and I think it carried over," said Tony Allen. "The guys was very talkative in practice and they were very talkative [Tuesday], too."
Rivers lauded the play of TA and the other reserves.
"You can plug [the reserves] in places -- Tony's played some point -- you can plug them in different places, they're so familiar with our offense and defensive schemes that they're almost utility players in a lot of ways, like a baseball team. You can trust that they'll pick up our stuff easier than everybody else. I will say Michael Finley – for a guy that's only been here for a short time, I'm still amazed at how quickly he picks up stuff, and is always in the right place."
Thibodeau to NJ? Doc wants jobs for his assistants
Asked before the game about a report in the New York Daily News that the
New Jersey Nets
were
eying Celtics associate head coach Tom Thibodeau
for their vacant head coaching position, Rivers wouldn't comment on the specific situation, but noted he roots for all his assistants to earn head coaching positions.
"I don't talk about that stuff, but it's great, I want all my assistants to be head coaches," said Rivers. "Some of them have been interviewed, none of them have gotten jobs yet. Hopefully some day they get a [head coaching] job."
April, 20, 2010
4/20/10
10:44
PM ET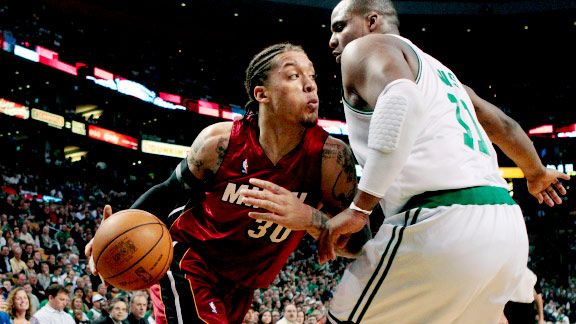 AP Photo/Elise AmendolaGlen Davis performed well in a spot start for suspended Kevin Garnett.
BOSTON -- Instant reaction after the
Boston Celtics
posted a 106-77 triumph over the
Miami Heat
in Game 2 of an Eastern Conference first-round series Tuesday night at the TD Garden:
How the game was won:
Filling in for suspended
Kevin Garnett
,
Glen Davis
-- the self-proclaimed "Ticket Stub" -- scored 23 points on 7-of-14 shooting with 8 rebounds over 27 minutes.
Ray Allen
added a team-high 25 points on 9-of-13 shooting, including seven 3-pointers over 33 minutes.
Dwyane Wade
paced Miami with 29 points on 11-of-18 shooting, but finished with a minus-29 in the plus/minus category.
Turning point:
Miami led 29-25 with 10:10 to play in the second quarter, but Boston embarked on a 21-0 run, holding the Heat scoreless for eight minutes while building a 46-29 advantage.
Michael Finley
and Ray Allen ignited the spurt with back-to-back triples and Glen Davis chipped in six points along the way.
Turning point II:
At nearly the same point in the third quarter, the Heat again went quiet and Boston embarked on a 16-0 run, holding the Heat scoreless for a little less than five minutes while building a 69-37 advantage. Ray Allen produced a trio of 3-pointers to highlight the stretch.
Stat of the game:
The Celtics finished with a 50-27 advantage in rebounds, highlighted by a balanced effort on the glass.
Unsung hero:
Kendrick Perkins
quietly posted a mind-numbing plus-41 in the plus/minus category, chipping in 13 points and 9 rebounds over 26 minutes and adding some spectacular defense around the basket.
What it means:
The only time the Celtics fans booed was when
Quentin Richardson
touched the ball. And even that took a backseat to unbridled elation as Boston opened a 30-point cushion in the third frame. The Celtics boast a 2-0 advantage heading to Miami and have all the momentum, especially with the impending return of Kevin Garnett in Game 3.
April, 20, 2010
4/20/10
7:55
PM ET
BOSTON -- A collection of pregame news and notes before the
Boston Celtics
host the
Miami Heat
in Game 2 of an Eastern Conference first-round series at the TD Garden:
The rundown
(a quick look at pregame headlines)
* Davis to start, Doc cites quick feet as key
* Richardson's done talking about the fracas
* Williams ready if called upon... as always
Davis to start, Doc cites quick feet as key
If the Celtics were trying to keep
Kevin Garnett
's replacement a surprise before Game 2, they did a terrible job. Coach
Doc Rivers
confirmed in his pregame chat with the media that
Glen Davis
would draw the start, citing his quicker feet that could help combat Miami's
Dwyane Wade
in the pick-and-roll.
"I just think he moves his feet better [than
Rasheed Wallace
]," said Rivers. "Wade alone was involved in 36 pick-and-rolls [in Game 1], so we think he'll be involved in 36 more -- at least -- so we needed a quicker big. If Rasheed and [
Kendrick Perkins
] were involved in all those pick-and-rolls, that would be tough. You want one or the other on the floor."
Rivers noted that Garnett's absence doesn't just affect the team defensively, but also at the other end of the floor.
"Kevin facilitates so much of our offense," said Rivers. "He was credited with 15 points, but we thought he was probably responsible, in Game 1, for half our scoring, with picks, hockey passes, and all that stuff. No one guy is going to make that up. It's going to be a team effort."
Garnett, who is prohibited from coming to the arena for Tuesday's game, said Monday he'd watch the game at the home of Celtics president of basketball operations
Danny Ainge
. Rivers was asked if he could imagine joining that playoff party.
"No, there would be a lot of screaming at me, a lot of screaming at the TV, the players, and all that," Rivers said with a smile. "I'd rather have Kevin here."
Given that Garnett's absence is a suspension and not an injury, the Celtics are not able to activate another player for Tuesday's game. Rivers noted he would have liked to have added
Brian Scalabrine
to the active 12, but league rules prohibit addition due to suspension (only injury). Rivers did point out that he could have added Scalabrine by deactivating another of his 11 players -- like reserves
Nate Robinson
,
Marquis Daniels
, or
Shelden Williams
-- but decided against that.
Richardson's done talking about fracas
Quentin Richardson
, who was fined $25,000 for his action in the Game 1 ruction that led to Garnett's suspension, expected a chilly reaction from the Boston crowd, but he said his focus was on the game itself.
"I'm just playing basketball, I'm playing to help my team win," said Richardson. "That's everything outside the lines. Inside the lines I'm playing basketball, that's what I'm focused on."
Quizzed about Rivers' comments that Richardson's penalty should have been harsher given his role as an instigator, Richardson brushed off the suggestion.
"Doc's entitled to his opinion," he said. "One of his best players got suspended, so I understand why he feels that way... That's his opinion."
At that point, Heat director of media relations
Rob Wilson
, lounging in a chair next to Richardson, put an end to that sort of questioning.
"Alright guys, that's enough of that," said Wilson. "If you want to talk about tonight's game, we'll do that, but he's been talking about this for two days now."
With that decree, much of the Boston media promptly filed out.
Williams ready if called upon... as always
Williams, whose largely been an in-case-of-emergency player for Boston this season, knows he could see a larger role in Tuesday's game, but didn't alter his preparation because of that.
"I prepare like I prepare for every game," said Williams "I go into the game preparing to play, and if it plays out like that, I'll be ready."
Williams, appearing in his first playoff series after four journey-filled years in the league, noted he's enjoying the experience, and understands his role is limited on a team overflowing with talent.
"The players in from of me are Hall-of-Fame-type players," said Williams. "That's a big difference [from past teams] right there. They've done a lot of special things in this league, so I pick their brains, talk to them about different situations. I'm learning from them.
"You go against someone better than you everyday in practice, you have no choice but to get better. It's great for me to go up against these guys in 1-on-1 situations and 5-on-5. It helps me out, either way."
April, 20, 2010
4/20/10
1:34
PM ET
Celtics coach Doc Rivers played coy about a potential Game 2 starter with Kevin Garnett suspended Monday, but barring an elaborate attempt to throw off the Heat, all indications are that Glen Davis will get the nod.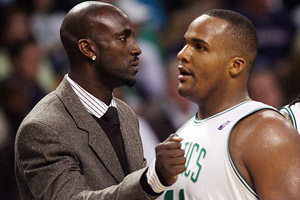 Elsa/Getty ImagesGlen Davis got the starts for an injured Kevin Garnett during last year's postseason.
Kendrick Perkins provided the strongest suggestion yet after Tuesday's morning shootaround when he
told
reporters
Davis would be in the starting lineup.
"It is Baby," Perkins said, according to the
Boston Globe
. "Baby's been there before. We've got trust in Baby. He's going to come out, he's going to play hard, he's going to do what he's got to do."
Davis closed out Monday's practice working with the first unit and had talked for two days like he was in line to draw the start. Point guard Rajon Rondo noted Monday he thought Davis would get the start and Rasheed Wallace talked that same day like a player resigned to a backup role.
April, 18, 2010
4/18/10
10:55
PM ET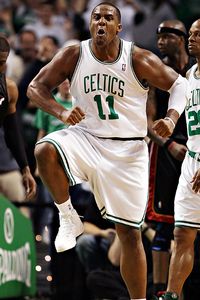 Elsa/Getty ImagesGlen Davis exults after getting a foul call on a key hoop that helped fuel the Celtics' Game 1 win.
WALTHAM, Mass. -- How do you replace The Big Ticket?
Glen Davis
said he's got the answer in his back pocket: The Ticket Stub.
That's the nickname Davis coined for himself during last year's playoffs, when he filled in admirably for an injured Garnett. Davis averaged 15.8 points, 5.6 rebounds and 1.8 assists per game, while helping Boston get within one game of the Eastern Conference finals. (The Celtics fell to eventual conference champion Orlando in seven games in the second round.)
While Garnett and the Celtics awaited official word from the league about whether Boston's starting forward would be suspended for his role in Saturday's Game 1 fourth-quarter melee -- the league made the one-game ban official Sunday night -- Davis said he'd be ready to once again fill Garnett's shoes.
"Well, if Kevin's out, I have to bring back the Ticket Stub," said Davis. "You all know the Ticket Stub, you all saw the Ticket Stub last year. If [Garnett is] gone, I've got the Ticket Stub right in my back pocket and I can bring it out."
Click
HERE
to read the full story.
April, 18, 2010
4/18/10
7:18
PM ET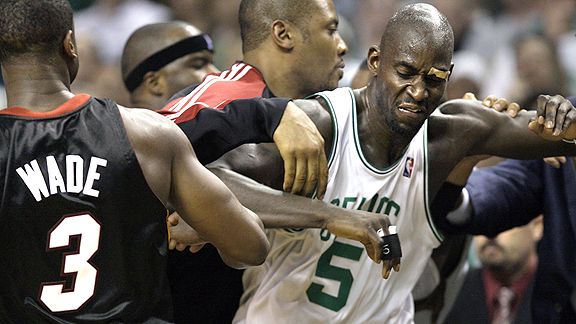 AP Photo/Elise AmendolaKevin Garnett's elbow helped ignite a fourth-quarter fracas in Game 1.
Celtics forward
Kevin Garnett
has been suspended for Game 2 of Boston's first-round playoff series against the Heat for landing an elbow to the head of Miami's
Quentin Richardson
in a fourth-quarter fracas during Saturday's Game 1.
The announcement was made Sunday by NBA executive vice president of basketball operations Stu Jackson.
Richardson was fined $25,000 for his role in the altercation.
Garnett earned a double technical and ejection in the melee that unfolded after
Paul Pierce
tumbled to the ground near the Miami bench with 40 seconds left in Boston's victory at TD Garden.
"I saw Paul grab his shoulder, as a stinger or whatever, so I just tried to immediately call [Celtics trainer] Ed [Lacerte] over," Garnett explained after the game. "I tried to give him some room and I just saw [Quentin Richardson] standing over him talking nonsense. I asked [Richardson] to give him some room and, before you knew it, mayhem started. That situation, man, I know these two [Richardson and Pierce] have competed against each other in the past and have history from bumping heads a little bit. I was just trying to give him the common courtesy for an injured player, that's all. Nothing more, nothing less.
"I have no beef with Q, I know him personally. I thought what he did was a bit disrespectful, standing over a guy hurt, you know, and talking nonsense. Before you knew it, it all just broke out. I gotta use my head, but all I saw was Paul hurt and that's all I cared about at that time."
The news is not unexpected. The Celtics were bracing themselves for the possibility of Garnett's suspension Sunday, though they did lament the fact that the ruling did not come down before their afternoon practice session.
Asked if his team could win without Garnett, Celtics coach
Doc Rivers
noted, "We better be. We've won games before [without him]. We're not focused on that now, but if it happens, it happens."
It happened. Now Boston's frontcourt reserves including
Glen Davis
,
Rasheed Wallace
and
Shelden Williams
will be called upon to shoulder a bigger load in a pivotal Game 2.
The Celtics sounded confident, even in the face of losing an emotional leader.
"We know we can hold down the fort," said Pierce. "We're not one of those teams that, when the star player goes down, you find excuses to not play hard, to not win."
Referee Joe DeRosa released the following statement after Saturday's game: "[Garnett] was ejected for throwing an elbow that made contact with Quentin Richardson. He had already had one technical foul for taunting with Quentin Richardson before that. Then as the altercation went on, he threw an elbow that did make contact with Richardson, which was his second technical foul and he was ejected."
DeRosa also noted that even if the elbow had not made contact, Garnett would have been disqualified for a second technical.
The NBA's punishment is consistent with past issues of elbowing. The league handed out a one-game suspension to
Dwight Howard
on April 29 during last year's playoffs against Philadelphia.
After Saturday's game, Richardson sounded off on both Garnett and Pierce.
"I was trying to get over there to take the ball out of bounds and [Garnett] started to talk to me, so I talked back," Richardson said. "I don't have any business talking to him, he was on the ground crying. I don't know what was going on, two actresses over there, that's what they are.
"I just get surprised by people's actions when I know them better than that. They're not those characters they portray. They're not who they say they are, Garnett and Pierce. They're good basketball players and that's about it.
"I said to Jermaine, he's OK because I knew nobody touched him," added Richardson. "Is he taking another break like he does so many times? Sometimes he falls like he's about to be out for the season and then he gets right up, that's all I said.
"I don't like them, and they know it."
On Sunday, Garnett tried to defuse the situation by not responding to Richardson's comments.
"No thoughts at all," Garnett said of Richardson's comments. "Classless -- a classless act on his part. I'm moving on with it. I'm not going to go back and forth commenting through [the media]. End this."