Boston Celtics:

Round2Game6
May, 14, 2010
5/14/10
8:31
AM ET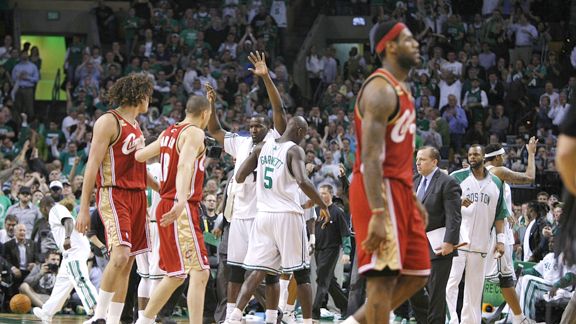 David Butler II/US PresswireThe Celtics celebrate as LeBron James and the Cavaliers walk off the floor.
BOSTON -- A look at ESPN.com's coverage after the
Boston Celtics
defeated the
Cleveland Cavaliers
in Game 6 of an Eastern Conference semifinal series Thursday night at the TD Garden: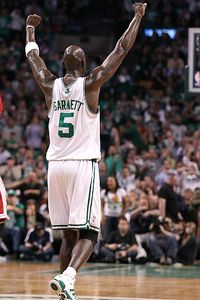 Elsa/Getty ImagesKG had reason to celebrate during Boston's Game 6 triumph over the Cavaliers.
Forsberg: Ticket to Boston's postseason success
Celtics forward Kevin Garnett underwent surgery to remove posterior bone spurs from his right knee on May 26, 2009. Doctors suggested it would be a year before he was himself again.

Maybe they were off by a couple of weeks.

Garnett capped a spectacular performance in Boston's Eastern Conference semifinal series against the Cleveland Cavaliers on Thursday by scoring a team-high 22 points on 11-of-19 shooting with 12 rebounds as Boston eliminated the Cavs with a 94-85 win in Game 6 at TD Garden.

The Celtics advance to meet the Orlando Magic in the conference finals. The teams played a thrilling seven-game series in last year's conference semis, but there was one thing missing: KG.

The Cavaliers surely wish he had been out of commission this year too.

Garnett averaged 18.8 points and eight rebounds over the six contests, marks well above his regular-season totals (14.3 points and 7.3 rebounds). MVPs are named for this round, but one could easily make the case that other than perhaps Rajon Rondo, no Celtic was more deserving of such an honor than Garnett.

"KG is a champion. He's won a championship before," said Cleveland coach Mike Brown. "He's a veteran, he's a pro, he's mentally tough and he can go get it, whether it's defensively or offensively. He hit some big shots for them. Early on, he hit their first four or five shots and his presence on both ends of the floor as a player, as a leader and as a veteran is big for those guys."
Click
HERE
to read the full story.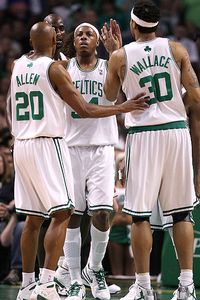 Elsa/Getty ImagesThe Celtics got contributions from all over their roster this series.
May: It all came together for Celtics
Let the gnashing over LeBron James and his future whereabouts begin. New York? Chicago? Miami? Los Angeles? Maybe LBJ ought to take the midlevel exception and join an intact, proven winner next season -- like the team that sent him and his Cavaliers packing Thursday night.

Somehow, despite James' nine turnovers in the Cavs' 94-85 season-ending loss, I think Celtics president Danny Ainge might agree to accommodate him.

Yes, it is the Celtics, not the Cavs, who are advancing to the Eastern Conference finals. A postseason of improbables layered upon implausibles continues for Boston. In the space of six days, the Celtics went from the ultra-humiliating, a 124-95 loss at home, to the ultra-exhilarating, a rousing victory in Game 6 and a sweep of the last three games of this series.

The team won't -- and can't -- dwell on the significance of this achievement, not with the menacing Magic awaiting in less than 48 hours. But when it's all said and done, by eliminating the No. 1 team of the regular season, this might rank as the Celtics' greatest playoff upset since the 1969 NBA Finals. No one foresaw this; not the ESPN panel of experts, none of whom picked the Celtics. Vegas didn't like the Celtics' chances. You had to think the Cavaliers regarded the Celtics as a steppingstone.
Click
HERE
to read the full story.
Lefort: C's set for visit to Magic kingdom
By any measure, the Boston Celtics played their best basketball of the season (and perhaps since 2007-08) in beating the top-seeded Cleveland Cavaliers decisively in three straight games, the capper a 94-85 victory Thursday night in Game 6 of their Eastern Conference semifinal series.

They solved the best player on the planet in LeBron James, but a bigger test may lie ahead in the Orlando Magic, who have won their last 14 games, are 28-3 since the end of February and are coming off arguably the most dominant sweep in NBA playoff history.

After sweeping the Charlotte Bobcats in Round 1, the Magic breezed through the conference semifinals, wiping out the Atlanta Hawks (who incidentally had a 4-0 record against the Celtics this season) by an average of 25.3 points per game, the greatest PPG differential in a four-game sweep in league history, according to the Elias Sports Bureau.

In running the table against both Charlotte and Atlanta, Orlando became the third team since the first round expanded to a best-of-seven in 2003 to sweep through the first two rounds of the playoffs (the 2005 Miami Heat and 2009 Cavaliers did it as well).
Click
HERE
to read the full story.
May, 14, 2010
5/14/10
2:33
AM ET
BOSTON -- A collection of postgame notes after the Boston Celtics defeated the Cleveland Cavaliers in Game 6 of an Eastern Conference semifinal series Thursday night at the TD Garden:
The rundown
(a quick look at postgame headlines)
* 'Sheed didn't come to Boston for the regular season
* Celtics weathered the Cavs' late-game burst
* Loose balls: Fans aid C's; Doc saw potential in camp
'Sheed didn't come to Boston for the regular season
When Kendrick Perkins retreated to the bench with four fouls midway through the third quarter, it was clear one of Boston's reserve bigs needed to step up. And for the second time in this series, Rasheed Wallace answered the call.
Wallace scored nine of his 13 points in the second half, splashing a pair of trifectas after the intermission, including a bit of a dagger with 6:09 remaining that sent the Garden crowd into a tizzy as Boston's lead ballooned to 12 and Boston coasted to the finish line from there.
"To be here, deep in the playoffs, this is why I came here," said Wallace. "I didn't come here for the regular season. These last few games, we have been playing good. We just have to keep this train rolling."
Wallace finished 4-of-8 shooting with three rebounds and two steals over 23:20, despite battling foul trouble of his own. He chipped in offensively when Boston needed him most and did a serviceable job defensively. It's about all the Celtics could ask of Wallace lately, just to be a factor.
For the second straight game, the Celtics relied on balance output, putting five players in double figures, including both Wallace and Tony Allen (10 points) off the bench. On a night both Ray Allen (2-for-8, 8 points) and Paul Pierce (4-for-13, 13 points) weren't sharp, Boston found a way to generate offense.
"I would say the biggest change that we have through this year is that we are a balanced scoring basketball team," said Celtics coach Doc Rivers. "We don't rely on one guy anymore, we don't even rely on two or three. We just keep looking for the right place to go. And that's easy for our coaching staff, but very difficult for the players because the players have to want to do that and trust that."
Wallace, who scored 17 points in a Game 2 triumph, still needs to become a more consistent contributor (he scored a total of 7 points in the other four games of the series), but it's encouraging to see him step up when the team has needed him most.
Wallace isn't getting content yet, even after enduring all those jokes about the age of this team.
"It's not over yet," said Wallace. "We could laugh if we go ahead and win eight more times, and then we could laugh. Right now we are sticking with ourselves, worrying about everyone here in our locker room and our camp. That's it."
Celtics weathered the Cavs' late-game burst
Rivers has often preached to his team to be prepared for Cleveland's runs and maybe it was surprising when the Cavaliers didn't actually make one in Tuesday's Game 5. But they sure put a brief scare into Boston in the fourth quarter of Game 6.
LeBron James buried consecutive 3-pointers 14 seconds apart as part of a lightning-fast 7-0 run that turned an 11-point game into a four-point contest with 10:12 to go. Those waiting to book flights to Orlando quickly navigated away from Expedia.com.
Rivers called timeout to steady his troops and James committed an insanely costly turnover soon after, allowing Rajon Rondo to produce a fastbreak layup. Pierce and Wallace soon followed with back-to-back 3-pointers and Kevin Garnett's emphatic one-handed jam put Boston out front, 88-74, with 5:53 to play.
"We just needed a bucket," said Rivers. "We called a timeout, we had good timeouts tonight where we came out and got good shots and good scores. You knew [a run] was coming at some point with LeBron. And when he made the back-to-back 3's, I just told our guys –- I thought we got away, by the way, from what we were doing; I kept using the word 'hero basketball.' I thought we had a bunch of guys who really wanted to win the game so bad that they start for that three- or four-minute stretch trying to do it on their own. And that's what that timeout was about: To remind them that we can't do that.
"We've got to continue to execute what we're doing, do it together, and slow down. And I thought they did that."
Added Garnett: "Teams are gonna make runs, we understand that. This team, we knew they were gonna fight and scratch and do whatever they had to do. They came down, hit two 3's, you can start to see them trying to grab the momentum. Our timeout was very, very needed at that point. I thought, throughout the whole series, that we went through some tough times. I thought we stayed together, played through it. We understood that runs are gonna happen."
Pierce never doubted a run would come.
"We've gotten some leads on them, but we know they're going to make a run," said Pierce. "I think during the season, when we had that big lead and they came back, I think we were waiting for the clock to run out, I think we just went out and got it. Coach said go get it [in Game 6], we stayed aggressive, they pressed us, we didn't worry about that, we just wanted to be more aggressive and I think that was the key -- not settling, not waiting for the clock running out. Just going out there and taking the win, not waiting. You saw it in the guys' eyes, we were hungry, got the ball down to Kevin [Garnett], he made a big jump shot in the post for us, and the energy was just all the way there from start to finish. This is just a team that doesn't get rattled; I think we are starting to come into our own in the playoffs."
Loose balls: Loose balls: Fans aid C's; Doc saw potential in camp
* With the Garden faithful serenading James with chants of "New York Knicks, New York Knicks," each time he stepped to the line, Celtics guard Ray Allen admitted any player would be challenged to stay focused in that situation.
"That was probably the loudest chant," said Allen, who tried to play coy, but couldn't keep a straight face. "I was sitting on the bench and I told Glen, 'There's no way he can make this free throw after all that going back and forth. That is pressure when you step up, because it's not like he doesn't hear it and his teammates don't hear it. That's the beauty of playing in the Garden."
* Pierce also heaped praise on the crowd for their support: "They're big every night for us," said Pierce. "We go out there and play hard and really get them involved in the game, they really give us a boost. I just thought their energy from the start was there all night, probably more so than the last games, but I thought they really brought it tonight."
* Rivers remains steadfast that he saw championship potential in his team as early as training camp.
"I told you guys before, I saw us in training camp and, I know that sounds crazy, but I thought we were phenomenal in training camp," said Rivers. "I thought we looked better in training camp than we did two years ago, quite honestly. As a team, I thought we were close. We started out great and then obviously we fell apart, with injuries and all kinds of other issues. But you can see that everybody wanting to get it back. It was tough the last three weeks of the season because we had to make a choice. And I told you guys before what we were going to do with the rest and stuff.
"Obviously, we fell, we lost a lot of games. But I think overall it was probably the right thing to do because we did get guys healthy. And that's the only way we're going to be able to try to win this, is by being healthy."
* This should just about sum up how elaborate James was on his future following the game:
Q: Do you have any idea how you'll approach the offseason?
James
: "No."
Q: Is there anything more wrong with the elbow than what was stated?
James
: "Nope."
Enjoy the LeBron Watch, everybody.
May, 13, 2010
5/13/10
10:59
PM ET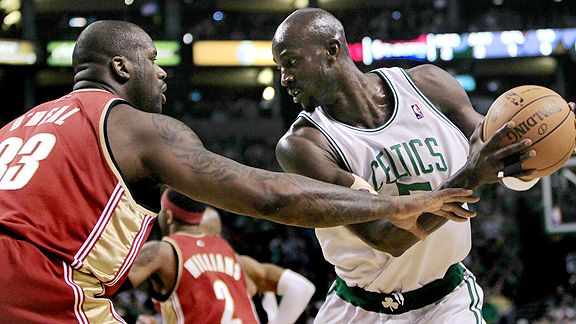 AP Photo/Charles KrupaKevin Garnett produced another quality postseason effort for the Celtics.
BOSTON -- Instant reaction after the
Boston Celtics
eliminated the
Cleveland Cavaliers
with a 94-85 triumph in Game 6 of their Eastern Conference semifinal series Thursday night at TD Garden:
How the game was won:
Kevin Garnett
poured in a team-high 22 points on 11-of-19 shooting and grabbed 12 rebounds over 36 minutes, while
Rajon Rondo
added 21 points and 12 assists in 44 minutes as the Celtics eliminated the top-seeded Cavaliers.
LeBron James
-- in what might be his final game in Cleveland -- finished with a triple-double with 27 points, 19 rebounds and 10 assists, but also had nine costly turnovers.
Turning point:
The Cavaliers managed to rally every time Boston looked as if it might pull away, but with 8 1/2 minutes to go in a four-point game, James fumbled the ball away and Rondo produced a fastbreak layup. After
Rasheed Wallace
blocked
Anderson Varejao
,
Paul Pierce
drilled a 3-pointer at the other end for an 83-74 lead with 8:06 to go.
The dagger:
Whoddathunk the dagger on the Cavaliers' season -- and possibly James' career in Cleveland -- would come at the hands of Wallace, who splashed a 3-pointer with 6:09 to go, pushing Boston's lead to double digits moments before Garnett's emphatic one-handed jam put the Celtics on top 88-74 with 5:52 to play.
Stat of the game:
The Cavaliers committed 24 turnovers leading to 27 points for Boston, including the nine for James alone.
Unsung hero:
While Wallace might not have provided his penance for a lackluster regular season, he certainly didn't hurt his cause by scoring 13 points on 4-of-8 shooting over 21 minutes.
What it means:
After few gave them a chance of even hanging with the Cavaliers, the Celtics are back in the Eastern Conference finals. Fourth-seeded Boston will travel to second-seeded Orlando to open a best-of-seven series Sunday at Amway Arena. The Magic defeated the Celtics in seven games in a conference semifinal last season before advancing to the NBA Finals.
May, 13, 2010
5/13/10
7:48
PM ET
BOSTON -- A collection of pregame notes before the
Boston Celtics
host the
Cleveland Cavaliers
in Game 6 of an Eastern Conference semifinal series Thursday night at the TD Garden:
The rundown
(a quick look at pregame headlines)
* C's don't want to press their luck in Cleveland
* Celtics not focused on Cavs lineup tweaks
* Loose balls: 'Sheed's Flyers hat; Orlando relaxing
C's don't want to press their luck in Cleveland
Despite the fact that his team has won three games in Cleveland since the start of the 2009-10 season, Celtics coach
Doc Rivers
reiterated before Thursday's game that he has absolutely no desire to roll the dice again at Quicken Loans Arena.
"We've won in Cleveland twice [in the postseason], but we don't want to press our luck," said Rivers. "We have to view it the same way they're viewing it. It's a big game for both teams."
Rivers stressed that there's very little his team can take out of losing to the
Orlando Magic
despite boasting the same 3-2 series edge with which they entered Thursday's game. The Celtics shouldn't need a reminder about the sense of urgency they must boast in Game 6.
"We're a different team, we're playing a different team," said Rivers. "All we learned is that we have to play better, try to seize the moment when we have home court. At the end of the day, we have to perform. There's no lesson learned in that situation. We have to go out and perform. If Cleveland comes out and makes more shots and does their game plan better tonight, we won't win. If we do ours, we'll win. Last year won't help us."
Click
HERE
to read more on the Celtics' need to treat Game 6 like a Game 7.
Celtics not focused on Cavs lineup tweaks
Even as Mike Brown suggested during his pregame chat that he would tweak the use of his bench, the Celtics remained unfazed by any potential changeup the Cavaliers could pitch in Game 6.
"They're a solid basketball team and they're not going to change a lot," said Rivers. "We wouldn't be shocked to see [center Anderson] Varejao maybe in the starting lineup, or [Cleveland] going to its size early. But they didn't get this record by doing a lot of changes, so we have to prepare for everything. Small lineup, big lineup, like I said before Game 5, fortunately or unfortunately, they have an ability to do a lot of things because of personnel. They can go small or go big. We can't. We are who we are. We're not going to change. In some way for us, that makes it easier."
Loose balls: 'Sheed's Flyers hat; Orlando relaxing
*
Rasheed Wallace
, a Philadelphia native who has often sported a Phillies cap throughout the season, had a crisp Flyers cap at the top of his locker stall before Thursday's game. Good to see a player sticking with hometown teams, but likewise ironic to see that lid with a Boston player inside the Bruins' building.
* Rivers figures Orlando is sitting back, relaxing and enjoying the potential for the Celtics and Magic to spill to seven games.
"They want it to go eight," quipped Rivers. "There's no doubt about that. If we were in that position, we would want the same thing. But they earned it. They did it quick. They've only played eight games and, when you think about it, that's pretty remarkable."
A potential Celtics-Magic showdown in the Eastern Conference finals would begin Sunday if Boston prevails in Thursday's Game 6 against Cleveland. If the Celtics and Cavaliers go to Game 7, the conference finals would begin Tuesday. Check out the full schedule
HERE
.
* Doc on a healthy KG: "He's healthier, happier. Which makes us happier. With health, I think that breeds confidence. I don't think if we asked him a month ago and said, if we have to get 20 shots per night out of you, he wouldn't have done it -- he couldn't have done it. Now he can. And he's doing a good job of it. That's the big difference."