Boston Celtics:

Round3Game6
May, 29, 2010
5/29/10
2:55
AM ET
BOSTON -- A collection of postgame news and notes after the
Boston Celtics
defeated the
Orlando Magic
in Game 6 of the Eastern Conference finals Friday night at TD Garden:
The rundown
(a quick look at postgame headlines)
* After disappearing in Game 5, Pierce rebounds in big way
* Infirmary report: Wallace and Rondo tweak backs in win
* Loose balls: Shots won't fall for Magic; A first-quarter league
After disappearing in Game 5, Pierce rebounds in big way
After a fast start in Game 5, Celtics captain
Paul Pierce
didn't register a single field goal over the final 39 1/2 minutes of that frustrating loss in Orlando. That streak would creep up over the 45-minute mark as Pierce missed his first two shots in Friday's Game 6, but after he buried a 3-pointer midway through the first quarter, it seemed like he couldn't go 45 seconds without a make.
Pierce poured in a game-high 31 points on 9-of-15 shooting with 13 rebounds and 5 assists over 44:53. He erupted for 11 points in the third quarter, getting to the line for six freebies -- all of which he made -- while helping the Celtics build a 21-point cushion and coast to the finish line of the series.
But it was Pierce's work on the glass that really stood out to the coaching staff.
"The rebounding -- I said it earlier, if you want to see how Paul Pierce is playing, go to the rebound numbers," said Celtics coach
Doc Rivers
. "If those numbers are high, that means he's playing well."
Pierce hauled in nine rebounds after intermission and registered more caroms than
Kendrick Perkins
(7) and
Kevin Garnett
(5) combined.
"Doc and [Celtics associate head coach Tom Thibodeau], the whole coaching staff, made [rebounding] a point of emphasis," said Pierce. "This is a pretty good rebounding team. The thing was it was going to have to come from our guards. Ray [Allen] and [Rajon] Rondo really rebounded the ball well this series. The big guys have so much work with
Dwight Howard
, trying to box him out. It's hard to block him out and to get the rebound.
"So the key was to keep a body on him and get the guards in there rebounding. There was an emphasis on that this series. We felt like if we control the glass, we have a great chance at winning. Most times we do if we win on the rebounds."
After dispatching the Magic, Pierce plans to soak in the victory and the impending return trip to the NBA Finals.
"Man, it's a great feeling," said Pierce. "You never take these moments for granted. This is an opportunity that I have for my second trip to the Finals, knowing that a lot of guys never made it. So we're real excited about this. I'm going to soak it all up, going to enjoy it. There's nothing like it. Being the only team -- one of the last teams standing. All 28 NBA teams got to watch us now.
"So we never take these moments for granted. Especially at this point in my career, where it's winding down. I can see the light at the end of the tunnel. To get back here is a great accomplishment, but even greater if we win another one."
Infirmary report: Wallace and Rondo tweak backs in win
Celtics forward
Rasheed Wallace
and guard
Rajon Rondo
both tweaked their backs during Friday's Game 6 and both are expected to utilize the extended layoff before the Finals to nurse themselves back to health.
Wallace, who complained of back spasms after fouling out in the fourth quarter of Game 5, seemed to be battling that same problem throughout Game 6. The pain of back spasms finally forced him off the court with 8:40 remaining in the final quarter, but Wallace returned for the postgame celebration. Brought in to help the Celtics obtain Banner 18, it seemed appropriate that he was the one who walked off the floor clutching the conference championship trophy.
"[Rondo is] going to be OK, I'm more concerned with Rasheed, honestly," said Rivers. "Rasheed got tight, you could see it. I will say this about Rasheed and [Glen Davis], neither one of them was in great shape tonight. You could see that. Rasheed could not move. He looked old tonight because of his back. And I told him when he came back. You could see him in pain, and I said, 'Thank you for giving me the minutes you gave me.' So that's our concern, but we have time, so I think by Thursday we'll be good."
Pierce admitted the time off, including a two-day weekend reprieve from practice, will do everyone good.
"I know I need [the break]," said Pierce. "I've got a couple injuries that I kind of want to cure up over the next couple of days. Just minor stuff like foot, back, stuff like that. But nothing major for me, you know. Running into
Dwight Howard
really doesn't help your body none going through a series like this. When you're constantly going over screens that he's setting, it wears on you."
Loose balls: Shots won't fall for Magic; A first-quarter league
*
Shots won't fall for Magic
: Magic coach Stan Van Gundy lamented the fact that shots weren't falling early for his team, and the Magic let the game get away from them at that point.
"I thought early on we were OK and we just didn't make shots, and then we let it get to us, and we did, we broke down," said Van Gundy. "Then I thought two things happened also:
Nate Robinson
was huge in the first half. I mean, that was a huge, huge lift for them to have [13] points in the first half.
"Then I also thought the other real key part of the game -- and it doesn't seem like it because you're down 13 at the half -- but, when Ray hit the two [3-pointers] bang, bang to start the second half. ... We had played well at the end of the first half. I know we were way down still, but we had come from 20-plus down, back to 13, you know. We came out of the locker room ready to go after it. Then he knocks down two huge threes and it goes to 19 and gives them a big cushion to work with."
*
Game is won at the starting line
: Van Gundy spent much of his pregame chat talking about how the majority of NBA games are won in the first quarter, not the fourth. Boston jumped out to a 30-19 lead in that first frame Friday and won despite being outscored 23-14 in the final period.
"I think [the first quarters were the] key the whole series," said Van Gundy. "I sort of said it laughingly, but there is this thing that people try to perpetuate that the NBA's a fourth-quarter league. You don't even need to watch the first three quarters, just turn on the fourth quarter. That's from people who don't study at all and don't follow NBA basketball. Go back through the year. I haven't done this year's yet, but you're usually at 2/3 to 3/4 of the games are won by the team who wins the first quarter. I mean, it's a first-quarter league.
"You've got to be ready at the start. It's not like you can't come back. Certainly if it's 25-24, comebacks happen, but you're up double figures at the end of the first quarter, and that one I don't have an answer to. I'll find out. The odds are astronomical. They really are. It's a first-quarter league. We got off to a bad start and this series was certainly a first-quarter series."
May, 28, 2010
5/28/10
11:23
PM ET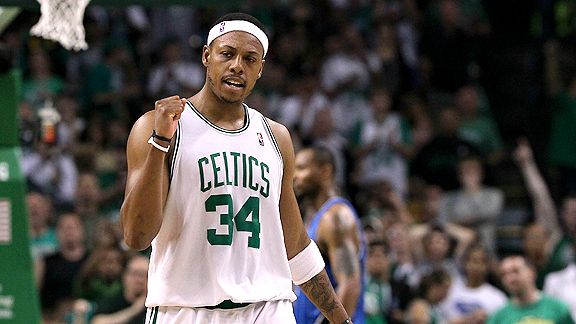 Jim Rogash/Getty ImagesPaul Pierce propelled Boston back to the NBA Finals with 31 points in Game 6.
BOSTON -- Instant reaction after the
Boston Celtics
posted a 96-84 triumph over the
Orlando Magic
in Game 6 of the Eastern Conference finals Friday evening at the TD Garden:
How the game was won:
Paul Pierce
poured in a game-high 31 points to go along with 13 rebounds, 5 assists, and 2 steals, while
Nate Robinson
chipped in 13 second-quarter points providing a spark the Celtics desperately needed off the bench in the first half.
Dwight Howard
registered 28 points and 12 rebounds to pace the Magic in defeat.
Turning point:
With
Rajon Rondo
landing hard on a drive to the basket late in the first quarter, Nate Robinson played the first 8:46 of the second frame and poured in 13 points on 4-of-7 shooting as Boston's lead ballooned as high as 21 points, including a 48-27 advantage after Robinson's pull-up jumper midway through the quarter. Rondo spent much of the second quarter with an ice pack on his lower back, lying on the ground in front of the Boston bench, but returned and seemed without limitation in the second half.
Stat of the game:
The Celtics connected on 10-of-22 trifectas (Orlando finished 6 for 22), giving the Magic a little taste of their own medicine while ending their season.
Unsung hero:
Less than 48 hours after sustaining a concussion,
Glen Davis
logged six points and seven rebounds over 16 minutes, providing a nice lift off the bench in a game many thought he might not be able to play in.
What it means:
The Celtics are back in the NBA Finals two years after capturing Banner 17. While awaiting an opponent, Boston will enjoy a five-day break before opening on the road against that Western Conference champion (the
Phoenix Suns
or
Los Angeles Lakers
) on Thursday. They'll need that entire time to combat the injuries that cropped up late in this series.
Rasheed Wallace
departed Friday's game in the fourth quarter when his balky back flared up on him again. Davis (concussion),
Marquis Daniels
(concussion),
Tony Allen
(ankle), and Rondo (back) also get a chance to heal up before the Finals.
May, 28, 2010
5/28/10
8:05
PM ET
BOSTON -- A collection of pregame news and notes before the Boston Celtics host the Orlando Magic in Game 6 of the Eastern Conference finals at TD Garden:
The rundown
(a quick look at pregame headlines)
* Perkins hoped NBA would rescind 2 technicals, settled for 1
* Doc: Marquis out, Scalabrine in; Davis, Wallace, TA active
Perkins hoping NBA would rescind 2 technicals, settles for 1
Celtics center Kendrick Perkins expressed disappointment that the NBA took away only one of his two technical fouls assessed in Game 5, but said he was happy to simply be able to play in Friday's Game 6.
"It really doesn't matter what I think, because I do think both should have been rescinded," said Perkins. "I'm just happy to be playing."
Perkins picked up a pair of technical fouls late in the first half of Game 5, earning an automatic ejection with 36.1 seconds to play in the frame. The NBA reviewed the technicals Thursday and overturned the second one for arguing a call with referee Eddie Rush.
Perkins stressed that he won't change his style of play, even as remains on the cusp of a one-game suspension with six technicals this postseason. The NBA postseason limit is seven and Perkins will incur a one-game ban for every other technical foul starting with his next one.
"I have to go out there and play my game. I can't worry about getting another technical, I can't play like that. I gotta go out there and do my job. If they want me to play physical, I'm going to play physical. I might need to smile a few times, but I'm going to go out there and play."
Perkins also lamented the current system that seems to penalize those that get hit with double technicals. Of his six infractions, five are of the double technical variety, often assessed by officials to simply calm down the game.
"It's intense, guys get tangled up by accident and, at times, they should let it go," said Perkins. "But sometimes they need [double technicals] to control game so it wont' get out of hand. That's part of being down there and playing physical."
Rivers said that, despite all the talk about physical play, it will ultimately come down to who plays better basketball.
"There's been way too much talk -- and I've done some of it -- about elbows and all that physical stuff. At the end of the day, there's going to be a basketball game played. And at some point, the team that does that he best will win this game."
Doc: Marquis out, Scalabrine in; Davis, Wallace, TA active
Despite all the injury concerns coming into Friday's Game 6, the Celtics will be without only Marquis Daniels (concussion) and activated Brian Scalabrine in his place.
Celtics coach Doc Rivers said that fellow reserves Glen Davis (concussion), Rasheed Wallace (back), and Tony Allen (ankle) will all be active despite injuries that previously threatened their availability for a pivotal matchup with Boston clinging to a 3-2 series lead and the prospects of heading back to Orlando for a do-or-die Game 7.
"Everybody's good, except for Marquis," said Rivers. "That's probably the easier way to [sum it up]. Marquis is out, probably for a while. Everybody else is ready."
According to Rivers, Daniels experienced tingling in both his feet and hands immediately after being concussed in the fourth quarter of Game 5. Feeling has since returned, but they don't expect to rush Daniels back to action, particularly given his limited role this postseason.
Davis underwent a battery of tests Thursday, earned clearance to play, and stressed that he's fine before Friday's game.
"It caught me off guard, I didn't see it coming," Davis said of the Dwight Howard elbow that momentarily knocked him out. "I'm playing today... I was woozy. Like when you get hit by a boxer. It's like, 'Woah.' Some boxers can gather themselves."
Davis couldn't and stumbled back up the court wobbly before being caught by referee Joey Crawford.
"I couldn't get my legs," said Davis. "I remember everything, I just couldn't catch my legs -- my legs were gone. Like a boxer."
Davis also noted that he didn't lose any teeth from the elbow. It was merely a splint he keeps in the back of his mouth to protect his teeth that fell out and was retrieved by the Amway Arena staff.
Rivers said he'd exercise caution where he thought with his injured players, particularly Davis.
"We don't have the same rules as football, but they wear helmets and they do try to hit each other," said Rivers. "Our game, we're not supposed to get hit on the head. Hopefully, he's not hit on the head tonight. But he's passed all the tests. I don't know enough about the history [of concussions], but I'm always concerned about my players."
May, 28, 2010
5/28/10
3:25
PM ET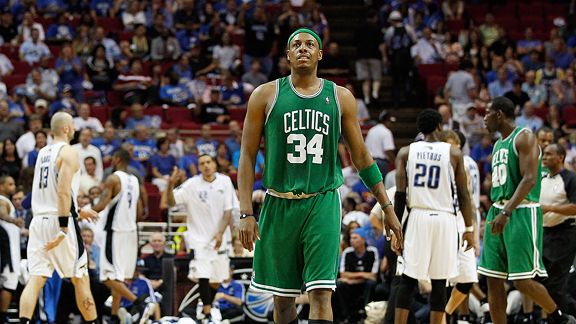 Kevin C. Cox/Getty ImagesPressure's on Paul Pierce and the Celtics, who don't want to wind up on the wrong side of NBA history.
BOSTON -- A handful of afternoon links to keep you busy up until tip-off when the
Boston Celtics
host the
Orlando Magic
Friday night at TD Garden:
Roundtable: Magic vs. Celtics, Game 6
It's never happened in the NBA. Never has a team been down 3-0 and won a playoff series.

But Orlando has put itself in a position to pull off what 93 other NBA teams couldn't. With two more wins, the Magic would make history and the city of Boston would have to swallow the second such catastrophe in 17 days, following the Bruins' collapse from up 3-0 versus the Flyers -- and just six years after the Red Sox beat the New York Yankees in the same fashion, making baseball history.

But before we can get to Sunday's Game 7, we have Friday night's big Game 6 in Boston.

We asked five burning questions to our panel of experts, including ESPN.com's J.A. Adande, Chris Broussard, John Hollinger, Chris Sheridan, and Marc Stein, and ESPN Boston's Chris Forsberg.
Click
HERE
to read the full story.
Hollinger: Slumping Allen, KG keys to Game 6

And that's where Garnett and Allen come in. Garnett looked like his old self in the upset win over Cleveland in the previous round, dominating Antawn Jamison on post-ups and scoring at least 18 points in all six games. He shot 52.1 percent from the field in that series and made all 15 free-throw attempts, providing a major advantage at a spot that looked roughly even on paper.

Against Orlando, though, he's struggled. Garnett has made one big shot -- a corner fadeaway over Dwight Howard that helped seal Boston's Game 2 win in Orlando -- but is averaging just 10.4 points for the series. He has a size advantage over Orlando's Rashard Lewis that he's been unable to exploit on the block, leaving him mainly a face-up jump shooter off teammates' kickouts.

In the five games this series, Garnett is shooting 37.1 percent and has attempted only nine free throws. He also picked up a costly technical foul in the Game 4 overtime loss. And although he's been able to neutralize his opposite number, Lewis, one wonders how much Lewis' viral infection has played a role.

At least we can't blame his knee problems. Garnett's mobility hasn't seemed compromised in the series, which makes his offensive disappearance all the more baffling. Nonetheless, the Garnett from the first two rounds has been strangely absent offensively -- after scoring at least 14 points in each of his first 10 playoff games, he's yet to score more than 14 in a game against Orlando.

Allen has traced a similar trajectory. Brilliant against Miami and more than adequate against Cleveland, he's had only two good games against the Magic. One of them was Game 4, when he hit several daggers down the stretch and made 5-of-7 3-point attempts overall, so that defeat certainly can't be laid at his feet.

On the other hand, he had a disastrous Game 2 (1-for-6, four points in 39 minutes) and wasn't much better in Game 5 (3-for-11, nine points). For the series, his average of 14.8 points is quite modest considering he's averaging 41 minutes per game, and he's converted only 43.1 percent from the field. The one positive has been his passing -- he's been great finding Boston's big men when the Magic trap his curl move, with 19 assists in five games, and I would argue that Orlando has overplayed his jumper at the expense of other openings.
Click
HERE

to read the full story.
Carroll: Breaking down Game 6

Now we have a series. This matchup between the Boston Celtics and Orlando Magic has become real physical and testy. We had technical fouls, ejections and concussions in Game 5. It is incredible how quickly this series has flipped, and all the momentum has swung in favor of the Magic. This series is no longer about offensive sets or defensive adjustments. It is now all about attitude and toughness. There are no more secrets; everyone has played their hand. Game 6 on Friday night will be about who brings energy and toughness, and who can keep their composure.

The Celtics have won a NBA championship. They have a veteran team, with Kevin Garnett as their leader. They know exactly what it will take to win this series and I expect a big-time performance from them Friday night. The big question is how will the Magic react? Will they be happy just to have won Games 4 and 5, or will they have the toughness and resolve to get this series back to Orlando for a Game 7?
Click
HERE

to read the full story.
May, 28, 2010
5/28/10
3:10
PM ET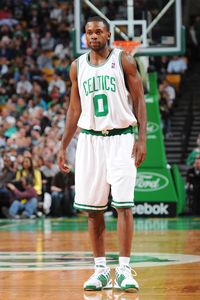 Brian Babineau/Getty ImagesOliver Lafayette could be active if the Celtics don't feel comfortable with their injured players.
When the
Boston Celtics
signed
Tony Gaffney
and
Oliver Lafayette
on the final day of the regular season, the moves were made with the idea of securing two players expected to challenge for a roster spot next season. The fact that they got to come along on what's turned out to be a wild postseason ride was just an added bonus for the young hoopsters.
In the aftermath of Game 5 of the Eastern Conference finals, with the Green ravaged by injuries and facing a possible one-game suspension to center
Kendrick Perkins
, it appeared the duo could be thrust into an active role for the season's biggest game.
Perkins got a technical rescinded and will play in Game 6 against the Magic, while Celtics coach
Doc Rivers
classified
Rasheed Wallace
(back),
Glen Davis
(concussion) and
Marquis Daniels
(concussion) as game-time decisions. What's more,
Tony Allen
continues to nurse a nagging ankle injury that has limited his production.
While
Brian Scalabrine
would almost certainly be the first of the current inactives to move into an active role if injuries should prevent anyone from playing, there's still a chance that Gaffney or Lafayette could be elevated. The pair wasn't expecting it after Game 5, but said they're ready if the call comes
"That's why we work out every day, for that reason," said Lafayette, a 6-foot-2 guard who appeared in 48 games for Fort Wayne of the NBA Development League this season and averaged 17.1 points, 4.6 rebounds, 6.5 assists and 1.8 steals per game. "Anything can happen in basketball -- or any sport -- so we'll be ready."
Lafayette dressed and appeared in the regular-season finale against Milwaukee and chipped in seven points and two assists in 22 minutes.
For Gaffney, things are a bit more complicated. The 6-foot-8 forward, a UMass product, most recently played for Altshuler Saham Galil Galboa in Israel, but appeared in just one game before a foot injury ended his season. After Game 5, he admitted he does not even know if he's game-eligible because the team hasn't had to cross that bridge.
Gaffney doesn't think they'll have to cross it for Game 6, either.
"These guys will be fine," he said. "Tonight was not ideal, but we've got a couple of days and we'll see what happens."
Gaffney and Lafayette are soaking up the experience, participating in all team activities. The duo often work out with strength and conditioning coaches before games with eyes toward being in peak shape when thrust into action during the summer league. Clearly the pair have a jump on the competition with what they're going through now.
And if that means being thrust into Game 6, they'll be ready.
"This is the biggest stage you can play on, but there's no nervousness," said Lafayette. "I know these [injured] guys will be back and feeling well. All they need is a night's rest and they'll be back at it."
May, 28, 2010
5/28/10
12:00
PM ET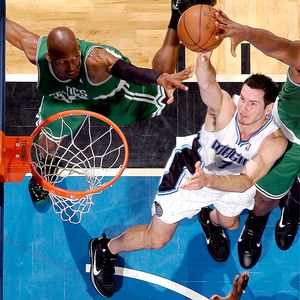 Fernando Medina/NBAE/Getty Images J.J. Redick has provided a spark for the Magic.
BOSTON -- Boston Celtics coach Doc Rivers surveyed the scene after Game 5 of the Eastern Conference finals in Orlando -- doctors and trainers scrambling about a locker room that better resembled an emergency room -- and smiled.
"It looked like a MASH unit with all the trainers and doctors," said Rivers. "I'm trying to talk and everyone's got ice. I said, 'This is great isn't it? This is the playoffs. This is what it should be about. Embrace this moment.' And I think overall, our team will."
Battered and bruised after a 113-92 loss that cut their lead in this best-of-seven series to 3-2, the Celtics limp back to Boston knowing that Game 6 could be a do-or-die situation.
The Magic are playing the brand of inspired basketball that led them to a 59-win regular season and two sweeps to open the playoffs: Jameer Nelson is killing the Celtics off the pick-and-roll; J.J. Redick is making a case for a re-vote in the NBA's sixth man of the year award; and Dwight Howard is throwing elbows like the playoffs have evolved into some sort of roller derby.
All of which led to the scene in Boston's locker room following Game 5. Bruised, both physically and maybe a bit mentally, the Celtics vowed not to return to the scene of that crime. Boston is hoping to wrap up this series during Friday's Game 6 (ESPN, 8:30 p.m.), then lick their wounds in preparations for a return trip to the NBA Finals.
Among the six topics covered: Perk being Perk; Big(s) on health; Where's the defense?; Stopping Pistol J.J.; Home sweet home?; and Keeping Rondo aggressive.
Click
HERE
to read the full story.
May, 28, 2010
5/28/10
11:25
AM ET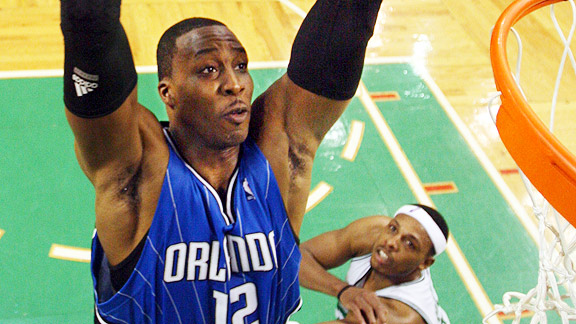 AP Photo/Winslow TownsonIt's a bird, it's a plane ... it's a dunk for Superman.
A quick glance at the historical numbers and patterns, with helps from our friends at ESPN Stats & Information, before the Boston visit the Orlando Magic in Game 5 of the Eastern Conference finals Wednesday night at Amway Arena:
* The Magic could become the first team in NBA history facing a 3-0 deficit to force a Game 7 at home.
* The Celtics led this series 3-0. There had been 93 previous occurrences of a team leading 3-0 in a best-of-seven series and that team has won all 93 series. If the Magic win Game 6, the series will be tied 3-3. Only three teams in NBA history have been down 3-0 and gone on to force a Game 7. Those teams are the 1951 Knicks (vs. Royals), 1994 Nuggets (vs. Jazz) and 2003 Blazers (vs. Mavericks).
* Over the last four postseasons, the Magic are 4-0 in elimination games against the Celtics. Orlando is 0-3 in elimination games against other NBA teams in that span.
* The Celtics led the Magic 3-2 in last year's Eastern Conference semifinals. Orlando won Game 6 in Orlando by eight points, then prevailed in Game 7 in Boston by 19 points.
* In NBA history, the home team wins Game 7 of a best-of-seven series 80 percent of the time.
* Check out
THIS
post for Accuscores comparison of winning percentages by games. After taking a 3-0 series lead, the Celtics were 95.5 percent certain of winning the series based on their computations. If Orlando steals Game 6, Boston's odds fall to 33.5 percent.
PODCASTS
Bill Simmons, NBA
Play Podcast Grantland's Bill Simmons discusses the state of the Lakers, Phil Jackson's future, the perception of Rajon Rondo, Doc Rivers' impact on the Clippers and more.
Baseball Tonight
Play Podcast Buster Olney chats with Jayson Stark about Ken Griffey Jr.'s uncomfortable interview with Linda Cohn and the value of spring training. Plus, Mike DiGiovanna on the Angels and Derrick Goold on Matt Carpenter's negotiations with the Cardinals.
John Farrell, Red Sox
Play Podcast Red Sox manager John Farrell talks about whether he expected his team to make such a turnaround in one season, his relationship with his players, fans' expectations for the squad and more.