Boston Celtics:

Rudy Fernandez
August, 19, 2010
8/19/10
2:45
PM ET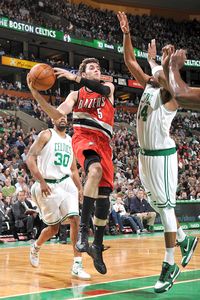 Brian Babineau/NBAE/GettyRudy Fernandez in green? Don't get too attached to the idea.
Some thoughts and analysis on today's Celtics-related headlines:
The Oregonian reports that disgruntled Blazers swingman Rudy Fernandez is willing to sit out the final two years of his contract in order to return to Spain in 2012, according to his agent.


[Fernandez's agent Andy] Miller said new Blazers general manager Rich Cho has "overreached" in his attempt to trade Fernandez, turning down offers from Chicago, New York and Boston, leaving Miller and Fernandez with no option other than to hold firm that the former first-round pick will not report.

"All I can do now is stand on the roof top and scream 'He's not coming!'," Miller said. "He's just not coming back ... I've made that clear."

Cho said he has made offers, counteroffers and talked about package deals with teams, but has yet to find a scenario that makes sense for the Blazers.

"I'm not going to be pressured into making a deal,'' Cho said. "I'm not going to make a trade just to make a trade. It has to be the right deal for the team."


--Our take: It will be interesting to see who blinks first in this staredown between Fernandez and Blazers, but Fernandez has very little leverage at this point. Regardless of whether Portland eventually moves him, it's hard to see a scenario in which he ends up in Boston given the Celtics' limited amount of tradable bodies, particularly ones that are close salary-wise with Fernandez. Given that Boston's draft choices are likely to be late in the first round for at least the next two seasons, there's little value to adding a pick to any deal. In the end, the Blazers shouldn't settle here; They can most certainly wait out Fernandez if they don't find comparable value in return.
Yahoo!'s Ball Don't Lie blog is ranking the top 30 players at each position. Celtics point guard Rajon Rondo hopped from No. 8 last year to No. 3 in this year's rankings:


A big jump for Rajon, who could be incredibly overrated or playing the role of the point guard at a level that my tiny brain just can't understand. I'll split the difference, and hand him the top-five spot. Some Celtics fans were a little upset at the way Rondo let a good group of point men fly past him last season, but that's the way the position works in this era, with no hand checking to help stop these flyweights. Rondo is just 24, he nearly cracked double-figure assists last season, and he led the league in steals as well.


--Our take: Yes, there are notable flaws in Rondo's game (free-throw shooting; perimeter jumpers; defending dribble-drive penetration) that we've heard plenty about, even as he ascended to All-Star level this past season. You could argue that Nash is still a better all-around player, despite his age, but it's fair to say the two will pass in the point guard elevator sooner than later.
Tip of the cap to our friends at CelticsHub, who went a step beyond the rookie portraits we posted earlier this week, and highlighted some of the best cheesier shots from recent years. Below are three of our favorites and here's why...

(Left) Ever wonder what Kendrick Perkins would look like in a Rasheed Wallace-like headband? Perk also appears to be covering up a No. 34 jersey in the photo (and he's smiling!); (Middle) We couldn't fit it in the crop, but there's a gigantic (and hilarious) inflatable basketball above Delonte West. Think Atlas with an seemed orange earth (see the full image, HERE); (Right) Undrafted Kevin Pittsnogle didn't have an official number and posed for most shots covering that area of his number-less jersey. He was waived after three exhibition games with the Green.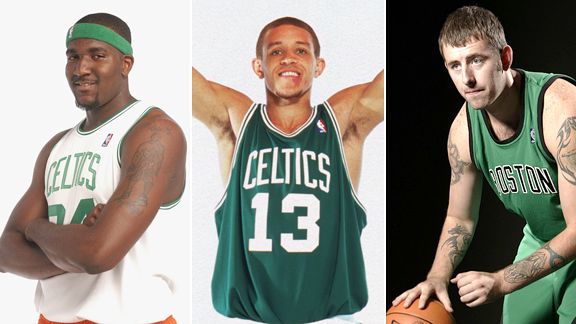 NBAE/Getty ImagesThree of our favorite NBA rookie portraits through the years.
July, 28, 2010
7/28/10
10:30
AM ET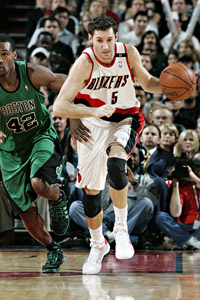 Sam Forencich/NBAE/GettyRudy Fernandez would help people forget about Tony Allen.
For the past couple of weeks,
Rudy Fernandez
's name has popped up in trade speculation because of his unhappiness playing behind All-Star
Brandon Roy
in Portland. A report Wednesday in
The Oregonian
suggests Boston is one of three teams vying for his services:
At the urging of Rudy Fernandez and his agent, the Trail Blazers have engaged in accelerated trade discussions to deal the disgruntled, once-popular shooting guard to one of three Eastern Conference teams.

Boston, Chicago and New York are all in the running to land the 6-foot-6 Spaniard, who set an NBA rookie record two seasons ago by making 159 three-pointers.

Fernandez, 25, is unhappy in Portland because of limited playing time behind All-Star Brandon Roy and because of the playing style of coach Nate McMillan, who primarily used Fernandez as an outside shooter, not the playmaker Fernandez believes he can be in the NBA.
The Celtics would likely be attempting to move
Rasheed Wallace
's contract as part of a deal (something that seems fitting as Wallace's career blossomed in Portland and
Doc Rivers
suggested that Wallace will retire to that area after his playing days), but Fernandez is a value buy ($1.25 million), so the Blazers would have to send another player in return and there's not much that matches up (at least that Portland would be willing to part with).
Boston could spice up their offer with a first-round draft pick, but considering it's likely pegged as a late first-rounder next season, it's unlikely to entice Portland. The Celtics could offer some of their lower-priced chips, like
Glen Davis
, but that could create a void in an already-thin frontcourt.
Fernandez averaged 8.1 points, 2.6 rebounds, and 2 assists per game in 62 appearances last season.
(h/t:
Boston Globe
,
CelticsBlog
)