Boston Celtics:

Satch Sanders
August, 14, 2011
8/14/11
8:56
AM ET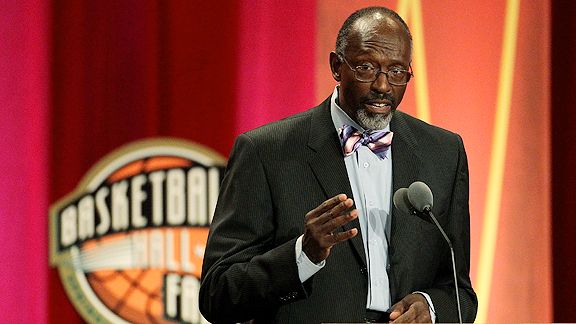 Jim Rogash/Getty ImagesSatch Sanders entered the Basketball Hall of Fame this weekend.
All this week, ESPN Boston will be chatting with Celtics legends, who will be discussing some of their favorite memories from their playing days, Paul Pierce's place in Celtics history, the team's aging core, and a slew of other topics. Today, we check in with Tom "Satch" Sanders, who played all 13 years of his NBA career for Boston, winning eight championships along the way. Sanders was a member of the first all-black starting lineup in NBA history, and was inducted into the Basketball Hall of Fame as a contributor this past weekend.
What's your favorite memory from your playing days?
"Favorite memory about playing in Boston... Just really making the team and being able to play for the Celtics, and going back to New York and having the success that we had, particularly against the Knickerbockers for a number of years, before they got themselves together. Since I grew up being a Knickerbocker fan, it was really neat."
What's your favorite memory from your time in Boston?
"Well hockey was what the city was about. So, I liked what the city represented in terms of -- the biggest thing that made it a nice place was all the colleges and a lot of young people came into the city. They get, what, 150,000 kids every year? I don't know. With all the colleges and universities? So it made it a fun place to be in terms of activities. It was inexpensive. It wasn't up to New York prices at those times. It was a different Boston. So, I liked it."
Where does Paul Pierce rank among all of the Celtic greats?
"Well, certainly the stats speak for themselves. You've watched a real performer. He has to be among, easily, the top 10 players who've played for the Celtics. He may well be in the top five for that matter. It just depends on what era you're looking at. It's always best, as far as I'm concerned, to take it in 10 year spaces. So you look at it from [1950] to [1960], who were the particular players at that time, and you take a look at another 10 years and another generation, and so on. So clearly he's up with the best of them. Everybody talks about rating players, well, you're certainly not going to do the one, two, three thing, because clearly there's only one player at the top and that's [Bill] Russell. After that, others begin to line up."
Can the Celtics still be competitive this coming season with their core players all another year older?
"Listen, you win because you've got at least nine, 10 guys that can play. That's always the case. When you look at Dallas this year, they won because they had 10 guys that could play. No one thought that [J.J. Barea] was going to be that kind of a factor, but without him they wouldn't have won. So you had your Jason Kidds and your [Dirk] Nowitzkis and you had the other guys, but without the contributions of [Tyson] Chandler, [Shawn] Marion and [Barea] -- and before he got hurt, the other center, [Brendan] Haywood -- it just would not have happened, period. So, you need all those guys, that blend. Here, the media's getting all excited about talking about the age of the three guys, like you're playing against all the competition, people themselves. Come on. They're showing a lack of knowledge and feel for the game. We were too old in 1962. We were judged by the media to be too old and we couldn't win anymore. We went on to win about six more. Not only do you have balance, do you have players, and do you have a good core, but do you have players that can come in and keep playing? If you don't have that balance of nine, 10 players, guess what? If you go by the philosophy that the media seems to throw out there, then obviously [Dwyane] Wade, [Chris] Bosh, and LeBron [James] should have won the whole thing, right? But somehow, in the media, they make all this noise about what happened here, but somehow it doesn't apply elsewhere. There's a cut-off. That makes it hard to think a lot of people know what they're talking about."
What are your thoughts on being elected to the Hall of Fame?
"It's a big deal. I'm glad it's happening, and I'm glad it's happening while I'm alive. That's kind of important. A lot of guys in [the Hall of Fame] that I like and admire and played with and against, so it's a good place to be."
Greg Payne is a student intern for ESPNBoston.com
August, 12, 2011
8/12/11
2:29
PM ET
Robb Harskamp and Milton Un, in collaboration with Hoopism.com, provide portraits encapsulating each of the players set to be inducted into the Basketball Hall of Fame this weekend in Springfield. Here's
their awesome graphic
for Celtics legend Satch Sanders: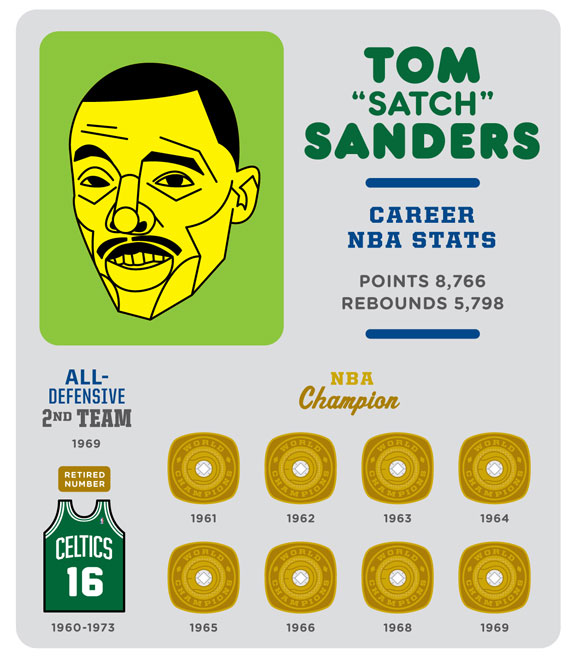 August, 12, 2011
8/12/11
2:23
PM ET
ESPN Boston's Peter May tells you why Satch Sanders
deserves his spot in the Basketball Hall of Fame
and it's more than just his "contributions" to the game:
August, 11, 2011
8/11/11
5:48
PM ET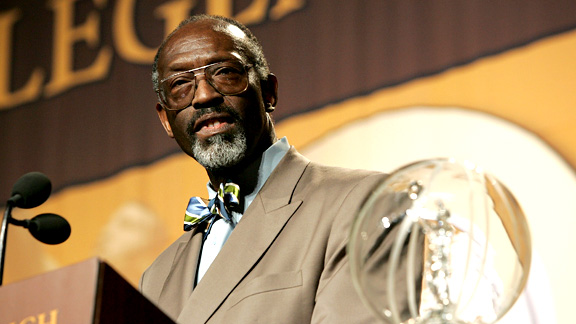 Melissa Majchrzak/Getty ImagesSatch Sanders educated incoming NBA players about the benefits and dangers of their new lives.
As Celtics legend Tom "Satch" Sanders preps for entry in the Basketball Hall of Fame this weekend, Richard Lapchick
explains his tremendous impact
on the game:
In 1984, when I started the Center for the Study of Sport in Society at Northeastern University in Boston, I hired Sanders as an associate director. In discussing some of the things that I wanted to address, such as student-athlete graduation rates and the lack of opportunities for women and people of color as head coaches and in front office positions in the various professional leagues and at the college level, it was clear that Satch was a deep thinker on these and other issues.

He cared deeply that too many athletes were not getting an education because they were pursuing the dream of a professional career. They were ignoring studies to hone athletic skills in spite of the fact that the odds were better for an African-American high school basketball player to become a doctor or an attorney than to play in the NBA. Satch saw the Center as a platform to advocate for the truth with boys and girls as well as men and women.

He was a model for citizen-student-athletes. Not only did he get a great education at NYU, but he was very involved in the Boston community as a Celtics player and afterwards. He also was ready to speak up, often softly yet always with the powerful voice given to successful athletes.

Boston at the time had a terrible reputation for race relations. It had one of the most violent reactions to desegregation busing in the country, but Satch stayed. "I can travel to every part of the country and see racism first hand," he said, when I asked. "It is not unique to Boston."
Hop
HERE
to read the full story.
April, 4, 2011
4/04/11
4:42
PM ET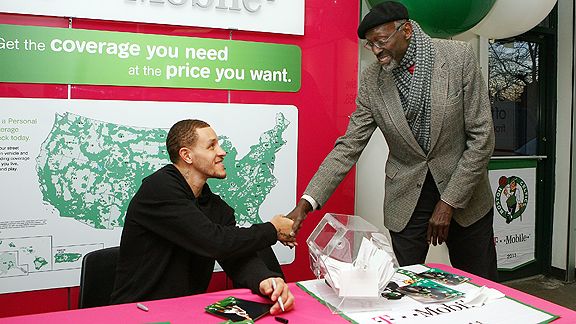 Gail Oskin/Getty Images for T-MobileCeltics guard Delonte West and Satch Sanders together at a team appearance.
WALTHAM, Mass. -- After winning eight championships in a 13-year career, Celtics legend Tom "Satch" Sanders earned basketball's top honor when he was elected to the Naismith Memorial Basketball Hall of Fame Monday.
Sanders joins a 2011 class that includes
Dennis Rodman
,
Chris Mullin
, Tara VanDerveer, Tex Winter, Herb Magee, Artis Gilmore,
Arvydas Sabonis
, Teresa Edwards, and Reece "Goose" Tatum.
Sanders, a 6-foot-6 forward whose No. 16 jersey hangs in the rafters at the Garden, averaged only 9.6 points and 6.3 rebounds over 24.2 minutes per game
during his career
. But if those eight world titles weren't enough to cement his spot in Springfield, allow former teammate (and Hall of Famer) Tommy Heinsohn to tell you why he deserves enshrinement.
"Well, Satch made my life easier, because he got all the tough guys to defend, and I only had to worry about them after he got in foul trouble, if he got in foul trouble," said Heinsohn. "It let me concentrate on what I was good at: Offensive and rebounding. So he took a load off of me. But he was perfectly capable of scoring 20 points a game, also. He was a very good offensive player.
"In the course of things, people try and quantify whether a guy should be in the Hall of Fame, because of his stats. Stats mean nothing, and I think right now, this is proof that he was a winner and he contributed mightily to a winning team and he contributed to the sport big time with his player programs for the NBA."
And just how good was Sanders' defense?
"Satch played all the tough guys, bigger guys, smaller guys," said Heinsohn. "He had to play guys like Elgin Baylor and Bob Pettit and Cliff Hagan and Paul Arizin -- all top scorers. Invariably, he wouldn't hold them scoreless, but they had to work, which is the prime thing that you try and make scorers have to do. And more often than not he held them below their average, which is an accomplishment in itself."
Sanders, a familiar face around the Celtics' facilities, has left an impression on modern players.
"Well, I appreciate it because he's such a good guy," said
Ray Allen
. "He's very humble. As I retire and move into raising my kids and wanting to be around the organization, I hope that the players that are here then take care of me and treat me with respect just the same. So I make sure that I always, when I see him, we have conversations and just ask him how his time was when he was here, because he was just as athletic as we are now. It always reminds you that your time does pass, and when it passes you've got to make sure that you've created [strong] relationships that you can still come back and enjoy them in the future."
January, 20, 2011
1/20/11
3:15
PM ET
By
Jamie Most
| ESPNBoston.com
*
Editor's note
: In the latest of an occasional series of interviews with Boston sports legends, Jamie Most goes 1-on-1 with Celtics legend Tom "Satch" Sanders, who talks about the Boston title teams of the past and his role with those squads. Click the video above for Part 1 of the interview then click
HERE
to watch Part 2. Follow the jump for a complete transcript of Sanders' comments.