April, 9, 2012
4/09/12
8:00
AM ET
BOSTON -- With Sunday's win over the 76ers, the Celtics opened a three-game lead over Philadelphia atop the Atlantic Division. With only 10 games remaining in the regular season, it's going to be tough for the struggling Sixers to close that gap (though certainly not impossible given Boston's daunting slate). That's why Celtics coach Doc Rivers isn't putting too much stock in the victory.
"In the end, we still have a lot of games -- not a lot, but enough that we just have to keep playing," Rivers said. "I can tell you, I never mentioned [the standings] to our team before the game, I didn't say one word about the conference. I don't even know where anyone is. Honestly, I truly don't. So we're going to keep playing and then [Celtics media relations czar] Jeff Twiss will tell us where we are at the end of [the regular season]. I think that's the smartest thing to do."
Spoiler alert, Doc. The Celtics are in good position so long as there's no egregious stumbles:
December, 31, 2011
12/31/11
4:00
PM ET
The Celtics will cram 66 games into a 124-day span during this condensed 2011-12 season. Given the veterans on his roster, coach Doc Rivers tries to give his team as much recovery time as possible, which doesn't leave a lot of available time for practice.
AP Photo/Charles KrupaNot a lot of practice time means new faces like Keyon Dooling are learning on the fly.
Take this opening week for example. The Celtics dropped three games in four nights -- all on the road -- and after Wednesday's defeat in New Orleans (in which the tank was clearly on empty), Boston flew back home, arriving in the area at 4 a.m.
Rivers gave the team Thursday off to recover and, instead of reconvening early Friday for a more typical morning walkthrough, the team instead met at the arena in the late afternoon to go over its game plan against the Pistons. Those sessions tend to be breezier in nature with tip-off approaching, but Rivers was forced to use it to install offensive sets with no other time to do it recently.
"We've always had walkthroughs, [but] I think they are longer now," said Rivers. "Honestly, as a player, I couldn't stand walkthroughs, so we have to be careful with those, because when you get too close to the games, I think the players' minds are so focused on the game, you don't want to clutter them. We have to be careful with them.
"It's needed because of lack of practice time; You have to use your walkthrough," he said. "We literally put in a set today. Just one option on it, but I would never do that in a normal regular season. But we have no choice with guys coming back off of injuries and just not a lot of practice time. I told them, 'We are going to mess [the new set] up, but we were absolutely going to run it [in Friday's game].' That gives us a chance [Saturday] to work on it, and by the third or fourth game, we'll have it in. That's just the way this season is going to be."
The Celtics were scheduled to squeeze in some sort of film session/practice activity on Saturday afternoon before flying to D.C. and ringing in the new year in the nation's capital while prepping for the front end of a home-and-home against the Wizards.
But Rivers admitted the team is still trying to figure out how to maximize its time this season, especially in situations with travel after road games. After a late-night game in Miami on Tuesday, the Celtics got into New Orleans in the early hours Wednesday morning, only to have to play the second night of a back-to-back that evening. After that game, Boston flew home with another early arrival.
"We're still working on how to do this schedule, even the flying," said Rivers. "Do you leave after the New Orleans game? Or do you stay and get a good night's sleep in New Orleans? That may be an oxymoron. Those are the things we still have to figure out, because getting in at 4 a.m. is not healthy -- on back-to-back nights -- that's not healthy, either."
August, 18, 2011
8/18/11
2:30
PM ET

The Boston Celtics formally announced their 2011-12 preseason schedule Thursday (lockout pending, of course). Here's a glimpse at the preseason dates, all of which feature games against Boston's Atlantic Division brethren. The Celtics are scheduled to swing through Providence and Hartford, while also venturing out to Western Mass. for a "road" game against Philadelphia on the campus of UMass-Amherst:
Oct. 10 vs. Philadelphia 76ers at Dunkin Donuts Center (Providence, R.I.), 7:30 p.m.
Oct. 15 at N.Y. Knicks at Times Union Center (Albany, N.Y.), 7:30 p.m.
Oct. 16 at Toronto Raptors at Air Canada Centre (Toronto), 6 p.m.
Oct. 19 at Philadelphia 76ers at Mullins Center (Amherst, Mass.), 7 p.m.
Oct. 21 vs. Toronto Raptors at TD Garden, 7:30 p.m.
Oct. 22 vs. N.Y. Knicks at XL Center (Hartford, Conn.), 7:30 p.m.
Oct. 24 at New Jersey Nets at Prudential Center (Newark, N.J.), 7:30 p.m.
Oct. 26 vs. New Jersey Nets at TD Garden, 7:30 p.m.
(All games broadcast on Comcast SportsNet; All home games available on WEEI).
April, 27, 2011
4/27/11
9:46
PM ET


Here's the schedule for the Boston Celtics vs. Miami Heat in the Eastern Conference semifinals:
Game 1: Sun., May 1, Boston at Miami, 3:30 p.m. (ABC)
Game 2: Tues., May 3, Boston at Miami, 7 p.m. (TNT)
Game 3: Sat., May 7, Miami at Boston, 8 p.m. (ABC)
Game 4: Mon., May 9, Miami at Boston, 7 p.m. (TNT)
Game 5*: Wed., May 11, Boston at Miami, TBD (TNT)
Game 6*: Fri., May 13, Miami at Boston, TBD (ESPN)
Game 7*: Mon., May 16, Boston at Miami, 8 p.m. (TNT)
*-if necessary
February, 4, 2011
2/04/11
2:00
PM ET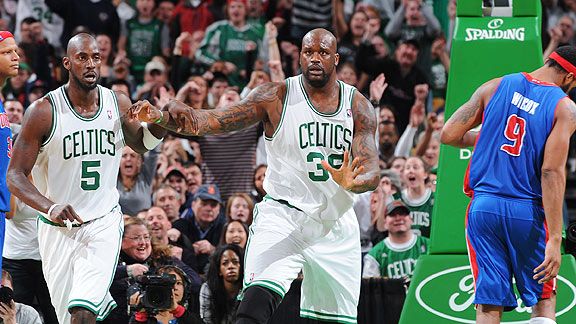 Brian Babineau/NBAE/Getty ImagesThe Celtics will host four of the league's best over the next 10 days.
WALTHAM, Mass. -- Home sweet home? Hardly.
Fresh off an ultra-successful, four-game road trip -- a trek extended an extra day thanks to winter weather woes back home -- the Celtics returned to Boston on Wednesday to not only find the latest mixture of snow and ice dumped on top of the region, but also an upcoming schedule that's so daunting, it makes their just-concluded West Coast venture look like a vacation.
Over the course of the next 10 days, the Celtics will host the Mavericks (Feb. 4), Magic (Feb. 6), Lakers (Feb. 10) and Heat (Feb. 13) -- four of the top 10 teams in the NBA -- with a tail end of a back-to-back mixed in on the road against the Bobcats (Feb. 7).
"We don't have a game that we can rest upon until after the All-Star break," sighed Celtics coach Doc Rivers.
Click
HERE
to read the full story.
August, 10, 2010
8/10/10
2:14
PM ET

The NBA released the remainder of the 2010-11 schedule Tuesday afternoon and here's a few quick thoughts on what's ahead for the
Boston Celtics
(click
HERE
for the full schedule):
A night after opening the season against the Miami Heat, the Celtics must trek to Cleveland for their first of what appears to be 19 back-to-backs this season.
Six games into the season, Boston faces a four-game brutal road trip that includes stops in Oklahoma City, Miami, and Dallas over a five-day stretch (Thunder and Mavs are a back-to-back).
The Celtics visit the Lakers on Sunday, Jan. 30, the third game of a four-game road trip out West, for an ABC matinee.
The Lakers visit Boston on Thursday, Feb. 10 for a national broadcast (TNT).
The Celtics have a second West Coast trip in late February (games against the Warriors, Nuggets, Clippers, and Jazz from Feb. 22-28).
The Celtics visit the Heat on April 10, the final weekend of the regular season. Boston also treks to South Beach on Nov. 11.
Boston is featured in 22 national TV games (not including NBA TV).
Click
HERE
for the full schedule. More schedule thoughts later.
August, 3, 2010
8/03/10
7:15
PM ET

The NBA got it right.
In the 36 hours before Tuesday's announcement of the league's season-opening and holiday slate, rumors swirled about potential opening-night matchups. No game made more sense to kick off the 2010-11 season than Boston Celtics vs. Miami Heat and that's exactly what the NBA delivered.
The Miami Thrice visit the Big Three on Tuesday, Oct. 26, 7:30 p.m. on TNT. Let the hype begin.
The Celtics-Heat clash highlighted NBA's hourlong special Tuesday night, but it was just one of three games announced for the Celtics.
Boston will once again travel to Orlando for a Christmas Day showdown with the Orlando Magic (a rematch of the Eastern Conference Finals). That game will be televised on ABC at 2:30 p.m. as part of the league's five-game showcase (the rest of the schedule: Bulls at Knicks, noon; Heat at Lakers, 5 p.m.; Nuggets at Thunder, 8 p.m.; Blazers at Warriors, 10:30 p.m.)
The Magic will trek to Boston for another battle on Martin Luther King Jr. Day, Jan. 17 at 8 p.m. on TNT.
One report Monday indicated the Heat would start the season in Orlando, where the Magic are set to open their sparkling new $480 million Amway Center. Another report suggested the Celtics would dance with the Cavaliers on opening night for the third straight season. Both matchups lacked the pizazz of a Celtics-Heat battle and the NBA made the right decision in pitting the defending Eastern Conference champions against the preseason favorite to steal that crown.
You can read our take on a Celtics-Heat battle,
HERE
. Hop to
NBA.com
to check out the full list of opening week and holiday games.
The full 2010-11 NBA schedule will be released on Aug. 10.
August, 3, 2010
8/03/10
3:06
AM ET

The Celtics will open the NBA season against
LeBron James
and the much-ballyhooed
Miami Heat
at TD Garden, a source told the Associated Press.
The matchup of the Old Big Three against the New Big Three of James,
Dwyane Wade
and
Chris Bosh
will be Oct. 26 and is expected to be televised by TNT.
The league will announce its opening week and holiday schedule Tuesday night on NBA TV.
ESPNBoston.com's Chris Forsberg makes the case for a Boston-Miami opener
HERE
.
May, 13, 2010
5/13/10
11:55
PM ET


By virtue of the Boston's Game 6 triumph over top-seeded Cleveland to win an Eastern Conference semifinal series, 4 games to 2, Thursday night at the TD Garden, the Celtics advance to the conference finals to meet second-seeded Orlando. Here's the complete schedule for the next round:
Game 1 - Sunday, May 16 - Boston at Orlando - 3:30 p.m. (ABC)
Game 2 - Tuesday, May 18 - Boston at Orlando - 8:30 p.m. (ESPN)
Game 3 - Saturday, May 22 - Orlando at Boston - 8:30 p.m. (ESPN)
Game 4 - Monday - May 24 - Orlando at Boston - 8:30 p.m. (ESPN)
Game 5 - Wednesday - May 26 - Boston at Orlando - 8:30 p.m. (ESPN)
Game 6 - Friday - May 28 - Orlando at Boston - 8:30 p.m. (ESPN)
Game 7 - Sunday - May 30 - Boston at Orlando - 8:30 p.m. (ESPN)
November, 24, 2009
11/24/09
4:10
PM ET
If the Celtics are looking to go on a run, there may be no better time than now. Clearly it's the holiday season because the NBA schedule makers have given the Celtics what appears to be a pretty soft slate from now until Christmas.

Consider this, the combined record of the Celtics' next 13 opponents leading up to a Christmas Day rematch with Orlando is 69-99. Only five of those upcoming opponents are among their conference's top eight teams (Milwaukee, Miami, Chicago, Indiana and Oklahoma City), and none is better than fifth (Milwaukee).

Here's a look at the schedule and current record of upcoming opponents:

Nov. 25 vs. Philadelphia (5-8)
Nov. 27 vs. Toronto (6-8)
Nov. 29 at Miami (8-5)
Dec. 1 at Charlotte (4-9)
Dec. 3 at San Antonio (6-6)
Dec. 4 at Oklahoma City (7-7)
Dec. 8 Milwaukee (8-4)
Dec. 10 at Washington (3-9)
Dec. 12 at Chicago (6-7)
Dec. 14 at Memphis (5-9)
Dec. 18 vs. Philadelphia (5-8)
Dec. 20 vs. Minnesota (1-13)
Dec. 22 vs. Indiana (5-6)
Dec. 25 at Orlando (11-3)

While seven of those 13 games are on the road, it's not inconceivable -- though admittedly highly improbable -- that the Celtics could wake up on Dec. 26 with a 24-4 record. How does that compare to past seasons? The Celtics were 27-4 on Dec. 26, 2008, and 23-3 on Dec. 26, 2007.