Boston Celtics:

Sean Williams
June, 28, 2012
6/28/12
10:00
AM ET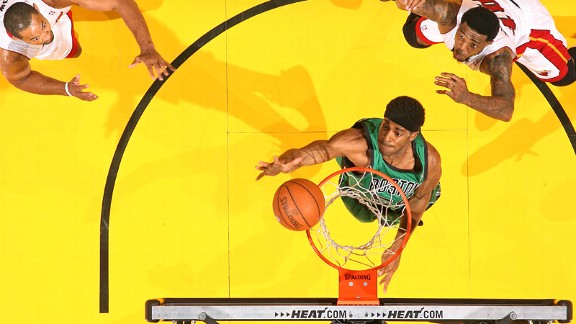 Nathaniel S. Butler/NBAE/Getty ImagesSean Williams got some floor time during Boston's postseason run to the Eastern Conference finals.
Over the three weeks leading up to start of the new league year on July 1, we'll take a player-by-player look at the Celtics' 2011-12 roster and how each player's season unfolded, assigning a grade for their overall performance. This is the 16th in the series of report cards:
Player
:
Sean Williams
2011-12 averages
: 3.7 ppg, 4 rpg, 14 mpg with Boston (3.6 ppg, 2.3 rpg, 9.7 mpg overall)
2011-12 salary
: $50,000 (pro-rated $885,000 veteran minimum)

Season in a paragraph
: After splitting time between the Dallas Mavericks and their D-League affiliate (Texas Legends), Williams -- a Boston College product -- returned to the area by signing with Boston in the final week of the regular season. Eligible for the postseason, Williams spent much of it active and appeared in two games while getting to be part of a ride to the cusp of the NBA Finals.
Season highlight
: Waived by the Mavericks on March 22, Williams was probably just happy to latch on with a team and earned himself a few nice paychecks. He appeared in three regular-season games for the Celtics, chipping in six points, seven rebounds, and a block over 19 minutes in the regular-season finale against the Milwaukee Bucks. That might have helped earn him an active spot in the postseason over rookie JaJuan Johnson.
Season lowlight
: The former first-round pick (17th overall) of the New Jersey Nets spent the better part of the past two seasons in the D-League. The Mavericks gave him a chance early in the 2011-12 campaign and he responded by scoring 12 points in 11 minutes in the team's second game of the year. Alas, soon he was back in the D-League and simply couldn't stick whenever Dallas called him up for an opportunity.
Final grade
: Incomplete.
Teacher's notes
: Forty-eight minutes of court time with the Celtics simply isn't enough to offer a grade. For an extremely limited sample (three end-of-the-regular-season games) Williams put up nice numbers, particularly his defensive rebounding (21.4) and total rebound percentages (16.8) -- those sort of numbers would have ranked him in the top 25 of those categories if maintained for the season.
What's next?
: It'll be interesting to see if the Celtics liked what they saw enough to bring Williams back. The team inked him to a fully non-guaranteed second-year at $915,000 and have until August 1 to decide if they want to pick that up. That allows Boston to do its offseason shopping and clear the contract if it finds an upgrade -- or hold on and give him another chance if they feel he's a better bench option after getting a taste of the system. It's easy to forget, but Williams is just 25 years old -- younger than C's rookie Greg Stiemsma -- and the 6-foot-10 forward now has four years of NBA experience under his belt.
Honor roll
: Click
HERE
to read past report cards.
Don't agree with teacher? Just want to sound off on Williams' 2011-12 season? Leave your thoughts in the comments section.
April, 25, 2012
4/25/12
1:29
AM ET
By
Greg Payne
| ESPNBoston.com
BOSTON -- A collection of news and notes following the Celtics' 78-66 victory over the
Miami Heat
on Tuesday night.
RIVERS THINKS ALLEN WILL BE READY FOR PLAYOFFS
Celtics coach Doc Rivers acknowledged prior to Tuesday's victory that
Ray Allen
's prolonged ankle woes are a "concern," but he did offer one of his only glances of hope in recent weeks after the game, when he noted that he thinks Allen will be ready for the postseason, which will begin either Saturday or Sunday against the
Atlanta Hawks
.
"I think Ray will be ready," Rivers said. "I don't know that. I do think he will be ready. But if he's not, someone else has to be."
WILLIAMS MAKES GARDEN DEBUT
Playing in only his second game with the Celtics,
Sean Williams
made his TD Garden debut on Tuesday night, and it was a noticeable improvement over his brief three-minute stint against the Hawks last Friday. Williams played 20 minutes on Tuesday, scoring 5 points to go along with 4 rebounds, 2 assists, 2 blocks and 2 steals.
His most distinguishing impact came in the fourth quarter, in which he managed 4 points, 3 rebounds and 2 assists, helping to spark Boston as it outscored Miami 28-16 over the final 12 minutes. Williams impressed Rivers with his competitiveness down the stretch.
"It was OK. I mean, he's a shot-blocker, doesn't know a lot of our stuff," Rivers said when asked to assess Williams' performance. "He was pressing early. ... One thing I did like about Sean down the stretch -- he's competitive, and you can see that. He wasn't going to back down from anything. He got some great blocked shots, so that was good to see."
When informed of Rivers' compliment to his competitiveness, Williams touched on the need to take advantage of opportunities when they're presented.
"This team, we have goals. We want to be champions," Williams said. "Everybody has to come out focused, with the mindset that we can't waste any time out there, and we can only get better with every opportunity. A game like this, with the Big Four out, all of us players on the bench -- a lot of the players haven't had a lot of action this year and what not -- it's a chance to prove to Doc that we're ready whenever he's going to call us."
Williams played less than eight minutes in the first half, but settled into a rhythm nicely in the final quarter, and was able to produce in a variety of areas. He admitted afterward that he was more relaxed throughout the second half, and that allowed him to be more effective.
"You go out there, your first time out there, you get tired real fast, your legs get down on you real quick," he said. "Everything kind of shuts down on you when you first get out there, so, yeah, I caught my second wind, I guess, in the second half."
HOME-COURT ADVANTAGE STILL POSSIBLE
The Celtics are set to play the Atlanta Hawks in the opening round of the playoffs this weekend, but where the first two games will be held has not been decided. Both the Celtics and Hawks won on Tuesday, meaning the Celtics still trail Atlanta by a game in the standings. Both teams wrap up the regular season on Thursday (Boston will face Milwaukee while Atlanta will battle Dallas), but if the Celtics win and the Hawks lose, leaving the teams with the same record, Boston will assume home-court advantage by virtue of the head-to-head tiebreaker (the C's won two of three regular-season meetings).
Despite a desire to still rest any players that might need it, there's no denying Thursday's game takes on heightened significance.
"We're going to play our guys Thursday, anyway, especially because they didn't play today," Rivers said, referring to the likes of
Kevin Garnett
and
Mickael Pietrus
. "It would be nice to put some more pressure and force Atlanta to have to win. That would be nice."
Added
Keyon Dooling
, "We expect to win every time we go out on the court. No matter who suits up, we expect to win the game. Hopefully our guys are getting their rest, which is really important, but our seeding is important as well. If we have to get that win, we're coming in trying to tear their head off."
April, 23, 2012
4/23/12
6:03
PM ET
WALTHAM, Mass. -- Celtics newcomer
Sean Williams
was the last player off the floor after Monday's practice, his first with the team.
The Celtics signed Williams last week and he joined the team in Atlanta, playing 3 minutes 27 seconds in the 97-92 loss to the Hawks last Friday night. Williams said he was "very surprised" to have gotten a call from his agent saying the Celtics were interested.
"I didn't know what was going to happen so it was quite a surprise," he said.
Williams had been playing for the Texas Legends of the NBA's D-League, where he had put up some decent numbers over 27 games (15.2 points, 8.9 rebounds and 2.5 blocks per game). He also had appeared in eight games for the Dallas Mavericks this season.
Doc Rivers said there was one constant in every conversation he had with many of Williams' former coaches: "That he's a good kid, a smart kid, who has done some stupid things. The difference is, he got caught."
Williams has had his share of off-court issues both at Boston College and in the NBA. But he has undeniable talent and, said Rivers, "is athletic as hell." Rivers said he talked to former BC coach Al Skinner, former BC assistant Ed Cooley as well as NBA coaches Lawrence Frank, Del Harris and Rick Carlisle. "Basically, we talked to everybody," he said. "They all said pretty much the same thing: He can play, but he does the other stuff. That's what we want to see if we can help him with, the other stuff. Kevin (Garnett) is as positive as any guy if he thinks you want to play basketball. I think Sean wants to play basketball."
April, 19, 2012
4/19/12
7:49
PM ET
ESPN.com's Marc Stein reports:
The Boston Celtics, seeking some added depth for their frontcourt, are closing in on the signing of free-agent center Sean Williams, according to sources with knowledge of the deal.

Sources told ESPN.com that the former Boston College center, waived by the Dallas Mavericks in March, is scheduled to join the Celtics in Atlanta and will be in uniform for Boston's game Friday night against the Hawks.

To make roster room for Williams, Boston is waiving the injured Jermaine O'Neal, sources said.
Hop
HERE
to read the full story.