Boston Celtics:

SeasonPreview2010
October, 25, 2010
10/25/10
4:20
PM ET
WALTHAM, Mass. -- A collection of news and notes after the
Boston Celtics
practiced Monday afternoon at the Sports Authority Training Center at HealthPoint in advance of Tuesday's season-opening blockbuster against the
Miami Heat
:
TUESDAY'S PRIZE: EASTERN CONFERENCE CHAMPS ... FOR A DAY
Celtics coach Doc Rivers is quick to point out that, amidst all the hoopla surrounding Tuesday's game, Boston turns around the very next night and plays a far-less ballyhooed game against Cleveland -- and that contest means just as much in the standings.
So while he understands and -- to some degree -- appreciates the hype surrounding Tuesday's showdown at TD Garden, he stressed that the game won't mean much by Wednesday night.
"Once the game starts, [the hype] doesn't matter," said Rivers. "It's going to be the team that plays the best -- one of the two teams is going to win and, whoever wins, will be anointed Eastern Conference champs for a day. The next day we play Cleveland, it'll go away. I get the buildup; it is a neat game. It'll be a lot of fun for everybody."
Rivers went so far as to suggest that Boston, the defending Eastern Conference champs, is simply "the other team" in Tuesday's matchup, and that's fine by him.
"All eyes will be on the game in Boston, but all eyes will really be on Miami," said Rivers. "We're the other team that's playing. We're just going to show up. I'm sure everyone is there to see Miami."
Rivers suggested Sunday that coaches typically get anxious and worried as opening day approaches, but that players grow more excited for games that matter. Even still, Celtics guard
Ray Allen
noted that Tuesday's game is big for Boston, regardless of the opponent.
"I do believe that everybody on this team has been excited about this first game and not because it's Miami," said Allen. "But because it's the first game. Last year is not far from our memory. We're ready to get back to where we were. We know that [Tuesday] night, as much as we're playing [a big game], we're getting on a plane [after] and playing the next day too. We want to start the season off on the right foot."
Captain
Paul Pierce
said the Celtics are simply glad to have a nice measuring stick game out of the gates.
"I think it probably means more to [the media] and the fans than us," said Pierce. "We're looking at this as it's definitely exciting when you get a team of that caliber. Nobody has seen that type of talent on one team.
"I'm hyped because it's the start of the season. Definitely, there is a lot of excitement in the air. You've got two heavyweights going at it. A lot of predictions have been made. Everybody is excited for the NBA season. A lot of changes have been made, especially in Miami and with us. I'm taking this as any other regular-season game. It's important for us to get off to a really good start and just kind of set the tone for the season."
SHAQ 'MOST LIKELY' WILL START AT CENTER
While Rivers said the Celtics haven't made a formal declaration on who will start at center Tuesday, it's been widely assumed
Shaquille O'Neal
will get the call.
"Most likely Shaq, but we haven't officially announced anything," said Rivers. "But most likely him."
With
Jermaine O'Neal
sidelined through much of training camp (hamstring) and missing four exhibition games in part because of two other ailments (back, left wrist), it's been widely assumed Shaq would be the starter.
That also appears to be the right decision based on the team's performance this preseason. Shaq helped open the floor offensively by forcing the opposing center to stick with him and didn't prove to be as much of a liability defensively as some expected (though Boston certainly has put the onus on its guards to get over screens in the pick-and-roll).
Rivers also said that rookie center
Semih Erden
(shoulder) is likely to dress, but wouldn't tip his hand on how the rest of Boston's active roster will look for the first of 82 games.
As for the Heat, the Celtics are preparing as if Miami will have a completely healthy
Dwyane Wade
(Rivers said to pencil him in for 40 minutes) and find its chemistry immediately, despite the lack of time together in the preseason.
"Great players figure it out," said Rivers. "They'll be great, we understand that. The summer they had, all the talk and anticipation. We're going to get great players that are really fired up. So, in that way, it won't be like a normal regular-season game. You'll see those three guys at full speed, full blast."
Asked if he was curious how Miami's Big Three would come together, Pierce said, "I'm not really curious because I know they're going to figure it out. They're great players. Great players are always going to find a way to figure it out. My worries are more with what's going on with this basketball club."
Rivers suggested his biggest worry with his own team is consistency.
"I like us, but we have yet to play a whole game, in my opinion," said Rivers. "That concerns me. We've been a spurt team, and that concerns me because we're a veteran team. Spurt and veteran teams usually don't go together. When veteran teams get down in the middle [of games], they don't have the legs to make a spurt. We have to be more consistent. When we're playing at a good level, I like us against everybody. We haven't done it against anybody yet."
LOOSE BALLS: CLEVELAND FANS CHEER, THEN BOO C'S; DEFENDING JAMES AND WADE TOGETHER
* Allen provided the line of the day, noting that fans of the
Cleveland Cavaliers
would be rooting vehemently for the Celtics to beat
LeBron James
and his new team Tuesday night, then flop to the opposite end of the spectrum when the new-look Cavs open their season against Boston the next night. Like the old joke, Cleveland's favorite teams now are the Cavaliers and whoever is playing the Heat.
* Pierce on defending James: "LeBron, he's definitely an extra-special talent. We had Tony [Allen, now with Memphis] but by no means did Tony defend him by himself. We're a team defense. It's hard to defend LeBron one-on-one. They set a lot of plays they run through him, they set a lot of picks for him. He's so dangerous in transition, so it's going to be important for five guys to always be aware of where he is. The bad thing about it is they have Dwayne Wade on the other side now, so you know we just have to have our antennas up at all times, along with
Chris Bosh
, and be very aware where all these guys are on the court at all times. When LeBron has the ball, we have to be low and have one or two guys right there looking at him, and when they swing it to Wade, same thing there."
Allen stressed that not turning the ball over, something that plagued Boston much of last season and this year during the preseason slate, is key to limiting the damage done by both Wade and James.
"I think, defense-wise, transition defense is important to us," said Allen. "We have to get back and stop the ball. The Heat have two of best players in the NBA in the open court, so we've got to get back and load up our defense. We can't turn the ball over. We turned the ball over in the preseason, the last couple games we kind of got a handle on it, but if we turn the ball over on this team, they'll score on us in transition. We have to give our defense a chance to set up."
* It's like the NBA Finals, minus the international media. That's the way Boston's media relations staff put Tuesday's game into perspective in terms of press coverage. More than 500 credentials are expected to be issued to media outlets from across the nation. Clearly, Tuesday's game transcends even sports, as CNN had a news crew in town starting Monday to cover the event.
October, 25, 2010
10/25/10
9:25
AM ET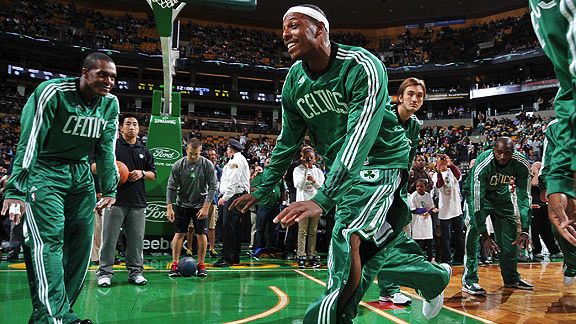 Brian Babineau/NBAE/Getty ImagesFinally healthy, Paul Pierce has a lot more to smile about this season.
After a season with so many injuries he considered shutting it down,
Paul Pierce
says he feels better than he has in a long time writes ESPN Boston's Jackie MacMullan:
WALTHAM, Mass. -- Paul Pierce was out to lunch at Johnny Rockets in his native Los Angeles this past summer when he noticed a young man come in, buy a burger, and do a double-take when he spotted the Celtics star. Instead of approaching Pierce, the teenager quickly dashed out of the restaurant.

Pierce wasn't sure why the kid was in such a hurry -- until he returned about 10 minutes later.

"He came back with the biggest Lakers flag I've ever seen," Pierce said. "Asked me to sign it. I snatched that thing from him and threw it [across the room]."

No, Pierce hasn't recovered from the excruciating Game 7 loss to the Los Angeles Lakers in the NBA Finals last June. His frustration over missing 10 of 15 shots in the deciding game lingers, along with the knowledge that opportunities to win it all are fleeting, particularly when you reach an age where your body can betray you at any time, as Pierce's repeatedly did throughout the 2009-10 season.



AP Photo/Charles KrupaPaul Pierce is confident this season will end on a happier note than the 2009-10 campaign did.

The fact that he is finally healthy -- "that didn't happen until the summer," Pierce explained -- and Kevin Garnett has fully recovered from knee surgery are two reasons why Pierce likes Boston's chances as the team opens its season Tuesday against the locked-and-loaded Miami Heat.

"I feel great for the first time in a long time," the Celtics captain said.

The 2009-10 campaign was so physically and mentally challenging for Pierce that he seriously contemplated shutting it down midway through the season. Injuries to his knee, foot and thumb were well documented, but Pierce revealed he also suffered from a painful and persistent turf toe that forced him to wear a brace and a half-inch of padding in his shoe throughout the Finals.

The first sign of trouble was a sore knee that wouldn't respond to treatment and forced Pierce to undergo "minor" surgery last Dec. 23 to clean out an infection. Doctors warned him that fluid would build up in the repaired knee, but Pierce wasn't expecting to have it drained nearly every week. Sometimes, Pierce said, the knee would "pop open," squirting foul liquid across the locker room.

"If you are interested, I have the video to prove it," he said.
Click
HERE
to read the full story.
October, 22, 2010
10/22/10
5:00
PM ET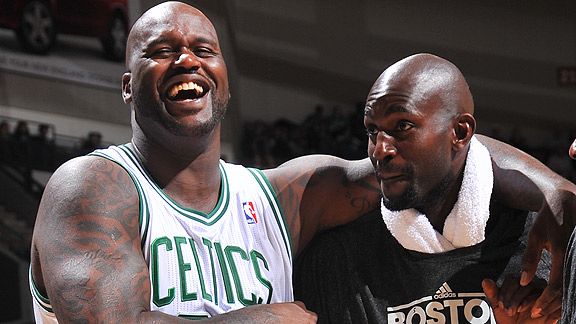 Steve Babineau/NBAE/Getty ImagesThe Celtics found chemistry very quickly this presason.
Four months after a painful walk off the confetti-covered floor at the Staples Center in Los Angeles, the Boston Celtics begin their quest to get back to the NBA Finals Tuesday night against the Miami Heat.
To kick off our season preview, we take a player-by-player look at the 15-man roster, offering thoughts and analysis on what to expect from each player based on his performance to this point.
Click
HERE
to read the full story.
October, 20, 2010
10/20/10
10:00
AM ET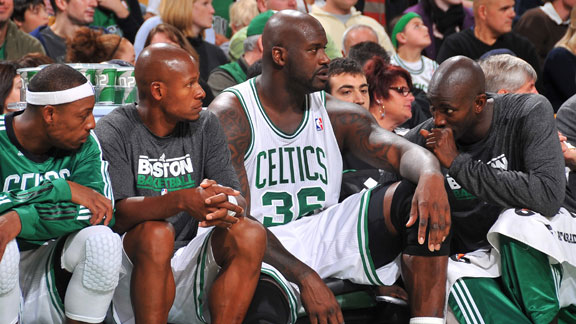 Joe Murphy/Getty ImagesShaq is 38, but adding him to Boston's veteran core only makes the Celtics' title hopes stronger.
With the NBA season nearly upon us, ESPN Insider produced some final preseason thoughts on every team. Here's a glimpse at
Boston's breakdown

:
Scoutspeak
"The only thing I don't like about this team is its age. I actually like their Big Three better than Miami's Big Three, because they know and trust their system offensively, they could coach themselves defensively, they believe in Doc Rivers. They've seen everything and they fear nothing. They've got all the intangibles it takes to win.
"[Rajon] Rondo is their most important player, because he changes the game with his defense. No point guard's as disruptive defensively as he is. The additions of Shaq and
Jermaine O'Neal
are huge because not only does it make up for the injury to
Kendrick Perkins
, but when he gets back, it'll allow them to rest
Kevin Garnett
. And one thing the opposition doesn't want to see at the end of games or in the playoffs is a well-rested KG."
Best-case scenario:
"59-60 wins and they win it all in six games."
Worst-case scenario:
"53 wins and lose in the Finals to the Lakers in seven games. Only an injury can keep them from winning the East."
-- As told to Chris Broussard
David Thorpe selects
Nate Robinson
as his breakout player, noting, "Just like the playoffs this past spring and summer, we can expect Robinson to perform heroically on occasion. But for Boston to stay in touch with Orlando and Miami all season, they'll need him to be a clutch contributor far more consistently."
Tom Haberstroh selects Shaquille O'Neal in the salary spotlight writing, "Like new teammate Jermaine O'Neal, Shaq no longer carries the stigma of being an overpaid elder in this league. He'll take an $18.6 million pay cut from his last salary, transforming him into one of the league's biggest bargains overnight."
Click
HERE

to read the full conference preview.