Boston Celtics:

Shelden Williams
July, 3, 2010
7/03/10
7:00
AM ET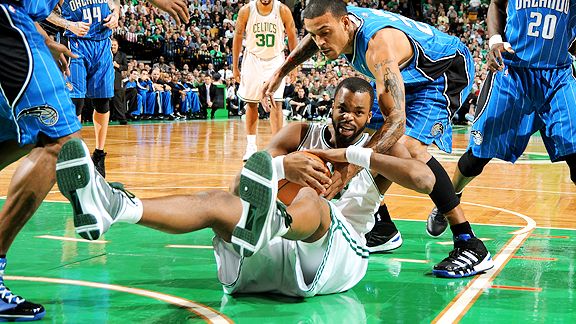 Brian Babineau/NBAE/Getty ImagesShelden Williams provided a nice lift at the start of the 2009-10 campaign with Glen Davis injured.
Over the next few weeks, we'll take a player-by-player look at the 2009-10 roster and how each player's season unfolded, assigning a grade for their overall performance. This is the fifth in the series of report cards:
Player
: Shelden Williams
2009-10 averages
: 3.7 points, 2.7 rebounds, 0.4 blocks
2009-10 salary
: $825,500
Season in a paragraph
: The former first-round pick (fifth overall to the Hawks in 2006) came in with virtually zero expectations. On his fourth team in four seasons, Williams was exactly as advertised: A hard worker whose biggest contributions came on the practice court. He appeared in 54 games, the majority at the start of the year when he filled in admirably for injured Glen Davis. By the end of the year, when the rotation shrunk, Williams found himself as an emergency fill-in, but nearly worked hard enough to overtake Davis again in March, coach Doc Rivers said at the time.
Season highlight
: Oct. 30, 2009 -- Coming off a solid performance in the second game of the season against Charlotte (12 points, 9 rebounds), Williams produced his only double-double (10 points, 10 rebounds) over 24 minutes in a rout of the Bulls. He ultimately registered double digits in scoring in three of his first five games with Boston.
Season lowlight
: June 15, 2010 -- After limited postseason play, Williams got thrust into an increased role when Kendrick Perkins tore his ACL chasing a rebound in the first quarter of Game 6 of the NBA Finals. Williams logged 14 disastrous minutes, missing the only shot he took, turning the ball over twice, and failing to grab available rebounds. The stage proved too big for the postseason rookie and he did not appear in Game 7.
Final grade
: C-
Teacher's notes
: His performance in the Finals screams for a lower mark, but that would be ignoring the fact that he was insanely valuable over the first 27 games of the season with Davis sidelined for a foolish off-court incident. Little was expected of Williams, yet Boston might not have been nearly as successful (22-5) to start the season without him filling a valuable reserve role in the frontcourt. A quiet man in the locker room, Williams simply did his job and saved some of his biggest contributions for the practice court, where he went right at Kevin Garnett (and this reporter recalls one very memorable practice jam right over KG). It just never translated to game situations. A big presence on Twitter, Williams might actually be remembered best for setting Celtics fans into panic mode by suggesting that Paul Pierce's foot injury was far more serious than it turned out to be.
What's next?
: Williams' postseason stumble might give the Celtics pause in bringing him back, even with the team starved for big men (especially cheap ones). If it comes down to giving a minimum contract to Williams or Brian Scalabrine, the latter would probably get the nod. But if there's still room on the roster as training camp nears and Williams is without a home, don't be terribly surprised if the Celtics consider another one-year go-around.
Honor roll
: Click
HERE
to read past report cards.
Don't agree with teacher? Just want to sound off on Williams' 2009-10 season? Click HERE to leave a comment.
May, 18, 2010
5/18/10
8:56
PM ET

ORLANDO -- Celtics forward Brian Scalabrine dressed and was active for Tuesday's Game 2 of the Eastern Conference Finals against the Orlando Magic, while Shelden Williams sat out with back spasms.
According to the team, the injury is mild for Williams, who was spotted in the locker room in warm-up gear before the game, but Rivers elected to play Scalabrine instead to be safe.
Williams, playing in his first postseason in his fourth year in the league, has appeared four postseason games, averaging 2.8 points and 2 rebounds per game over 29 total minutes of action. Scalabrine, who is playing through a shoulder injury of his own that should require offseason surgery, has made only one appearance since March 28, playing 30 minutes in the regular-season finale against Milwaukee.
March, 25, 2010
3/25/10
6:00
AM ET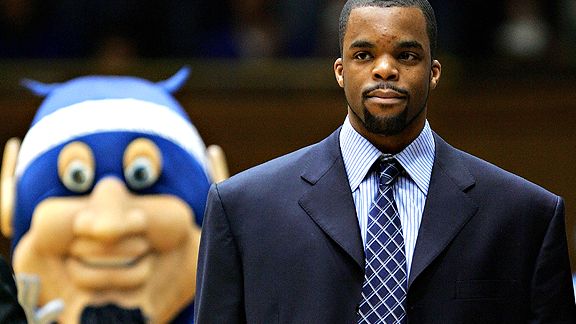 Streeter Lecka/Getty ImagesShelden Williams holds a unique NCAA honor from his Duke days.
The wizards over at ESPN's Stats and Information passed along an interesting note that only five current NBA players -- which amounts to 0.01 percent of the active bodies -- competed in four Sweet 16s during their collegiate days.
Not surprisingly, Duke is well-represented, accounting for four of the five players, including Boston's
Shelden Williams
. As Sweet 16 play kicks off today in the 2010 NCAA tournament, here's a look at the five players to accomplish the "Sweet Feat."
*
Williams, Duke
: 2003 Sweet 16; 2004 Final Four; 2005 Sweet 16; 2006 Sweet 16
*
Shane Battier, Duke
: 1998 Elite 8; 1999 NCAA title game; 2000 Sweet 16; 2001 NCAA champions
*
Chris Duhon, Duke
: 2001 NCAA champions; 2002 Sweet 16; 2003 Sweet 16; 2004 Final Four
*
J.J. Redick, Duke
: 2003 Sweet 16; 2004 Final Four; 2005 Sweet 16; 2006 Sweet 16
*
Charlie Bell, Michigan State
: 1998 Sweet 16; 1999 Final Four; 2000 NCAA champions; 2001 Final Four
March, 18, 2010
3/18/10
8:00
AM ET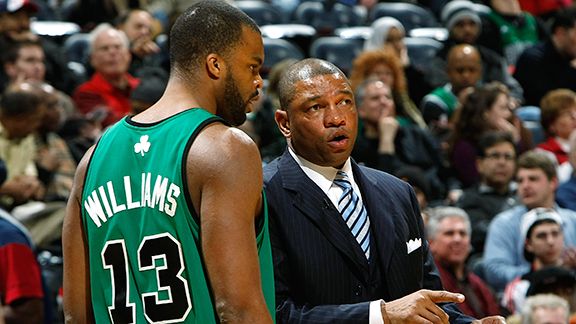 Kevin C. Cox/Getty ImagesShelden Williams has seen more action lately.
Due in part to the struggles of players in front of him on the depth chart (cough,
Rasheed Wallace
) and his own gritty play when he's on the floor,
Shelden Williams
has forced Celtics coach
Doc Rivers
to consider more playing time for the fourth-year forward.
After enduring a stretch of 14 consecutive games where he did not get off the Boston bench and logging just seven total minutes in three appearances in February, Williams has appeared in seven of 10 games this month for Boston. For a player that was all but forgotten after
Glen Davis
returned from a thumb injury that sidelined him for the first 27 games of the regular season, it's a chance to give Boston some much-coveted help up front.
"It's a need and he's showing me something," said Rivers, when asked if Williams is playing more due to need or ability. "He's been great all year. Once he stopped playing, he never stopped working. And we kinda alerted the other bigs, if you're not getting the job done, we'll go with Shelden. If he's not, we'll go back to you, but I think right now, with our team, it's a good place for all them to be in. I thought it was good a few years ago with Leon [Powe] and [Glen Davis]. I thought it brought a sense of urgency that, other guys want to play. That's a good thing for our team. We kinda fell into it, but it's great that Shelden is there and he wants your minutes."
Williams isn't lighting the world on fire, but he is averaging 4.3 points and 1.9 rebounds over 8 minutes per game in those seven appearances this month. Williams was an integral part of the team's success over the first 27 games of the season (Boston posted a 24-3 mark during that stretch) averaging 4.4 points and 3.4 rebounds in October. Since his return, Davis has been a high-energy presence off the bench whose production is on the rise lately, but Wallace's struggles has opened some additional time for Williams to prove himself again.
Earlier this season, Rivers went out of his way to praise both Williams and
Brian Scalabrine
, a pair of frontcourt players that haven't seen a lot of time, but have remained "consummate professionals" throughout the seasons, ready to step in whenever needed.
January, 26, 2010
1/26/10
10:59
AM ET
Boston Celtics
forward
Shelden Williams
logged his fourth consecutive "Did Not Play -- Coach's Decision" during Monday's win over the
Los Angeles Clippers
and appears to have slipped to the very end of Boston's bench.
[+] Enlarge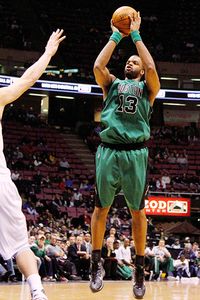 Jim O'Connor/US PresswireShelden Williams has had a hard time getting off the bench recently, and with the Celtics returning to health he may not be getting back into the rotation anytime soon.
Williams, the former first-round pick (fifth overall in 2006) of the
Atlanta Hawks
, signed a one-year, $825,000 contract to join the Celtics this season and played a pivotal role in solidifying the frontcourt when
Glen Davis
started the year sidelined with a fractured right thumb.
And while Celtics coach Doc Rivers contended at the time that there was still room for Williams in the rotation when Davis returned, he's not so certain any more, even after Boston endured a recent stretch with injuries to nearly all of its big bodies, including
Rasheed Wallace
,
Kevin Garnett
and
Brian Scalabrine
.
Rivers was asked a politely-phrased question about Williams' progress in recent weeks, but he didn't sugarcoat his response.
"Right now he's got guys in front of him," said Rivers. "I don't know what you mean by how he's coming along. Right now he's not playing a whole bunch. He's just working. He's been a great teammate, we knew that when we signed him, that he could be ready to play when we needed him and, if he didn't, he'd still show up and practice hard. He's done all those things, so a lot of credit needs to go to him."
Asked directly whether there was room for Williams in Boston's rotation, Rivers continued to be blunt.
"I don't know, it's always a competition and there's a lot of bodies," said Rivers. "Rasheed, Glen Davis, Scalabrine -- all of them are going to play."
Which leaves Williams, who is averaging 3.9 points and 3.4 rebounds per game, a likely candidate to slide to inactive when the Celtics return to full health with the impending return of both
Marquis Daniels
(left thumb) and Scalabrine (right shoulder AC sprain). Even second-year forward
Bill Walker
got off the bench in the first half of Monday's win.
Williams enjoyed a strong start to the 2009-10 season, being a productive member for the first 11 games of the season, but he faded quickly. After nearly posting a double-double (10 points, 9 rebounds) in 18 minutes against Indiana on Nov. 14, Williams' minutes were practically cut in half in the games that followed.
He logged his first DNP on Dec. 3 against the
San Antonio Spurs
and endured three more before the end of the month.
In January, he's averaged 1.3 points and 2.3 rebounds over 9.1 minutes in seven appearances. Williams played 18 minutes in a lopsided win over the Nets, but missed both shots he took and registered five fouls. He finished with six rebounds.
Williams simply doesn't seem to be playing with the confidence he had at the start of the season and that likely has led to a lack of confidence from his coach. Even still, Rivers likes the security of having Williams on the roster.
"I'd rather have [depth]. I don't mind logjams," said Rivers. "I'd rather have that than not have it. That's a good logjam to have."
January, 17, 2010
1/17/10
3:20
PM ET
WALTHAM, Mass. --
Boston Celtics
captain
Paul Pierce
, still recovering from two procedures last month for a right knee infection, got tangled with
Shelden Williams
at the end of Sunday's practice session and limped off the court in pain.
Pierce returned with ice on the knee at the end of practice and coach
Doc Rivers
held out hope that it was nothing serious.
"I hope [he's OK], he got kneed [by Williams] in the exact same spot [as the procedures]," said Rivers. "It's just amazing the luck right now with little things like that. That's why he was so upset. He said, 'Man, it's right on the spot.' It's starting to feel better, so I'm hoping he's fine."
Williams was no worse for wear and didn't think it was that serious.
"We got tangled up, that's it, nothing big," said Williams. "[Pierce] went out on a screen, I showed, we got tangled up in our legs. It hit more of my shin, so I'm not sure if it hit his knee or what."
Pierce missed five games after an infection developed in his knee following a Dec. 22 win over Indiana. He went under the knife the next day to drain the knee, then went back on Christmas day for a second procedure. Pierce returned on Jan. 6 in Miami and
talked Saturday
about how he's fine with the lofty minutes he's played in recent games.
In the video at the top of this entry, Pierce limps off, then Rivers comments on his status.
December, 29, 2009
12/29/09
3:04
PM ET
ESPN's Chad Ford assembled a list of the
worst draft picks of the decade
and the Atlanta Hawks selection of Shelden Williams with the fifth pick in the 2006 draft is cited at No. 5B.
One year after the CP3 debacle, Billy Knight had a chance to redeem himself. Washington guard Brandon Roy looked able to play some point guard in the league. Kentucky point guard Rajon Rondo looked like the perfect type of point guard to push the pace and play smothering defense. But Knight balked at both Roy and Rondo and instead took Williams about 10 places higher than any other GM had predicted he would go.

Of course, the Hawks already had drafted three other forwards in the past two years, and although the thinking was that Williams could play some center, it didn't work out. The Hawks gave up on Williams a few years later. Meanwhile, Roy is a two-time All-Star, and Rondo has a championship ring and huge contract extension with the Celtics.
December, 29, 2009
12/29/09
9:23
AM ET
Despite logging a pair of DNPs since the return of Glen Davis, and playing a total of six minutes over the past four games, it appears Celtics forward Shelden Williams will get another chance to shine should Davis be sidelined with the sprained ankle sustained in Monday's loss to the Golden State Warriors.

While coach Doc Rivers indicated earlier in the season that there would be minutes for Williams upon Davis' return, he's struggled to find the court recently. He did not appear in three of the last four games, and has four "DNP -- Coach's Decision" this month.

After reaching double figures in points in three of his first five games in Boston, Williams has scored 10 points or more just once since then (10 points in a loss to Indiana on Nov. 14). Williams has only 20 points this month and is averaging 2.2 points and 2.7 rebounds in nearly 13 minutes per game for December (his production essentially split in half from November, despite similar minutes as he logged 4.4 points and 3.4 rebounds over 12:24 per game).

The loss of Davis, regardless of length, seems like an opportunity for Williams to regain his own confidence, while potentially rebuilding the coach staff's confidence in him in the process.

Maybe it's Williams' presence that led Celtics coach Doc Rivers to note after Monday's loss that he's more concerned about the health of Kevin Garnett (knee, head, thigh) and Rajon Rondo (hamstring) than Davis. The Celtics proved over the first 27 games they can hold the fort without Davis.

With second-year forward Bill Walker and rookie guard Lester Hudson traveling on this trip, the Celtics still have enough healthy bodies to fill the 12 active spots on the gameday roster (even with Pierce, Marquis Daniels, and potentially now Davis sidelined).

All of which leaves Michael Sweetney -- the big man that endeared himself to Rivers in the preseason, but was a final cut of the team with a full roster coming out of training camp -- waiting by his phone a little longer.

October, 20, 2009
10/20/09
7:13
AM ET
By
Louise K. Cornetta
| ESPNBoston.com
Being a new face on a team is never easy. The Boston Celtics have several new players this season, including guard Marquis Daniels and center/forward Shelden Williams. We'll see in the coming months what they offer on the court, but what are they like off it? ESPNBoston.com finds out.
What question do reporters ask you the most?
Williams: "I get asked about my wife [WNBA superstar Candace Parker] the most. The questions vary, but I always pretty much answer them."
Daniels: "How do I like playing here in Boston and what position do you like playing on the floor. I always say, 'I just like being on the court.'"
Besides basketball, what's something you are really good at?
Williams: "Playing video games and fishing."
Daniels: "Rapping."
What's impressed you most about Kevin Garnett and Paul Pierce?
Williams: "The intensity they bring to the game and in practice every day."
Daniels: "How hard they take the game. Coming to practice & I mean, they take the games, going into games, serious, whether it's practice or just preparation."
Which Celtic has been the most helpful to you?
Williams: "They've all been pretty helpful in their own way. It's a great group of guys."
Daniels: "I have to say all of them. Everybody has been real great helping me with everything. It's been real. I'm like a sponge. I take advice from everybody whether it's a rookie or veteran guy. It doesn't matter."
Favorite NBA teammate you've ever had?
Williams: "Still too early to tell."
Daniels: "Darrell Armstrong. You have to be around him to see it."
Best day of your life on the court?
Williams: "Going to the Final 4 [with Duke]."
Daniels: "Being able to play, any day."
Best day of your life off the court?
Williams: "Between when I got married and when my daughter was born."
Daniels: "Same answer as the last one. Just waking up. Being alive. Just being here."
Song on iPod that gets you pumped up?
Williams: "Anything by Jay-Z or Tupac."
Daniels: "Anything by Gucci Mane or Lil Wayne."
BlackBerry or iPhone?
Williams: "Neither."
Daniels: "Both."
Mac or PC?
Williams: "PC."
Daniels: "Mac."

What is your dream car?


Williams: "My Escalade."
Daniels: "I don't have one."

How many pets do you have?

Williams: "I have three dogs, named Fendi, Prada and Neno."
Daniels: "I don't have any. I don't like animals. I used to have a dog, but I'm cool on those."
Movie you can watch over and over?

Williams: "Any comedy."
Daniels: "'Life' with Eddie Murphy and Martin [Lawrence]."
Who is your favorite comedian?
Williams: "Martin Lawrence."
Daniels: "Martin [Lawrence]. I just think he's funny."

What's your guilty-pleasure TV show?
Williams: "Family Guy."
Daniels: "Can I say CNN Headline News?"

What makes you smile?
Williams: "My family."
Daniels: "Life. My kids."
What's something we don't know about you?
Williams: "Everything has already been said about me. I've been asked everything about my marriage and my wife."
Daniels: "I know a lot about the Bible and I joke a lot."
Louise K. Cornetta is an occasional contributor to ESPNBoston.com.