Boston Celtics:

Stephane Lasme
March, 10, 2011
3/10/11
1:30
PM ET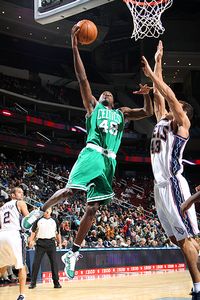 Ned Dishman/NBAE/GettyStephane Lasme pushed Von Wafer for a final roster spot out of Celtics' training camp.
The Maine Red Claws announced Thursday that Stephane Lasme, a final camp cut of the Boston Celtics and an affiliated player, will make his regular-season debut Thursday night after recovering from a fractured foot in the team's only preseason game.
Here's more from the Claws:
The Maine Red Claws, presented by Quirk Chevrolet, today announced that forward Stephane Lasme will make his Red Claws' regular season debut tonight at Erie. Expected to be an integral part of the Red Claws' plans this season and an NBA call-up candidate, Lasme, who joined the Red Claws in training camp out of the Boston Celtics camp as one of three Affiliated Players, fractured his foot just 2 minutes into the team's lone preseason game and was not expected to return this season.

Drafted by the Golden State Warriors in the 2nd round (46th overall) in the 2007 NBA Draft, Lasme played one game for the Warriors during his rookie season before joining the Los Angeles D-Fenders of the NBA D-League. He earned a GATORADE call-up when he signed with the Miami Heat in March of that season, appearing in 15 games in which he averaged 5.5 ppg and 3.5 rpg. Lasme took his game overseas for the next two seasons, playing for teams in Serbia and Israel before earning an invite to the Boston Celtics 2011 training camp. A four-year standout at the University of Massachusetts, Lasme is the school's all-time leader in career blocks (399) and second all-time in field-goal percentage (.595). As a senior, he became just the third player in NCAA history to record four triple-doubles in a single season.

With the return of 2011 1st round draft pick (3rd overall) Magnum Rolle, also felled by an early season injury just two games into the season, and now Lasme, the Red Claws more closely resemble the roster expected when the season began.

To make room on the roster, the Red Claws have waived Lewis Clinch.
Click
HERE
to read more on Lasme's time with the Celtics.
November, 18, 2010
11/18/10
9:45
PM ET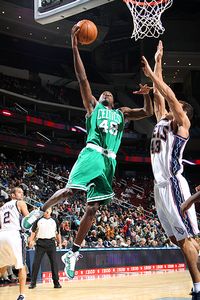 Ned Dishman/NBAE/GettyStephane Lasme underwent surgery to repair a stress fracture in his left foot.
Stephane Lasme
, the UMass product and a final camp cut of the
Boston Celtics
this preseason, underwent successful surgery Wednesday afternoon to repair a stress fracture in his left foot, according to the Maine Red Claws.
Lasme, who signed with Maine, the Celtics' NBA Development League affiliate, and hoped to work his way back to the parent club, will be sidelined "indefinitely." His surgery was performed by Dr. Gregory Pomeroy at Mercy Hospital in Portland, Maine.
"We were very excited to have Stephane Lasme on our team, and it is disappointing that Red Claws fans will have to wait to see what an incredible athlete and person he is," Red Claws president and general manager Jon Jennings said in a release. "First and foremost, however, our concern is with Stephane, and his health and career. We wish him the best in his recovery and look forward to seeing him playing at the Expo as soon as possible."
The loss of Lasme reverberates in Boston, where his gritty preseason play left Celtics coach Doc Rivers grappling with the decision to cut him. While Boston didn't have an immediate need for a player in the mold of Lasme (at 6-8, he didn't boast enough size for the team to consider even with a need for bigs with
Jermaine O'Neal
sidelined for 2-3 weeks with lingering soreness in his left knee), he was someone with a headstart on the Boston playbook that could have been recalled in a pinch if the injury bug stung again later this season.
Now it appears he's facing a lengthy recovery. Lasme started in Maine's preseason opener against Springfield and made the only shot he attempted, but was forced out of the game two minutes in due to the injury. He does not appear on Maine's final 10-man roster, but the team retains his rights. The NBA Development League season tips off Thursday and the Red Claws kick off their 2010-11 campaign Friday night with a visit from the Austin Torros.
Here's a look at Maine's final 10-man roster, which includes Tiny Gallon and Jamar Smith, the two other players assigned to Maine after time spent with Boston this preseason.
10 -- Lawrence Westbrook G -- 6-0 -- 190 -- Minnesota
12 -- Kenny Hayes -- G -- 6-1 -- 170 -- Miami (Ohio)
14 -- Jamar Smith -- G -- 6-4 -- 177 -- Southern Indiana
17 -- Lamonte Ulmer -- F -- 6-6 -- 195 -- Rhode Island
19 -- Mario West -- G -- 6-5 -- 223 -- Georgia Tech
23 -- Champ Oguchi -- G -- 6-5 -- 201 -- Illinois State
24 -- Paul Harris -- F -- 6-5 -- 235 -- Syracuse
34 -- Eugene Spates -- F -- 6-8 -- 235 -- Northeastern
44 -- Tiny Gallon -- F -- 6-10 -- 310 -- Oklahoma
50 -- Magnum Rolle -- C -- 6-11 -- 236 -- Louisiana Tech
To get down to 10 players, the Red Claws released guards Tajuan Porter and JaJuan Smith.
October, 21, 2010
10/21/10
6:00
PM ET

The Celtics officially announced the release of
Stephane Lasme
,
Mario West
, and
Tiny Gallon
Thursday afternoon.
The moves trims Boston's roster to the 15-player maximum well in advance of Tuesday's season-opener against the
Miami Heat
.
Read on for the team's full press release, or hop
HERE
to read more on Lasme's expected signing with the Maine Red Claws (where Gallon could land as well).
October, 21, 2010
10/21/10
3:45
PM ET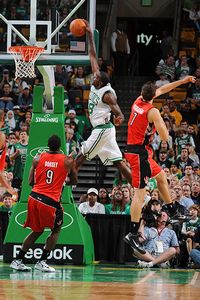 Steve Babineau/NBAE/GettyEven big dunks like this couldn't keep Stephane Lasme on the Boston roster.
Stephane Lasme
, waived by the
Boston Celtics
after Wednesday's exhibition finale, expects to sign a contract with the Maine Red Claws of the NBA Development League if no other guaranteed NBA contract is offered this weekend, according to his agent Andy Miller of ASM Sports.
Lasme, a University of Massachusetts product, made a strong impression after being invited to Celtics' training camp, but could not usurp
Von Wafer
for Boston's final roster spot coming out of the preseason. Both Lasme and
Mario West
were waived Wednesday.
The Celtics can funnel Lasme directly to their D-League affiliate thanks to a new allocation rule that allows parent clubs to channel their final cuts to the minor leagues so long as the player will sign a D-League contract. Lasme could always rejoin the team later in the season (enjoying a salary boost from being added to the 15-man roster) if they desire his talents again.
Boston can submit a list with up to three names of final cuts they wish to send to the Red Claws. It's expected that Lasme could be joined by rookie
Tiny Gallon
, signed earlier this week to work out for Boston. Gallon did not appear in a preseason game for Boston, but worked out with the team on Tuesday and Wednesday.
News of Lasme's intentions to join the Red Claws was
first reported
by A. Sherrod Blakely of Comcast SportsNet.
(Read more about Lasme's basketball journey,
HERE
. We'll update this post with more details later this evening).
October, 20, 2010
10/20/10
11:15
PM ET
BOSTON -- Celtics guard
Von Wafer
remained uncertain about his future after Boston's 107-92 triumph over the
New Jersey Nets
in Wednesday's preseason finale, but the fact that two others in the room had been apprised of theirs meant the fifth-year guard appeared to have won the competition for a final roster spot.
Camp invitees
Stephane Lasme
and
Mario West
were informed that they had been waived following Wednesday's game, unofficially trimming Boston's roster to the 15-man maximum. Rookie
Tiny Gallon
, who joined the team earlier this week, had not been informed of his official release and is likely to stick around a couple of more days before he will be waived with potential to be allocated to the Maine Red Claws of the NBA Development League.
Wafer played the entire fourth quarter Wednesday, connecting on 3 of 6 shots, including a pair of 3-pointers, for eight points. Lasme and West played only the final three minutes.
While Wafer repeatedly stressed that he wanted not only to make the team but also be a contributor, his competitors for the final spot are facing far more uncertain futures.
"I'm going to go home and relax," said Lasme, the University of Massachusetts product who proved to be Wafer's stiffest competition, making a strong case to occupy Boston's final roster spot with inspired defensive play throughout the preseason.
"I'm sure somebody is going to call. I'll wait for the phone call and make my decision from there."
Lasme knows the Celtics have a strong interest in shuffling him to the D-League, something he discussed with the team at the onset of camp. That would keep him in the system should the team decide later (say, after
Delonte West
returns from a 10-game suspension to start the regular season) that they could use his type of player over an offense-first guard like Wafer.
But Lasme sounded optimistic that another NBA team might come calling based on the impression he made in Boston.
"Doc said he liked me a lot, it came down to the end," said Lasme. "He said I'm an NBA player, that I should be in the league, and not to worry about anything."
Click
HERE
to read the full story.
October, 14, 2010
10/14/10
1:00
PM ET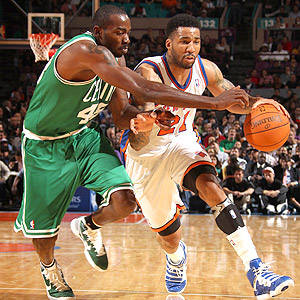 Nathaniel S. Butler/NBAE/Getty ImagesStephane Lasme's defense could help him stick in Boston.
NEW YORK -- Celtics coach Doc Rivers was brutally honest when he admitted Wednesday night that he knew next to nothing about
Stephane Lasme
after being informed a week before training camp that the University of Massachusetts product would be joining the team in Newport, R.I.
A month later, Rivers has gone out of his way to rave about the kid and his "excellent" chance to make the Celtics' final 15-man roster.
"A week before camp, [Celtics president of basketball operations] Danny [Ainge] said to me, 'Hey, we're going to bring in this guy and we like him a little bit.' He's been terrific. We weren't sure what he was at first -- we didn't know if he was a 3 or a 4. Halfway through camp, we were still not sure, but we realized he could play either position. Defensively, he's an NBA player right now, there's no doubt about it. He has an NBA IQ as well, for a young kid."
Earlier this week, we detailed Lasme's
amazing basketball odyssey
and what's at stake for him with the Celtics. Now let's crunch some numbers and examine if the Celtics can afford to keep him around.
Lasme's defensive talents are obvious and few coaches will appreciate that sort of dedication like Rivers. But Boston's coach has stressed a desire for more scoring potential from the final bench player and admitted that Lasme needs to hone his shooting skills.
Not that Lasme is an offensive abyss. He simply hasn't shown the ability to consistently make perimeter jumpers during his brief NBA experience.
Through five preseason contests with the Celtics, Lasme is averaging 4.4 points, 2.8 rebounds, and 0.6 blocks over 13.2 minutes per game. He showed the potential to score in bunches when he spilled off the bench to pour in 12 points over seven minutes in Boston's exhibition opener against the 76ers last week in Manchester, N.H. He's only totaled 10 points over 53 minutes the past three games, but is shooting a robust 57.1 percent, having made 5 of 7 attempts in those games.
Look at his numbers from the 15 NBA games he played with the
Miami Heat
in 2008 and Lasme averaged 5.5 points, 3.5 rebounds, and 1.5 blocks over 20.2 minutes per game. The numbers at HoopData show he took more than half of his shots at the rim, but still shot a serviceable 42 percent in the mid-range (16 to 23 feet).
Watch Lasme before games or after practice and it's clear he can shoot. He's spent much of his time overseas the past two seasons honing his shot and his ball-handling. It simply hasn't carried over to games quite yet. Lasme took a 20-foot jumper against the Knicks that found back iron in the second quarter, then retreated back to his comfort level, scoring his only basket of the game on a layup off a feed from
Rajon Rondo
.
Friday's game in Toronto could be a big one for Lasme. The Celtics are likely to go easy with their starters, hoping to trot most of them out in front of a "home" crowd Saturday night during a rematch with the Knicks in Hartford, Conn. With only one other exhibition after Saturday's game, a tuneup against the Nets leading up to the season-opener against the Heat on Oct. 26, the Celtics could be focused on ramping up their starters after Friday's tilt.
Rivers wouldn't commit to a timetable for when the final batch of cuts will come -- the Celtics must trim two players, with Lasme,
Von Wafer
, and
Mario West
vying for the final job -- before the regular season arrives.
Before Wednesday's game in New York, Rivers continued to suggest he likes what he's seen from Lasme.
"I think he has an excellent chance [to make the roster]," said Rivers. "We have some tough decisions coming up. We'll make the ones that are right for the team."
Boston's potential need for shooting at the guard spot with
Delonte West
suspended for the first 10 games of the regular season could aid the cause of Wafer, who has a partially guaranteed contract and is hoping to hold onto his current grasp on a final roster spot. The Celtics could try to sneak Lasme through to the Maine Red Claws, the team's D-League affiliate, utilizing the new allocation rule that allows a team to sign three of its final camp cuts. But they'd have to be confident that no other NBA squad would swoop him up for the end of their bench.
One thing to consider: In that small NBA sampling with the Heat, Lasme's numbers weren't too far off from what Celtics defensive stopper
Tony Allen
provided last season. Allen averaged 6.1 points, 2.7 rebounds, 1.3 assists, and 1.1 steals per game over 54 appearances before signing with the Grizzlies in the offseason.
For a Celtics team that's already thin at the wing (Marquis Daniels is the only pure 3 behind Paul Pierce), having an NBA-caliber defender that could also push teammates in practice, offer the flexibility to play the 3 and the 4 in emergency situations, and bring a team-first attitude -- a lot of the traits that summarized a Rivers' favorite in
Brian Scalabrine
during his five years here -- might be too good to pass up.
October, 11, 2010
10/11/10
3:00
AM ET
BOSTON --
Stephane Lasme
thought he had to sacrifice his NBA dream when he was informed he had to cut ties with Russian club Spartak Saint Petersburg and return to the United States to complete residency requirements.
But as it turned out, he might have unknowingly stumbled upon his best opportunity at a second chance in the league.
Lasme's incredible basketball odyssey has taken him from his native Gabon in west Africa, to Amherst in Western Massachusetts, to Oakland and the West Coast for his first taste of professional hoops. That journey resumed in Miami before he went international with stops in Serbia, Tel-Aviv and Russia over the past three years.
It was in Italy this summer where Lasme received word that, if he didn't return stateside and spend a year working in America, he might lose his residency here, preventing him from being with his wife and daughter, who live in Marlborough, Mass.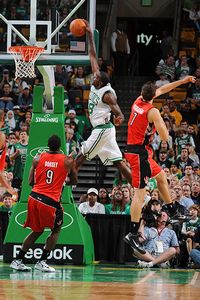 Steve Babineau/NBAE/GettyStephane Lasme goes up for a big dunk in Boston's win over Toronto Sunday.
"Basically, I knew I had to make a choice between not seeing my family and taking [more] money [to play basketball overseas] or seeing my family and not taking that much [money]," said the 6-foot-8 power forward. "For me, the choice was obvious."
So, in September, Lasme informed Spartak Saint Petersburg that he could not honor the two-year contract he had signed in July and, after five days of training camp with the team, returned to the States to be with his wife (and college sweatheart), Anastasia, and 17-month-old daughter, Lily.
Lasme's agent put in a call to the Celtics to inquire about a potential workout and, two weeks before Boston's training camp opened, he was invited for a pickup game with other roster hopefuls, where he impressed Celtics president of basketball operations Danny Ainge enough to earn one of four camp invites the team extended this season.
Two weeks into Boston's preseason, Lasme finds himself on the cusp of an NBA job, with Celtics coach Doc Rivers indicating after Sunday's 91-87 triumph over the
Toronto Raptors
that Lasme has "a great shot of making our team."
It's the type of script Hollywood laughs at. Lasme essentially abandoned his dream and found an even better situation back in America. Now he's fighting to ensure this dream isn't dashed.
"I'm just going to go hard," Lasme said of the competition for Boston's final roster spot. "That's the only thing I know how to do."
Lasme's story was already wild enough before this latest chapter. He grew up playing soccer, his country's more familiar pastime. But after sprouting to his current 6 feet, 8 inches in high school, he soon gravitated to basketball, a sport he played for the first time at age 15.
Five years later, he landed in Boston with the goal of learning the English language and playing college hoops. In fact, the unassuming Lasme walked onto the campus of Boston University one day and told then-coach Dennis Wolff that he wanted to play for him.
"[Wolff] said, 'It doesn't work like that,' and explained to me that... I had to actually take the SAT test, the English test, and go to basketball camps," recalled Lasme. "Between February [of 2003] and the following school year, I had to take all the tests. So I studied English for six months, took the SAT, the English course, and went to a [basketball] camp in New Jersey. The UMass coach [Steve Lappas] was there, saw me play, and offered me a scholarship."
At UMass, Lasme starred for four seasons, earning Atlantic 10 Player of the Year honors for the 2006-07 campaign, a season in which he registered four triple-doubles, reaching double-digits in blocks in each of those games (he ultimately passed
Marcus Camby
as the school's all-time and single-season leader in rejections).
The
Golden State Warriors
drafted Lasme in the second round (46th overall) of the 2007 draft, but he appeared in only one game, playing a mere four seconds, before being waived on Nov. 17. The
Miami Heat
signed him to a pair of 10-day contracts before employing him for the rest of that 2007-08 season. He appeared in 15 contests, averaging 5.5 points, 3.5 rebounds and 1.5 blocks per game.
Lasme was waived by Miami that offseason and signed with Euroleague squad Partizan Belgrade in Serbia before moving on to Maccabi Tel Aviv of the Israeli League the following year. Russia was next, but fate intervened.
"Since I left college, I've spent more time out of the country [than in it]," explained Lasme, who will turn 28 in December. "My wife and baby are Americans, so in order to have the chance to see them, I had to get a job here."
Little did he know he'd get a chance at the NBA job he'd quietly been dreaming about since his first go-around in the league fizzled.
Last Wednesday night in Manchester, N.H., Lasme forced the Celtics to take a deep look at him. He popped off the bench and scored 12 points over seven dizzying minutes to end the game, bringing
Kevin Garnett
to his feet more than once with a pair of big dunks in a lopsided triumph over the
Philadelphia 76ers
.
On Sunday, Lasme threw down an emphatic one-handed jam, racing past Toronto's Andreas Bargnani, while producing the key play in Boston's 91-87 triumph over the Raptors. As Boston weighs the possibility of keeping someone like Lasme for the 15th and final roster spot, he's making quite an impression on those in charge.
"I like him a lot," said Rivers. "He just does everything -- he has energy, he has a high basketball IQ, he's athletic. He's probably our most athletic player, him and [point guard Rajon] Rondo... He has a great shot of making our team. I think he's terrific."
Rivers had said earlier in camp that the Celtics desired a wing player who could shoot the ball for that final roster spot.
Von Wafer
, whose contract is not fully guaranteed, remains the guy to beat, especially with guard
Delonte West
scheduled to miss the first 10 games of the season due to a suspension.
But if Lasme continues to play like he has, it will be tough to keep him off the final roster. He's using his athleticism to get to the rim, negating the need for a shooter by generating high-percentage scoring opportunities around the basket.
The trouble with Lasme's situation is that the team knows he's bound to the region due to the immigration issues. He admitted Sunday that he'd be open-minded to potentially latching on with the Maine Red Claws of the NBA Development League, especially given recent changes to allocation rules that could allow Boston to sneak him to its minor league affiliate as a final camp cut.
"It's an option that I've thought about with the new rule [about allocation]," admitted Lasme. "Maine is not that far away from home. I'd rather be closer to my family than being away."
Lasme knows that signing with Maine would also get his foot in the door of the Celtics organization, but he'd prefer to simply kick in that door at this point, especially as Wafer and
Mario West
do little to distinguish themselves in the battle for the final spot. The Celtics have also pledged to keep the best 15 players coming out of camp, and, right now, Lasme is one of the 15 best.
Landing an NBA job while getting to see his family would be serendipity for Lasme.
"I've always thought it was a dream of mine to play [professional basketball]," he said. "Even if I kept that secret for myself, I didn't talk about it too much, it's always been a dream of mine. After what I did overseas, I thought I set myself up pretty good for another shot."
And that dream opportunity might have never come had he not chose family over his dreams.
October, 3, 2010
10/03/10
12:26
PM ET
NEWPORT, R.I. -- The obvious question after the Celtics released rookie forward
Tony Gaffney
Saturday is whether the camp competition for the 15th roster spot is over. After all, it seemed like a two-horse race between
Von Wafer
and Gaffney at the start of the preseason, so that leaves only one man standing.
But the Celtics did carry an intriguing pair of young players out of camp in
Mario West
and
Stephane Lasme
. Both have reputations as being more defensive minded, and West in particular seems to be making a push to stick around thanks a scrappy work ethic that compensates for his lack of offensive skills.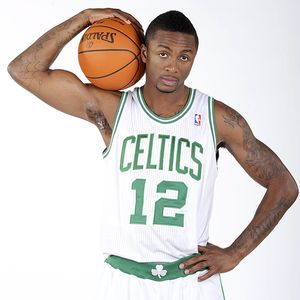 Brian Babineau/NBAE/Getty ImagesVon Wafer poses on media day.
Could either player truly push Wafer, whose contract is not fully guaranteed, for the final spot on the Boston roster?
Lasme has an uphill battle. Celtics coach Doc Rivers admitted Saturday his skill set is almost identical to Gaffney's, his UMass brethren. But the Celtics like his ability to play both the 3 and the 4, so he's making the voyage back from Newport.
The trouble for West is going to be his lack of scoring punch. In assessing why it didn't work out for Gaffney in Boston, Rivers first pointed to numbers, but also admitted Gaffney's shooting simply wasn't strong enough and the team is looking for more shooting at the wing position.
Yet everyone on the team seems to love West. He's a hard worker with a reputation for kicking in doors after walking on at Georgia Tech. Undrafted, he played his way into a job in Atlanta, where he appeared in 156 games for the Hawks over the past three seasons.
But if shooting is what the Celtics covet at that spot, he's going to have to show great advances.
In his three seasons with Atlanta, West put up 104 shots. According to his shot chart at HoopData.com, only 20 of those shots came from beyond 10 feet. What's more, West only made two of those shots (10 percent). Both West and Wafer can attack the basket, but Wafer has the outside game to complement that skill.
"[West] just plays hard, he's a great energy guy, and he could be a defensive stopper," said Rivers. "He needs to improve his offense, but the guys love him because of the way he plays. He plays the right way every single time and he plays for his teammates. He's a great example of a guy that didn't have great offensive skills, but is still in the league because he does everything else right. And he's a low-maintenance guy.
"It's hard to cut guys like that. We lost a guy like that in [
Brian Scalabrine
]. Those guys make a difference on your team.
"You want a guy who can come in and play hard each day, compete in practice, make your starters better. That's part of the role. A guy who never complains and, if called upon, can come in and help you."
So essentially Boston's decision may come down to whether it's better to take a skilled offensive player, or a guy who might be a little more willing to put in the work but lacks the ability to offer much more than scrappy play off the bench. Then again, an end-of-the-bench player doesn't see much game action anyway, so it might be more beneficial to carry a guy who can push players in practice.
By carrying West out of camp, the Celtics clearly want to get more of a look at him, particularly in game situations. After being let go by the Hawks, he played 11 games for Boston's D-League affiliate, the Maine Red Claws, last season, averaging 13.7 points, 4.1 assists, 2.9 rebounds and 1.3 steals per game.
The team's choice also could be influenced the circumstances it faces at the start of the season.
Delonte West
is suspended the first 10 games, while
Avery Bradley
still hasn't been able to get on the floor after summer ankle surgery and likely will still be working his way back as the year opens.
That leaves a void at the guard spot and the Celtics are going to need someone who can hold the fort until West returns. Wafer seems the preferable choice based on past success in Houston, but he's going to have to prove he deserves that spot in the preseason.
After all, Rivers said he hasn't made his shots in scrimmages quite yet.
"All the new guys, the more they can play with the starters, the more beneficial it is for them," said Rivers. "They're the guy not guarded, so they'll shoot wide-open shots. That's what Von does. He hasn't made a shot in camp yet, but he's a great shooter, he is. I think he's learning from us. Every time he misses, he looks over. I tell him, 'I don't care, it was a good shot.' I want him to keep shooting."
Wafer will need to keep shooting, or West might kick down another door.
September, 16, 2010
9/16/10
3:33
PM ET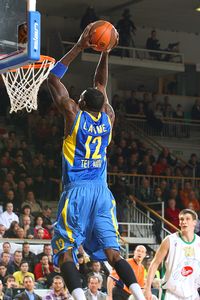 Ales Fevzer/Getty ImagesFormer UMass product Stephane Lasme is one of three with invites to Celtics training camp.
The Boston Celtics have extended training camp invites to former UMass product Stephane Lasme, Southern Indiana's Jamar Smith, and LSU's Chris Johnson, according to a league source.
If any of the trio elects to camp in Boston, they would be considered longer shots to make a roster that's already bursting at the seams with 15 players under contract for the 2010-11 season (not including Tony Gaffney and Oliver Lafayette, who boast non-guaranteed contracts), but could add depth and competition when the Celtics open camp on Sept. 28. in Waltham.
Golden State drafted Lasme in the second round (47th overall) of the 2007 draft, but was waived after logging just four seconds of floor time with the Warriors. He spent time with the Los Angeles D-Fenders of of the NBDL before being signed to a 10-day contract by an injury-depleted Miami Heat in March of 2008. After appearing in 15 games for Miami, he's bounced from Euroleague club Partizan Belgrade to Israeli club Maccabi Tel Aviv in recent years. The 6-foot-8 forward is currently under contract with Russian squad Spartak Saint Petersburg.
Smith might be the most intriguing of the bunch. He's a 6-foot-3 shooting guard, who starred for the University of Southern Indiana after transferring to the Division II power from the University of Illinois. He set a school record for 3-pointers made (108) last season and averaged 20.2 points per game last year at USI.
Johnson is a 6-foot-11 center, who averaged 7.7 points, 7.2 rebounds, and 2.7 blocks per game in his senior season with the Tigers in 2008-09. He'd likely boast a pair of giant-sized supporters in fellow LSU products Shaquille O'Neal and Glen Davis.
The Celtics previously extended camp invites to Northeastern's Matt Janning and Michigan's DeShawn Sims, but both players found guaranteed contracts as Janning inked a multi-year deal with the Phoenix Suns and Sims signed with the POAK basketball club in Greece. Boston also invited UConn's Jeff Adrien, but he elected to camp with the Golden State Warriors. Some younger players see better opportunities outside of Boston, where rosters aren't so crowded (particularly with an abundance of proven talent).
The Celtics worked out Adam Morrison, Rashad McCants, Cuttino Mobley, and Trenton Hassell this week, which could lead to even more talented bodies at camp, should the team elect to invite any of those players before camp arrives.