February, 3, 2012
2/03/12
8:30
AM ET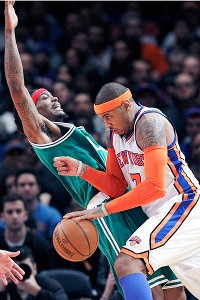 AP Photo/Kathy WillensCan Carmelo Anthony carry the Knicks past Boston again?
Yes, it's Boston vs. New York, but Celtics and Knicks appear to be headed in opposite directions:
Not all of the Boston-New York sporting drama is going on in Indianapolis. Well, OK, 99 percent of it is. In this case, being in the 1 percent means getting ready for the first visit of the Knicks to TD Garden since the 2011 playoffs.

This isn't quite a misery-loves-company matchup, but it's also not a battle between two division (let alone conference) titans. Many of us thought it would be when the season began, and the Knicks rode a brilliant Christmas Day performance from Carmelo Anthony to beat the Celtics 106-104. Weren't we witnessing a potential changing of the guard, with New York ready to unseat the Celtics as the four-year running Atlantic Division champs?

Fast-forward six weeks and you have two teams looking up at surprising Philadelphia in the division and one team, New York, out of the playoff picture altogether. No, it's safe to say things have not gone well -- or as expected -- in either burg this season.
Hop
HERE
to read the full story.
January, 24, 2012
1/24/12
8:05
AM ET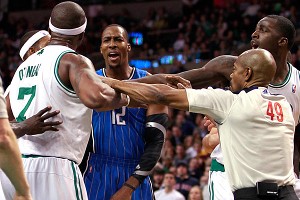 Greg M. Cooper/US PresswireJermaine O'Neal mixed it up with Orlando's Dwight Howard as the Celtics played with a rare fire.
The depleted Celtics improbably put together their best game of the season against a top foe:
MAY: CELTICS DEFENSIVE INTENSITY CHANGES FORTUNE
Hey, it only took 16 games. But after what we witnessed Monday night, you could say it was worth the wait. We might never see a Boston Celtics team play quite as well as this one did -- or see the Orlando Magic play quite as poorly as they did -- but isn't this what we all had been waiting for? How does 87-56 sound against a "quality team"? It was a defensive tour de force. Or, as Magic coach Stan Van Gundy accurately described it, "an absolute beatdown." The Magic have been in the NBA since 1989 and they never had a night like this. Orlando hit the futility trifecta, establishing franchise lows for points, field goals (16) and field goal percentage (24.6 percent). Van Gundy, who has coached more than 600 NBA games, said after this one, "That's the most dominating defensive performance I've ever had against me."
January, 19, 2012
1/19/12
8:33
AM ET
By ESPNBoston.com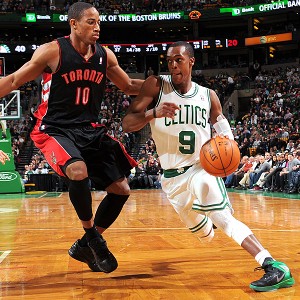 Brian Babineau/NBAE/Getty ImagesRajon Rondo started fast and sparked the Celtics' offense vs. Toronto.
C'S CALL A REVERSE: RONDO SCORES, PIERCE FACILITATES
You can sorta envision the Celtics lounging around in their locker room before Wednesday's game against the Toronto Raptors, everyone starting at the scouting reports in silence and racking their brains for ideas on how to get the team back on track amid the worst losing streak of the Big Three era.

Suddenly, the captain's voice rings out.

"Hey, Rajon, you want to switch roles tonight?" says Paul Pierce.

"Word," replies Rajon Rondo.

OK, so it was probably a little more complicated than that, but Rondo admitted that something to that effect went down as Pierce, struggling to generate consistent offense as he works his way back into game shape after missing training camp with a heel injury, morphed into a Rondo-like facilitator and Rondo increased his scoring output.

Rondo converted 7-of-8 shots, all but one at the rim, and got to the charity stripe for a Pierce-like 11 attempts (connecting on seven) as part of a 21-point effort to spark the Celtics to a 96-73 triumph over the Raptors at TD Garden, snapping the team's five-game losing streak.
January, 18, 2012
1/18/12
5:00
AM ET
Anthony Gruppuso/US PresswireCeltics coach Doc Rivers and his team are still searching for answers to their early struggles.
SORRY STATE OF AFFAIRS FOR CELTS
More than an hour had passed since the Boston Celtics fell to the Oklahoma City Thunder on Monday night before an apologetic Kevin Garnett emerged from the team's training room inside TD Garden.

He apologized for making everyone wait. He apologized for Boston's struggles. He apologized for all the apologies.

"I know you're all probably getting tired of hearing this, I'm sure if you all rewind your tapes, I'll have a different outfit saying the same thing -- but we're going to continue to work and we're going to continue to get better," Garnett said. "I really believe that. You've got to believe that."

Few doubt the Celtics will improve. Heck, it's hard to imagine them getting much worse. Boston is 4-8 and hasn't beaten a playoff-caliber team this season, its only wins coming against the Washington Wizards (twice), New Jersey Nets (without their two of their best players) and Detroit Pistons -- three Eastern Conference doormats with a combined record of 7-33.

During their five-game losing streak -- the longest of this Big Three era -- the Celtics have shown signs for encouragement, but the games have ended the same way: With a loss and, so far, empty promises to turn things around.
January, 16, 2012
1/16/12
4:25
PM ET
By ESPNBoston.com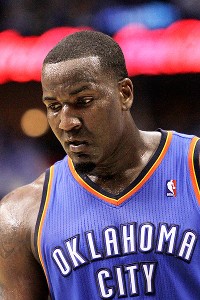 AP Photo/Tony GutierrezKendrick Perkins with the Thunder.
PERKINS PREPARES FOR AN 'EMOTIONAL' RETURN
He'll be No. 5 in Oklahoma City blue, orange and white -- and you may indeed need a scorecard to recognize Kendrick Perkins. He, not Charles Barkley, should be doing the ads for Weight Watchers.

Perkins is lean -- some 37 pounds lost, according to one report -- and, he says, still capable of being mean. Nonetheless, as he prepared to face his former team Monday night at TD Garden for the first time since being traded almost 11 months ago, he admitted to being a bit wistful about returning to Boston to play the Celtics.

"It will be emotional, I'm sure," Perkins said Monday at the Thunder morning shoot. "But you have to remind yourself where you are and remember that it's a basketball game. You had friendships with these guys, so it's hard. But I'm going to have to put my scowl on because I'm pretty sure KG [Kevin Garnett] is going to have his scowl on."
January, 15, 2012
1/15/12
9:04
PM ET
By ESPNBoston.com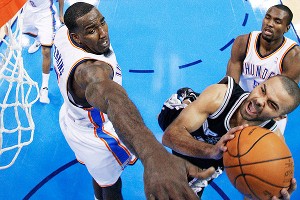 AP Photo/Sue OgrockiKendrick Perkins with the Thunder.
CELTICS HAVEN'T BEEN THE SAME WITHOUT KENDRICK PERKINS
Kendrick Perkins is doing just fine, thank you, as is his team, the Oklahoma City Thunder... His former team? Not doing so well, so we'll cut to the chase. After getting rolled by the Pacers on Saturday night, the second loss to Indy in eight days, the Celtics are 4-7 and have matched the longest losing streak in the new Big Three era by dropping four in a row. (They also lost four straight in 2008-09.) And with the athletic, dynamic Thunder on tap for Monday night, no one will be shocked if the streak reaches five. Pretty much nothing has gone right for the Celtics since Danny Ainge pulled the trigger and made the controversial Perkins trade last February.