Boston Celtics:

Story Snapshot
July, 18, 2011
7/18/11
7:28
PM ET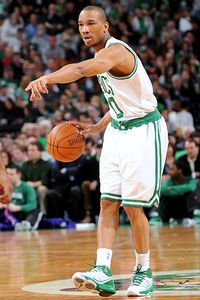 Brian Babineau/NBAE/GettyAvery Bradley will consider overseas options this summer.
Celtics sophomore-to-be guard
Avery Bradley
is in a tough spot because of the lockout. Injuries invaded his rookie campaign and the lack of organized ball could force him to explore an overseas adventure, but only if it comes with an opt out clause because Boston is his priority:
Avery Bradley's agent said Monday that he is exploring overseas options for his client but stressed that any deal would be contingent on an out clause that would allow Bradley to return stateside should the NBA lockout end, as his focus is on being with the Boston Celtics.

The Celtics only have six players under contract for next season and, beyond Bradley, the other five are All-Stars who have combined to earn a whopping $749.5 million in NBA contracts alone during their careers. The 20-year-old Bradley earned $1.4 million during his rookie campaign last season.

Trekking overseas would have little to do with money for Bradley, however, as agent Mitchell Butler of Lagardère Unlimited stressed his client simply needs playing time in a structured environment in order to aid his development.
Click
HERE
to read the full story.
June, 30, 2011
6/30/11
6:53
PM ET
With the NBA set to lock out at midnight, we examine
how the Celtics will be affected
:
And here's the latest lockout headlines:
June, 27, 2011
6/27/11
6:00
PM ET
Rookies
JaJuan Johnson
and
E'Twaun Moore
should
feel right at home
with the Celtics:
June, 22, 2011
6/22/11
6:22
PM ET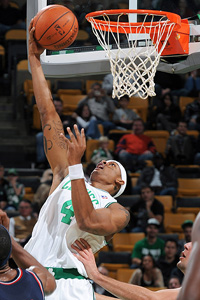 Brian Babineau/NBAE/GettyDanny Ainge has been great in the 20's, though J.R. Giddens didn't work out at No. 30 in 2008.
ESPN Boston's Peter May
examines the track record
of Celtics president of basketball operations Danny Ainge picking in the 20's, where he's found some gems. Just remember the team is tempering expectations this year with a weaker draft class:
But here's the history with Ainge. He has shown that a pick in the 20s is right in his wheelhouse. And history has shown us that there is still plenty of NBA-ready talent on the board in the 20s, if a team is shrewd enough to find it.

Ainge has been almost uncanny in picking in the 20s. He's had four of them and all four are still in the NBA, starting with the most successful of them all, Rajon Rondo, who was the 21st pick in 2006 via a trade with Phoenix.

Other picks in the 20s: Kendrick Perkins (27) in 2003 and Delonte West (24) and Tony Allen (25) in 2004. Two of those three have championship rings from 2008, and West was part of the deal that brought in Ray Allen.

"When you're drafting where we're drafting -- I'm not trying to put a negative spin on this, I'm trying to be realistic -- the 25th pick in the draft is probably not going to help us immediately,'' Ainge said Wednesday. "But there are some players that we think can fit our roster, fit into the personality of our team and have a work ethic that can make our team better in practice and add depth to our roster."

Year after year, there is undeniable value in the 20s. Kevin Martin of the Rockets was the 26th pick in 2004 (right after West and Allen). Roddy Beaubois of the Mavericks was the 25th pick in 2009 (and you would know a lot more about him had he not been injured for the NBA Finals). Serge Ibaka, Nicolas Batum, George Hill and Darrell Arthur went 24-27 in 2008 and all four of them are contributors on their respective NBA teams.
Click
HERE
to read the full story.
June, 20, 2011
6/20/11
7:18
PM ET
Chris Forsberg/ESPNBoston.comGlen Davis plays a little 1-on-1 Monday in Medford.
Glen Davis
admitted Monday that his head wasn't right during the 2011 playoffs and said he's focused on mentally preparing himself for next season. Will he still be in a Celtics uniform then?
MEDFORD, Mass. -- With more than a month to digest his end-of-the-season struggles, Boston Celtics forward/center Glen Davis said Monday that he wasn't mentally ready for the postseason and has spent the start of a murky offseason exercising his mind.

After setting career highs while averaging 11.7 points and 5.4 rebounds over 29.5 minutes per game during the 2010-11 season, Davis disappeared in the playoffs, averaging a mere 4.9 points and 3.6 rebounds over 21.2 minutes per contest and the Celtics were eliminated by the Miami Heat in the Eastern Conference semifinals. While some pundits wondered whether Davis was physically prepared for the postseason, he suggested Monday it was all mental.

"(The postseason struggles) weighed on me a lot," Davis said during a community appearance in which the first of three deserving local families received a Celtics-themed court and bedroom makeover. "I pride myself on playing good basketball, especially when you need it. Every postseason I've played tremendously good, to the point where it was like, 'Wow.' But this summer it didn't happen, because I felt, mentally, I wasn't ready and prepared enough for what was in front of me. I didn't prepare for it well, mentally, and it affected the way I played. That's what I've been doing this offseason, concentrating on making sure that postseason won't happen again."
Click
HERE
to read the full story.