Boston Celtics:

Summer League
May, 30, 2012
5/30/12
4:17
PM ET
MIAMI -- Some of the younger members on the Boston Celtics' roster will likely be back in Florida in July.
Boston,
already confirmed for the Vegas Summer League
, will also
participate in the Orlando Summer League
from July 9-13. The 20-game event will feature the Celtics, Orlando Magic, Brooklyn Nets, Philadelphia 76ers, Utah Jazz, Oklahoma City Thunder, Indiana Pacers and Detroit Pistons.
July, 23, 2010
7/23/10
4:30
PM ET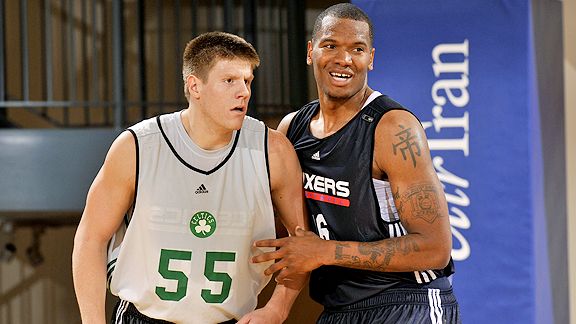 Fernando Medina/NBAE/Getty ImagesLuke Harangody impressed during Boston's summer league in Orlando.
Who were the stars of the NBA's summer league sessions? The already household names of
John Wall
,
DeMarcus Cousins
, and Luke Harangody.
Wait, Harangody?
Boston's un-signed second-round draft choice (No. 52 overall) averaged 16.6 points, 6.8 rebounds, and 1.6 assists per game during the Celtics' five-game slate in Orlando earlier this month and lands at lofty No. 4 on the
list of top summer rookies

compiled by Scouts Inc.'s David Thorpe.
He doesn't pass the eye test as far as NBA players are concerned, but he passes everything else. He shot the ball well, rebounded like a beast and played just about as well as any rookie could hope to. I'm not sure he'll play in the NBA at all this season, but he certainly showed that he has a future.
Harangody all but guaranteed his spot on the Boston roster with his play. It seems only a matter of time before the Celtics ink him at the rookie minimum, bringing their roster to the 13 players that Celtics president of basketball operations
Danny Ainge
said he hoped to get it to before training camp (that, of course, includes
Rasheed Wallace
, and his possible retirement, but ignores non-guaranteed players like
Oliver Lafayette
and
Tony Gaffney
, as well as potential camp invites like Matt Janning).
Harangody played so well it might mark the end of the
Brian Scalabrine
era in Boston, though the Celtics have by no means finished roster building at this stage of the offseason and, given
Kendrick Perkins
' injury to start the season, the team won't shy away from adding big bodies.
As Thorpe mentioned, Harangody might be limited in playing time this season, but he showed some interesting potential, and it wouldn't surprise if the four-year college player worked his way into the mix, particularly as injuries crop up.
Click
HERE

to read Thorpe's complete rookie rankings.
July, 9, 2010
7/09/10
8:45
AM ET


The Celtics committed a whopping 23 turnovers Thursday and allowed a 27-point halftime lead to slip away in falling to the Pacers, 86-85, in summer league action. Jaycee Carroll scored a team-high 19 points for Boston, while Luke Harangody chipped in 16 points and a team-high seven rebounds.

Celtics summer coach Austin Ainge wasn't pleased with the result, but noted his team got complacent with a monster lead and lost focus late in the game. Given that it's just the summer -- and a roster full of inexperienced players -- he said it wasn't a bad thing for the team to face different game situations, including trying to generate a final shot for the win (Tony Gaffney's desperation heave when Harangody lost control of the ball was off the mark).

Boston will look decidedly different in Friday's summer league finale. Carroll is one of four players headed West to join teams for the Las Vegas Summer League (Ryan Thompson and DeShawn Sims the others; Matt Janning departed Wednesday night). Meanwhile, Semih Erden is headed back to Turkey to prep for the FIBA Championships.

The Celtics might field a roster with only seven players, leading Ainge to joke that he might force Celtics director of basketball development Ty Lue to dress for the game.

We'll recap the summer league more in the coming days and examine the players that might stick on Boston's roster.

July, 7, 2010
7/07/10
5:34
PM ET
ORLANDO, Fla. -- A collection of news and notes after the Boston Celtics defeated the Charlotte Bobcats in summer league play Wednesday at the RVD Sportsplex:
The rundown
(a quick look at summer league headlines)
* Janning takes flight; debates a second flight
* Loose Balls: Harangody gets stitches; Erden improves
JANNING TAKES FLIGHT; DEBATES A SECOND FLIGHT
Celtics summer leaguer Matt Janning has a decision to make: To fly or not to fly.
Janning had a ticket for an 8 p.m. flight from Orlando to Las Vegas on Wednesday evening and he planned to sync up with the Phoenix Suns in Sin City in preparation for the second half of the NBA's summer league slate next week.
But after scoring a game-high 20 points in Boston's 92-71 triumph over Charlotte in Wednesday's summer league action, Janning got an unexpected surprise when Celtics president of basketball operations Danny Ainge asked him to stay in town and finish out the week.
"He kinda said, 'You got a good situation here you're looking at,' and he said I gotta talk to my agent and figure this thing out," said Janning, a Northeastern product. "Maybe I can finish the week out and then get down [to Vegas]. I've got a few hours to figure it out."
Janning did a little bit of everything Wednesday, while playing extended stretches at point guard. Coming off the bench, he connected on 8-of-15 shots, including a pair of trifectas, while grabbing eight rebounds and dishing three assists. He even threw down a pretty one-handed jam in the third quarter.
Not all his contributions ended up in the box score, either. Late in the game he registered a nice block from behind, swatting a would-be layup off the glass. It didn't end up in the box score, but every player on the Boston roster, including summer coach Austin Ainge noticed.
"Matt played unbelievable, he even blocked a shot," said Ainge, who immediately consulted the box score to verify if it got on there. "Nope, but he definitely got it."
Janning surprises a lot of people with his athleticism and said he expects to do that more with every opportunity.
"A lot of times, people don't expect me to come out and dunk, stuff like that," said Janning. "But it's all part of my game. It's a little bit deception, but people will realize it soon."
Will he be showing it Thursday when the Celtics meet the Pacers in Orlando? Or next week in Vegas with the Suns? Maybe both. One thing's for sure: Janning left an impression Wednesday.
"I feel good," said Janning. "It's been whirlwind. You never know what's going to come out. I could come out here, play my best game, and nothing might happen. But that's why you come out here to play, because you hope something happens. You get a few calls and go from there."
Update:
Janning updated his
Twitter account
last night to indicate he is indeed heading to Las Vegas to meet up with the Suns. Can you blame him? He's unlikely to have another effort like Wednesday's here, so he leaves the 2010 AirTran Summer League having put his best foot forward. Now it's time to impress the scouts out West as well.
LOOSE BALLS: HARANGODY GETS STITCHES; ERDEN IMPROVES
* Semih Erden, the Turkish 7-footer the Celtics signed Monday, converted an early dunk in traffic and seemed energized by the play. Erden registered eight points on 3-of-5 shooting with six rebounds and two blocks (he did commit four turnovers and fouled out). Even still, Erden logged 25:31 total and had a team-best plus-29 overall in the plus/minus stat.
* Luke Harangody, Boston's second-round selection (52nd overall), needed four stitches to close a gash below his eye after taking an elbow while chasing a loose ball late in the first half. He returned to the locker room for treatment, but returned to the court in the second half. Harangody finished with 12 points on 5-of-9 shooting with three rebounds and two assists over 20:22.
* According to Celtics' media relations department, the group did not hear anything official from the team today and assumed that Kendrick Perkins did not undergo surgery to repair damage to his injured knee.
* DeShawn Sims made the most of his 16 minutes on the court Wednesday, scoring 18 points on 8-of-11 shooting.
July, 6, 2010
7/06/10
10:35
PM ET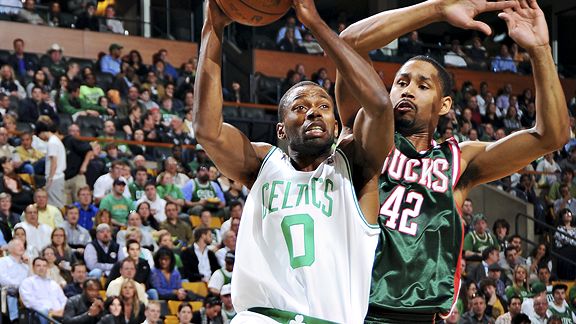 Brian Babineau/NBAE/Getty ImagesOliver Lafayette has been on point at this year's summer league.
ORLANDO -- When the Celtics' locker room opened to the media before the team's regular-season finale against the Milwaukee Bucks on April 14, a horde of reporters stationed themselves around Tony Gaffney, one of two late-season roster additions Boston inked that day with eyes toward competing for a spot on the 2010-11 squad.
Gaffney, a native of nearby Berkley, Mass., and a graduate of the University of Massachusetts, had the more intriguing story -- at least locally -- than fellow newcomer Oliver Lafayette, who sat wide-eyed at a neighboring stall and simply soaked in the atmosphere.
But with Gaffney recovering from an ankle injury, it was Lafayette who dressed that night and scored seven points in 22 high-energy minutes. Trouble was, hardly anyone took notice with the Celtics already looking ahead to postseason play.
While neither Gaffney nor Lafayette played during the postseason run that nearly culminated with a world title, it was Gaffney who again understandably drew headlines both locally and nationally for his ties to both the Celtics and Lakers organizations. He was a final cut for Los Angeles in last year's training camp and his perspective having been at both ends of one of sports' top rivalries -- particularly in a season when they met in the title series -- was naturally an endearing storyline.
Once again, Lafayette merely soaked it all in. Sitting patiently on the sidelines at media availabilities, often dribbling a basketball, he quietly went about his business, working with the reserve unit during practice sessions and spending off days with strength and conditioning coaches preparing for the summer.
Finally, a little less than three months after arriving in Boston, Lafayette got a chance to step into the spotlight Monday, and he didn't miss the opportunity.
Click
HERE
to read the full story.
July, 6, 2010
7/06/10
2:00
AM ET
ORLANDO -- A collection of news and notes after the Boston Celtics fell to the Oklahoma City Thunder Monday during the opening night of the 2010 AirTran Summer League at the RVD Sportsplex:
The rundown
(a quick look at Monday's headlines)
* Harangody turns heads in Boston debut
* Ainge: Amazing energy in the first half
* Loose balls: Thoughts from opening night
HARANGODY TURNS HEADS IN BOSTON DEBUT
When Celtics second-round draft choice Luke Harangody emerged from the team's makeshift locker room following Monday's 87-82 summer league loss to the Thunder, he was immediately ushered by the team's media relations staff past a pack of reporters waiting to talk to him and to a cameraman stationed in a corner outside the gym.
The reason? Harangody needed to be photographed from multiple angles so his likeness could be included in one of this year's upcoming basketball video games. Welcome to the NBA, rookie.
The cameraman took about eight pictures of Harangody, rotating him 45 degrees at a time to capture his mug at multiple angles. Just another day in the life of the 55th overall pick, who spent his first 40 minutes in a Boston uniform making everyone else turn their heads and take notice.
Harangody poured in a team-high 23 points on 9-of-13 shooting with four 3-pointers.
"I got off to a good start shooting it," said Harangody. "It was nice to hit the first shot."
Harangody won't remind anyone of Ray Allen with his not-so-picture-perfect jumper, but it works. He connected on four of his first five shots from the floor, including a trio of first-half 3-pointers, as he and Oliver Lafayette (12 first-half points) paired up to help Boston open a 15-point first-half lead over a Thunder squad not short on NBA talent.
Boston ultimately squandered that lead as the Thunder rallied back for the victory, but that did little to temper Harangody's successful debut.
"I was a little nervous, anyone would be going into a game like this," he said. "I was more anxious than anything. As soon as we got out there and the ball was in the air, I was fine."
About the only downside for Harangody was picking up five fouls, including a pair while trying to draw charges where his feet got caught inside the circle below the rim. Celtics summer coach Austin Ainge suggested those are adjustments any college player will have to make at the next level.
But what Ainge liked was the natural instincts of Harangody to find open looks.
"Luke's a very good player, he runs the floor, he shoots, he hustles -- he's a good player and he shot lights out today," said Ainge. "[His shots] just kind of came out of the flow of the game. He has a knack for finding open shots and that's a skill that's hard to teach. He has it."
Harangody, who hasn't inked a deal yet, is working hard to ensure that Ainge's father, Danny, the Celtics' president of basketball operations, doesn't let him leave town without an invite for the varsity squad.
"Luke's a competitor, very businesslike since we've been out here," said Austin Ainge. "He has a serious look on his face in practice and games. He wants to win."
AINGE: AMAZING ENERGY IN THE FIRST HALF
More than a few eyebrows shot skyward when James Harden and Eric Maynor took the court for Oklahoma City on Monday night. The Celtics only boasted a single game of NBA experience in their starting lineup -- Oliver Lafayette's appearance in the 2009-10 regular-season finale -- while the Thunder were rolling out players who had key roles during a first-round playoff series against the Los Angeles Lakers just two months ago.
Eyebrows stayed skyward when Boston's fresh-faced junior varsity squad practically ran the Thunder out of the gym in the early going, opening a 15-point lead after one quarter. Kevin Durant, sitting on the bench and observing for the Thunder, seemed ready to throw on a uniform to stop the damage.
Boston simply couldn't sustain its intensity.
"Our energy was amazing in the first half," said Ainge. "We took them out of everything they wanted to do. I thought they did a great job bouncing back and playing harder than us in the fourth quarter. They got all the loose balls and all the tipped rebounds. We needed to come up with those to win."
Boston's summer C's fell into a lot of the same traps that plagued the varsity C's during the 2009-10 season.
"I think the game kind of came to a lull," said Ainge. "We need to get out in transition. We can't beat this team in the halfcourt game. They have too much talent, too much size. We couldn't get stops to run -- that was the difference. We had to get rebounds, get fast breaks. We couldn't score in the halfcourt, or stop them."
LOOSE BALLS: THOUGHTS FROM OPENING NIGHT
* Three players who impressed Monday night: Harangody, Lafayette and Jaycee Carroll. Harangody displayed nice range and, as funky as his shot looks, he made just about everything he put up. Lafayette clearly benefited from the time spent with the C's during their Finals run and was far and away the best player on the court for the first 25 minutes before fading late. Carroll, a fearless chucker, connected on 6-of-16 shots for 13 points.
* Artsiom Parakhouski came as advertised. The Belarusian big man logged 18 minutes of court time and grabbed a game-high 10 rebounds to go along with four points. His offensive skills need some polishing, but the 6-foot-11 wide body sure knows how to box out and clean up on the glass, which could force Boston's basketball operations to take a longer look at him.
* Ryan Thompson did a nice job of not only getting to the free throw line, but connecting on all nine shots he took from the charity stripe while scoring 13 points in 15 minutes.
* Ainge utilized a 10-man rotation, and Vyacheslav Kravtsov and Ryan Wittman were the unfortunate recipients of DNP -- Coach's Decision on the first of this week's five games. Because he used 10 guys, Ainge refused to believe his team got tired down the stretch. "We played hard until the end," he said.
July, 6, 2010
7/06/10
1:00
AM ET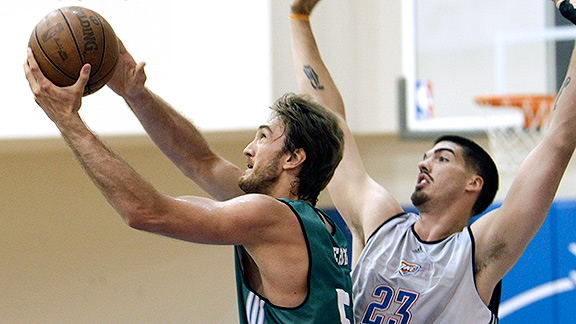 AP Photo/John RaouxTwo years after being drafted, big things are expected of 7-foot Semih Erden.
ORLANDO -- It was sort of like a grand reopening.
Just more than two years ago, Boston Celtics president of basketball operations Danny Ainge introduced Semih Erden to the media in the days after the team selected him with the 60th -- and final -- pick of the 2008 draft.
An afterthought ever since, Ainge beamed like a proud father as he reintroduced Erden to reporters Monday night in Boston's makeshift locker room following the team's 87-82 loss to the Oklahoma City Thunder in their summer league opener at the RVD Sportsplex.
Erden officially signed with the Celtics on Monday, inking a deal that should pay him the rookie minimum of $473,604 this season.
Flanked by his manager and translator, Tolga Tugsavul, Erden engaged in a brief Q&A that was as rigid as his first performance in green. The 7-footer started at center, but labored at times over 22 minutes, scoring two points on 1-of-4 shooting with four rebounds and two turnovers.
Erden admitted he wasn't quite ready for the summer league. He's coming off a season in which his Turkish team -- Fenerbahce Ulker -- won the league title and he's already thinking ahead to the upcoming FIBA World Championships, which will be hosted in his native country.
It's clear the Celtics envision Erden as a bit of a project and are preaching patience. Summer league coach Austin Ainge shared his father's enthusiasm for Erden.
Click
HERE
to read the full story.
July, 5, 2010
7/05/10
2:30
PM ET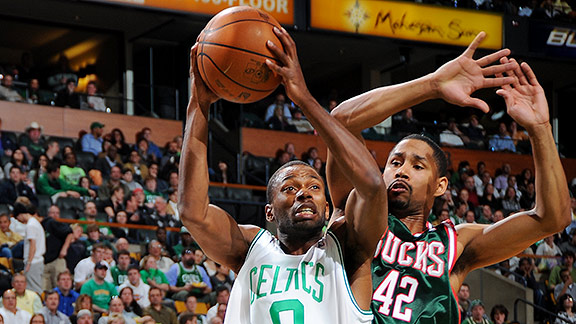 Brian Babineau/NBAE/Getty ImagesOliver Lafayette will benefit from the time he spent with the Celtics at the end of the season.
ORLANDO -- When the Charlotte Bobcats take the floor for the opening game of the 2010 AirTran Summer League on Monday, their roster will include Darius Miles, who has eight years of NBA service.
Miles, who nearly made a comeback with the Celtics in 2008 after microfracture surgery on his right knee sidelined him for two seasons, is attempting another run at an NBA return with Charlotte this summer.
Miles boasts 446 NBA games and 11,729 minutes played for his career. By comparison, the Celtics' entire 12-man summer roster features a total of one regular-season game of NBA experience.
Yes, the summer league is geared more toward rookies and the league's youngest players, so Boston's lack of experience isn't exactly shocking. And while a few notable names like Miles' dot the rosters of the eight teams competing here this week, you're more likely to be Googling the game's leading scorer to find out exactly who they are.
Click
HERE
to read the full story.
July, 5, 2010
7/05/10
2:15
PM ET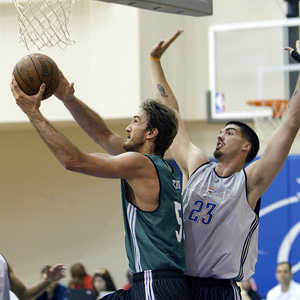 AP Photo/Darko VojinovicWith the Celtics lacking big men, they're giving Semih Erden a look at the summer league.
The Celtics signed 2008 second-round draft pick Semih Erden Monday in advance of the first summer league game. Here's the official release from the team:
The Boston Celtics announced today that they have signed center Semih Erden. Per team policy, terms of the deal were not disclosed.

Erden, a 7'0" 240lbs center, was selected by the Celtics with the 60th pick in the 2008 NBA Draft. The native of Gaziosmanpasa, Turkey was a starter for Fenerbahce Ulker this past season when they won the Turkish League championship and averaged 8.2 points and 5.1 rebounds per game. Erden shot an impressive 62.4% from the field during the 42 Turkish League games that he played in last season. Erden will be competing for Turkey in the upcoming 2010 FIBA World Championships to be played in his native country.
July, 2, 2010
7/02/10
3:55
PM ET
One quick thought on Boston's summer league roster (we'll delve into the team more early next week when we trek to Orlando for the start of games on Monday):
Boston's glaring weakness entering the first days of free agency is clearly big men.
Kevin Garnett
,
Glen Davis
,
Kendrick Perkins
and
Rasheed Wallace
are the only bigs under contract, and Perkins is set to miss the start of the season after ACL surgery, while Wallace is expected to hang up his headband before the end of the summer.
Free agency won't overwhelm you with potential options for the Celtics, at least not that the team can easily afford. Fortunately, Boston's summer roster gushes with height -- seven players over 6 feet, 7 inches, of the 12 available bodies. So if the team can find even one or two players to add to the bench, it might at least ease height concerns.
Sure, some of these bigs are more wing-type players, but there's some legitimate post guys who will do most of their work under the rim, which is probably what the Celtics need most. Here's three international options to watch: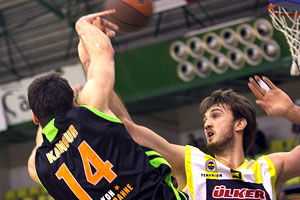 Bulent Kilic/AFP/Getty ImagesLet the Semih Erden era begin.
Semih Erden
: Mr. Irrelevant from the 2008 draft has been, well, irrelevant after coming to Boston just long enough to snap a picture alongside
Gabe Pruitt
(he'll compete for New Jersey this summer) and Celtics president of basketball operations
Danny Ainge
, then promptly returned to his native Turkey. The 23-year-old center averaged 6.2 points and 5.4 rebounds in 10 games in the Euroleague this season, shooting 47.6 percent from the floor overall. By all accounts, he's got the physical makeup to be an NBA player, he simply hasn't put it together quite yet. Scouting reports do say he finishes strong around the rim, something that Boston could certainly use.
Art Parkahouski
: Despite playing collegiately for Radford, Parkahouski actually drew a bit of draft buzz and for good reason. Parakhouski averaged 21.4 points and a nation-best 13.4 rebounds per game as a senior. Those all didn't come against creampuffs like Lynchbur, either. Parakhouski finished with 21 points and 13 rebounds against Kansas, while totaling 23 points and 14 rebounds agianst Duke. The native of Belarus has potential to stick based solely on his desire to clean up on the glass.
Vyacheslav Kravtsov
: NBADraft.net will get you fired up for this guy, listing his strengths as, "One of the best post prospects in Europe... He has great physical potential, is a supreme athlete, with an excellent attitude... Plays with courage and desire, and has surprising maturity for his age... A true center. At 7-0, 260 pounds and with a big frame, has the size to play center in the NBA... Has a great attitude, and shows a high level of desire... Has the toughness and demeanor that you want in a post player." A native of the Ukraine, he'll inevitably draw comparison to countryman
Kyrylo Fesenko
and the Celtics probably wouldn't mind if he turned out to be as effective.
July, 2, 2010
7/02/10
2:53
PM ET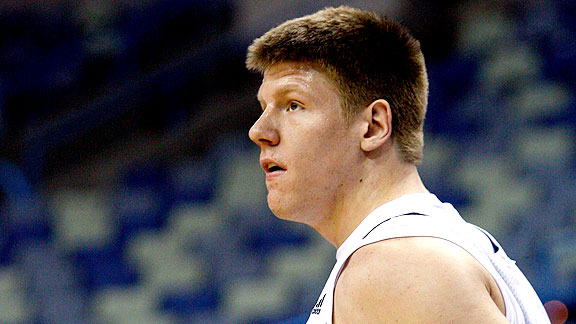 Joe Robbins / Getty ImagesSecond-round draft choice Luke Harangody will be one member of the Celtics' summer league squad.
The Celtics announced their complete roster for the 2010 AirTran Summer League in Orlando:
41 -- Jaycee Carroll -- G -- 6'2" -- 180 -- Utah State
50 -- Semih Erden -- C -- 7'0" -- 240 -- Turkey
27 -- Tony Gaffney -- F -- 6'8" -- 215 -- Massachusetts
45 -- Rodney Green -- G -- 6'5" -- 190 -- La Salle
55 -- Luke Harangody -- F -- 6'8" -- 255 -- Notre Dame
46 -- Matt Janning -- G -- 6'4" -- 198 -- Northeastern
60 -- Vyacheslav Kravtsov -- C -- 7'0" -- 270 -- Ukraine
40 -- Oliver Layafette -- G -- 6'2" -- 190 -- Houston
58 -- Art Parkahouski -- C -- 6'11" -- 260 -- Radford
47 -- DeShawn Sims -- F -- 6'8" -- 225 -- Michigan
48 -- Ryan Thompson -- G -- 6'6" -- 220 -- Rider
49 -- Ryan Wittman -- F -- 6'7" -- 215 -- Cornell
Here is Boston's five-game schedule:
Monday, July 5 - Boston vs. Oklahoma City, 5 p.m.
Tuesday, July 6 - Boston vs. Philadelphia, 5 p.m.
Wednesday, July 7 - Boston vs. Charlotte, 1 p.m.
Thursday, July 8 - Boston vs. Indiana, 3 p.m.
Friday, July 9 - Boston vs. New Jersey, noon
The Celtics are joining the host Orlando Magic, along with the New Jersey Nets, Philadelphia 76ers, Indiana Pacers, Oklahoma City Thunder, Utah Jazz, and Charlotte Bobcats at the eight-team summer league.
You can follow the summer league action
online
, while all the games will be televised on
NBA TV
.
June, 15, 2010
6/15/10
3:04
PM ET

While much of the summer league attention will be centered around the happenings in Las Vegas, the
Boston Celtics
will be among eight teams participating in the AirTran Airways Pro Summer League in Orlando, July 5-9.
The Celtics will join the host
Orlando Magic
, along with the
New Jersey Nets
,
Philadelphia 76ers
,
Indiana Pacers
,
Oklahoma City Thunder
,
Utah Jazz
, and
Charlotte Bobcats
.
Boston has not finalized a roster, but will field a team likely featuring
Tony Gaffney
,
Oliver Lafayette
, and other 2010-11 roster hopefuls. The Celtics are set to have upwards of 8-10 roster spots to fill based on who departs via free agency.
Here is Boston's five-game schedule:
Monday, July 5- Boston vs. Oklahoma City, 5 p.m.
Tuesday, July 6 - Boston vs. Philadelphia, 5 p.m.
Wednesday, July 7 - Boston vs. Charlotte, 1 p.m.
Thursday, July 8 - Boston vs. Indiana, 3 p.m.
Friday, July 9 - Boston vs. New Jersey, noon