September, 10, 2010
9/10/10
4:00
PM ET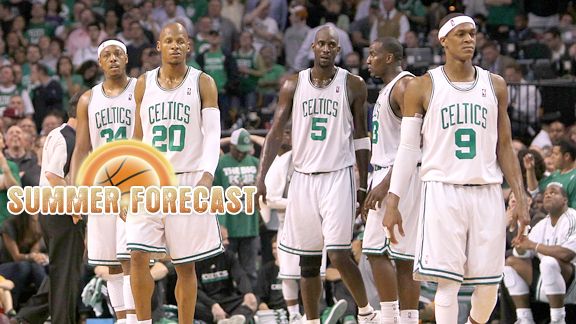 Jim Rogash/Getty ImagesWhat are Boston's strengths and weaknesses as the new season nears?
To cap our Celtics Summer Forecast series, we wanted to gauge our panel's outlook on the 2010-11 season by having them identify Boston's biggest strength and weakness as the new season approaches.
With such a broad topic, it's interesting to see exactly where the 18 writers from eight of our favorite Celtics blogs honed in on. It will be even more interesting to look back at season's end and see just how accurate they were with their feelings towards this year's squad and whether preseason perception matches how the actual season unfolds.
Our panel was pretty much unanimous on the strength: Boston kept intact a veteran core with two NBA Finals appearances (and one title) on their resume over the past three seasons. Add to that a beefed up frontcourt (one of the most glaring weaknesses last season) and there's unbridled optimism about the team's ability to get back to the championship round this season.
The weaknesses were a bit more varied. One prevalent theme was the fact that, while Boston's biggest strength is its experience, that advanced age could once again be a detriment for a team that labored through an injury-riddled 2009-10 campaign, then seemed to run out of gas at the worst possible moment in the NBA Finals.
Most also worried about regular-season motivation. After all, this a team that played .500 basketball over the final four months of the regular season after a blistering 23-5 start. Some of that surely stemmed from injuries, but players openly acknowledged that, when your goal is a world title, the regular season can be an 82-game grind to get to the games that, fair or not, truly matter more.
Click
HERE
to read the full story.
PODCASTS
Paul Solotaroff, NFL
Play Podcast Men's Journal's Paul Solotaroff weighs in on the characterization of Richard Sherman, the relationship between Sherman and Patrick Peterson and expectations for Darrelle Revis.
Baseball Tonight - Dominant Pitching
Play Podcast Adnan Virk talks to Tim Kurkjian about dominant pitching performances and the search for the next commissioner. Plus, Arash Madani on if the Blue Jays can make the playoffs.
Greg Cosell, NFL
Play Podcast NFL Films' Greg Cosell weighs in on whether the Browns should start Brian Hoyer or Johnny Manziel, the Jets' QB situation, Ryan Mallett's abilities and Robert Griffin III's development.