Boston Celtics:

Suspension
April, 30, 2012
4/30/12
5:05
PM ET
ATLANTA -- Boston Celtics point guard Rajon Rondo has been suspended for Game 2 of an Eastern Conference quarterfinal series against the Atlanta Hawks for making contact with a game official, NBA executive vice president of basketball operations Stu Jackson announced Monday.
Rondo
chest-bumped referee Marc Davis
with 41 seconds remaining in Sunday's 83-74 Game 1 loss at Philips Arena, earning his second technical and automatic ejection. Rondo, who earned both technicals while vehemently protesting a foul call against teammate Brandon Bass, said after the game that the bump was unintentional, but the league viewed it as otherwise.
"Obviously, from a competitive standpoint we are disappointed with the league's decision to suspend Rondo," Celtics coach Doc Rivers said in a statement released by the team. "He plays a valuable part in our team's success. We accept the punishment and will use it as a learning tool for our players."
This is Rondo's second referee-related suspension in three months. He was
also suspended for two games
in February after zipping a ball at an official.
The NBA rulebook states, "Any player or coach guilty of intentional physical contact with an official shall automatically be suspended without pay for one game. A fine and/or longer period of suspension will result if circumstances so dictate."
Appearing on ESPN Radio's "The Herd with Colin Cowherd" on Monday, NBA commissioner David Stern said, "We have a hard and fast rule. Unless somebody trips you and sends you into him, nobody touches a referee. That's the proposition."
February, 20, 2012
2/20/12
11:53
PM ET
A suspension wasn't exactly unexpected. When Celtics point guard Rajon Rondo flipped the ball off the chest of a game official Sunday evening in Detroit, earning a double technical and automatic ejection, it was pretty obvious that the league would follow up with additional punishment.
The surprise might have been that the
NBA handed down a two-game ban
Monday, ruling swift and hard against a player without any history of discipline issues. Rondo sat out the first of those two games as the Celtics fell to the Mavericks, 89-73, Monday night in Dallas and also will miss Wednesday's pre-All-Star break finale in Oklahoma City, which falls on Rondo's 26th birthday.
First things first: Rondo's actions were inexcusable. Angry at the lack of a foul call on a third-quarter drive -- particularly in a game in which Detroit was practically living at the charity stripe -- Rondo voiced displeasure with referee Sean Wright and said a few not-suitable-for-print words that might have landed him a technical on their own. But zipping the ball at the official sealed his fate. As his upcoming birthday reminds us, Rondo needs to be more mature at this age (even if he's certainly still young by NBA standards).
"You're always disappointed when that happens," Celtics coach Doc Rivers said before Monday's game in Dallas. "You should never put yourself in front of the team. But it's an emotional game. We can all agree that it was a pretty bad foul -- and a clear foul -- that wasn't called. At the time, we were getting our butts kicked and the frustration was high and it's a human game. I can guarantee you five seconds ... after it happened, I guarantee you Rondo wished he could take it back."
But he can't, so the question becomes does the punishment fit the crime?
Some immediately lamented that Rondo got a sentence similar to that of Minnesota's Kevin Love, who stomped on Houston's Luis Scola earlier this month and also received a two-game ban. What's more, the league's recent disciplinary action suggests a one-game ban would have been the more expected path given that both Lakers coach Mike Brown (left the bench and bumped a referee in Utah) and Robin Lopez (brushed a referee running back upcourt against Toronto) each received a one-game ban, while Milwaukee's Stephen Jackson got the same for verbally abusing an official.
February, 20, 2012
2/20/12
5:15
PM ET
CSN ScreenshotRajon Rondo flips the ball off a game official Sunday in Detroit.
Boston Celtics point guard Rajon Rondo has been suspended for two games for throwing a ball at an official and striking him in the chest during Sunday's loss in Detroit, NBA executive vice president of basketball operations Stu Jackson announced Monday.
Rondo will serve his suspension immediately, missing the team's next two games against the Mavericks and Thunder, according to the release from the league.
Frustrated by a lack of a foul call on a third-quarter drive, Rondo flipped the ball at official Sean Wright, earning a
double technical and automatic ejection
. Rondo now owns a team-high seven technical fouls on the season, placing him near the top of the league in technicals.
"I don't want anyone to get thrown out of a game, but he did," Rivers told reporters in Detroit after the game. "I didn't see what happened, so it's tough for me to make comment on it. I was actually looking down at a sheet of paper, so I missed it."
Asked if he sought clarification on why Rondo was ejected, Rivers said, "No, I didn't even ask. At that point, I didn't care to find out. I'll find out later. I wasn't worried about that to be honest."
April, 19, 2010
4/19/10
4:28
PM ET
WALTHAM, Mass. -- A collection of news and notes after the
Boston Celtics
practiced Monday at the Sports Authority Training Center at HealthPoint in advance of Tuesday's Game 2 against the
Miami Heat
in the opening round of the Eastern Conference playoffs:
The rundown
(a quick look at practice headlines)
* KG not surprised by suspension

* Doc won't tip hand on Garnett replacement

* Wallace, Baby ready to go regardless of role

KG not surprised by suspension
Celtics forward
Kevin Garnett
admitted he wasn't surprised by the one-game suspension handed down by the NBA Sunday for the elbow he landed to the head of
Quentin Richardson
during a fourth-quarter ruction in Saturday's Game 1. And, as he did before he learned his fate Sunday, Garnett tried to further defuse the situation.
"No, I wasn't surprised at all, to be honest," said Garnett. "I told my man, [Celtics vice president of media relations] Jeff Twiss, when we were talking that I just want my message to be done, and all of this to be over with, my message here is: Whoever it is, my teammates, [Celtics coach]
Doc Rivers
, or anyone in the organization, I want them to know I got their back.
"The elbow wasn't deliberate. The league does what it has to do to set the tone. I respect that. It's time to move on and get back to a wonderful series."
Garnett did grit his teeth when asked about whether the instigator in the situation -- Richardson -- should have gotten more than a $25,000 fine.
"You know how it goes," said Garnett. "The person that usually instigates something is not the one that usually gets the penalty. But it's over. It's what it is. We've both been dealt with."
Rivers, who stressed Sunday before finding out about the punishment that the whole situation might have been avoided had Richardson not instigated the incident by standing near an injured
Paul Pierce
and suggested Boston's captain was exaggerating his right-shoulder pain, again campaigned for the league to be harsher with instigators.
"My only statement on the whole thing, I accept Kevin being suspended, if you go by the letter of the law, you kinda knew it was going to go that way," said Rivers. "But if your really want to stop the fights, you gotta suspend the agitator, too. I think right now, the agitator gets fined, the retaliator gets suspended in all these things. Until they stop the agitator, and fine them, and suspend them both, then you'll have these things."
Garnett practiced with the second team Monday, joking he hadn't done that since his rookie season in Minnesota. Asked what he'll do during Tuesday's Game 2, he noted he's likely going to watch the contest at the home of Celtics president of basketball operations
Danny Ainge
.
"[Not being able to play will be] very difficult," said Garnett. "Danny Ainge is planning on having me at his house to watch the game. It's going to be an experience. Danny talks through the whole [damn] game."
KG did fire one parting shot. When asked his comments on Chicago's
Joakim Noah
labeling him a "
dirty player
", Garnett noted Noah should, "Worry about [
Shaquille O'Neal
]."
Doc won't tip hand on Garnett replacement
In the portion of practice open to the media, the Celtics closed out their practice session by utilizing
Glen Davis
with the gren-clad first unit. But Rivers noted that he rotated numerous players at that power forward spot during the session and wouldn't reveal his plan for a Game 2 starter.
"I don't know yet, we used three or four or five guys," said Rivers, setting up his punchline. "So Oliver [Lafayette] right now might be the guy."
Lafayette, a 6-2 guard signed last week out of the NBA Development League with eyes towards competing for a spot on next year's roster, is unlikely to be in the mix, but Davis and
Rasheed Wallace
each provide potential positives for the Celtics if used in that role. While both are certain to play extended minutes, the decision on a starter hasn't been easy for Rivers.
"They're completely different players," said Rivers. "Rasheed gives us more size, he gives us a better post player, between him and Baby. And he spreads the floor. Baby gives you energy and Baby moves his feet a little better in the [Michael] Beasley matchup. They are so completely different, that's what makes this decision so difficult. It would be easy if they were similar, you'd just say, 'Him, we'll start him.' But they're not, so it's tough."
No one would reveal the game plan, but it appeared as though Davis might get thrust into the starting role. We detailed why
Davis is an intriguing option
Sunday on ESPNBoston.com, and his inspired play in the second half of Saturday's Game 1 triumph might help him earn the nod.
For his part, Davis continued to stress that the "Ticket Stub," his Garnett-inspired nickname from KG's moniker as the "Big Ticket,' is ready to return if needed Tuesday.
Wallace, Baby ready to go regardless of role
Wallace, who tried to squash the Garnett-Pierce-Richardson feud immediately after Saturday's game, still didn't want to talk technicals and suspensions Monday, but he did chat about trying to fill Garnett's shoes. Wallace stressed that earning the starting role wasn't an issue for him.
"It doesn't matter, as long as I'm in there in the fourth quarter, I don't care if I start," said Wallace. "I don't care if Doc brings me off the bench. Like I said before, [Rivers is the] mad scientist, with the right formula he sees out on the floor. If he sees me starting, fine. If he doesn't see me starting, fine. I'm not going to sit up here and cry about it."
Wallace noted he accepted a role as an emergency starter and full-time sixth man when he came to Boston. He plans to be ready for whatever Rivers throws at him Tuesday.
April, 18, 2010
4/18/10
7:18
PM ET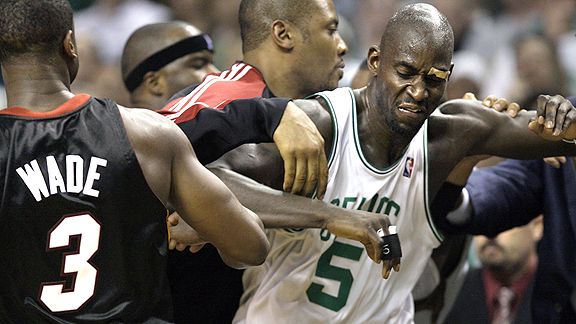 AP Photo/Elise AmendolaKevin Garnett's elbow helped ignite a fourth-quarter fracas in Game 1.
Celtics forward
Kevin Garnett
has been suspended for Game 2 of Boston's first-round playoff series against the Heat for landing an elbow to the head of Miami's
Quentin Richardson
in a fourth-quarter fracas during Saturday's Game 1.
The announcement was made Sunday by NBA executive vice president of basketball operations Stu Jackson.
Richardson was fined $25,000 for his role in the altercation.
Garnett earned a double technical and ejection in the melee that unfolded after
Paul Pierce
tumbled to the ground near the Miami bench with 40 seconds left in Boston's victory at TD Garden.
"I saw Paul grab his shoulder, as a stinger or whatever, so I just tried to immediately call [Celtics trainer] Ed [Lacerte] over," Garnett explained after the game. "I tried to give him some room and I just saw [Quentin Richardson] standing over him talking nonsense. I asked [Richardson] to give him some room and, before you knew it, mayhem started. That situation, man, I know these two [Richardson and Pierce] have competed against each other in the past and have history from bumping heads a little bit. I was just trying to give him the common courtesy for an injured player, that's all. Nothing more, nothing less.
"I have no beef with Q, I know him personally. I thought what he did was a bit disrespectful, standing over a guy hurt, you know, and talking nonsense. Before you knew it, it all just broke out. I gotta use my head, but all I saw was Paul hurt and that's all I cared about at that time."
The news is not unexpected. The Celtics were bracing themselves for the possibility of Garnett's suspension Sunday, though they did lament the fact that the ruling did not come down before their afternoon practice session.
Asked if his team could win without Garnett, Celtics coach
Doc Rivers
noted, "We better be. We've won games before [without him]. We're not focused on that now, but if it happens, it happens."
It happened. Now Boston's frontcourt reserves including
Glen Davis
,
Rasheed Wallace
and
Shelden Williams
will be called upon to shoulder a bigger load in a pivotal Game 2.
The Celtics sounded confident, even in the face of losing an emotional leader.
"We know we can hold down the fort," said Pierce. "We're not one of those teams that, when the star player goes down, you find excuses to not play hard, to not win."
Referee Joe DeRosa released the following statement after Saturday's game: "[Garnett] was ejected for throwing an elbow that made contact with Quentin Richardson. He had already had one technical foul for taunting with Quentin Richardson before that. Then as the altercation went on, he threw an elbow that did make contact with Richardson, which was his second technical foul and he was ejected."
DeRosa also noted that even if the elbow had not made contact, Garnett would have been disqualified for a second technical.
The NBA's punishment is consistent with past issues of elbowing. The league handed out a one-game suspension to
Dwight Howard
on April 29 during last year's playoffs against Philadelphia.
After Saturday's game, Richardson sounded off on both Garnett and Pierce.
"I was trying to get over there to take the ball out of bounds and [Garnett] started to talk to me, so I talked back," Richardson said. "I don't have any business talking to him, he was on the ground crying. I don't know what was going on, two actresses over there, that's what they are.
"I just get surprised by people's actions when I know them better than that. They're not those characters they portray. They're not who they say they are, Garnett and Pierce. They're good basketball players and that's about it.
"I said to Jermaine, he's OK because I knew nobody touched him," added Richardson. "Is he taking another break like he does so many times? Sometimes he falls like he's about to be out for the season and then he gets right up, that's all I said.
"I don't like them, and they know it."
On Sunday, Garnett tried to defuse the situation by not responding to Richardson's comments.
"No thoughts at all," Garnett said of Richardson's comments. "Classless -- a classless act on his part. I'm moving on with it. I'm not going to go back and forth commenting through [the media]. End this."