Boston Celtics:

TechnicalTracker
February, 2, 2011
2/02/11
8:35
PM ET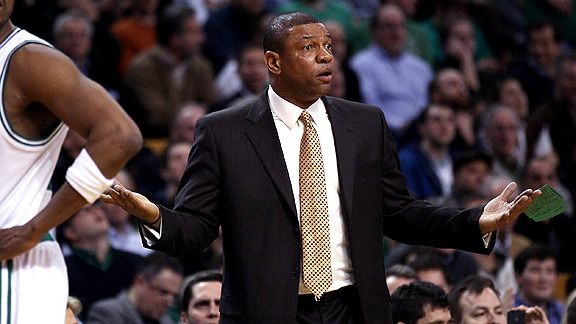 Elsa/Getty ImagesDoc Rivers vents from the sideline.
Boston Celtics players and coaches have been tagged with 35 technical fouls through 48 games this season. Check out the full list of infractions below.
One note: Based on the NBA's associated fines for technical fouls ($2,000 fine for technicals Nos. 1-5; $3,000 for technicals Nos. 6-10; $4,000 for technicals Nos. 11-15; $5,000 for technical Nos. 16 and up), the Celtics have paid $74,000 in penalties for those infractions.
--
DOC RIVERS (7, $16,000)
--
Nov. 3 vs. Milwaukee - 11:40, 4th (complaining to officials)
Dec. 19 vs. Atlanta - 9:15, 3rd (complaining to officials)
Dec. 25 vs. Orlando - 5:43, 3rd (complaining to officials)
Dec. 29 vs. Detroit - 11:39, 4th (complaining to officials)
Jan. 17 vs. Orlando - 17.7, 2nd (complaining to officials)
Jan. 28 vs. Phoenix - 4:33, 2nd (complaining to officials)*
--
PAUL PIERCE (6, $13,000)
--
Nov. 17 vs. Washington - 5:57, 3rd (complaining to officials)
Dec. 19 vs. Indiana - 5:41, 2nd (double technical with Dahntay Jones)
Dec. 22 vs. Philadelphia - 6:07, 3rd (complaining to officials)
Dec. 25 vs. Orlando - 2:55, 3rd (complaining to officials)
Jan. 5 vs. San Antonio - 4:55, 4th (complaining to officials)
Jan. 27 vs. Portland - 4:25, 2nd (double tech with Joel Przybilla)