Boston Celtics:

Tennessee
March, 23, 2011
3/23/11
9:03
PM ET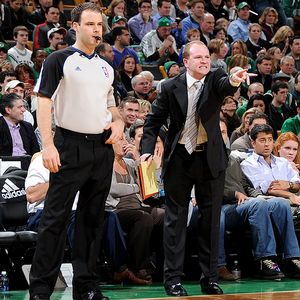 Brian Babineau/NBAE/Getty ImagesCeltics top assistant Lawrence Frank is drawing interest from Tennessee.
BOSTON -- Celtics coach Doc Rivers lent validation to reports that top assistant Lawrence Frank is drawing interest from the University of Tennessee and stressed that he has no problem with Frank going through the interview process for any position deemed an upgrade over his current role, so long as it doesn't interfere with his responsibilities with the Celtics.
"Just like [current Bulls coach Tom Thibodeau] last year, we allowed him to do his job with us, which he did and did phenomenally by the way, and still get interviews, which is great. I'm a big believer in that. I don't think you should ever stand in the way of anyone if they're going to be able to better themselves. You just don't do that. I know it's done around the league... but I don't believe that. I think you can do an interview and still do your job. So if it came to that, it would be great for him."
Rivers kept it light when asked about the potential of losing Frank after the season, particularly to the college ranks.
"He's a pain in the [butt], so I think that'll be good," joked Rivers. "No, Lawrence is a great coach. He'd be terrific in a college atmosphere."
Rivers couldn't resist another one-liner, quipping: "I told Lawrence that he would struggle in the living room with moms [during recruiting pitches], but other than that, I think he'd be pretty good. No, I want all my assistants to get jobs, that would be terrific."
Tennessee fired men's basketball coach Bruce Pearl earlier this week in the face of potential sanctions from the NCAA, who had charged Pearl with multiple instances of unethical conduct. Frank, who spent three seasons as a Tennessee assistant under Kevin O'Neill, was immediately linked to the opening, though it's unclear if he'd be willing to take a college coaching job or wait out another head coaching opportunity at the NBA level.
Frank spent five-plus seasons as a head coach with New Jersey before being fired after an 0-16 start to the 2009 campaign. He would seemingly be a candidate in Boston if Rivers decided to walk away after this season. Rivers is working on a one-year contract after debating whether to hang up his clipboard last season to spend more time with his family.
PODCASTS
Baseball Tonight
Play Podcast Buster Olney talks to Alex Speier, Karl Ravech and Justin Havens about whether the Red Sox will move Jon Lester before the trade deadline, pace of play and much more.
Greg Cosell, NFL
Play Podcast NFL Films' Greg Cosell covers the Cowboys' defense, Rob Gronkowski's impact, Darrelle Revis' performance last season, the Giants' talent level and the outlook for the Cardinals.
Baseball Tonight
Play Podcast Buster Olney and Keith Law talk about the Tigers' acquisition of Joakim Soria and whether it's wise to trade within the division. Plus, Matt Gelb on the Phillies' plans.