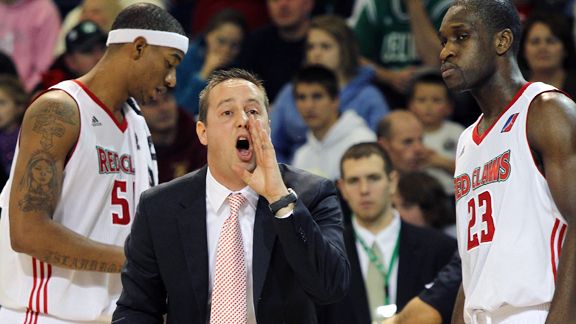 Rich Obrey/NBAE/Getty Images
Austin Ainge and the Red Claws have won three in a row.On a week they welcomed back one of their parent club's former stars, the Maine Red Claws mimicked the Boston Celtics a bit, putting together a three-game win streak that featured a pair of victories over Antoine Walker and the Idaho Stampede.
--WEEK IN REVIEW--
Thursday, Dec. 16: Claws 105, Stampede 99: On the night Walker returned to New England (dropping 25 points over 33 minutes in the process), the Red Claws shot 51.4 percent from the floor, put six of nine scorers in double digits (including a double-double from DeShawn Sims, who registered 24 points and 17 rebounds) and ended a two-game skid.
Friday, Dec. 17: Claws 117, Armor 112: Maine withstood a feverish fourth-quarter rally that saw the Armor temporarily pull ahead, but dug in for a gritty victory that evened the season series between the two territorial rivals at two games apiece. Sims again provided the offensive punch, scoring a team-high 25 points to go along with eight rebounds, while Tiny Gallon chipped in 19 points and seven boards. JamesOn Curry scored a game-high 38 points for Springfield.
Sunday, Dec. 19: Claws 100, Stampede 98 (OT): Jamar Smith's 3-pointer with 3.9 seconds remaining in regulation forced an extra session, where Gallon produced six of his team's eight points, including a winning fadeaway with 2.6 seconds to play. Gallon paced the Red Claws with 17 points, while Mario West added a double-double with 13 points and 10 rebounds (to go along with four assists and two blocks). The Claws connected on 12-of-24 3-pointers, with Smitih and Chamberlain Oguchi providing three apiece (highlights embedded below).
--EYES ON FAMILIAR FACES--
Tiny Gallon (6-9 forward, affiliated) -- After sitting out Maine's road trip last weekend, Gallon returned to to average 17.3 points and 6.3 rebounds per game during the three wins. Season stats: 16.8 ppg, 8.2 rpg, 2.0 apg.
Jamar Smith (6-3 guard, affiliated) -- Smith connected on 13 of 22 attempts (59 percent) of his shots, while averaging 12.3 points per game in three wins. What's more, he connected on 7 of 14 3-pointers. Season stats: 13.2 ppg, 5.3 apg, 3 rpg.
Mario West (6-5 guard, camp cut) -- Maine's Swiss Army knife continues to provide a little bit of everything, averaging 10.6 points, 7 rebounds, and 4.3 assists per game over the weekend. Season stats: 10.9 ppg, 6.3 rpg, 2.3 apg.
DeShawn Sims (6-8 forward, summer league) -- After a little lull, Sims is thriving again, putting up back-to-back monster efforts to start the weekend (he did go cold Sunday, connecting on just 3-of-12 shots for nine points and eight rebounds). Season stats: 15.9 ppg, 8.5 rpg, 1.1 apg.
Matt Janning (6-4 guard, summer league) -- Janning continues to log quality minutes off the bench, but didn't reach double figures in scoring all weekend. He connected on 6 of 17 shots (35.3 percent), including 4 of 8 3-pointers. Season stats: 6.9 ppg, 2.6 rpg, 1.5 apg.
--WHAT'S ON TAP--
The Red Claws trek to Iowa on Thursday for a pre-Christmas clash with the surging Energy (9-3, best record in the D-League). Maine then returns home to host Springfield Sunday at 5 p.m. ... For those in Maine, the Claws (including Gallon, Sims, and Matt Janning) will be ringing bells with the Salvation Army at the Maine Mall from 4-8 p.m.