Boston Celtics:

Tiny Gallon
December, 20, 2010
12/20/10
3:55
PM ET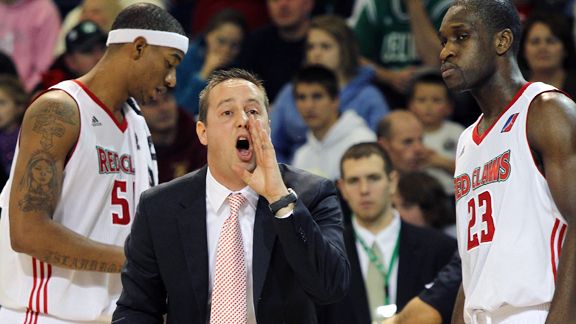 Rich Obrey/NBAE/Getty ImagesAustin Ainge and the Red Claws have won three in a row.
On a week they welcomed back one of their parent club's former stars, the Maine Red Claws mimicked the Boston Celtics a bit, putting together a three-game win streak that featured a pair of victories over Antoine Walker and the Idaho Stampede.
--
WEEK IN REVIEW
--
Thursday, Dec. 16: Claws 105, Stampede 99
: On the night Walker returned to New England (dropping 25 points over 33 minutes in the process), the Red Claws shot 51.4 percent from the floor, put six of nine scorers in double digits (including a double-double from DeShawn Sims, who registered 24 points and 17 rebounds) and ended a two-game skid.
Friday, Dec. 17: Claws 117, Armor 112
: Maine withstood a feverish fourth-quarter rally that saw the Armor temporarily pull ahead, but dug in for a gritty victory that evened the season series between the two territorial rivals at two games apiece. Sims again provided the offensive punch, scoring a team-high 25 points to go along with eight rebounds, while Tiny Gallon chipped in 19 points and seven boards. JamesOn Curry scored a game-high 38 points for Springfield.
Sunday, Dec. 19: Claws 100, Stampede 98 (OT)
: Jamar Smith's 3-pointer with 3.9 seconds remaining in regulation forced an extra session, where Gallon produced six of his team's eight points, including a winning fadeaway with 2.6 seconds to play. Gallon paced the Red Claws with 17 points, while Mario West added a double-double with 13 points and 10 rebounds (to go along with four assists and two blocks). The Claws connected on 12-of-24 3-pointers, with Smitih and Chamberlain Oguchi providing three apiece (highlights embedded below).
--
EYES ON FAMILIAR FACES
--
Tiny Gallon (6-9 forward, affiliated)
-- After sitting out Maine's road trip last weekend, Gallon returned to to average 17.3 points and 6.3 rebounds per game during the three wins. Season stats: 16.8 ppg, 8.2 rpg, 2.0 apg.
Jamar Smith (6-3 guard, affiliated)
-- Smith connected on 13 of 22 attempts (59 percent) of his shots, while averaging 12.3 points per game in three wins. What's more, he connected on 7 of 14 3-pointers. Season stats: 13.2 ppg, 5.3 apg, 3 rpg.
Mario West (6-5 guard, camp cut)
-- Maine's Swiss Army knife continues to provide a little bit of everything, averaging 10.6 points, 7 rebounds, and 4.3 assists per game over the weekend. Season stats: 10.9 ppg, 6.3 rpg, 2.3 apg.
DeShawn Sims (6-8 forward, summer league)
-- After a little lull, Sims is thriving again, putting up back-to-back monster efforts to start the weekend (he did go cold Sunday, connecting on just 3-of-12 shots for nine points and eight rebounds). Season stats: 15.9 ppg, 8.5 rpg, 1.1 apg.
Matt Janning (6-4 guard, summer league)
-- Janning continues to log quality minutes off the bench, but didn't reach double figures in scoring all weekend. He connected on 6 of 17 shots (35.3 percent), including 4 of 8 3-pointers. Season stats: 6.9 ppg, 2.6 rpg, 1.5 apg.
--
WHAT'S ON TAP
--
The Red Claws trek to Iowa on Thursday for a pre-Christmas clash with the surging Energy (9-3, best record in the D-League). Maine then returns home to host Springfield Sunday at 5 p.m. ... For those in Maine, the Claws (including Gallon, Sims, and Matt Janning) will be ringing bells with the Salvation Army at the Maine Mall from 4-8 p.m.
November, 22, 2010
11/22/10
2:15
PM ET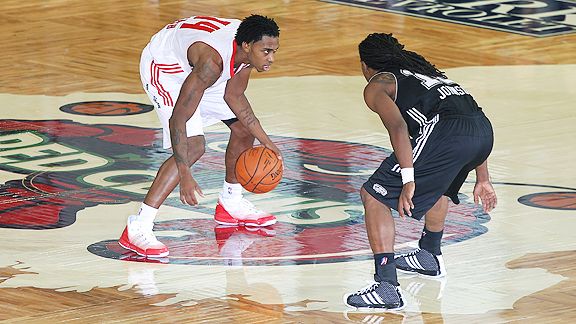 Rich Obrey/NBAE/Getty ImagesJamar Smith dribbles the ball near midcourt during a game against Austin.
Every Monday while the NBA Development League is in session, we'll try to take a quick glimpse at how the Maine Red Claws, Boston's minor league affiliate, are faring with a focus on the Celtics' affiliated players.
WEEK IN REVIEW
The Red Claws (1-1) opened their season by splitting a back-to-back with visiting Austin, dropping Friday's season-opener, but rebounding in Saturday's rematch. Paul Harris scored a team-high 20 points to pace five Claws in double figures on opening night (Maine shot a solid 47.3 percent from the floor overall), but thanks in large part to the 22 offensive rebounds Maine allowed, the Toros emerged with a 103-97 triumph. The following night, Jamar Smith, one of three affiliated players from Boston, scored a game-high 25 points on 9-of-12 shooting off the bench to spark the Claws to 93-88 victory.
EYES ON THE AFFILIATES
Stephane Lasme: On the eve of the 2010-11 season, the Red Claws announced that Lasme, one of Boston's final (and toughest) camp cuts, would be sidelined indefinitely after undergoing surgery to repair a stress fracture in his left foot (suffered in Maine's only preseason game last Monday night). Lasme started that night, but played only two minutes before incurring the injury that will shelve him for the foreseeable future.

Jamar Smith: One of the nation's top 3-point shooter last season at Southern Indiana (he was named the Division 2 Player of the Year there), Smith showcased his perimeter skills by connecting on 5-of-6 trifectas in Saturday's 25-point outburst. He's averaging 33.5 minutes per game off the bench, shooting 61.1 percent with a solid stat line (15 points, 5 assists, 4 rebounds, and 2 steals per game through two contests).
Tiny Gallon: Coming off the pine, the 6-foot-9 Gallon, a Milwaukee Buckets draftee who was brought in for the final days of camp with eyes towards assigning to Maine, is averaging 14 points, 6.5 rebounds,and 2 blocks per game (he registered four rejections in Saturday's game). He also produced the monster one-handed jam that appears at the end of this entry.
WHAT'S ON DECK?
The Red Claws get back to work with another back-to-back later this week, this time a doubleheader in Springfield on Friday (7 p.m.) and Saturday (noon). The Red Claws defeated the Armor, 102-88, in preseason play.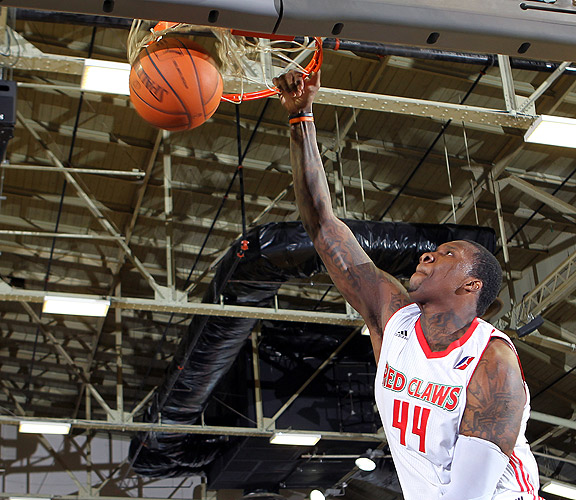 Rich Obrey/NBAE/Getty ImagesTiny Gallon throws down a one-handed jam.
October, 21, 2010
10/21/10
6:00
PM ET

The Celtics officially announced the release of
Stephane Lasme
,
Mario West
, and
Tiny Gallon
Thursday afternoon.
The moves trims Boston's roster to the 15-player maximum well in advance of Tuesday's season-opener against the
Miami Heat
.
Read on for the team's full press release, or hop
HERE
to read more on Lasme's expected signing with the Maine Red Claws (where Gallon could land as well).
October, 20, 2010
10/20/10
11:15
PM ET
BOSTON -- Celtics guard
Von Wafer
remained uncertain about his future after Boston's 107-92 triumph over the
New Jersey Nets
in Wednesday's preseason finale, but the fact that two others in the room had been apprised of theirs meant the fifth-year guard appeared to have won the competition for a final roster spot.
Camp invitees
Stephane Lasme
and
Mario West
were informed that they had been waived following Wednesday's game, unofficially trimming Boston's roster to the 15-man maximum. Rookie
Tiny Gallon
, who joined the team earlier this week, had not been informed of his official release and is likely to stick around a couple of more days before he will be waived with potential to be allocated to the Maine Red Claws of the NBA Development League.
Wafer played the entire fourth quarter Wednesday, connecting on 3 of 6 shots, including a pair of 3-pointers, for eight points. Lasme and West played only the final three minutes.
While Wafer repeatedly stressed that he wanted not only to make the team but also be a contributor, his competitors for the final spot are facing far more uncertain futures.
"I'm going to go home and relax," said Lasme, the University of Massachusetts product who proved to be Wafer's stiffest competition, making a strong case to occupy Boston's final roster spot with inspired defensive play throughout the preseason.
"I'm sure somebody is going to call. I'll wait for the phone call and make my decision from there."
Lasme knows the Celtics have a strong interest in shuffling him to the D-League, something he discussed with the team at the onset of camp. That would keep him in the system should the team decide later (say, after
Delonte West
returns from a 10-game suspension to start the regular season) that they could use his type of player over an offense-first guard like Wafer.
But Lasme sounded optimistic that another NBA team might come calling based on the impression he made in Boston.
"Doc said he liked me a lot, it came down to the end," said Lasme. "He said I'm an NBA player, that I should be in the league, and not to worry about anything."
Click
HERE
to read the full story.
October, 19, 2010
10/19/10
8:45
PM ET
Chris Forsberg/ESPN BostonA look at the JumboTron during Tuesday's open session.
BOSTON -- A handful of news and notes after the
Boston Celtics
held an open practice in front of season-ticket holders Tuesday night at TD Garden:
The rundown
(a quick look at practice headlines)
* West pinpoints pain, expects to return to practice this week
* Celtics make a Tiny roster move to add depth before season
* Loose balls: Baby's intros, 'Sheed in the house
WEST PINPOINTS PAIN, EXPECTS TO RETURN TO PRACTICE THIS WEEK
After being limited for much of the past two weeks because of what he originally thought were back spasms, Celtics guard
Delonte West
revealed Tuesday that he's actually pinpointed a different injury and expects to be back on the court later this week.
"It turned out to be my glute muscles," said West, who has appeared in only three preseason games and has not stepped on the court since an Oct. 10 visit from Toronto. "It tightened up on me and I wasn't quite sure where the pain was coming from. As time went on and we gave it a rest, the pain started to circulate to one region and we pinpointed the area. It ended up being my left glute. It's just about 100 percent gone now."
West does not expect to play in Wednesday's exhibition finale against the
New Jersey Nets
, but hopes to be back on the practice floor later in the week. Given his 10-game suspension to start the season, West had hoped to use the eight-game preseason slate to work himself into shape. But the three-week delayed start will allow him to get healthy before being eligible for game action on Nov. 17.
"I need a little bit of time to work myself back into the lineup," said West. "There are guys out there in front of me right now. I'm starting from the bottom up again.
"But I'm very comfortable playing with the guys. I'm studying and I know all the sets. I'm a basketball player and I know [coach Doc Rivers'] system. I know what guys want to do, where they want the ball. I'll be back in practice this week, hopefully by the end of this week, and I'll be right back in the flow of things."
The extra time from the suspension is a small silver lining to his situation.
"No question, you've got to take the pluses and the minuses," said West. "You can't ever be down about anything. It is a positive. I'll use the 10 games to learn, see the flow of things and see how I can contribute. I'll use that time to rest and get 100 percent healthy.
"I'm about two percent away right now."
CELTICS MAKE A TINY ROSTER MOVE TO ADD DEPTH BEFORE SEASON
Chris Forsberg/ESPN BostonRookie Tiny Gallon joined the Celtics as a camp invitee Tuesday.
From a distance, it looked (stunningly) like
Al Jefferson
was working out next to
Kendrick Perkins
as the Celtics' practice opened to fans. A closer look revealed a different big man:
Tiny Gallon
, a 6-foot-9, 290-pound forward released recently by the
Milwaukee Bucks
.
Gallon, a second-round draft choice (47th overall) taken five spots in front of Celtics rookie
Luke Harangody
, understands that Boston has a maxed-out roster, but he's here trying to make an impression around the league. (And if another opportunity doesn't come along, the Celtics could always try to funnel him through to the Maine Red Claws using the D-League's new affiliation rule).
"The roster is filled up here, so this is a learning experience being here," said Gallon, whose name and
highlight-worthy dunks
have earned him some buzz. "I appreciate [the opportunity]. Being down here, I know Kendrick from Houston and I know [
Shaquille O'Neal
] a little bit. Coming down here is a learning experience."
Rivers offered only shrugs about the addition.
"I know nothing about him," said Rivers. "[Celtics president of basketball operations Danny Ainge is] going to look at him and wants to work him out, stuff like that. We're doing it more for that."
With
Jermaine O'Neal
sidelined with hand and back ailments, Gallon also provides another big body for the practice rotation.
LOOSE BALLS: BABY INTROS, 'SHEED IN THE HOUSE
*
Baby on the mic
: Celtics forward
Glen Davis
gleefully accepted the duty of introducing the entire roster, including 17 players, the coaching staff and trainers, to the Garden faithful during Tuesday's session. During a five-minute and often-hilarious segment, Davis paced the center of the Garden floor, offering mini bios on each of his teammates (highlighted by a suggestion that
Mario West
looks like, "my uncle Ray Ray," which had the Boston starters in stitches along the bench). Check out the video above to watch his team introductions.
Chris Forsberg / ESPN BostonRasheed Wallace (left, in red) sits near Kendrick Perkins and Danny Ainge during Tuesday's session.
*
'Sheed in the house
:
Rasheed Wallace
, whom the team officially waived in August, extending a buyout on the two remaining years on his contract in order to facilitate his retirement, made an appearance at the open session. Decked out in red Philadelphia Phillies gear and sunglasses, Wallace spent most the night laughing with his former teammates.
After Davis' introductions, the crowd started a "Sheed" chant and Rivers ran down next to him and raised Wallace's arm to acknowledge it. Later, as the session closed down, Wallace stepped off the bench and hoisted a corner 3-pointer. The result? Airball and more laughter.
Neither his appearance, nor that lackluster audition, will do anything to stem the thoughts that Wallace could end up back in Boston as a late-season addition if there's a need for another big.
*
Nate with the steal; Bradley with the assist
:
Ray Allen
took off his practice shoes after the session, signed them, and was preparing to distribute them to some lucky fans when
Nate Robinson
raced over and stole one of the two kicks. When Allen playfully chased the reserve guard to retrieve it, Robinson chucked it into the stands (setting off a scrum for the prize). The second sneaker ended up in the hands of rookie
Avery Bradley
, who threw a gentler toss to the crowd. (See the video embedded above.)