Boston Celtics:

Tom Thibodeau
January, 2, 2014
1/02/14
8:35
PM ET
By
Scott Powers | ESPNChicago.com
CHICAGO --
Boston Celtics
coach Brad Stevens can remember the first time he met
Chicago Bulls
coach Tom Thibodeau and had a chance to talk basketball with him.
Stevens was still the head coach at Butler and met his friend Ron Adams, who was then a Bulls assistant, and Thibodeau. Stevens was impressed by Thibodeau then and is even more so now after he getting into the NBA himself.
"He is an elite coach," Stevens said prior to Thursday's game against the Bulls. "He's outstanding. Defensively, they're so sound in what they do. They can change what they do. They can tweak.
"Their players all know their roles inside and out. I said this yesterday in Boston -- I admire the way they have the continuity of playing together. They're older guys. They know exactly what they need to do on both ends of the floor. I hope we can get to that point. I hope we can build that kind of continuity in Boston because you can tell how much it means to them on the court."
Earlier in the day, Thibodeau praised Stevens -- and the Celtics for hiring him.
"He's a great coach, period," Thibodeau said after the team's shootaround. "Didn't surprise me. He's a student of the game. He's had great success at a high level in college. I thought it was a great hire for them."
February, 16, 2012
2/16/12
9:12
PM ET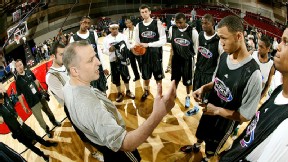 Joe Murphy/Getty ImagesTom Thibodeau as an assistant coach of the East All-Stars while with the Celtics.
CHICAGO -- With Tom Thibodeau tasked with coaching the Eastern Conference All-Stars later this month -- a role Boston coach Doc Rivers often begrudgingly endured by virtue of the Celtics' early season success during the Big Three era -- his old boss couldn't help but have a little fun at his expense as Rivers prepares to pass the All-Star coaching baton.
"I think he's going to run the hell out of them. I think he's going to have a good speech for them, they're going to have a hard practice," Rivers joked, playing to the perception of Thibodeau as a no-nonsense helmsman. "No, Thibs will be great. A lot of people keep thinking things about Thibs, and he keeps doing the right thing. Thibs is a terrific coach, a great coach.
"He'll have fun. I told him, 'I'll be in town and don't call me.' But he'll be great. Thibs has been through this... In the New Orleans game [in 2008], if my memory serves me right, [Rivers' assistants] Thibs, Kevin Eastman, and Armond [Hill], they were killing me over winning. Because [the payout] is double for the winning coaching staff. And Thibs, in the fourth quarter, he kept saying, 'Hey, we want to win this game! Don't you forget it.' He kept saying that in my ear. I wonder if he'll do the same now that he's the head coach. I think he will, if I know my Thibs."
Rivers, who often limited the playing time for his veteran players while coaching the All-Star game, joked that Thibodeau should go in the opposite direction with Chicago's representatives.
"If I was Thibs, I would play [Luol] Deng and [Derrick] Rose at least 47 minutes," said Rivers. "I think that would be terrific."
February, 12, 2012
2/12/12
4:53
PM ET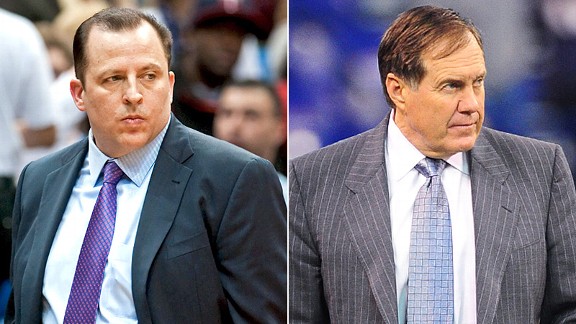 US PresswireBulls coach Tom Thibodeau and Patriots coach Bill Belichick.
BOSTON -- With the Bulls in town Sunday, Celtics coach Doc Rivers again was asked why it took former top assistant Tom Thibodeau so long to land a head coaching job, particularly given all the success he's had since taking over in Chicago.
Rivers noted Thibodeau's gruff exterior and thought for a moment about an appropriate comparison. Then it came to him, another defensive genius whose personality isn't always on full display: Patriots coach Bill Belichick.
"[Thibodeau has] a terrific personality. Belichick, maybe, is similar in that way -- away from [the game]," Rivers said. "I think [Thibodeau's] players see that. And that's all that really matters -- if you can get your guys to buy in -- and he has."
The Bulls, who advanced to the Eastern Conference finals last season and arrived in Boston with an NBA-best 23-6 record, clearly have adopted the philosophies of their coach. Rivers knows that Thibodeau's gruff exterior made it tough for some teams to give him the opportunity to thrive at the helm of his own program.
"He's a great coach, but he's worked at it," Rivers said. "I think he's worked on a lot of things. We talk a lot, and I think you guys know that, he's worked on coaching and he's worked on personality too -- working with people. I told the Chicago [media] this when he got the job: Thibs has the exterior that you think that -- he's a great guy, but you don't see that. I think his players see that. You know what I mean? I think that was part of the reason he wasn't hired [earlier]. Because they thought he was this guy that wouldn't get along with anybody. Thibs just works and he expects everybody else to work as hard as him. Which is impossible."
March, 9, 2011
3/09/11
7:30
PM ET
BOSTON -- Poor
Boston Celtics
. Members of the team got a rare chance to rub elbows with President Obama on Tuesday night and all the leader of the free world wanted to talk about was Tom Thibodeau and the
Chicago Bulls
.
"He actually thanked us for giving him our guy," Celtics guard
Ray Allen
said of Thibodeau, Boston's top assistant for three seasons and the defensive architect of the 2008 title team. "He was like, 'How'd you guys let that guy go?' and it was like, 'That's just kind of how it works.'"
Members of the Celtics
mingled with Obama
Tuesday night before a fundraiser at the Museum of Fine Arts. Asked what he told the president, Celtics coach Doc Rivers, who shares Chicago roots with Obama, joked: "Stop cheering for Chicago all the time."
This wasn't the first confab between Rivers and Obama. Over the summer, Rivers famously sent an Obama phone call to voicemail when the president called to congratulate him on Boston's title run that ended with a Game 7 loss to
Los Angeles Lakers
in the NBA Finals. The two later reconnected, but Obama still busted Rivers' chops Tuesday and Rivers pledged to answer all calls from the 202 area code.
Obama asked Rivers if he needed anything and Boston's helmsman kept his request simple.
"He asked if I needed anything, which, when the president asks you that, you could say a lot of things," said Rivers. "I just told him I'd like to secure a date to see him again. That'd be nice."
Safe to say, the president wouldn't mind obliging, but he's probably hoping to invite Thibodeau and Co. instead.
November, 5, 2010
11/05/10
8:30
PM ET
BOSTON -- During the first timeout of Friday's game between the Celtics and Bulls, Boston honored former assistant coach Tom Thibodeau and reserve forward
Brian Scalabrine
-- two members of the team's 2008 championship squad and mainstays during the Big Three era -- with a video tribute on the JumboTron.
With Aerosmith's "Dream On" playing, highlights from both Scalabrine's and Thibodeau's time in Boston was shown as the crowd roared in support. Afterwards, both were shown on the Chicago sideline, with Scalabrine receiving an extended standing ovation.
The Celtics did
something similar
when
Eddie House
returned to the Garden as a member of the
New York Knicks
, shortly after being dealt in a package for
Nate Robinson
last February.
November, 5, 2010
11/05/10
11:30
AM ET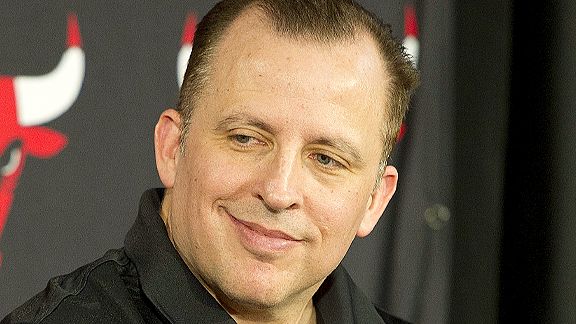 AP Photo/Jim PrischingFormer Celtics assistant Tom Thibodeau returns Friday as head coach of the Chicago Bulls.
Tom Thibodeau spent only three seasons with the Celtics, but when Chicago's new head coach brings his Bulls to Boston, it will be an emotional reunion, writes ESPN Boston's Peter May:
He's coming back, but, honestly, is Boston any more of an emotional reunion for new Chicago Bulls coach Tom Thibodeau than Houston or New York? After all, he spent only three seasons alongside Celtics coach Doc Rivers in Boston. He spent 11 seasons with the Rockets and Knicks.

So is Boston really that big of a deal?

In a word: Yeah.

"It's going to bring back a lot of fond memories,'' Thibodeau said by phone this week, before his Bulls met the Knicks on Thursday night. The Bulls meet the Celtics on Friday night in Boston on ESPN (8 p.m. ET). "What that [Celtics] organization did for me, from ownership to [director of basketball operations] Danny [Ainge] to Doc -- it put me in the position that I'm in today. There's a great appreciation of that on my part."
Click
HERE
to read the full story.
One other note as Thibodeau braces for his return: His name has changed ... sorta. As ESPN Chicago's Nick Friedell
relayed last month
(and Marv Albert evidently
pointed out
during Thursday's Knicks-Bulls broadcast), Thibodeau informed Chicago reporters before the season that his name is actually pronounced, "Thib-o-dough," instead of "Tib-o-dough."
The confusion evidently stemmed from the fact that just about everyone calls Thibodeau, "Tibs" as a nickname, and most everyone simply assumed that's how he pronounced the first part of his name. As Keith Bogans
explained
, "I knew it. We just call him "Tibs" for short, I don't think anybody wants to say his full name, so we just call him Tibs."
November, 5, 2010
11/05/10
8:35
AM ET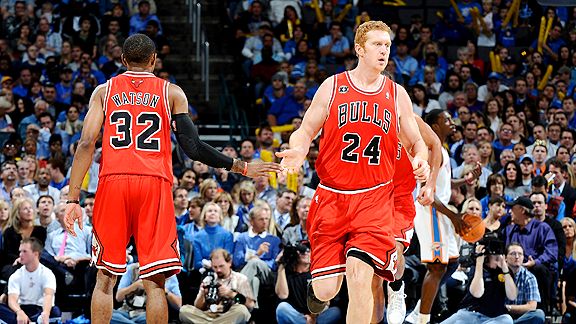 Larry W. Smith/NBAE via Getty ImagesOld friend Brian Scalabrine returns to Boston Friday night.
Just another Friday night at the Garden? Hardly. There's no shortage of story lines when the Chicago Bulls visit the Boston Celtics (ESPN, 8 p.m.) in an early season Eastern Conference showdown.
The return of Brian Scalabrine and Tom Thibodeau; Rajon Rondo vs. Derrick Rose; Kevin Garnett vs. Joakim Noah. It's going to be a fun night on Causeway St. and the participants aren't hiding their excitement either.
"As much as I would love to downplay it, I am actually pretty excited about going back to Boston to play there," Scalabrine said. "More than just me, Tom [Thibodeau, too] ... if we could go out there and get a win I'd be the happiest dude alive at the time."
Asked about Thibodeau's return, Celtics coach Doc Rivers' face lit up.
"That'll be great [to have Thibodeau back in town]," said Rivers. "We talk a lot; Hell, I think I talk to him more now then when he was with us, at least it feels like that at times. I'm just real happy for him. He's doing a sensational job. I don't know if anybody paid more dues than him. He's been around for a long time, trying to get a head coaching job. So it's real nice."
Our good friend Nick Friedell of ESPN Chicago (follow him on Twitter,
@ESPNChiBulls
) provides a
nice breakdown
of Friday's other story lines:
RONDO vs. ROSE:
Which team has the better point guard? Obviously, it depends on whom you ask, but there is no doubt that the Bulls clearly have a lot of respect for Celtics point guard Rajon Rondo.

"Mentally, he's probably the smartest player I've ever play against," Scalabrine said. "Some players play out of instincts and what they see they can go and attack. He plays out of concepts. He's like Doc, or a guy like Mark Jackson, they see stuff that could happen and a way that you could beat a team that most of the people, including players, don't see."

Rose was very complimentary as well; the pair played together for Team USA over the summer.

"You can't guard passes like that," Rose said of Rondo. "It's hard when somebody doesn't have to score and they can still control the game. So with him doing that and rebounding, it's very tough. You just got to make sure you pressure him and make sure he's got his back turned."

As for Rondo's departure from Team USA before the World Championships, Rose said he really didn't know much about the situation.

"I really didn't know what was going on," Rose said. "I was confused. It happened in the morning; we woke up, go in the meeting and he wasn't there, so we really didn't know what was going on. [Coach Mike Krzyzewski] wasn't really saying too much about it and then we just kept it like that."

NOAH vs. KG
Having played with both Joakim Noah and Kevin Garnett, Scalabrine may be one of the best players to judge how the pair compares to one another.

"They're motor's the same," Scalabrine said. "There's just little differences. Jo has better hands, bigger and better hands. KG is a better shooter. But, all those differences balance out to a really good player and another really good player. What's similar is their motor is the same ... and that's important in the league. It's an underrated skill that a lot of people don't talk about."

As for who the better trash talker is?

"Better as in more tactful?" Scalabrine responded. "Better as in talks more?"

"Who gets in your head more?" I said.

"Oh, Kevin, no question" he said. "Kevin gets in your head probably better than anybody."
A glance at Thursday's headlines:
Celtics Mailbag: Can Rondo, Baby keep it up?: In terms of assists, Rajon Rondo is off to the best start in NBA history through five games. But could he challenge John Stockon's single-season assist record? Could Glen Davis be a candidate for Sixth Man of the Year?
Ainge defends KG: Celtics president of basketball operations Danny Ainge is the latest to come out in strong defense of Kevin Garnett, calling Detroit's Charlie Villanueva's accusations "ludicrous."
Knicks' bench sparks record from downtown vs. Bulls: Chicago endured a tough loss Thursday night on the front end of a back-to-back before visiting the Celtics Friday.
August, 6, 2010
8/06/10
3:30
PM ET
Chicago Bulls
head coach (and former Celtics top assistant) Tom Thibodeau appeared on
ESPN Radio in Chicago

on Friday and offered his take on Boston's signing of free-agent center
Shaquille O'Neal
.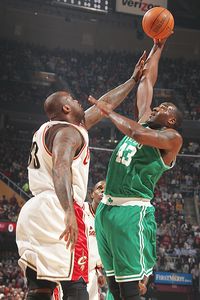 Nathaniel S. Butler/NBAE/GettyShaquille O'Neal tries to block the shot of new teammate Kendrick Perkins during the playoffs.
"It's an interesting move," said Thibodeau. "It's a calculated risk. I think there are things he brings to the table. I think the big thing is with [Kendrick] Perkins being out until January, and you never know how long it will take when he does come back, Perkins is a very underrated player. I think he's a huge key to the team defense. So I think what they're doing is trying to protect themselves until Kendrick can come back.

"Shaq is a guy you can throw the ball to. He can still get a pretty good shot up. His size is a factor. You start looking at their length up front now. They added a couple 7-footers with Jermaine O'Neal. He really had a terrific season last season with Miami, so they added some shot-blocking there. I think part of it is trying to hold the fort until Kendrick can come back, but when he does come back, you're going to have three guys at the center position, so that could be tough.

"I think he does add some things to their team."
Click
HERE

to listen to the full interview.
June, 23, 2010
6/23/10
12:43
PM ET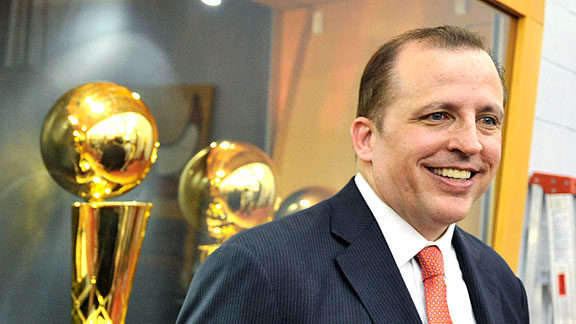 AP Photo/Jim PrischingThe Bulls formally introduced Tom Thibodeau as their new head coach Wednesday.
The Bulls formally introduced Tom Thibodeau as their new head coach Wednesday morning in Deerfield, Ill., and the former Celtics assistant stressed that he would not have left Boston if he didn't think he could shape Chicago into a championship contender.
Thibodeau, credited as the architect of Boston's defense over the past three seasons, heaped praise on the Celtics organization for allowing him to pursue his first head coaching opportunity in the middle of the team's playoff run.
"It's been a long wait for me to get a coaching job and to be in this city with this team is a dream come true for me," said Thibodeau, who stressed he was long searching for the ideal situation to step into with his first top job.
"I would not have left Boston if I felt this wasn't an opportunity where the Bulls were in position to become championship caliber team. When I looked into all the components -- ownership, front office, the players they have, how committed they are to building a championship-caliber team and moving in that direction. That was a big part of my decision to come here."
Thibodeau took numerous opportunities to thank the Celtics for what they meant to his development as a coach.
"I'd also like to thank [Celtics president of basketball operations] Danny [Ainge], [head coach] Doc [Rivers], and the Celtics organization for what they've meant to my career. It was a great three years, winning a championship and nearly a second one. I feel all the things they did for me helped me get here."
Bulls general manager Gar Forman apologized for the delay in introducing Thibodeau, who accepted the job 18 days ago during the early stages of the NBA Finals, noting, "Tom's been a little busy the last couple of weeks. He took the weekend off and looks refreshed. Walking around, a number of people said, you look a little older on TV. He looks young and ready to go now."
A handful of quick hits from the conference:
* Thibodeau on interviewing during the Finals: "The one thing about the Celtics organization is that they're absolutely fantastic. Their trust and their understanding to allow me to interview, I can't say enough about them. The ownership group led by Wyc Grousbeck, Steve Pagliuca, and Bob Epstein, along with Danny and Doc, I can't say enough. They're great guys, classy, and they had trust in me to not jeopardize preparing for the Lakers. Obviously, my first priority was to win that series. We came up short in the end and there's disappointment in that, but to work for a classy organization, they knew it was my dream and aspiration [to be a head coach], and they allowed me to pursue it."
* Asked about coaching in Chicago, Thibodeau noted that Rivers, a Chicago native, dispensed plenty of advice, particularly about championships in the city: "He made me aware of Bears of the '80s, Bulls of the '90s, the White Sox and Cubs." He probably should have swapped Blackhawks for Cubs.
* Thibodeau didn't disclose if he planned to bring in any other Celtics assistants as part of his staff, but noted, "There's a number of qualified coaches that I want to talk to, some are under contract... We'll put a premium on teaching."
* Thibodeau said that, while it was Boston's policy to not allow assistant coaches to talk to reporters, he said he did look forward to the increased media responsibilities, noting it comes with the territory.
* Despite his defensive reputation, Forman stressed Thibodeau's offensive creativity. "He's got a very creative mind and we like the [offensive] ideas he presented using the talent we have," said Forman.
* Forman concluded his introduction of Thibodeau with: "Tom Thibodeau is a winner, we're excited to have him here, and excited to have him as our leader."
May, 4, 2010
5/04/10
1:30
PM ET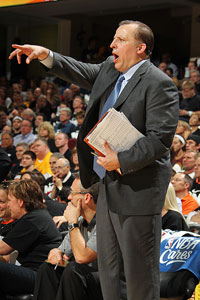 Nathaniel S. Butler/NBAE/GettyCeltics associate head coach Tom Thibodeau is drawing interest from other teams yet again.
Celtics coach
Doc Rivers
probably wouldn't mind having Tom Thibodeau at his side for the remainder of his coaching career, but even Rivers isn't bashful about telling teams to steal him this offseason.
When asked by Cleveland reporters about Mike Brown's rise from buzz-worthy assistant in San Antonio to coach of a Cavaliers squad that finished with the best record in the NBA this season, Rivers took the opportunity to shine the spotlight on Thibodeau.
"I had heard of [Brown] because he was in San Antonio, and knowing [Spurs coach Gregg Popovich] and that group, then he went to Indiana [as an associate head coach], so I knew about him," said Rivers. "You hear all a lot about assistants. I have one, Tom Thibodeau, that, in my opinion, should be a head coach now and should have been one. Hopefully he gets a shot as well."
Rivers noted the buzz factor that grows around a sought-after assistant and, for the second straight postseason, that hum seems to be growing around Thibodeau.
"When a name gets hot -- and Mike's name got really hot right before Cleveland took him, it was almost like he had his choice of jobs," said Rivers. "Clearly, he's done well with it."
Thibodeau boasts two decades of experience as an NBA assistant and is in his third year with Boston, helping revitalize the Celtics' defense in the new Big Three era. He reportedly drew interest from the
New York Knicks
,
Chicago Bulls
, and
Philadelphia 76ers
given their head coach vacancies in recent years.
Last month, a report indicated the
New Jersey Nets
could be
eying Thibodeau
, while Celtics president of basketball operations confirmed to
multiple
outlets
this past weekend that the
Los Angeles Clippers
and
New Orleans Hornets
expressed interest in talking to Thibodeau. The Chicago Bulls fired head coach
Vinny Del Negro
on Monday and it wouldn't be surprising if Thibodeau ended up among the names bandied about for that job.
"He's a very good coach," Ainge told the Boston Herald. "Everyone with a job opening should take the time to talk about Tom. Philadelphia interviewed him last year and had a good experience."
April, 20, 2010
4/20/10
10:15
AM ET
Celtics associated head coach Tom Thibodeau is being eyed as the next coach of the
New Jersey Nets
, according to a report Tuesday in the
New York Daily News
:
Saying he is still in the "very preliminary" stages of finding the next head coach of the Nets, team president Rod Thorn acknowledged Monday he has a list of candidates that includes college and unemployed NBA coaches.



Brian Babineau/NBAE/Getty ImagesThe Nets reportedly have their eyes on Celtics associate head coach Tom Thibodeau.

He also said he would like to have a coach in place by the draft on June 24, when the Nets will begin rebuilding a team that went 12-70 this past season.

"You'd like to have some input from your coach," Thorn said on a conference call with reporters. "And what kind of coach you end up hiring may affect the way you draft."

Thorn hinted the Nets will likely reach out to former Knicks assistant Tom Thibodeau, who is currently associate head coach to Doc Rivers in Boston.

One of the most respected assistants in the league, Thibodeau's name comes up regularly whenever a head coaching job is available, and sources say that he would be interested in the job. Without naming him, Thorn revealed several reasons why Thibodeau could be a perfect fit in New Jersey, including the fact the Nets are looking for "somebody who has a defensive presence."

Thibodeau is considered one of the top defensive minds in the game. During his years as Jeff Van Gundy's assistant with the Knicks and the Rockets, both teams were among the stingiest in the league. The Celtics have also been a top defensive team during Thibodeau's three seasons in Boston.
Click
HERE
to read the full story.
Thibodeau reportedly drew interest from both the
New York Knicks
and
Chicago Bulls
for their head coach vacancies in recent years.