Boston Celtics:

turnovers
November, 6, 2014
Nov 6
12:12
AM ET
BOSTON -- By the fourth quarter of Wednesday's 110-107 loss to the
Toronto Raptors
, even the
Boston Celtics
seemed amazed by all the different ways they were finding to turn the ball over.
[+] Enlarge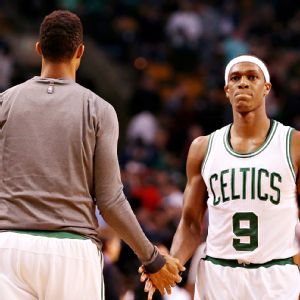 Mike Lawrie/Getty ImagesRajon Rondo couldn't fully enjoy his 30th triple-double as it came with five turnovers in a loss.
Jeff Green
pushed the ball out of bounds coming out of a simple spin move;
Marcus Smart
got whistled for kicking his legs out and striking his defender during a 3-point attempt; Avery Bradley dribbled the ball off his shoes going to the basket.
The Celtics were tagged with 28 turnovers on Wednesday night. According to Basketball Reference, that's the most turnovers in a game for Boston since Nov. 18, 1989, when the Bird/Parish/McHale Big Three combined for half of the team's giveaways.
"Well, you know we were doing really well as far as [the turnover] category goes coming into this game," Celtics coach Brad Stevens said, "and obviously that will flip now."
Indeed, the Celtics were eighth in the NBA with a turnover percentage of 13.3 entering Wednesday's action. That number rocketed to 17 percent after Wednesday's fumblepalooza, dropping Boston to 21st. After finishing last season tied for the third-worst turnover percentage in the league, there's still plenty of room for improvement.
"I thought most of our turnovers were in the halfcourt and late in the clock," Stevens said. "I'd have to go back and watch to say that for sure, but [the Raptors have] active hands in the halfcourt and we didn't respond as well as we needed to to that. We knew that going in. We talked about it this morning, we talked about it this afternoon, and we talked about the need for really precise execution, and I thought we did that at times and we didn't at times."
Rajon Rondo
and
Evan Turner
were tagged with a team-high five turnovers apiece, while Smart, Bradley and Green each had four.
Jared Sullinger
was the only player to log more than six minutes of action without a giveaway. The Raptors were credited with 11 steals, meaning Boston found a way to give the ball away 17 other times.
"Give Toronto credit, some were forced, some weren't forced, that's part of the game," Rondo said. "It starts with me, I had five myself and I think I've pretty much been averaging five, so I've got to take better care of the ball."
The sloppiness with the ball cost Boston a chance to emerge with a win over a division rival. The Celtics posted a staggering 55-24 advantage in the rebound column, shot better from the floor and
still
found a way to lose the game. As Raptors coach Dwane Casey noted, "I don't know if I've ever coached a game where we were outrebounded by 31 and still won. I've been coaching 35 years and I've never seen that."
The Raptors finished with only seven turnovers leading to 11 points. Boston's 28 turnovers produced 36 points.
"With 28 turnovers, we kind of shot ourselves in the foot,"
Kelly Olynyk
said. "Teams are going to beat you. But when you look at that, it's kind of like we just beat ourselves."
RESTLESS RONDO
Rondo, who quietly produced the 30th triple-double of his career while putting up 13 points, 15 assists and 10 rebounds, said losses tend to keep him up at nights -- and not just the near-misses like Wednesday's.
"I'm not happy with any losses we have, so this one doesn't hurt more than the next one," Rondo said. "A loss is a loss. Me, personally, I've been disappointed the last three games. I don't sleep well on losses. I play the game over and over. But the best thing about it is, we have a short turnaround and we play [Indiana] in a couple days. That's the best thing about the NBA."
Rondo wasn't the only Celtics player with a quality stat line in a losing effort. Green had a team-high 20 points, Sullinger (19 points, 16 rebounds) and Olynyk (18 points, 13 rebounds) had double-doubles, and Boston put six players in double figures for scoring.
"I want all 14 of our guys to have great nights, but there's only one stat that ultimately matters," Stevens said.
December, 7, 2013
12/07/13
12:30
AM ET
BOSTON -- The
Boston Celtics
entered Friday's game against the
Denver Nuggets
ranked 25th in the league in turnover percentage at 17.3 percent. Giveaways have plagued the team for much of the year, particularly early in the season with Boston hovering near the league basement over the first 14 games.
But the Celtics are taking better care of the basketball in recent games. Over the past seven outings -- a span in which Boston has posted a 5-2 mark -- the team's turnover percentage has dipped to 15.2 percent overall, ranking Boston tied for 12th in the league in that span. Narrow it down to the past three contests and that number plummets to a mere 12.8 percent, tied for sixth in the league in that span.
During Friday's 106-98 win over the Denver Nuggets, Boston matched its season low by turning the ball over just 10 times (leading to a mere 11 points).
Asked before the game about the downturn in turnovers, Celtics first-year coach Brad Stevens quipped, "We went through some color tests with throwing [the ball] to the right color and trying to avoid throwing it [to the other team]. I was thinking we were really going to get screwed up last week when we went [with road] green [uniforms] at home, but we did well with that."
Turning serious, Stevens added, "No, it's just learning guys' strengths and, again, putting them in position to be successful, running better stuff because you understand them better, throwing it to the right guys at the right times, throwing the ball in the post more, playing inside-out -- that has all added up. And certainly I think playing more ball handlers on the court at once -- everyone talks about Jordan [Crawford] being out there at the point, but then you have two guys [with shooting guard
Avery Bradley
] that are really primary ball handlers in the game at once. And same thing can be said when Phil [Pressey] and Courtney [Lee] are in the game together. That's helped quite a bit."
No Boston player had more than two turnovers in Friday's win, and those four guards combined for a mere three turnovers overall. Boston jumped out to an early lead by fueling its offense with ball movement, something hammered home by putting up 25 assists on 43 field goals.
A look at individual turnover rates of the Celtics' players over the first 14 games compared to the past seven:
The only two players with a noticeable increase are Brooks and Bogans, the two guys playing the least. Most everyone else has brought their number down, with notably significant drops from the likes of Bradley and Crawford, the team's primary ball handlers. What's more, big men are handling the ball better and Gerald Wallace, plagued by a case of the fumbles early in the year, has done a nice job bringing his own turnovers down. Stevens went out of his way to note Friday that he wants Wallace handling the ball without worrying about those early-season turnovers.
March, 27, 2013
3/27/13
10:00
AM ET
BOSTON -- After losing Rajon Rondo to a season-ending injury in late January, the Celtics' turnover rate surprisingly dipped. Not surprisingly, those lack of giveaways were a primary reason for Boston's ability to surge even without their All-Star point guard.

But during this current five-game losing streak, turnovers have been a major problem for the Celtics. Boston turned the ball over 20 times on Tuesday night during a 100-85 loss to the Knicks, which aided New York in taking a staggering 21 more shots than Boston during the game.

Over these last five games, Boston's turnover percentage has leaped nearly three percent above its season average to 18 percent, which would easily be the worst in the league if maintained (Houston turns the ball over a NBA-worst 16.6 percent of the time). The Celtics simply are not good enough right now with all their injuries and inconsistencies to shoot themselves in the foot.

"[Turnovers] kill us, especially now," said Celtics coach Doc Rivers. "Listen, if you're not going to rebound and then you turn the ball over, you're just saying that you're going to lose the game. And that's what that was [Tuesday]. But over the last five games, our turnovers have been up."

And why is that number up?

"I think we're trying to do too much," said Rivers. "I think our spacing was horrendous [Tuesday] and that's something I have to work on with our guys."

Added captain Paul Pierce: "Some of it is overpassing, some of it is rushing. Some of it is trying to maybe force things a little bit. Some of it may be chemistry, putting different lineups out there, trying to understand where certain guys are going to be. That's another thing we have to figure out. We're not forcing as many turnovers either. We have to get back to playing with more energy, forcing a lot of turnovers, like we were three [or] four weeks ago. Turning the ball over less, see if we're going to give ourselves a chance."

The Knicks didn't take full advantage of Boston's turnovers, parlaying those 20 giveaways into a mere 17 points. But opponents' points off turnovers has spiked overall in this five-game stretch, jumping to 18.8 points per game, up nearly two points from a season average of 16.9.

Leave it to Jeff Green to offer a simple solution for Boston's ball-handling woes: "Don't turn it over. Take care of the ball."

March, 19, 2013
3/19/13
11:01
AM ET
By
Greg Payne
| ESPNBoston.com
The Celtics knew going into Monday's showdown with the Miami Heat that they couldn't afford to turn the ball over, but that knowledge alone wasn't enough to prevent them from doing it.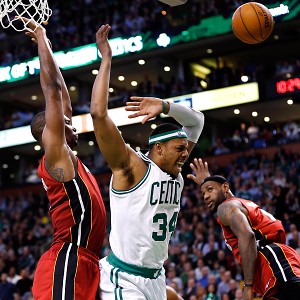 Greg M. Cooper/USA TODAY SportsPaul Pierce and the Celtics couldn't always keep their handle on the ball on Monday night.
Boston committed 21 turnovers in Monday's 105-103 loss -- one off their season-high -- and the Heat happily converted those into 24 points. In a game in which the Celtics led by as may as 17 at one point -- and by 13 in the fourth quarter -- the miscues that resulted in the ball switching sides stuck out most to the losing party.
"We've just got to take our time," said Paul Pierce, who registered a team-high seven turnovers. "I thought we tried to force things, got a little anxious at times, and that's their game. The Miami Heat, they force turnovers, they get easy buckets, and you can't really do that against them because they're so good in transition and finishing. We gave up (24) points off our turnovers, that's devastating, especially against the best team in the NBA."
Both halves saw Boston equally guilty of errors -- the C's committed 11 of their 21 miscues over the first 24 minutes (good for 14 Miami points) and the final 10 in the second half. Knowing they lent a helping hand to 24 of Miami's points didn't sit well with the veterans afterward.
"Well, we're disappointed, obviously," Jason Terry said. "You have a 10-point lead in the fourth quarter, you've got to get the job done. And so, we had a lot of mistakes that we made offensively and defensively that are correctable errors. So, we've just got to get back in here and grind."
March, 11, 2013
3/11/13
1:25
PM ET
By
Greg Payne
| ESPNBoston.com
In addition to their first loss in their last six games, the
Boston Celtics
came away from their matchup with the
Oklahoma City Thunder
on Sunday with a stark reminder that taking care of the ball can go a long way toward avoiding defeat.
Most of Boston's problems on Sunday came on the offensive end, as the C's put up just 79 points on 37.7 percent shooting. But even more cringe-inducing than the Celtics' field goal percentage were the 19 turnovers that led to 19 Thunder points. In the first quarter alone, Boston forked the ball over a whopping nine times, which Oklahoma City happily converted into 10 points.
Turnovers haven't been a major issue for Boston this season, though they've handed the ball over far more than they would prefer to of late. For the season, Boston's turnover rate (turnovers per 100 possessions) is 15.2 percent, good for the 10th lowest figure in the league, according to NBA.com.
The Celtics have even managed to keep their turnovers in check since they lost
Rajon Rondo
for the season with a torn right ACL. In the 19 games since Rondo's departure, Boston has posted an even more reasonable turnover rate of 14.9 percent. Not being overly guilty in the turnover department has certainly played a factor in the C's posting a 14-5 record since Rondo went down.
But hone in on Boston's last six games and it's almost surprising that they managed to win five of them considering their leap in turnover rate. Over the last six contests, Boston's turnover rate has jumped up to 17 percent, with the biggest culprit games coming against the
Golden State Warriors
(17 turnovers), the
Philadelphia 76ers
(a season-high 22), the
Atlanta Hawks
(16) and the Thunder (19) in that span.
Boston held double-digit leads over Philadelphia and Atlanta in those respective wins, but ultimately had to grind out victories as opposed to winning comfortably. While turnovers didn't play a significant role in the C's sacrificing a 12-point lead to the Hawks, they did factor into the Celtics losing their 15-point fourth quarter lead to the Sixers. Boston committed five turnovers in the fourth frame against Philly, with four of them coming after they held their 15-point edge. The Sixers outscored Boston 25-18 the rest of the way.
Turnovers can never be prevented entirely, but head coach Doc Rivers would likely want to see his players cut back on what he often dubs "careless" turnovers -- the lazy passes and poor decisions that result in the other team taking the ball. The good news is the C's haven't been overly guilty of turnovers this season, but they would certainly like to see their turnover rate resemble the more respectable figure it was before these most recent six games.
March, 5, 2013
3/05/13
4:15
PM ET
In last week's Celtics Mailbag, a reader asked about Boston's turnovers since losing Rajon Rondo for the season. Here's what we found:
In the 43 games before Rondo tore his ACL, the Celtics had a team turnover percentage of 15.3 percent (11th best in the league). Without Rondo -- and without a pure backup point guard -- we all figured that number would rise. Over the past 14 games, however, the number has actually dipped to 13.9 percent, which is fifth best in the league in that span.
Boston has long been one of the league's worst in turnover percentage, ranking 25th or worst in the Kevin Garnett era. Our good friend Brian Robb at
CelticsHub
takes a longer look at
this year's turnover elimination
without Rondo:
A quick sampling of individual turnover rates tells an even bigger story:

Turnovers/100 possessions
Pierce: 12.8
Green: 12.7
Lee: 10.7
Bradley: 9.7
Wilcox: 9.6
Barbosa: 8.5
Terry: 7.9
Crawford: 7.4
Garnett: 7.3
Bass: 6.3

That, my friends, is an elite group at protecting the basketball, even with increased ballhandling duties for the guards without Rondo on the shelf. The best part of these reduced rates is they are all relatively sustainable. Throughout their career, all of these guys have low-turnover rates, meaning that despite the limited sample size, Boston should be able to keep protecting the ball for the remainder of the season. The team's improvement in the turnover department has translated into their overall offense, as the team's offensive efficiency has jumped from 99.8 to 101.9 (18th in the NBA) without Rondo at the helm.
Hop
HERE
to read more on CelticsHub.
February, 5, 2013
2/05/13
9:00
AM ET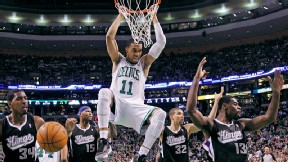 AP Photo/Elise AmendolaTurnovers have allowed Boston to generate easy buckets over the last four games.
When Rajon Rondo and Jared Sullinger were lost for the remainder of the season, Celtics president of basketball operations Danny Ainge and coach Doc Rivers stressed it was an opportunity for others to step up. Well, the Celtics have certainly been an opportunistic bunch since losing their All-Star point guard, particularly with opponent's turnovers.
Not only has Boston ratcheted up its defensive intensity causing more turnovers, but it's parlayed those opponent giveaways into easy points that have helped spark this four-game winning streak.
The Celtics are averaging 2½ more turnovers and six additional points off those giveaways per 48 minutes over the last four games. Maybe the most staggering number is that a whopping 22.9 percent of Boston's total points have come off turnovers in recent games as opposed to 17.1 percent over the first 43 games of the season. Let's take a closer look at the numbers:
Boston is cashing in giveaways at a staggering rate at the moment and that was highlighted in Sunday's win over the Clippers when it turned 21 Los Angeles turnovers into a whopping 33 points (1.57 points per turnover). By contrast, during an overtime loss to the Bulls last month, Boston parlayed 21 turnovers into a mere seven points (0.33 points per turnover).
"That's a rarity," Rivers said after that game. "You should at least score one point per turnover, and, on a good night, it would be nice to have more."
Over the last four games, Boston has turned 75 opponent turnovers into 92 points (1.23 points per turnover). When you don't have an All-Star point guard to spearhead your offense, you have to take advantage of opportunities and the Celtics have pounced on giveaways.
May, 8, 2012
5/08/12
2:38
PM ET
Our pal Brian Robb from
CelticsHub
(a TrueHoop affiliate) takes a look at how Boston has turned around its turnover problems at the start of the postseason:
During four games against Atlanta, the C's have averaged just 12.5 turnovers per contest [compared to 14.8 per game during the regular season]. Now, that number can be somewhat misleading given the slower pace teams play at in the postseason, but here's a number which is not. Boston has turned the ball over on just 12.7 percent of its postseason possessions, a substantial drop from its regular season mark of 14.7 percent. That 12.7 number would have placed them among the league's elite (second place) over a full 66-game season in protecting the ball.

It is a small sample size, but for a team that has languished in the basement of the league in turnover percentage for nearly five years now, that's nothing to sneeze at, especially in the postseason against a team in Atlanta with a good track record of forcing the issue defensively. So why have the Celtics' fared so well in this department? Well, it starts with one guy generally, the point guard.

"It starts with me," said Rondo. "I have the ball in my hands a lot and Paul [Pierce] and I communicate a lot throughout the game saying that we need to take care of the ball. So that's what we have been focused on in this playoff series, taking care of the ball and all five guys crashing the glass."
Hop
HERE
to read more on
CelticsHub
.
December, 28, 2011
12/28/11
8:00
AM ET
MIAMI -- Just in case Celtics players could possibly forget, a reminder about valuing the ball was scrawled above a series of offensive plays on the whiteboard inside the visitor's locker room at American Airlines Arena Tuesday night.
Players really shouldn't have needed a reminder. Every recent trip to Miami has included a friendly reminder from Doc Rivers about the ball-hawking abilities of
LeBron James
and
Dwyane Wade
, Boston's coach endlessly stressing how the Heat thrive off easy buckets following careless turnovers.
And yet, the Celtics still went out and turned the ball over a whopping 24 times Tuesday night leading to 33 points for the Heat in Boston's 115-107 loss.
The Celtics snapped out of the holiday spirit and stopped being so darn generous in the second half, but the damage was done before the intermission as Boston gave up the ball 15 times for 23 points.
"All I told them at halftime was stop trying to do too much," said Rivers. "When you come off a pick and it's not there, just make a simple pass. We told them that before the game: No crosscourt passes, and I think we had like nine of them in the first half. Five of them were in the air -- jump passes. I told them, 'You're playing against Deion Sanders.' That's what LeBron and Wade are, they are going to get
every
crosscourt pass. Even if it looks like the guy is open, they are going to get it, so don't give them that opportunity.
"I really thought that's what made [the Heat] comfortable. All the turnovers. It was a layup drill [in the first half], they were shooting 67 percent at halftime, and I told our guys, I didn't know if our defense was good or not, because we never played it. We were always in transition. You're never going to beat that team turning the ball over. And you're never going to beat that team in a race. We almost did, but you can't."
If Miami wasn't cashing in turnovers for easy baskets, they were thriving in transition and making the entire game a track meet. The Heat shot a ridiculous 90 percent in transition on Tuesday, making 9 of 10 attempts, according to ESPN Stats and Info. In fact, Miami's own clumsiness was its only obstacle, scoring 23 points in 21 transition plays, hindered only by eight turnovers.
Even still, it was Boston's turnovers that might have been the story of the game.
"It just starts with our turnovers -- I know I had too many tonight," said point guard Rajon Rondo, who accounted for seven turnovers, including one on a poor outlet pass in a one-possession game in the final minutes of the fourth quarter. "We just gotta do a better job of taking care of the ball, especially against a team like that. You can't give those guys an easy look at the basket."
Added backup point guard Keyon Dooling: "I think we were trying to do too much. When you have a team as athletic as the Heat -- D-Wade and LeBron are very, very good weak side defenders -- and there's air under the ball, they can run up under it. We gotta do a better job, we've been careless, we've been reckless."
May, 3, 2011
5/03/11
6:13
PM ET
By
Greg Payne
| ESPNBoston.com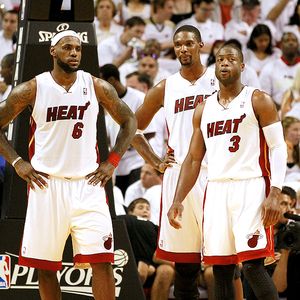 Marc Serota/Getty ImagesThe Celtics can't turn the ball over around these guys.
In the hype-filled buildup to the Eastern Conference semifinal clash between the
Boston Celtics
and the
Miami Heat
, turnovers were the talk of the town. And in the aftermath of the Heat's 99-90 Game 1 victory, the same held true, but for all the wrong reasons from a Boston viewpoint.
The Celtics knew they couldn't afford to turn the ball over against the Heat. They said so themselves in the three practices days leading up to Sunday's tilt. They knew the likes of
LeBron James
and
Dwyane Wade
would corral their miscues and feast on them. They knew they would have an immensely difficult time vanquishing the Heat if they handed them extra possession after extra possession.
But knowing didn't stop them from doing it. The C's handed the ball over 14 times -- certainly not an egregious amount, but many were the unforced, make-you-want-to-pull-your-hair-out miscues that Boston cannot afford over the course of this series. They were the ones that were mostly preventable. Worse off, they came at inopportune times, particularly in the first frame when the Celtics were attempting to establish a rhythm and a pace after having not played for a whole week, and over the final seven minutes, when the C's were attempting to claw back from a double-digit deficit without
Paul Pierce
who picked up two technical fouls earlier in the period and was ejected.
Miami simply played the part everyone knew it would play: It took Boston's handouts and converted them into 26 points.
April, 30, 2011
4/30/11
9:00
AM ET
By
Greg Payne
| ESPNBoston.com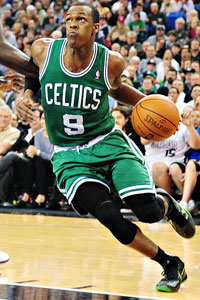 Kyle Terada/US PresswireRajon Rondo and the Celtics have to take care of the basketball this round.
WALTHAM, Mass. -- Despite a spotless record in their first-round sweep of the
New York Knicks
, the Celtics aren't turning a blind eye to the areas in which they could have performed better. The C's know they turned the ball over too many times for their own good (nearly 17 giveaways per game, which translated to an average of 18 Knicks points per contest), and those miscues, coupled with an increased effort in the rebounding column, have been highlighted as two major components of their second-round duel with the
Miami Heat
.
"Rebounding and no turnovers," said
Glen Davis
when asked what first came to mind about Boston's matchup with Miami. "If we rebound, [don't commit] turnovers, and just play simple basketball, it's going to be hard to beat us."
Added
Paul Pierce
: "I'm sure that's going to be a big emphasis, talking about our turnovers. They're a track team once they get out in transition, it's hard to keep up with them, so you don't want to turn the ball over. And another thing for us is going to be our rebounding, how well we're going to be able to rebound in the trenches on the defensive end. That's been something we've been inconsistent with, but I think we've been a lot better since the playoffs started and we're going to have to continue that trend."
April, 28, 2011
4/28/11
11:22
AM ET
By
Greg Payne
| ESPNBoston.com
On the heels of the Celtics' four-game sweep of the Knicks in an Eastern Conference quarterfinal series, we examine specific areas of Boston's postseason play and how it might affect the team moving forward. In the fourth installment of Series Takeaways, we break down Boston's turnovers
: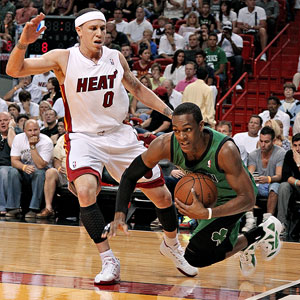 Mike Ehrmann/Getty ImagesRajon Rondo and the Boston Celtics have to value the ball against the Miami Heat.
Watching the Celtics turn the ball over 12 times in the second half of Sunday's 101-89 Game 4 victory over the
New York Knicks
was frustrating, but not exactly surprising. Committing lazy, careless turnovers at inopportune times has been a nasty habit of Boston's ever since the 2007-2008 season. Fortunately, the C's were able to overcome their turnover woes and close out Game 4 by displaying admirable poise over the final seven minutes.
The numbers weren't pretty, though. The Celtics averaged 16.7 turnovers per game over the course of their four-game sweep of the Knicks, committing 18 or more in three of the four games. The Knicks took advantage of Boston's miscues by scoring a total of 72 points off turnovers in the series, good for an average of 18 points per game.
The Celtics boasted a 17-point halftime lead in Game 4, and shot 52.6 percent in the third quarter, but thanks to some hot shooting from the Knicks in the third frame (52.2 percent), coupled with five Boston turnovers, New York was able to claw back to within 10 points heading into the fourth quarter. As opposed to cruising to another easy victory, the Celtics were going to need a valiant fourth quarter effort to hold off the storming Knicks.
December, 29, 2009
12/29/09
1:53
AM ET
Celtics coach
Doc Rivers
pointed to a season-high 25 turnovers as the key in allowing the
Golden State Warriors
to rally from an 18-point deficit for a 103-99 triumph at Oracle Arena.
"I told the guys [at halftime] that we had 58 points with 15 turnovers -- that's a miracle," said Rivers. "Typically, if you have 15 turnovers, you have maybe 35 points. The fact that we had 58 points with that many turnovers was amazing. But you can't have turnovers against them. They score too quick and too easy. Honestly, that was the difference in the game.
"We were up 18 in the first quarter -- that happens. Eighteen points doesn't mean much, they're an offensive team and we knew they'd get back in it. It was more the 25 turnovers that turned the game around."
Two games after having a season-high eight turnovers against Orlando, Celtics point guard
Rajon Rondo
had his second-highest total of the season with six giveaways. It slightly tempered a night in which he poured in a season-high 30 points and dished out 15 assists.
Boston's starters combined for all but four of the 25 turnovers (the rest going to
Glen Davis
).
The Celtics hadn't turned the ball over more than 18 times in a game before Christmas, but have 56 turnovers in the first three games of this road trip, including 20 against the Magic.