Boston Celtics:

Video Games
September, 8, 2011
9/08/11
10:30
AM ET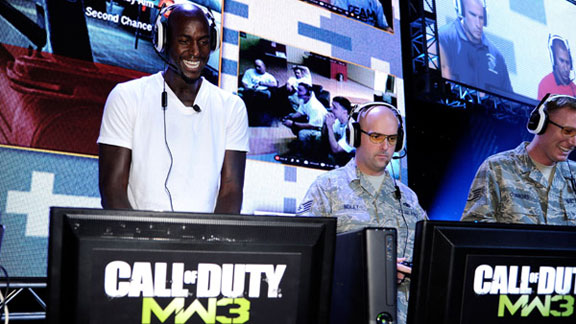 ActivisionKevin Garnett takes on members of the military in "Call of Duty."
With the lockout, NBA players have even more time for video games. During a promotional tour for "Call of Duty," Garnett chatted about being choosing video games over clubs, Big Baby's gamer skills, and rejecting virtual Danny Ainge:
THE GAMER BLOG -- KG: 'GAMING IS LIFE'
KG even says that after Celtics games, it's pretty routine to find the team online playing "Call of Duty" against each other.

"Guys go home from a hard game and might jump on for four or five hours," said the former video game cover athlete ("NBA 2K9," "NBA Live 2001"). "The days of going out and clubbing are over. I think gaming is the new reality. Gaming is life."

And while he says that Glen "Big Baby" Davis is the best gamer on the Celtics, Garnett boasts that his skills should not be taken lightly.

"I'm online every day," he said. "I'm a real gamer. I love to play. When I play 'Call of Duty,' I'm a soldier on the ground. I'm out here trying to smack everybody and get as many kills as I can. To me, this is all about fun. I'm not the type of guy who uses cheat codes or tries to knock the controller out of your hand when we play. I hate cheaters. I like to put whatever I put into it and then get what I'm supposed to get out of it."
With the lockout, KG technically can't play any online video games with Ainge (you know, assuming Ainge has an XBox 360), but Garnett is relishing the potential to block his boss's virtual shots in 2KSports' upcoming NBA 2K12.
This year, with all the legends on the virtual court, Garnett is looking forward to playing against his boss in "2K12," former Celtics great and current president of basketball operations Danny Ainge.

"I'm not going to dunk on him," Garnett said with a laugh, "but if I could swat a few of Danny's shots up into the second row, I think that would be a fun thing. That's what makes gaming so great. You can do so many different things and it's all in good fun."
August, 21, 2011
8/21/11
1:20
PM ET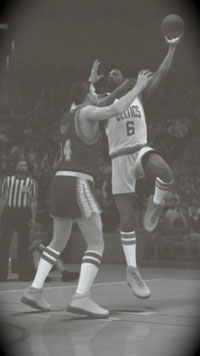 2KSports
On the heels of news that Larry Bird will
grace the cover
of 2K Sports' next installment of its wildly popular NBA video game, now Celtics legend Bill Russell has been unveiled as one of 15 legends highlighted in the game. And considering this might be one of the only way to see actual basketball this winter, here's the details:
ESPN'S "THE GAMER" BLOG: 15 LEGENDS OF 2K12
The Legend: Bill Russell

The Game: The 1964-65 Celtics vs. The 1964-65 Lakers

Why he's in the game: This is the oldest classic match-up in the game, complete with black and white graphics and announcers that sound like they're speaking into a tin can. "Russell is one of the most tenacious rebounders and defenders the league has ever seen," says Boenisch. "We researched him incredibly well in order to get all of his signature moves and that lanky look in there. We also made adjustments to the uniforms for these older teams, not only making the shorts shorter, but making the jerseys fit tighter and fitting them in the older style shoes. It really helps give you a different feel when you're playing."
July, 21, 2011
7/21/11
12:13
PM ET
Celtics legend Larry Bird is one of three covers (Michael Jordan and Magic Johnson the others) for the next installment of 2KSports' wildly popular basketball series. NBA 2k12 should be available Oct. 4 (whether there's an NBA season or not). Hop
HERE
to read more in ESPN's video games section.
December, 20, 2010
12/20/10
9:45
PM ET
Somewhere, Celtics trainer Ed Lacerte either appreciates Rajon Rondo's effort to keep his ailing left ankle elevated, or started weeping at this sight:
Twitter.com/RajonRondo
October, 5, 2010
10/05/10
10:35
AM ET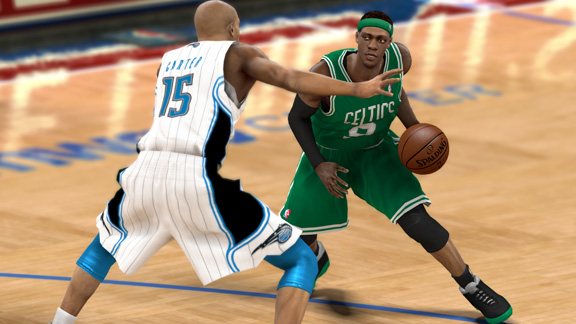 2K SportsRajon Rondo says he's learning about NBA history by playing "NBA 2K11."
Rajon Rondo talks with ESPN's The Life about the new NBA 2K11 video game that hit stores today:
First time I played "NBA 2K11," I passed the ball to Michael Jordan, crossed-over Danny Ainge, then threw down a tomahawk jam on the Celtic legend/current President of Basketball Operations' head.

"Are you going to dunk on your boss?" I ask Rajon Rondo, the electrifying point guard who emerged as the Celtics leader last season.

"Not unless he trades me in the next 10 days," Rondo replies with a laugh. "I actually wasn't a big NBA fan growing up so to me, this game is cool because it helps me learn about some of these older players. I can play as the Celtics with Danny and Bird, I can play as Jordan and the Bulls and learn about some of their teammates, some of these older players. I've been learning a lot about some of these players back in the day right now just by playing this game.

"This is probably the most realistic basketball game ever," Rondo continues. "I play the series from time to time, but this year you can play as Jordan, you can draft him to any team, play as a bunch of old teams, and re-live the Jordan days in a video game. It's great."

Other than "2K," Rondo tells me he also loves games like "Halo" and "Call of Duty." "If it's not 2K, I'm playing fighting games, shooting games," he says. "We have a lot of gamers on our team. Nate Robinson is always playing video games. Kevin (Garnett) plays a lot, Big Baby plays a lot. We have a lot of guys who play."

Rondo, along with NBA stars Josh Smith, Andre Iguodala, Russell Westbrook, and Derrick Rose, recently shot a series of online ads for "NBA 2K11" that have become huge Web hits thanks to some hilarious one-liners, Rose's knack for cooking, and Rondo silencing the room by showing off his championship ring.

"I've known all the guys for a few years playing against them, so it was fun getting to see another side to them away from the court," says Rondo.
Click
HERE
to read the full story.
September, 16, 2010
9/16/10
3:00
AM ET
NBA2K11 Screenshots
For the fellow video game fans that frequent the site, a friendly reminder that the
NBA 2K11
demo is now available for download on your favorite system. As a bonus for local fans, Boston's appearance in the NBA Finals means the brief demo allows you to play Celtics vs. Lakers for an abbreviated quarter.
Anyone expecting art to give us a hint on who the team might actually start at center this season, you're out of luck. The game features a healthy Kendrick Perkins in the starting llineup (but Jermaine O'Neal and Glen Davis were first off the bench in our quick test drive).
The official release date is Oct. 5, so there's plenty of time for producers to tweak Boston's roster (plus the downloadable updates that will surely follow). But a quick inspection of the demo bench did find what looks like Avery Bradley, Von Wafer, Glen Davis, Shaquille O'Neal, Nate Robinson, Marquis Daniels, and ... Brian Scalabrine? Sure looks like Scal in the demo at the very end of the bench, but maybe it's supposed to be Luke Harangody. Happy virtual hooping.
September, 8, 2010
9/08/10
8:30
AM ET
I probably don't have to tell regular visitors that your humble blogger is a big video game fan. Heck, Wednesday I couldn't help but share
this TwitPic
when a computer-generated player named Austin Rivers showed up in a franchise draft on Madden 11 (yes, I drafted him and, while he's a low rating overall at cornerback, his leaping ability mimics the real-life hoopster son of Celtics coach Doc Rivers).
Now here's more video game nerd-dom: ESPN.com's Marc Stein unveiled the
Eastern Conference rosters
for the new NBA Jam coming out next month. If you don't get excited (and nostalgic) looking at this list, you probably didn't waste hours of your youth playing the original. Here's the Boston roster and breakdown from Stein:
Players: Kevin Garnett, Paul Pierce, Rajon Rondo and Ray Allen

Legends: Larry Bird and Kevin McHale

You think Doc Rivers has problems in real life with all the big names (and egos) the Celtics have stockpiled? Try choosing only two Celts at a time from this six-pack. Boston's roster is one of the nine that include four current players instead of three because fan voting was so tight. Combine that with the fact that Bird was never in the arcade versions of Jam, and you can understand why the game's designers didn't try to wedge Shaquille O'Neal on this roster, too. (Although we have to believe that Shaq, in a nod to his l-o-n-g history with Jam, is among the hidden characters who can be unlocked.)
Click
HERE
to read the full story.
(h/t:
CelticsHub
for the video)
March, 19, 2010
3/19/10
4:00
PM ET
EA SportsTrust us on this one: There will be no fretting about the state of KG's knee when his likeness appears in the new home version of the groundbreaking arcade game "NBA Jam."
NBA Jam is making a comeback and ESPN.com's Marc Stein runs down the three-man rosters he'd like to see for all 30 teams as part of
this weekend's Daily Dime
. It might be the best read of the year, particularly if you're a video game nerd like me.
The Celtics' section from Stein's Dime:
Original 1993 NBA Jam Twosome: Reggie Lewis and Kevin McHale

2010 EA Sports Ballot: Kevin Garnett, Paul Pierce, Ray Allen, Rajon Rondo, Rasheed Wallace and Kendrick Perkins

Stein's Picks: Garnett, Pierce and Rondo

Tempting as it is to go the respect route with KG, Pierce and Allen -- since this is a game that can make them all look young and spry again with all the super-hero athleticism -- how could you possibly exclude Rondo? Especially in a game with no free throw shooting required? (I do suspect some gamers will rue the fact that Nate Robinson, by virtue of the fact that he's only been a Celtic for a month, wasn't on the ballot.
I think Stein nails the trio that will appear, but our preferred lineup: Rondo, Pierce, and Perkins C'mon, you're telling me EA Sports couldn't do some amazing things with Perkins. His signature move could be the "legal illegal screen" where he just crunches an opposing player -- Madden hit-stick style -- to spring a teammate on a monster jam. I'd pay $100 for that game.