Boston Celtics:

2010Game60
March, 5, 2011
3/05/11
11:05
AM ET
By
Greg Payne
| ESPNBoston.com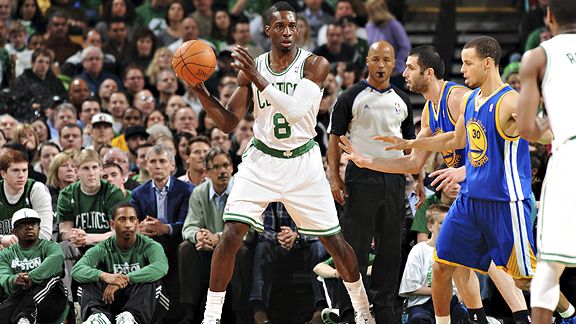 Brian Babineau/NBAE/Getty ImagesWith Glen Davis sidelined, Jeff Green joined Boston's crunch-time lineup Friday.
BOSTON -- When the Celtics acquired
Jeff Green
at the trade deadline a little over a week ago, head coach Doc Rivers immediately gushed over the prospect of his new 6-foot-9 weapon fitting into a
James Posey
-like role during key moments of games.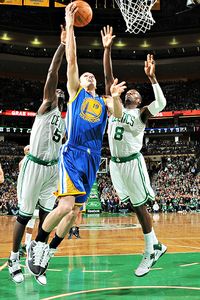 Brian Babineau/NBAE/GettyJeff Green and Kevin Garnett try to stop this drive to the rim.
Much like Posey during the 2007-2008 championship season, Green is versatile enough to log time at the power forward position, potentially creating a number of matchup problems for opposing teams when he's on the court with the likes of
Rajon Rondo
,
Ray Allen
,
Paul Pierce
, and
Kevin Garnett
. But it wasn't enough that Posey could simply fill that role, it was that he could excel in it, particularly during the fourth quarters of important games. Not only did Posey's versatility make the Celtics a difficult team to combat on the offensive end, but a certain chemistry always appeared to be brewing between him and the other four usual starters, and even the likes of reserve guard
Eddie House
.
Green can appropriately be compared to Posey from a versatility standpoint, but if the Celtics hope to replicate the past success of the Posey-filled lineups with Green, that sense of chemistry needs to be present. Entering Friday's tilt with the
Golden State Warriors
, Green had played in three games for the Celtics, and each of those games was relatively close down the stretch. Yet with Green still adjusting to his new surroundings, Rivers stuck with
Glen Davis
as his power forward in the final few minutes -- a lineup decision he has made many times this season.
But Davis missed Friday's game with a left patella tendon strain, leaving the door open for Green to play the closing minutes. The Warriors clawed back from an 18-point deficit to make things competitive down the stretch and Rivers chose to go with his new versatile lineup for the first time in crunch time, as he inserted Green alongside Rondo, Allen, Pierce, and Garnett.
March, 5, 2011
3/05/11
4:05
AM ET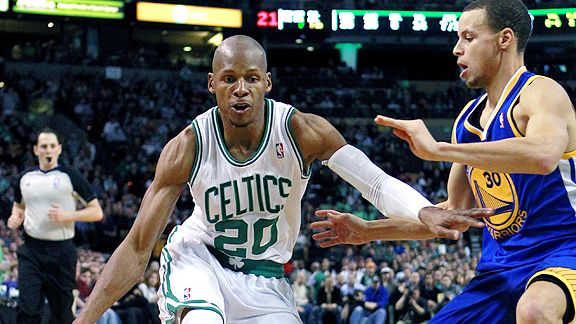 AP Photo/Michael DwyerRay Allen battled through the pain of a sore right knee.
Ray Allen
had a sore right knee heading into Friday's game against the
Golden State Warriors
, but that didn't stop him from leading the
Boston Celtics
to a win. Then again, what really can?
--
ALLEN WON'T LET AILING KNEE SLOW HIM DOWN
--
Ray Allen doesn't like the notion of ruling himself out for a game too far in advance. But he admitted Friday to picking out one of his finer-looking suits before heading to the arena because the thought crossed his mind that, for the first time this season, he might be wearing business attire on the Boston Celtics bench. After sitting out Thursday's practice with a sore right knee, Allen said it wasn't until he went through his pregame routine that he was confident he'd be able to lace up his high tops against the Golden State Warriors. But not only did he dress, Allen hit seven of his first eight shots, pouring in 20 first-half points to pace Boston to a sizable lead that it clung to while emerging with a 107-103 triumph at the TD Garden.
For more from Allen, check out the postgame video below:
March, 5, 2011
3/05/11
12:50
AM ET
BOSTON -- A collection of news and notes after the
Boston Celtics
defeated the
Golden State Warriors
107-103 Friday night at the TD Garden:
The rundown: Green gets comfortable | He'll take a win | Loose Balls
Celtics newcomer
Jeff Green
decided to get familiar with his surroundings the other day, so after picking up a car, he hopped on the highway and decided to make a test run to the TD Garden. Maybe not surprisingly, he got lost. Luckily, there's an app for that, and with the help of his iPhone, he navigated his way out of the tunnels and back to Causeway St. after a 35-minute detour.
He's not sure how long it will take him to get comfortable with his new surroundings, but he's confident it won't take nearly as long to navigate the Boston playbook. Green produced his best performance in a Boston uniform Friday night, pouring in 21 points over 27:39 as the Celtics held off the late-charging Warriors.
"I was lost for like 35 minutes downtown, trying to find my way [Thursday]; Sad, right?" joked Green, who admitted there wasn't even traffic to slow him down.
"I decided to try to get familiar with the area, learn my way around here, and I took the wrong exit. Once you end up in those tunnels, it's not fun. I took the wrong exit and I don't know where I was at. But my iPhone helped me out with the GPS."
If only there was an app for processing Boston's defensive schemes, particularly when you're learning two different forward positions. Green could use a Rosetta Stone to help translate all the knowledge he accrued in Oklahoma City to the defensive language Boston speaks.
But he's not concerned about that; he knows that will come. In fact, Green joked that he'll watch the game tape and have it down by the time the team hits the practice floor Saturday. That's probably a bit too optimistic, but given all the consternation about the need for Celtics coach Doc Rivers to figure out how to use Green, he showed Friday that it has the potential to come together quickly.
Green erupted for 13 second-quarter points, doing much of his damage around the rim, teammates finding him in transition throughout the frame, highlighted by an alley-oop jam off a Rondo lob on the break. He thrived especially in a lineup with Boston's four regular starters in Rondo,
Ray Allen
,
Paul Pierce
, and
Kevin Garnett
.
For the night, Green connected on 8-of-11 shots (and made all five free throws he attempted). He added two steals and a rebound before fouling out in the final moments.
"They share the ball," said Green. "They make it easy for me to get easy shot. It's a team effort and I think we do a great job to make sure everyone gets a touch, making the extra pass."
Rivers said Oklahoma City coach Scotty Brooks had raved about Green's speed and the Celtics simply took advantage of it Friday.
"Well, it's funny, we didn't do anything; He just ran the floor," said Rivers. "He's a gazelle. I mean, the guy can absolutely fly. And our guys know that now and you can see them, they're giving it to him, and he knows that they'll get it to him, so he's running. There's a couple times that Kevin actually slowed down so he could run by him because he saw that he had his mean beat. And that's just great awareness."
March, 4, 2011
3/04/11
11:35
PM ET
BOSTON -- Celtics reserve guard
Von Wafer
sported an oversized walking boot following Friday's win over the Golden State Warriors and said he'd be sidelined for a few days after suffering a right calf sprain.
Comcast SportsNet ScreenshotVon Wafer (lower right) grabs at his strained calf.
"I feel alright, just a little sore," said Wafer. "I'll be out for a few days... I think I just sprained a muscle, that's all."
Wafer appeared to land awkwardly while trying to chase Golden State's
Monta Ellis
on a layup with 10:29 to play in the second quarter. Wafer immediately grabbed at the right calf, then hobbled off the court and headed straight to the locker room with team trainers in pursuit.
Used sparingly over the past five games, Wafer connected on 3-of-4 shots for seven points over 5:28 before suffering the injury. The initial report from the team was that he was likely to return later in the game, but he was ruled out after halftime.
"It's not frustrating, it's just what happened," said Wafer. "So I've got to deal with it. It's not frustrating, I'm just going to try to get back as fast as I can."
Wafer is the latest Celtic stung by the injury bug. The team was already playing without
Delonte West
(sprained right ankle),
Glen Davis
(left knee strain),
Shaquille O'Neal
(inflamed right Achilles), and
Jermaine O'Neal
(left knee surgery).
*[Blog updated from original in-game injury report]
March, 4, 2011
3/04/11
10:05
PM ET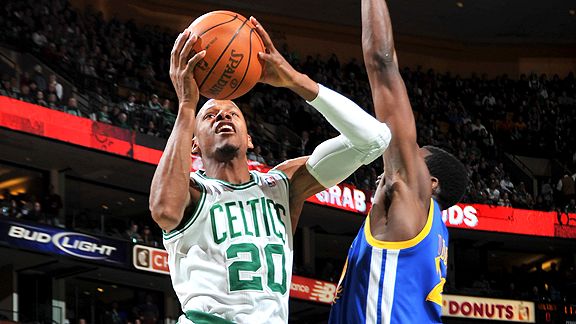 Brian Babineau/NBAE/Getty ImagesRay Allen sat out practice Thursday, then did some heavy lifting Friday vs. Golden State.
BOSTON -- Rapid reaction after the
Boston Celtics
defeated the
Golden State Warriors
107-103 Friday night at the TD Garden:


HOW THE GAME WAS WON
Celtics captain
Paul Pierce
scored 20 of his team-high 27 points in the second half and made a pair of key late-game buckets as Boston fended off another furious rally to emerge with a narrow win.
Ray Allen
, who sat out Thursday's practice session with sore legs, provided a symmetrical effort to Pierce's output, matching his 27-point night, but scored 20 of his points in the first half (hitting 7-of-8 shots, including all four 3-pointers he attempted).
Jeff Green
added 21 points off the bench, while
Rajon Rondo
handed out 16 assists over a team-high 42 minutes.
Monta Ellis
paced Golden State with a game-high 41 points.
TURNING POINT
The Celtics' lead ballooned as high as 18 in the third quarter, but Pierce made sure this one didn't slip away. Nursing a one-point lead with under three minutes to play, Pierce drew a foul on
Reggie Williams
while attempting a 14-foot baseline jumper and added the free throw for a four-point cushion. Shortly after, Rondo squeeze a bullet bounce pass to a cutting Pierce for a layup that provided the winning points with 1:31 to go.
STAT OF THE GAME
The Warriors dominated the glass, finishing with a 39-28 rebounding advantage. What's more, Golden State boasted a 46-44 edge in points int he paint (a category Boston typically thrives on).
UNSUNG HERO
Before suffering a strained right calf that chased him from the game,
Von Wafer
turned in five quality minutes, hitting 3-of-4 shots for seven points. He was the only bench player other than Green to score in Friday's game.
WHAT IT MEANS
The Celtics sometimes seem like they don't want Gino to dance on the JumboTron, letting yet another monster second-half lead slip away. Regardless, Boston has won four straight and has some practice days on the horizon with only one game (Sunday's visit to Milwaukee) over the next four days. Shorthanded because of injuries, Pierce and Allen put the team on their back in this one.
March, 4, 2011
3/04/11
7:11
PM ET
BOSTON -- Celtics coach Doc Rivers said before Friday's game against the
Golden State Warriors
that
Shaquille O'Neal
(inflamed right Achilles) had lobbied to play this weekend, but Rivers suggested it's more likely that both O'Neal and
Delonte West
(sprained right ankle) will return to the lineup Wednesday against the
Los Angeles Clippers
.
"Delonte is day-to-day, but I doubt he'll play this weekend," said Rivers, who takes his troops to Milwaukee for a Sunday night battle with the Bucks. The Celtics enjoy two days of rest before the Clippers visit.
"Shaq actually wants to play on Sunday, but I think he needs more practice time, so he'll probably play next Wednesday -- if nothing happens in practice, and I'm scared to say that now that our shootarounds been so grueling."
O'Neal, who has sat out the last 11 games and hasn't been on the floor since Feb. 1, participated in skeleton drills before Thursday's practice, but will likely need additional full-contact action before Rivers is confident to put him back out.
West has missed 51 games this season, including the last two after rolling his right ankle during skeleton drills in an informal practice with Boston's trade acquisitions on Sunday.
A couple other quick pregame notes:
* Newly acquired
Sasha Pavlovic
is on the active roster for Friday's game and, after another crash course in Boston's philosophies Friday morning, he's ready to dive in.
"Whatever coach asks me todo, I'm going to try and do my best," said Pavlovic.
Rivers said it was more likely the team will lean on
Von Wafer
first if they need a perimeter player off the bench early.
* With Celtics top reserve
Glen Davis
sidelined due to a strained patella tendon in his left knee, expect heightened activity for
Jeff Green
and
Troy Murphy
at the power forward spot. Rivers said he won't increase
Kevin Garnett
's minutes and will also lean on
Chris Johnson
at times.
* Rivers said that Johnson, signed out of the NBA Development League to a 10-day contract at last Thursday's trade deadline, is likely to get another 10-day deal with Boston when that original deal expires on Saturday.
"I don't know, but I think we will," said Rivers. "He hasn't played much, but in that Denver game, I thought he was terrific. If we can figure out a way to get him on [Big] Baby's weight program, he'd be terrific."
* Harvard's
Jeremy Lin
is inactive for Friday's homecoming game, but Brookline High product
Jeff Adrien
is active. So is newly acquired
Al Thornton
after being bought out by the
Washington Wizards
.
March, 4, 2011
3/04/11
12:00
PM ET
By
Greg Payne
| ESPNBoston.com

(27-33, 8-20 away)
-- vs. --
(44-15, 26-5 home)

at TD Garden, 7:30 p.m. | CSN, WEEI (850 AM)
PAYNE'S THREE THINGS TO WATCH
Value the ball: The Warriors currently force opponents into 16.2 turnovers per game, good for the second highest mark in the NBA. When Boston and Golden State met in Oakland last week, Boston committed 18 turnovers, which the Warriors converted into 23 points. While the Celtics still managed to escape with a 22-point victory in that game, they could have an even easier time of it tonight if they cut back on their number of miscues. For the season, only eight teams have been turning the ball over at a higher rate than the Celtics.
Running and gunning: The Warriors are of the league's most dedicated fast-breaking teams, but, much like a Phoenix Suns squad the Celtics toppled on Wednesday, they don't like it when opposing teams flip the script and try to beat them in transition. When these two clubs met on the Warriors' floor, the Celtics made an effort to run both on missed and made baskets, particularly in the first half. The result was Boston producing a whopping 30 fast-break points, which outweighed the 22 produced by Golden State. The circumstances haven't changed very drastically since that last meeting. If Boston wants to run tonight, Golden State isn't likely to rush back and play great transition defense.
Second unit growth: Boston's bench brigade played an important role in the Celtics amassing their 29-point lead over the Suns on Wednesday, but it was also one of the key culprits as the Celtics stumbled through the final 15 minutes and allowed Phoenix to get back in the game. While it would be optimistic to hope for growth from the unit following the practice time it was allotted on Thursday, the group will be missing key components in Delonte West (ankle) and Glen Davis (knee) tonight. We can still examine the comfort levels of guys like Jeff Green and Troy Murphy, but the second unit Danny Ainge envisioned when he pulled the trigger on the recent Kendrick Perkins trade might not see the floor together for at least another week.
GAME PREVIEW (via Stats Inc.)
[Last week's] loss to the Celtics began a four-game skid for the Warriors, but they put an end to it Wednesday in Washington -- barely. Golden State was up by 20 points late in the third before watching the lead shrink to one, but held on for a 106-102 victory behind 29 points from Stephen Curry.

"When you've gone through a streak of losing, to get a win -- no matter how it ends up -- nobody will pay attention to how the fourth quarter went," coach Keith Smart said after the Warriors improved to 1-2 on their seven-game road trip.

If Golden State plans on winning in Boston for the first time since Garnett's arrival, it will likely need more from Monta Ellis than the 15 points he contributed while shooting 6 of 18 last week. Ellis has been held to 17.0 points per game -- 7.7 below his average -- and 36.2 percent shooting since the All-Star break.

The Warriors also need to slow down Rajon Rondo, who's averaged 22.3 points and 14.0 assists in his last three games in this series.

Al Thornton, released by Washington earlier this week, is expected to be in uniform for Golden State after signing with the Warriors on Thursday.
Read the full preview
HERE
.
March, 4, 2011
3/04/11
8:00
AM ET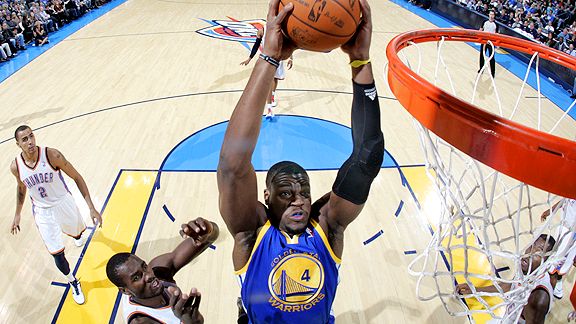 Layne Murdoch/NBAE/Getty ImagesJeff Adrien skies towards the rim as a member of the Golden State Warriors.
Former Brookline High School standout
Jeff Adrien
returns to the TD Garden Friday night as a member of the
Golden State Warriors
. In town a day early, Adrien visited his old stomping grounds Thursday. From ESPNBoston.com's Brendan Hall:
Jeff Adrien touched down at Logan Airport 1:30 a.m. Thursday morning, and there was no jet lag from the west coast. Not when it's coming home to Boston.

"It's definitely great to be home, definitely not lagging," said the former Brookline High star and newly minted Golden State Warrior [Thursday] morning from inside the school's Schluntz Gymnasium, on the eve of Golden State's game with the Celtics [Friday] night at the TD Garden.

Adrien made the Warriors' final roster cut to start the season, but was sent to the D-League after 15 games to make room for point guard Acie Law. With Rio Grande Valley Vipers, Adrien dominated, averaging 18 points and 11 rebounds before getting called back to Golden State last week following the trade of Brandan Wright and Dan Gadzuric to the New Jersey Nets.

He was back at his alma mater [Thursday] morning, speaking to a quarter-filled gymnasium of Brookline students for a Q&A session. Adrien, of course, led Brookline through one of its most successful runs in school history before moving on to a storied career at UConn, twice taking the Warriors to the Division 1 state finals (2002, 2004).
Click
HERE
to read the full story.
PODCASTS
Paul Solotaroff, NFL
Play Podcast Men's Journal's Paul Solotaroff weighs in on the characterization of Richard Sherman, the relationship between Sherman and Patrick Peterson and expectations for Darrelle Revis.
Baseball Tonight - Dominant Pitching
Play Podcast Adnan Virk talks to Tim Kurkjian about dominant pitching performances and the search for the next commissioner. Plus, Arash Madani on if the Blue Jays can make the playoffs.
Greg Cosell, NFL
Play Podcast NFL Films' Greg Cosell weighs in on whether the Browns should start Brian Hoyer or Johnny Manziel, the Jets' QB situation, Ryan Mallett's abilities and Robert Griffin III's development.