February, 22, 2015
Feb 22
9:54
PM ET
BOSTON -- What's a couple of extra days, really?
Don't expect the two-week postponement of the Beanpot final imposed by Old Man Winter to faze the Boston University Terriers or the Northeastern Huskies. That fortnight delay is nothing compared to the wait these programs have endured while the Boston College Eagles imposed their five-year stranglehold on the coveted trophy.
Not a single member of the BU program, a team that was once so dominant on Mondays in February that local pundits threatened to rename the tournament the BU Invitational, has ever lifted the Beanpot. The Terriers haven't been to a final since 2012, and the last BU Beanpot championship -- No. 29 -- was in 2009, the same year the Terriers won their last national championship.
[+] Enlarge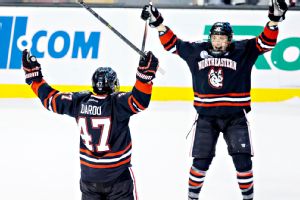 Richard T Gagnon/Getty ImagesDustin Darou's late-third-period goal got Northeastern a spot in the Beanpot final and a shot at its first title since 1988.
Which, of course, is last week compared to the Huntington Hounds. When the Northeastern faithful say they've waited a lifetime for a Beanpot crown, many mean it literally. Unlike BU, not a single member of the current Northeastern squad had even been born the last time the Huskies took the Beanpot, back in 1988.
However, Jim Madigan's squad has been on the threshold. This is Northeastern's third straight trip to the Beanpot final, thanks to a scintillating 3-2 win over five-time defending champ BC way back on Feb. 5.
The Huskies (15-12-4) have been on a serious roll since, taking four straight before dropping a 6-3 decision at Maine on Saturday, and going 15-4-3 since opening the season winless in their first nine (0-8-1).
"It's a true testament to the young men we have in that locker room, to our leadership," said Madigan, who was an assistant coach at Northeastern the last time the Hounds won the Beanpot. "To a man in the locker room, they thought we were a good team. I am proud of them. Now we're still growing and maturing as a team."
No. 3 BU (19-6-5) also has turned things around this season, bouncing back from a dismal 2013-14 campaign to lead Hockey East coming into the final week of the season. And while the top line of Jack Eichel, Evan Rodriguez and Danny O'Regan has garnered the most ink, the Terriers have plenty of weapons (109 goals, tops in the league).
"I knew the depth we had and I knew we could create some offense," BU coach Dave Quinn said. "You've got to have a first line. Show me a great team that doesn't have a great first line. There are going to be games when they get most of the points. We're fine with that. There's nothing wrong with that. I don't care who gets them, as long as we're scoring goals."
Adding more fuel to the fire, both squads are coming off Saturday night losses, with the Terriers dropping a 3-2 decision at home against Notre Dame.
The Beanpot final (scheduled for 7:30 p.m. at TD Garden; the consolation game between BC and Harvard starts at 4:30) also sets up an intriguing tripleheader between the Terriers and Huskies to finish the Hockey East regular season. After Monday's game, the squads will square off for a home-and-home series next weekend.
But first things first. With a Beanpot crown in the balance, no one is looking past Monday night. Players on both squads have waited too long to get sidetracked by any distractions.
"I'm really excited to get to a Beanpot final," BU's O'Regan said after his overtime goal allowed the Terriers to knock off Harvard, and O'Regan's brother Tommy, in the first round. "Obviously, it's been a dream of my life to win one."