December, 23, 2014
Dec 23
3:05
PM ET
By
Jack McCluskey
| ESPNBoston.com
CHESTNUT HILL, Mass. -- Steve Addazio has wished out loud, on more than one occasion, for just one more year of eligibility for quarterback
Tyler Murphy
.
The feeling is mutual.

"I think the team will be even better next year," Murphy said. "Even though they'll be young, I think they'll be even better because a lot of these young guys are getting a lot of reps and [are being] forced to play in game situations. And Coach Addazio and the coaches are really doing a great job of just developing these kids into young men and really helping them grow.
"I wish I had a few more years to play, because they're gonna be competing for championships in a few years."
Heck,
Bobby Vardaro
has been on campus in Chestnut Hill for five years and he's not ready to leave yet, either. The team finally has a coach who seems to be a perfect fit for it, and the fifth-year offensive lineman would love to be a part of what's to come from that marriage.
"He's all about the grind," the North Reading, Massachusetts, native said. "What do they say? 'I'll coach ya hard and I'll love ya hard.' BC is kinda the perfect place for him in that aspect, because he can really grind us -- we're workers, we're like the blue-collar work mentality with the white-collar education.
"So I think he's at a great place for his coaching style and he'll only get better in the future."
After back-to-back seven-win regular seasons despite just one recruiting class to Addazio's name at BC, there's good reason to believe in the Eagles' future.
***
Before the 2014 season kicked off, Addazio told anyone who would listen just how precarious the Eagles' perch was.
Yes, they had a successful first year -- winning seven games, producing a Heisman finalist (Andre Williams) and the team's first bowl berth in three years, hard on the heels of a 2-10 season.
But Addazio, who came to Chestnut Hill after two seasons at Temple, knew 2014 could have followed a different tack.
"I wouldn't have been surprised because I know it's fragile in here right now," he said. "We're just a couple of games away from nine wins. I think this year the way it played, we're not really a couple of wins away from five. But going into this season, I didn't know.
[+] Enlarge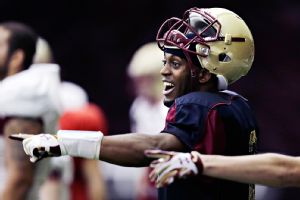 AP Photo/Charles Krupa"He's real. If he says he's gonna do something, he's gonna do it. He's one of those guys you love to have on your side," BC quarterback Tyler Murphy said of Addazio.
"Honestly. I'm a realist about things. Unknown quarterback -- I mean, I knew him but no one else did. We replaced three of five offensive linemen. Everybody's talking about, 'Oh, you've got this veteran offensive line.' We replaced three out of five starters. So there were some gaps in here.
"And next year we're gonna have to replace our offensive line," he said. "That'll be a challenge. But our skill players will be another year more experienced. We've gotta replace our quarterback but we feel good about our young guys. But here we go again. We're still really unknowns. And that's where we are in this program right now. I know the powers that be, the people that matter, know that."
After the coach's name surfaced in regard to high-profile coaching openings at Florida and Michigan following the Eagles' second straight seven-win season and bowl berth, the BC brain trust decided to reaffirm the school's commitment to Addazio by
tacking a two-year extension
onto his original six-year contract. Now, instead of his deal being up after 2018, Addazio is under contract in Chestnut Hill through 2020.
There are reasons to quibble with the coach's record in his first two seasons, including at-times-questionable play calling (both
too conservative
and
too aggressive
) and an inability this season to solve costly special-teams problems.
Following Nate Freese's graduation after last season BC has used three place-kickers in 2014, finishing the regular season tied for No. 104 nationally after converting just 61.1 percent of field goals (11-for-18) and No. 128 and dead last in point after percentage, just 82.1 percent (32-for-39). The Eagles lost three games by four points or fewer, with missed kicks featuring prominently in all three.
But the overall trend in the past two seasons is positive and the extension is a public affirmation of something Addazio talked about earlier in the week, the alignment between the coaching staff and the administration.
"You talk about evaluating the job that you have, the alignment is really, really important," he said. "For you to succeed, there's gotta be great alignment. Everybody thinks, 'Some guy is gonna come in with some great scheme and they're gonna fix everything.' Nothing is further from the truth. I know fans want to hear that, I guess. But it's all about managing, developing a program, leading men.
"Plays are plays, schemes are schemes. When you start getting caught up in all that, thinking that that's how you build your program or that's how you get your program right, usually you're heading down a bad path in my opinion. Really, the great coaches that I've been around and the programs that have succeeded are done with guys that have great vision, leadership, development of men, recruiting. Those are the most important. Nowhere in there did it say, 'Run three great football plays.'
"I think we're aligned here with the right values, the values that represent the university and where we want this program to be. I think that's what makes this a pleasure."
***
There were two Steve Addazios on the "SportsCenter" set this past Friday.
One sat in a black suit over a white shirt and a maroon-and-gold-striped tie, calmly discussing the inaugural College Football Playoff. The other stood before his smiling players, gray BC T-shirt soaked, pointing at the camera and bellowing a challenge.
How did the 55-year-old manage that?
The second Addazio was a photo from this past summer, when the coach accepted the "Ice Bucket Challenge." The
juxtaposition
of the fierce Addazio (close to life size) over the shoulder of the measured one provided a glimpse behind the passionate coach's public persona.
Addazio knows how to modulate. He's not in the supermarket sweating and screaming about finding the best produce.
[+] Enlarge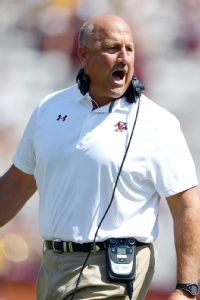 Kirby Lee/USA TODAY SportsAddazio admits that going into the 2014 season, he wasn't sure what to expect from his team.
"You'd have to be around Steve all the time to know that while he's an inherently passionate person, its like anyone," BC athletic director Brad Bates said. "None of us are the same personality 24-7. What you might see on national TV on the sideline isn't what he's going to be every day, every hour."
When Bates hired Addazio at BC two years ago, he'd done his homework. He knew that the Eagles were getting a meticulous planner, a diligent manager and a good football mind.
"Probably more meaningfully," Bates said, "he's a genuine person who cares about staff and people he's around."
Addazio stays up to date on the other teams in Chestnut Hill, and when a team pulls off a big win or suffers a particularly painful defeat he'll stop by that coach's office to check in.
The coach has a similar relationship with his players.
"He's real. If he says he's gonna do something, he's gonna do it," Murphy said. "He's one of those guys you love to have on your side, because he's always gonna have your back no matter what the situation is. He's always gonna stand by your side and defend you and be there for you in tough times."
The Addazio the team sees at "family dinner," when the players dine with their position coaches and their families, is very different from the one it sees at practice or during games. And that's important.
"[He's] not totally different. The emotional spectrum is still there," Vardaro said. "He can kinda fire himself up even at family dinner. But he is a little more low-key, which is nice. You can tell he really cares about us off the field.
"You can go into his office and just kinda talk to him about life. It is nice to have that, not different personality but those two different things to kind of play off of. Definitely need the energy on the field, and it's nice to have that calmer version of him off the field so you can talk to him about things that need to get done."
***
In his four decades at the school, Barry Gallup has worked for seven different Boston College head coaches. He's seen just about every management style and coaching philosophy and the accompanying success or failure.
When Addazio was hired, Gallup saw someone who as a Northeast native understood the institution and knew what needed to be done to revive its proud tradition.
"It was an easy transition, his style was exactly what was needed at the time," Gallup said. "The program needed energy, it needed discipline. He certainly provided that."
He also brought in a talented and well-suited staff and empowered them. Addazio calls each position coach the head coach of that unit, and holds them responsible for their players on and off the field and for recruiting the next generation at each spot.
Recruiting efforts have been redoubled -- Gallup says the staff spends more time on recruiting than any other he's been on at BC. And as recently as Dec. 10 the Eagles' 24-member 2015 class
was ranked in ESPN Recruiting Nation's top 40, at No. 36
.
Already a number of Addazio recruits have made an impact, led by freshman running back
Jonathan Hilliman
. The 6-foot, 215-pounder carried the ball 185 times (a new BC rookie record) for 712 yards and 12 TDs.
Addazio also implemented key off-the-field changes, switching to morning practice to minimize interruptions for both football and school and establishing new traditions like wearing blazers and ties to games, attending pregame mass on campus and singing the alma mater in the locker room after wins.
"Now does that win games?" Gallup said. "Not by itself, but those things build pride in BC football."
Following a few down years, that definitely was needed.
"They just needed leadership and direction. They were anxious to win," Gallup said. "It's not a criticism [of former coach Frank Spaziani]. Steve was in the right place at the right time and he's the right person."
***
As the Eagles prepare to play Penn State on Dec. 27 (4:30 p.m. ET on ESPN) at Yankee Stadium in the New Era Pinstripe Bowl, Addazio is as involved as ever.
In one practice, midway through preparations, Addazio went from drill to drill, position to position, stepping in and doing them himself when he felt they weren't being done correctly.
That's another big difference between Addazio and some of his predecessors, like Spaziani and Tom O'Brien. While those coaches were more likely to stand on the 50-yard line and watch, Addazio is right there in the middle of things.
"He jumps right in, he's not an observer, he's a participant," Gallup said. "He loves it."
"

I'm a micromanager, for sure. I'm involved in everything. On the field, off the field, recruiting. I just kinda feel like when you're at a place like BC, you gotta operate all the machines in the factory.

"

-- BC coach Steve Addazio
The players do, too.
"It's a little intimidating, not gonna lie," Vardaro said with a chuckle. "Obviously you know his energy is extremely high. Especially he loves to get in there with the offensive line, because he used to coach them. [He loves] coaching us. We do a lot of re-dos.
"Coach Addazio is an incredible offensive line coach. He's a great teacher and we've just been able to kinda follow exactly what he's told us, and as you can see it's done pretty well for us."
BC's offensive line helped the team finish the season tied for No. 8 nationally in rushing attempts per game at 49.08 and No. 15 nationally in rushing offense, producing 251.83 yards a game and 3,022 total rushing yards for the season.
Two years after the Eagles finished No. 119 nationally with 90.92 yards a game rushing, it's clear that Addazio's stylistic and philosophical changes have had a dramatic effect.
"I'm a micromanager, for sure," Addazio said. "I'm involved in everything. On the field, off the field, recruiting. I just kinda feel like when you're at a place like BC, you gotta operate all the machines in the factory. So I'm the boss and I've got a great staff -- this is no slight toward any of [them] -- but I just think as the head coach here I think you've gotta be hands-on. Other people could tell you something differently, but that's my style. That's the way I've always felt it has to be.
"My guys I trust and they're great. But I still want to know what's going on, and I want to be in the middle of it. In every decision. There's nothing that's gonna happen in that building that I don't have my fingerprints on. Nothing."
That Addazio has left a mark on the team in his first two seasons doesn't surprise Bates, though he does admit that, "Relative to our recent history, I think he's certainly far exceeded most people's expectations."
Murphy's not surprised, either.
"He's just one of those guys that if he doesn't get it right the first time he's just gonna keep working until he does," the QB said. "He's very relentless in what he does. I'm not surprised at all."
Though no one can see the future, for now Addazio and the Eagles appear to be very well matched.
"I'm very, very comfortable here," he said. "I'm a round peg in a round hole."
Jack McCluskey is an editor for ESPN.com and a frequent contributor to ESPNBoston.com. Follow him on Twitter @jack_mccluskey.