Boston Colleges:

Baseball
March, 29, 2013
3/29/13
1:33
AM ET
By
Jack McCluskey
| ESPNBoston.com
CAMBRIDGE, Mass. -- Tommy Amaker believes the possibilities are endless for his
Harvard Crimson
.
That shouldn't be surprising. What else do you expect him to say?
The Crimson won their third straight Ivy League title, played in their second straight NCAA tournament and won their first NCAA tourney game in 2012-13, even though they lost two key players before the season even started.
[+] Enlarge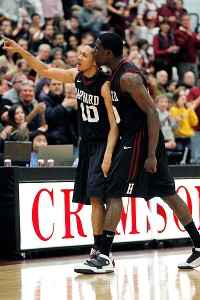 Greg M. Cooper/USA TODAY SportsBrandyn Curry and Kyle Casey missed this historic season, but their return should make the Crimson even better in 2013-14.
And now that the dust has settled for Harvard after a 74-51 loss to No. 6-seed Arizona in the third round of the NCAAs, it's time to look ahead to 2013-14.
The picture does look fairly rosy for the Crimson.
Amaker and his staff had to scramble in September when Kyle Casey and Brandyn Curry withdrew from school after being implicated in an academic cheating scandal that involved more than 100 students.
Young players like
Wesley Saunders
,
Steve Moundou-Missi
and
Kenyatta Smith
had to take on larger roles than they would've, and freshman
Siyani Chambers
was thrust into the starting lineup at the point.
Laurent Rivard
and
Christian Webster
, the only senior on the roster and as such the only player the Crimson will lose this offseason, were named co-captains.
The coaches called it an opportunity and started a mantra that went like this: "We may not have what we had, but we have enough."
Did they ever.
In his postseason wrap-up session with the media Wednesday in the lounge at Lavietes Pavilion, Amaker said he wasn't surprised by the improvements players like Saunders and Chambers made.
"One of the things that you try not to do is have something as a cap, or what you think could be the ceiling of something," Amaker said. "I've learned that through the years: You learn to put your philosophy in and put your blueprint down and then who knows where this thing could go?
"We believe that being here at Harvard allows us that opportunity that anything is possible."
Without Casey and Curry, the Crimson offense actually improved. In 2011-12, the Crimson averaged 65.6 points per game, third in the Ivy League; in 2012-13, the Crimson averaged 68.3 points per game, first in the Ivy League.
Though the defense slipped a bit, falling from first in the Ivy (55.6 points allowed per game) to third (64.1 points allowed per game), the Crimson made up for it with better 3-point shooting (39.8 percent as a team, first in the Ivy, up from 35.7 percent, fifth).
Chambers won the Ivy Rookie of the Year award, and Saunders led the Ivy in scoring. And now the Crimson get to add Casey (former Ivy Rookie of the Year, Harvard's leading scorer in 2011-12) and Curry (Ivy leader in assist-to-turnover ratio and Harvard's assist leader in 2011-12) to the mix, along with top recruit Zena Edosomwan.
[+] Enlarge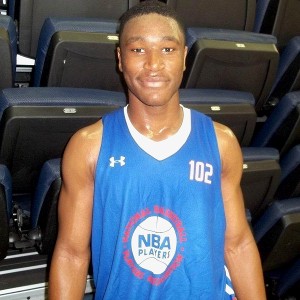 Reggie RankinHarvard will welcome top recruit Zena Edosomwan to Cambridge next fall.
"They've been as good as anybody in our league when they were here," Amaker said of Casey and Curry. "So having those guys return -- we have open arms.
"And [we] can't be any more excited for their return, for them to come back and be a part of our program, our school, our community and to finish what they came here to do, which is to be a Harvard graduate. Those things are very exciting to think about."
As to how exactly the pair will fit in with the new dynamic (Curry and Chambers play the same position; Casey and Saunders both have proven they can be go-to scorers), Amaker wasn't sure. And at this point, he's not getting hung up on the details.
After all, the Crimson haven't even started their offseason workout program yet.
"I haven't given it as much thought, certainly as you can imagine, as to the pieces of the puzzle for our team, but we certainly know they're going to be good players," he said. "They've done that throughout their time here and I don't anticipate that changing in the least bit when we get those guys back."
How much of a difference might having those two players back make? It's hard to say for sure, but at the very least the addition lengthens the rotation and spreads the burden a little more broadly.
In 2011-12, Harvard didn't have a single player among the top 10 in the Ivy in minutes played; in 2012-13, Harvard had four players among the top 10, including three of the top 5 (Chambers, first, 37.8 minutes per game; Saunders, third, 37.3; Rivard, fifth, 35.4).
Though Amaker praised his players for being responsible and preserving their strength throughout the season -- hinting that often players get worn down as much for off-the-court activities as they do on the court -- and admitted the Crimson got lucky not to suffer any serious injuries, the shortened rotation had to affect the team's play at times.
"I think we've had moments this past season where we weren't as sharp, we weren't as good. And that's gonna happen," Amaker said. "But certainly we're hopeful that we can learn and grow from moments that we weren't as good, we weren't as ready. We certainly can do a lot better and be a lot better. We had a handful of games that we felt we controlled down the end and couldn't close."
Of the Crimson's 10 losses, six were by eight points or fewer.
"There are a lot of things there that I think we can certainly look toward as areas where we can get better," Amaker said. "The depth of our team, the roster, the different combination of things that we're hoping to be able to present next year, [all those are areas] that can be possibilities for us to be a better basketball team and program."
Perhaps, as Amaker said, the possibilities really are endless.
Jack McCluskey is an editor for ESPN.com and a frequent contributor to ESPNBoston.com. Follow him on Twitter @jack_mccluskey.
February, 11, 2013
2/11/13
12:01
PM ET
While the 61st Beanpot hockey championship is about to be decided, college baseball fans can look forward to the 2013 Baseball Beanpot at Fenway Park on April 29.

Teams from Boston College, Harvard University, Northeastern University and the University of Massachusetts at Amherst will participate. The consolation game is at 2 p.m., followed by the Beanpot championship game at 5 p.m.

Tickets, at $10, go on sale today at noon at redsox.com/beanpot or by phone at (877) REDSOX-9. Proceeds will benefit the Pete Frates Fund, named after the former captain of the BC baseball team who was diagnosed with ALS. Frates, a former outfielder, lives in Beverly, Mass.
January, 23, 2013
1/23/13
6:47
PM ET
Former University of Massachusetts pitcher and Pittsfield, Mass., native Matt Torra, a 28-year-old minor leaguer still working at earning a shot in the bigs, hopes to open some eyes while pitching for Italy in the World Baseball Classic next month.
Torra's paternal great-grandfather was born in Italy, which makes him eligible for that country's team in the WBC.
"I'm really looking forward to that opportunity," Torra told the Daily Hampshire Gazette. "I think it's going to be a great experience."
Torra, who was a sandwich pick (between the first and second round) in the 2005 MLB draft, signed a minor league deal with the Washington Nationals in December and expects to be assigned to the team's Triple-A affiliate in Syracuse.
"As I'm getting later in my career as a minor leaguer, joining the Nationals is hopefully going to give me that boost that I need," Torra told the Gazette. "Hopefully something positive comes of it."
Torra was profiled last summer in a feature story by ESPNBoston.com contributor Marty Dobrow (
CLICK HERE
).
December, 10, 2010
12/10/10
2:00
PM ET
Catholic Memorial senior center fielder and pitcher Johnny Mildner has committed to UMass-Amherst.

The 6-foot, 175-pounder was an All-Catholic Conference selection last year while leading the Knights to the Division 1 South finals.