September, 20, 2012
9/20/12
3:39
PM ET
By
Jack McCluskey
| ESPNBoston.com
Though the final score was far from pretty, Charley Molnar believes that the experience UMass gained in a 63-13 loss to No. 18 Michigan will pay off eventually.
"When you play in front of that noise and that crowd, there's naturally a certain pressure involved," Molnar said of playing in a place like Michigan Stadium. "That's gonna help us down the line when we play in big games in our conference. If it's not this year, then it's in the next two or three years."
The Minutemen (0-3) open conference play this weekend (noon ET, ESPN3) when they travel to Oxford, Ohio, to face Miami (Ohio). The Redhawks are 1-2, with a win over Southern Illinois sandwiched between lopsided losses to Ohio State and Boise State.
[+] Enlarge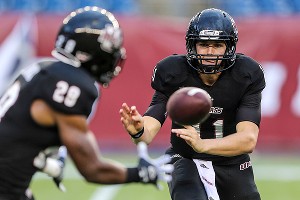 Aram Boghosian for The Boston Globe via Getty ImagesUMass quarterback Mike Wegzyn, here handing off to Jordan Broadnax, has made progress this season, says coach Charley Molnar. "Wegzyn makes pretty good decisions. He's not forcing the ball into spots it shouldn't be."
Molnar said he believes his players are charged up for the start of Mid-American Conference competition.
"I think in some ways they're more excited," he said. "They know that this is where it's at. … Winning your conference and performing well in your conference is always a measuring stick.
"They sense the opportunity in front of them."
The Redhawks finished 4-8 (3-5 MAC) last season, scoring 21.3 points and giving up 22.9 points per game. Leaning on then-junior QB
Zac Dysert
, Miami passed for nearly 300 yards a game while running for just more than 70.
Dysert, a senior now, is again the focal point of the offense. Through three games, he's tied for eighth in the country in completions (79) and is 13th in the country in attempts (116).
"Definitely he's a BCS-level QB," Molnar said of Dysert. "He's got a strong arm, good pocket mobility, can tuck it and run."
But unlike Indiana's
Tre Roberson
and Michigan's
Denard Robinson
, who might be stronger running the ball than throwing it, "This guy's primary strength is passing," Molnar said. "He's got a lot of experience, he's won a lot of football games. This guy is about as good of a QB as we're gonna face all year."
The Minutemen have given up more yards on the ground than through the air this season, but part of that is no doubt due to opponents choosing to pound the ball and run the clock to protect leads.
Darren Thellen
and the defense will have their work cut out for them against Dysert & Co.
As for the offense, Molnar said the return of offensive lineman
Anthony Dima
helped the unit considerably. Now, the coach just wants the offense to stop beating itself.
"The biggest challenge is just for us not to sustain self-inflicted wounds," he said.
The Minutemen can't afford penalties, because right now they're just not good enough to overcome them.
Molnar said he's been happy with quarterback Mike Wegzyn's progression, especially regarding ball security after a pick-six in the opener against UConn.
"Wegzyn makes pretty good decisions," the coach said. "He's not forcing the ball into spots it shouldn't be."
The offense is averaging a modest 6.3 points and 194.0 yards a game so far in the transition to the Division I-A level. Both of those numbers are last in the MAC, trailing Bowling Green by more than 10 points (16.7-6.3) and this weekend's opponent Miami (Ohio) by almost 100 yards (291.7-194.0) a game.
But Molnar remains upbeat.
"I think our team is in a very good place," he said. "Going into it right now I have no reason to believe our team's not prepared. We've had good enthusiasm in practice. Our guys attack everything we throw at them.
Jack McCluskey is an editor for ESPN.com and a frequent contributor to ESPNBoston.com. Follow him on Twitter @jack_mccluskey.
March, 24, 2012
3/24/12
9:42
PM ET
By
Jack McCluskey
| ESPNBoston.com
BOSTON -- A quick take on No. 2 seed Ohio State's
77-70 victory
over No. 1 seed Syracuse in Elite Eight action in the East Regional at TD Garden on Saturday night:


Overview:
Unfortunately, the officiating was more of a story in this one than anyone would've liked. There were some truly questionable calls, on both teams. And while these are two physical teams and there was always going to be some contact, the crew of John Higgins, Michael Nance and Thomas O'Neill was often far too willing to blow the whistle.
Jared Sullinger
picked up two quick fouls in the first half and was limited to four points (2-for-4 shooting) and three rebounds in only six minutes. Syracuse had more personal fouls at the half (12) than it had made field goals (10).
The result was an uneven flow to the game, with lots of stops and starts and not as much back-and-forth action.
Turning point:
It came late in the second half. Ohio State had taken a 10-point lead early in the half on a combination of Sullinger offense and
Aaron Craft
defense, and forced Syracuse to play from behind.
The Orange chip, chip, chipped away at the Buckeyes lead for the next few minutes, cutting it all the way to one. But every time the Buckeyes absolutely had to have a bucket, their big man was there. Sullinger managed to stay on the floor in the second half, and showed what he's capable of when he can avoid the whistles.
After
Brandon Triche
hit a 3 to pull Syracuse within one at 55-54, Sullinger got the ball on the right block and threw in a turnaround jumper off the glass to keep Ohio State ahead.
He consistently got the ball in the post, didn't shy away from the inevitable contact (and, yes, occasionally benefited from a questionable call) and made more of his foul shots than he missed (9-for-12).
And when Syracuse was mounting a furious charge late -- including a 3-point play by
Dion Waiters
that cut the Buckeyes' lead to three with 33.1 remaining -- Sullinger got the ball on the inbounds, got fouled and made one of two free throws to give Ohio State a four-point lead.
That essentially booked the Buckeyes' trip to the next round.
Key player:
Sullinger. The big man was the difference in the second half, scoring 15 points and giving Ohio State a steady offensive presence with which to combat the vaunted Syracuse zone.
Key stat:
Free throws. In a game dominated by physical play and riddled with whistles, it figured that the team with the better showing at the free throw line would have a big advantage.
While Syracuse actually shot a better percentage, 80 to 73.2, Ohio State took 17 more freebies (42-25) and made 11 more (31-20).
What's next:
For Ohio State, a trip to New Orleans. For Syracuse, a trip home.
Next Saturday in the Final Four, Ohio State will face the winner of Sunday's Midwest final between No. 2 seed Kansas and No. 1 seed North Carolina in the Mercedes-Benz Superdome.
It's the 11th Final Four appearance for Ohio State, the second under Thad Matta, and the first since 2007, when the Buckeyes lost in the national championship game to Florida.
Jack McCluskey is an editor for ESPN.com and a frequent contributor to ESPNBoston.com. Follow him on Twitter @jack_mccluskey.
March, 22, 2012
3/22/12
9:31
PM ET
By
Jack McCluskey
| ESPNBoston.com
BOSTON -- A quick look at No. 1 seed Syracuse's
64-63 victory
over No. 4 seed Wisconsin in Sweet 16 action in the East Regional at TD Garden on Thursday night:


Overview:
After all the talk about how Wisconsin would solve the vaunted 2-3 zone of Syracuse, it was the Wisconsin defense -- the top scoring defense in the country this season -- that struggled to contain the Syracuse offense early. Syracuse shot 63.6 percent in the first half, including 50 percent on 3-pointers, and led 33-27 at the break.
In a wild second half, the Orange weathered a furious storm of 3s from the Badgers and held on -- just barely -- for the win. The last time Syracuse won a game by one point in the NCAA tournament was the Sweet 16 in 2003, when the Orange beat Auburn 79-78 and went on to win the national championship.
Turning point:
This was a game of punch-counterpunch in the second half. It seemed that whenever one side would hit a big shot, the other would invariably answer.
So after
Jordan Taylor
hit yet another big 3 -- he had four in the half -- to put Wisconsin up 59-56 with 7:05 to go, was there any doubt Syracuse would find a way to answer?
If there was any doubt in the Orange, it didn't show.
Baye Keita
converted a layup, then
Dion Waiters
made one of his own to give Cuse back the lead at 60-59.
Taylor had a chance to win it for Wisconsin as time expired, but his heave was short and the Badgers couldn't get a good shot off the air ball as the Orange escaped.
Key player:
This was a balanced effort by the Orange. Four players scored in double figures, led by
C.J. Fair
with 15.
Key stat:
This one's easy -- without the 3, there's no way the Badgers get back into the game at all. Wisconsin shot 51.9 percent from beyond the arc for the game and was 9-for-16 in the second half as it rallied to make things interesting at the end.
Syracuse also shot well from 3, hitting 55.6 percent for the game. The difference was in the number of shots. Wisconsin took 27 as it attempted to rally from a double-digit deficit, while Syracuse took only nine.
What's next:
Syracuse will now move on to the Elite Eight, where it will face No. 2 seed Ohio State on Saturday night in Boston.
Jack McCluskey is an editor for ESPN.com and a frequent contributor to ESPNBoston.com. Follow him on Twitter @jack_mccluskey.