Boston Colleges:

Clemson Tigers
September, 14, 2014
Sep 14
1:03
AM ET
Here's what we learned in the ACC following the Week 3 slate of games. One thing we already knew -- and which the ACC proved again Saturday -- is that this can often be a befuddling league.
[+] Enlarge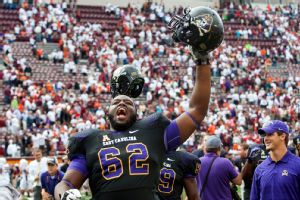 Jeremy Brevard/USA TODAY SportsEast Carolina's stunning upset of Virginia Tech knocked the Hokies out as a College Football Playoff contender.
1. Two more ACC schools are knocked from the College Football Playoff discussion.
And that could change again by the end of next week, as No. 23 Clemson travels to No. 1 Florida State on Sept. 20. With Saturday's results, the ACC turns its eyes to you, Clemson, Duke, Florida State and Pittsburgh. And to be honest, most aren't considering Duke or Pitt legitimate contenders just yet, considering each school's nonconference schedule. Virginia Tech offered hope that a Coastal team might be able to crack the playoff four, but the Hokies laid an egg in the first quarter against East Carolina and were knocked off. Considering it came a week after their big road win at Ohio State, it leaves a sour taste in ACC mouths. Louisville was loading up the hype train after a nice win against Miami in a prime-time setting, but the Cardinals' offense was suffocated by upset-minded Virginia. Pittsburgh has a manageable schedule and would almost certainly get in if undefeated, but the Panthers don't have the look of a team destined for a spotless record just yet. So once more, the ACC is looking to you, Clemson and FSU.
2. The ACC Coastal: 'Bring your brooms, because it's a mess.'
Marty Huggins from "The Campaign" said it best, and there's really no need to compound on what he said as far as the ACC Coastal goes. Following last week, it seemed Virginia Tech was the team to beat in the division. It certainly could still be that team as the East Carolina loss was out of conference, but there isn't nearly as much confidence in the Hokies any longer. Pittsburgh was the flavor of the hour last week after a dominating win on a Friday night, but the Panthers struggled against a terrible Florida International team. Georgia Tech is 3-0 but has been less than impressive in all three wins. North Carolina hasn't looked great, either. Right now, it is only Duke quietly taking care of business, which is what it did last season, too.
3a. Boston College was a bunch of Dudes on Saturday. So was the Virginia defense.
That is Steve Addazio's motto for his team, and that is an apt way to describe what we saw from the Eagles against No. 9 USC. Many felt the Eagles had a chance to keep it close, but few felt they would be able to upset a USC team coming off a win at Stanford. Boston College followed the lead of its quarterback,
Tyler Murphy
, beating up the Trojans on the ground to the tune of 452 rushing yards. After a lopsided loss to Pittsburgh last week, it seemed Boston College was destined for a down year, but now the Eagles have the look of a bowl team. They're not going to win the Atlantic, but that defense is nasty, and with Murphy running the option, the offense is efficient enough that this might not be the last upset the Eagles pull off in 2014.
In the aftermath of the BC win, we almost forgot the effort from Virginia, especially on the defensive side of the ball. Virginia deserves the recognition, and while it doesn't use the same "Be A Dude" motto, you can certainly apply it to that Cavaliers defense after its performance against Bobby Petrino's Louisville offense. All afternoon, quarterback
Will Gardner
was harassed and made uncomfortable. He was hit, chased and had passes batted back into his face. Eventually, Petrino turned to his backup quarterback. And just like Boston College, the Virginia offense never gave Louisville the ball back in the final minutes after forcing a Cardinals punt. If the Cavs can get any help from their offense, this is a bowl-worthy team. Good for Mike London and his team, which went winless in the ACC last season.
3b. The ACC owns prime time.
Virginia Tech last week. Boston College this week. Just let us have this one.
4. Speaking of Pitt and Georgia Tech, what do we make of their scares?
That one depends on the team. First, there is something to be said to still being undefeated at this point even if the competition is not very good. Now that that is out of the way, I'd be much less concerned with Pitt's first-half struggles in its
42-25
win than Georgia Tech's second-half nightmare against Georgia Southern. The Panthers were playing in a noon game against a dreadful FIU team. They came out flat. It happens in college football, and it happens a lot. Ideally, a coach never has those performances, but they're hard to avoid. Expect a much more focused Pitt team against Iowa. As for the Yellow Jackets, this is becoming a trend. They did not look great against FCS teams Wofford or Tulane, and Saturday they blew a 25-point second-half lead to Georgia Southern. Georgia Tech needed an 11-play, 72-yard drive to score the game-winning touchdown with 23 seconds remaining and earn a
42-38
victory.
5. Miami quarterback Brad Kaaya can sling it.
The Hurricanes opened up the playbook a little more for Kaaya, and he responded with 342 passing yards, a school record for a true freshman. The Miami offense was balanced on first down, which allowed Kaaya to throw in situations in which defenses weren't always expecting it. What really stood out to coach Al Golden in the Hurricanes'
41-20
win over Arkansas State was how Kaaya audibled into a new play at the line of scrimmage several times, including on two touchdowns. "Brad hits the quick out that
Phillip [Dorsett
] ends up taking. That's all him. The other check that we ended up scoring on, the run, [it was] the same thing there. That was all him on the line of scrimmage," Golden said. And the first touchdown was a deep throw, which Kaaya struggled with in the first two games. On throws of at least 10 yards in the first two weeks, he was 7-of-17 for 188 yards with one touchdown and four interceptions.
October, 10, 2013
10/10/13
12:00
PM ET
Is tonight future-league member Louisville's toughest test of the season?
October, 9, 2013
10/09/13
10:15
AM ET
1. Georgia coach Mark Richt is raving about kicker
Marshall Morgan
, and not just because the sophomore already has made field goals of 56 and 55 yards. Richt loves Morgan's kickoffs. "He was kicking 4.1 or 4.2 [seconds] hang time, which is a long time to hang a kickoff," Richt said. He asked Morgan to kick to the goal line rather than get a touchback, hoping to pin returners inside the 20. Then Brelan Chancellor of North Texas took one 99 yards for a touchdown. Morgan had five touchbacks at Tennessee.
2. Yes, the ACC Atlantic showdown between No. 3 Clemson and No. 6 Florida State is a week away. But given the upgrade of play in the league, I wondered when the last time two ACC top-10 teams played one another. You have to go all the way back to ... last season, when the Seminoles beat the Tigers, 49-37. Prior to that, however, the last ACC top-10 game was six years ago, that great Thursday night game when No. 2 Boston College and Matt Ryan came back to beat No. 8 Virginia Tech, 14-10.
3. BC is showing signs of a renaissance under new head coach Steve Addazio. The Eagles, 3-2, already have surpassed last season's win total (2-10) as they prepare to play at No. 3 Clemson on Saturday. The Eagles are more physical at the line of scrimmage, and they are taking better care of the ball. Last season, they lost 11 fumbles in 12 games. This season, they are tied for the FBS lead with one lost fumble. Overall, BC is plus-four in turnovers after being minus-five last season.
September, 27, 2012
9/27/12
6:21
PM ET
By
Jack McCluskey
| ESPNBoston.com
NEWTON, Mass. -- Explosive.
That may be the first word that comes to mind when discussing the Eagles' opponent Saturday, the No. 17
Clemson Tigers
.
Quarterback
Tajh Boyd
certainly is explosive, able to beat you with his arm, his legs, or both. And the weapons Clemson coach Dabo Swinney surrounds him with are equally dangerous.
"They have a lot of weapons, a lot of ways to attack," linebacker
Steele Divitto
said. "Their skill players are very good. So this week of practice is all about executing and exaggerating techniques and exaggerating your technique in the open field, especially for me because I know I'll be in the open field a lot.
[+] Enlarge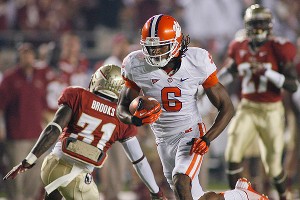 AP Photo/Phil SearsClemson is coming off a 49-37 loss at No. 4 Florida State last weekend.
"We're excited for the opportunity. We're ready for the challenge. They're obviously a top team," he added.
Last year in Death Valley, when the Tigers used big days from Boyd and running back
Andre Ellington
to cruise to a 36-14 win, the Eagles saw firsthand how effective the Tigers can be.
Clemson, which is coming off a 49-37 loss at No. 4 Florida State, is the third hurry-up offense the Eagles will face this season after Miami and Northwestern. The Eagles say the experience of having played two similar offenses already will help, even though both games ended in losses.
They won't have to rewrite the playbook to deal with Clemson's speed and tempo.
"I've said in the past that all of our defenses are sound,"
Nick Clancy
said. "They're designed to stop anybody. It doesn't really matter if you're fast or not. There're guys that are able to split defenses because of their talent, because of their ability, but you don't really prepare for a guy to be fast. You just kind of expect it."
The Tigers are averaging 39 points and almost 500 yards (198.5 rushing, 296 passing) of offense a game. But they've also been giving up 25.5 points and almost 450 yards (206.5 rushing, 236 passing) a game.
So one way that BC can help lighten the load on its defense is to sustain offense.
"That's true of any game, but especially against an offense as explosive as theirs," left tackle
Emmett Cleary
said. "If we can hold onto the ball that's almost the best defense."
Chase Rettig
& Co. have averaged 317 passing yards a game in the first three weeks of the season, best in the ACC. And the passing attack should only get stronger this week, with the return of last season's leading receiver,
Bobby Swigert
, from a knee injury.
For his part, Swigert is jumping at the challenge this game presents.
"They definitely are very talented on defense, obviously they have a bunch of big recruits and highly touted guys all over the place," he said. "But we feel like we have a good strategy going in this week and hopefully we can execute really well and exploit some of their weaknesses a little bit."
Clemson plays mostly man-to-man on defense, challenging opposing wideouts to win one-on-one battles and stacking the box to stop the run if they can't.
"They're very talented and they do what they can do," BC coach Frank Spaziani said. "And that's one of the things they can do, they can lock you down. They've always been able to put pressure on you, rush you and cover you, so I don't see any difference this Saturday."
The focus on their nationally ranked opponents is leaving the Eagles feeling, well, a little overlooked this week.
Asked if he thought his team had gotten noticed yet, Rettig quickly said "No."
"But I think we will be at some point," he said. "We gotta win. At the end of the day, no one cares if you're the leading ACC passing team. If you're not winning, it doesn't matter.
"But one thing I've learned my whole life is being under the radar is probably the best thing you can be. Even if we were 3-0 we'd probably still be under the radar."
"I feel like that dynamic always comes into play," running back
Andre Williams
said, "no matter who we're playing, there's certain aspects to our offense or our defense that gets overlooked because of who we are. I guess the only way to change the perception is to change the facts and put some wins on the board."
They've had two weeks to prepare for this challenge, and they sound confident that they'll be ready.
"Any team that comes at you with that type of talent," Clancy said, "it kind of forces you to sit down, get locked in and say, 'OK, now we need to step it up a little bit.' "
The Eagles say they're not daunted by the explosive talents they'll be facing.
"It's always a fun challenge to go against the best competition in the country," defensive co-captain
Jim Noel
said, "because then you get to show off your skill set and show what you can do against them."
Jack McCluskey is an editor for ESPN.com and a frequent contributor to ESPNBoston.com. Follow him on Twitter @jack_mccluskey.
September, 26, 2012
9/26/12
7:00
PM ET
By
Jack McCluskey
| ESPNBoston.com
NEWTON, Mass. -- Frank Spaziani gave his team an assignment during the team's bye week: Watch Clemson-Florida State.
The anticipation level for the matchup with the Tigers this Saturday at the Heights (3:30 p.m., ESPN2) was already high in the BC locker room, but after the Eagles completed their assignment it went to another level.
"Within the locker room, it's huge," left tackle
Emmett Cleary
said. "This is a big ACC opponent, and a team we love playing. These are the games you come to BC to play, so we're pretty amped about it."
They weren't disappointed with their Saturday assignment this past weekend.
"It was fireworks, man," fifth-year senior
Nick Clancy
said. "They were pulling out all the stops."
The middle linebacker was referring to the No. 17 Tigers' offense, which had two wide receivers throw passes in the 49-37 loss to the Seminoles.
Clancy & Co. already knew they would have their hands full with
Tajh Boyd
,
Sammy Watkins
,
Andre Ellington
and the rest of the Tigers' offense, but seeing them explode on No. 4 FSU reinforced that knowledge.
"We definitely used the bye week as a leg up, to focus on Clemson," Clancy said. "Any edge we can get against this team is gonna be helpful for us because they have so many weapons."
Clemson is averaging 39.0 points and more than 500 yards of offense (304.3 passing, 198.5 rushing) per game. Against FSU, Watkins threw a 52-yard touchdown pass to Ellington, the first passing TD by a Clemson wideout since 2009 (and that came against Coastal Carolina).
"We kind of just keyed them this past week," Clancy said, "understanding what they could do, respecting what they could do and then basing our game plan off that."
Reinforcing a strength
BC's passing game, which currently sits atop the ACC with an average of 317 yards a game, is getting a boost this week with the return of
Bobby Swigert
.
The junior led the Eagles with 44 catches and three scores, and was second in receiving yards at 470, in 2011. He missed the first three games this season after suffering a knee injury in the final scrimmage of camp.
"It was really frustrating to make it that far through camp and then go down like that," Swigert said. "But I tried to keep my head up. It was really frustrating, it was really hard on me. But I treated it every day, I worked, I rehabbed. I'm just excited to get back out there."
And thanks in part to the emergence of
Alex Amidon
, Swigert finds himself in a new spot on the field now that he's back -- the outside.
"It's kind of weird, actually," he said with a chuckle. "Ever since I stepped foot on this campus, I've been on the inside.
"But I always knew the outside stuff, they just never put me out there because they thought I was more of a slot guy. … But they're putting me out there now, [and] they like what they see."
Spaziani was cautiously optimistic when asked about Swigert prior to practice Wednesday.
"It's not like he hasn't missed a beat," the coach said, "but every day he's getting better and he's done a good job in practice."
Tweeting up a (140-character) storm
BC fans got a chance to interact (sort of) directly with defensive co-captain
Jim Noel
on Wednesday, when the athletic department hosted
a live Twitter chat
with the senior defensive back.
The questions ranged from why he chose to play defense ("I don't think I'm a glamorous type of guy, so maybe that's why I'm on the Defense!" Noel responded) to his favorite part of being a BC student-athlete ("My favorite thing about being a student-athlete would have to be all the people that you get to be with between the students & the athletes").
A few of his teammates got into the act, as well. Defensive end
Kasim Edebali
tweeted
"hottest thing on twitter right now…#AskJimNoel." Wideout
Johnathan Coleman
tweeted
a few questions of his own, such as: "#askjimnoel how many licks does it take to get to the center of a tootsie pop?"
Odds and ends
Workers were busy readying Alumni Stadium for Saturday's game, applying oversized stickers to columns underneath the stands. Each sticker has the picture of a different "fan favorite" on it, from Mike Ruth to Doug Flutie to Luke Kuechly. … In addition to hosting a Top 25 team, this weekend is also parents' weekend at BC. There are signs set up around campus warning of increased traffic because of the event. … QB
Chase Rettig
turned 21 on Wednesday, prompting
this tweet
from
Spiffy Evans
.
Jack McCluskey is an editor for ESPN.com and a frequent contributor to ESPNBoston.com. Follow him on Twitter @jack_mccluskey.