Boston Colleges:

College Basketball
January, 3, 2015
Jan 3
11:20
PM ET
AMHERST --
University of Massachusetts
fans weathering one of the first winter storms of the year were in for a treat Saturday afternoon. The first 3,000 diehards at the Mullins Center were given Derek Kellogg bobblehead dolls.
Though flattered, the UMass coach suggested -- not without legitimacy -- that the bobblehead more closely resembled another leader: Richard Milhous Nixon.
[+] Enlarge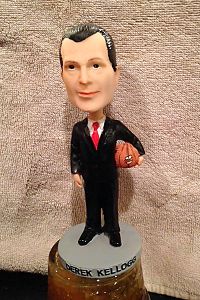 Marty Dobrow for ESPNBoston.comAfter the first 3,000 fans got Derek Kellogg bobbleheads, there weren't many highlights to be enjoyed by the UMass faithful.
Nixon, of course, had to step down from his coaching position, which led to the presidency of Gerald Ford. Kellogg, who followed a Ford (Travis), is not in any imminent danger of being forced out of his position, but Saturday's listless 69-55 loss to St. Bonaventure had him, well, shaking his head.
"I thought we got beat in every aspect of the game tonight," Kellogg said. "What it really comes down to in conference play is toughness."
In this Atlantic 10 opener, the 7-7 (0-1) Minutemen were clearly out-toughed by the 8-4 (1-0) Bonnies. Any time there was a contested rebound or a loose ball on the floor, it seemed the guys getting there first were wearing the brown uniforms of the visitors, some sartorial hybrid of vintage
San Diego Padres
and Dunkin Donuts.
"We're not the biggest team, and we're not the most athletic team," St. Bonaventure coach Mark Schmidt said. "We've got to be the tougher team."
Schmidt, a native of North Attleboro and a Boston College alum, clearly walks the walk -- or at least limps it. While Kellogg was bobbling, Schmidt was hobbling, thanks to a ruptured Achilles tendon suffered in practice a few weeks ago. With his right foot encased in a huge gray bandage, Schmidt spent the 40 minutes of game time repeatedly hopping up and down the sideline and occasionally pounding the scorer's table. When the game was over, he got on his little tricycle-like device to go through the line for handshakes, and he promptly tumbled to the floor.
St. Bonaventure senior center
Youssou Ndoye
, a 7-footer from Senegal who, by the wonders of modern college athletics, finds himself spending his winters in Olean, New York, said he is inspired by Schmidt's example. "Every time I look at him, I just shake my head," Ndoye said. "I really feel bad for him, for the unfortunate injury. It just gets me going. If he's out there trying to help us out, the least we can do is play hard for him."
Hard for Ndoye, the A-10 leader in rebounding and blocked shots coming into the contest, meant a dominating 14-point, 13-rebound, three-block effort.
UMass, which fell into a tone-setting 7-0 hole, rallied to take a brief lead in the first half before they trudged to the locker room with a 28-19 deficit. The Minutemen would close the gap to three, seven minutes into the second half, on a 3-pointer by
Jabarie Hinds
, but then the Bonnies stomped their way to a 17-1 run that put the game away.
Down the stretch, the Mullins Center was as quiet as the Dubois Library, which famously had to be surrounded by fencing years ago, when a few bricks fell from its sides. On Saturday, the masonry came from the Minutemen, whose 4-for-22 shooting from 3-point land only sounded that good because of two very late makes long after the game was decided. UMass came in to the contest with an abysmal 29.3 percent shooting from behind the arc, which got worse. The Minutemen are giving new meaning to the term "outside shot."
The toughness gap was the larger issue, though. After a mediocre 7-6 performance against a tough nonconference slate (2-5 in their previous seven games), the Minutemen seemed ready for the new year and the start of conference play. There was the inevitable talk of the "fresh start" and the "second season." That optimism was gone almost from the opening tip.
"They beat us today," Kellogg said. "They got more rebounds, loose balls, 50-50 balls. They played a little tougher. That's something that needs to be rectified -- and rather quickly. When UMass has been good -- and you can go back as long as you want to -- we're usually the more aggressive team. Today, it was kind of like watching paint dry."
Kellogg acknowledged his team's personality is a work in progress. "I've been really working on those guys: their energy, their verbal communications skills," he said. "We're still trying to find our identity. I know it's hard to say 14 games in, but we're still working."
UMass, a charter member of the Atlantic 10, began its 39th season of league play with Saturday's dud. In the league's history, no team has ever matched the dominance UMass displayed from 1991-92 through 1995-96, when the Minutemen won five straight regular season and five straight A-10 tourney titles. That culminated in the 1996 Final Four year, which made them the only Atlantic 10 team ever to get that far.
But since that time, UMass has only one shared regular season A-10 title and no A-10 tourney championships. The Minutemen did make it back to the NCAA tournament last year for the first time in 18 seasons, almost completely on the strength of a tremendous, nonconference run. To get back to the Dance this year will require some A-10 attention.
Right now, March looks a lot more like spring break than Big Dance.
December, 8, 2014
12/08/14
11:00
PM ET
By
Jack McCluskey
| ESPNBoston.com
CAMBRIDGE, Mass. -- As Harvard's
Steve Moundou-Missi
stepped to the line to shoot the first of three free throws Monday night, at the other end of the court Boston University coach Joe Jones turned around and covered his face with both hands.
Freshman
Will Goff
, trying to contest as the shot clock wound down to one, had gotten too close to the Harvard senior. So as the big man forced up the desperation 3 to beat the buzzer, Goff was whistled for the foul.


If any one play could illustrate the difference between BU and Harvard right now, it's that one.
"Game-winning plays, those guys make," Jones said of the Crimson duo of
Siyani Chambers
and
Wesley Saunders
. "That's why they're good -- they know how to turn it up when they need to. And I knew at some point we were going to have to be able to combat that with intelligence and grit."
Entering the second half down just one, the Terriers were in position to challenge for the win. But when plays needed to be made, the Crimson stayed poised and came through where the visitors failed, pulling away for a 70-56 win.
With the score tied at 45 midway through the second half, the shot clock winding down and
John Papale
in his face, Saunders had to let a 3 fly.
Swish.
"I knew that shot was going in. I'm not even joking," Jones said. "I've seen him make so many of those freaking shots, oh my god. I just knew it was going in, even though it was a hard shot."
Asked about the buzzer-beating, tiebreaking 3 later, Saunders said it was a good-news, bad-news situation to be in.
"Those might be the easiest ones to take, honestly, because they're not expecting you to make it. You've got to get one off," the senior said. "Those are kind of some situations you don't want to be in, but you kind of do at the same time because there's no pressure, really. I knew the shot clock was running down, I just had to get one off so I just threw it up and luckily it went in."
Told Jones said he knew it was going in, Saunders quipped, "I don't know how he knew that, because …" he said, laughing.
"I knew it was good when it came out of my hand," he said. "It felt good when I shot it."
Needing a bucket to stem the Crimson tide at 50-47, BU's
Cedric Hankerson
threw the ball away to
Andre Chatfield
, and on the break Chatfield fed Saunders, who was fouled at the rim and sank both freebies.
The free throws started a 7-0 run for Harvard, the hosts running out to the game's first double-digit lead at 57-47 and never getting threatened again.
Both teams had shooting issues. BU struggled at the free throw line, hitting just 55 percent of its attempts (11-for-20). Harvard, meanwhile, struggled badly from 3-point land, hitting just two of its first 10 attempts and finishing at 30.4 percent on 3s and just 39.2 percent overall.
"I thought we settled for some shots, and we didn't finish around the rim," Harvard coach Tommy Amaker said. "When we did get the ball inside, we weren't as efficient as we need to be with all our guys in the paint.
"I thought that allowed us to have the shooting percentages that you see. It wasn't very good."
And while the shooting numbers started poorly and ended even worse, the Crimson got better at working inside against the BU zone in the second half and made hay at the free throw line (23-for-25 in the game, 16-for-17 in the second half).
"We made a few plays in the second half. I thought that we showed a lot of composure and we didn't settle and we made the extra pass," Amaker said. "When we can finish those kinds of moments, it gives us confidence to continue to do it that way when we don't settle."
It helps when you have defenders who can shut down the opposition's best player.
Hankerson came in leading BU in scoring at 19.9 points per game, but Saunders locked him down Monday night. Harried by the Harvard star, Hankerson finished with just three points (0-for-6 shooting) and four personal fouls.
The sophomore got to the foul line nine times, but had six of BU's nine misses there.
And though the Crimson got the win and improved to 7-1 on the young season, Chambers said he's "definitely" concerned that Harvard is falling into a habit of slow starts.
"We don't want to have to come out every second half and have to play at that pace in the second half," the point guard said. "Coach always talks about putting a whole game together, putting two halves together, and we haven't been able to do that recently."
Don't tell that to Jones, who saw the Crimson do more than enough to beat his rebuilding Terriers.
"They make plays when they need to make plays," Jones said. "I've got nothing but respect for [Amaker's] players and his program."
And outside of a close loss to Holy Cross in Game 2, the Crimson have made enough plays to win each and every game so far.
Jack McCluskey is an editor for ESPN.com and a frequent contributor to ESPNBoston.com. Follow him on Twitter @jack_mccluskey.
October, 22, 2014
10/22/14
6:11
PM ET
By
Jack McCluskey
| ESPNBoston.com
BOSTON -- For
Malcolm Miller
, it's more than just another game. It's more than just one more chance to play on the famous parquet floor at the Garden, like his Holy Cross predecessors did at the old Garden.
It's a chance to contribute in some small way to a cause near and dear to the senior captain's heart -- the fight against cancer.
[+] Enlarge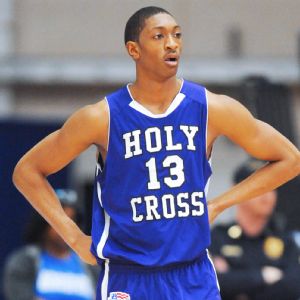 Mitchell Layton/Getty ImagesHoly Cross forward Malcolm Miller, who lost his mother to leukemia two years ago, says he's "very happy to be a part of" the Coaches vs. Cancer Tripleheader.
The head coaches of the six teams slated to play in the second annual Coaches vs. Cancer Tripleheader at TD Garden on Nov. 16 -- BC's Jim Christian, BU's Joe Jones, Harvard's Tommy Amaker, Holy Cross' Milan Brown, Northeastern's Bill Coen and UMass' Derek Kellogg -- gathered on Wednesday morning to promote the event and talk a little about their teams ahead of the 2014-15 season.
Miller was in attendance, alongside Brown, because two years ago next week the Crusaders' 6-foot-7, 210-pound forward lost his mother, Sheila, to leukemia. She was diagnosed just after his freshman season and passed away just before his sophomore season, leaving him not only bereft but away from his family in Maryland.
"Sophomore year was tough, but I had ... my extended family -- which is my teammates and my coaches -- [and] they all stood behind me," he said. "That's what really makes this event even more special, the fact that I wasn't able to be home with my family but I was able to be [at school] with my teammates to help me through that process."
Miller's loss didn't affect only him.
"It sent shock waves through our team," Brown said. "So anything we can do to help fight this disease, we will continue to do."
"She was definitely a fighter," Miller said of his mom. "That's what makes me more appreciative of this Coaches vs. Cancer [event], because it really hits home. I've lost more than just my mother, I lost my uncle and my grandmother and my grandfather, all from cancer.
"[The event is] definitely something that hits home, something I can really appreciate and I'm very happy to be a part of."
More than a few of those in attendance Wednesday have had firsthand knowledge of the scourge that is cancer, including event emcee Tommy Heinsohn, a Holy Cross product and former Celtics star player and coach, who lost his wife, Helen, to lung cancer six years ago.
"I know how difficult the disease can be, and what it does to people and what it does to families," Heinsohn said. "So the coaches chipping in here with the athletic programs along with the Garden ... I think they should be celebrated, because this is worth the effort.
"This is the second tripleheader that's going to happen, and hopefully there will be many more and college basketball could come back to the Garden."
For the second straight season, BU will face off with Northeastern, Harvard will play Holy Cross, and BC will take on UMass. Part of the proceeds from the three-game slate will be donated to the American Cancer Society, in partnership with the National Basketball Coaches Association's Coaches vs. Cancer initiative.
"Coaches vs. Cancer is just an unbelievable program, and there's so many people who work so hard in this fight against cancer," BU coach Joe Jones said. "I lost my mom two years ago [to cancer] and I saw her struggle. So I think everybody here that's involved in Coaches vs. Cancer is gonna give some people an opportunity to maybe live a little bit longer."
"The kids will remember this game that they played on this floor, because of all the history in this building and everything that's taken place with the Celtics' tradition," Northeastern coach Bill Coen said, "[and] just to be a small, small part of that I think is something they'll remember for the rest of their lives.
"So I, too, hope this event continues long into the future and becomes a tradition here in Boston."
In addition to raising money for research and increasing awareness of cancer, the tripleheader allows college hoops fans an early glimpse at six of the seven Division I teams in Massachusetts (with only UMass Lowell missing) -- at least two of which have been picked to finish first in their respective leagues (Harvard in the Ivy and Northeastern in the CAA).
"I'm not quite sure where we are yet," UMass coach Derek Kellogg said of his Minutemen.
UMass has a nonconference schedule this season that has been described as "brutal," and Kellogg said part of that is "because of three of the teams that we're playing up here this year [BC, Northeastern and Harvard]. I think it's a testament to where all of the programs in the area are headed, which is like a rocket ship -- straight up.
"We're excited, looking forward to being a part of this for many years to come."
This is probably Miller's last chance at playing on the Garden floor, and he's looking forward to making more memories and raising more money to ultimately help beat cancer.
"I know it's something I'll remember for the rest of my life," he said, "the fact that I was able to be blessed to play on the floor [that] such great figures [played on] and be able to look up and see the banners. It's just a really special opportunity."
Jack McCluskey is an editor for ESPN.com and a frequent contributor to ESPNBoston.com. Follow him on Twitter @jack_mccluskey.
August, 12, 2014
8/12/14
1:32
AM ET
By
Jack McCluskey
| ESPNBoston.com
Though the dust hasn't completely settled yet -- as of last week, a few final nails still needed to be hammered home -- Harvard hoops' home nonconference slate for the 2014-15 season has a distinctly local design that should excite fans of Massachusetts college basketball.
Tommy Amaker and the Crimson will take on five of the state's other six Division I teams, with three of those games coming at home and one each at a neutral site and on the road. Though the team has yet to release its schedule for next season, Harvard will put tickets on sale on Tuesday for all 13 of its 2014-15 games at Lavietes Pavilion.
The Crimson will tip off the season with their traditional matchup versus Cambridge rival MIT, one of the best teams in Division III, on Friday, Nov. 14.
Just two days later, Harvard will take on Holy Cross as part of the second annual Coaches vs. Cancer tripleheader at the TD Garden.
And after visits from Florida Atlantic and Houston, the in-state rivalries resume with visits from UMass (Nov. 29, two days after Thanksgiving), Northeastern (Dec. 3) and BU (Dec. 8). The Crimson will look for a seventh straight win over BC when they visit Conte Forum on Jan. 14, 2015.
That means the only Massachusetts Division I team the Crimson won't face in 2014-15 is UMass Lowell.
Under Amaker, Harvard is 23-6 against in-state foes and hasn't lost to a Massachusetts-based team since Nov. 13, 2012 (a 67-64 loss at UMass) -- a string of eight straight wins.
Harvard home schedule 2014-15
Date
Opponent
Time
Nov. 14
MIT
7 p.m.
Nov. 20
Florida Atlantic
7 p.m.
Nov. 25
Houston
7 p.m.
Nov. 29
UMass
2 p.m.
Dec. 3
Northeastern
7 p.m.
Dec. 8
Boston University
7 p.m.
Jan. 24
Dartmouth
2 p.m.
Feb. 13
Columbia
7 p.m.
Feb. 14
Cornell
7 p.m.
Feb. 20
Penn
7 p.m.
Feb. 21
Princeton
7 p.m.
March 6
Yale
7 p.m.
March 7
Brown
7 p.m.
Jack McCluskey is an editor for ESPN.com and a frequent contributor to ESPNBoston.com. Follow him on Twitter @jack_mccluskey.
March, 29, 2014
3/29/14
8:23
PM ET
By
Jack McCluskey
| ESPNBoston.com
Though he hinted that it wasn't exactly a fait accompli, Tommy Amaker will be staying in Cambridge.
"After thoughtful deliberation, I continue to realize my heart is at Harvard," Amaker said in a statement released by the school Saturday. "To teach, lead and serve at this amazing institution, and in this special community, is truly meaningful to me."
Amaker's name had been floated in connection with other high-profile openings, including one across town at Boston College.
Because he has an ACC pedigree (playing for and coaching with Mike Krzyzewski at Duke), experience at high-major institutions (at Seton Hall and Michigan) and a record of success on the court and on the recruiting trail, and because he wouldn't even have to move in order to take the BC job, Amaker was a logical candidate for the Eagles.
But in the end, Amaker decided to stay with the Crimson -- the team he has led to six straight wins over BC.
Harvard athletic director Bob Scalise praised Amaker as "a great leader, a great coach and a great educator."
"He is an inspiration to many in the Harvard community," Scalise said in the statement. "We are excited he will continue to lead our men's basketball program."
In seven seasons as the Crimson coach, Amaker has overseen a transformation from perennial Ivy League also-ran to powerhouse. The Crimson have won four straight Ivy titles, including a share of the title in 2010-11 and outright titles the past three seasons, and played in the NCAA tournament in three straight seasons.
After they upset No. 5 seed Cincinnati in a second-round matchup this season, the Crimson have won NCAA tournament games in back-to-back seasons. Prior to those wins, Harvard had never won an NCAA tournament game.
Amaker is 139-71 overall at Harvard, including a 67-31 mark in Ivy play, and has led his team to 20-plus victories in five straight seasons -- the first Ivy team to do so since Penn had a run of six consecutive seasons with 20 or more wins from 1970 to 1975.
Though the Crimson lose key veterans
Kyle Casey
,
Brandyn Curry
and
Laurent Rivard
to graduation this season, Amaker returns a strong core for 2014-15.
Point guard
Siyani Chambers
, star guard
Wesley Saunders
(Ivy Player of the Year in 2013-14) and big man
Steve Moundou-Missi
will all be back, meaning three-fifths of the starting five will remain in place as Amaker & Co. chase a fifth straight Ivy League crown.
Jack McCluskey is an editor for ESPN.com and a frequent contributor to ESPNBoston.com. Follow him on Twitter @jack_mccluskey.
March, 9, 2014
3/09/14
8:16
PM ET
By
Jack McCluskey
| ESPNBoston.com
It's Championship Week in college hoops, with conference tournaments either underway already or just about to start, which means bragging rights and automatic NCAA berths are on the line.
Here's where the seven Division I schools that call Massachusetts home stand heading into the postseason:

Team:
Boston College (8-23, 4-13 ACC)
Tournament dates:
Wednesday-Friday, Greensboro, N.C.
The skinny:
The Eagles finished a disappointing 2013-14 season with a 78-68 loss at NC State on Sunday and will have a couple of days to rest up and prepare for the ACC tournament. Steve Donahue's team has been maddeningly inconsistent this season, alternating stretches of disciplined, dangerous play with haphazard, harmless play. But if BC is on from long range, it has proven it can beat more talented teams (ahem, Syracuse).
The Eagles will face Georgia Tech (15-16, 6-12) in the first round on Wednesday (7 p.m. ET). The Yellow Jackets swept the Eagles in two games this season.

Team:
Boston University (24-9, 15-3 Patriot League)
Tournament dates:
March 3-12, various (higher seed hosts)
The skinny:
The Terriers were a unanimous pick to finish first in the Patriot League in their inaugural season in it. So far, they've proven that prescient. Joe Jones' crew won the regular-season title, finishing two games ahead of second-place American (19-12, 13-5), and cruised through the first two rounds of the Patriot tournament.
Now it comes down to a winner-take-all, No. 1 vs. No. 2 matchup when American visits BU for the championship game at Agganis Arena on Wednesday (7:30 p.m. CBSSN).

Team:
Harvard (26-4, 13-1 Ivy League)
Tournament dates:
NA
The skinny:
Though dyed-in-the-wool fans of the Ancient Eight will maintain that the Ivy is a 14-game tournament, if given truth serum even the hardest-dying of die-hards would admit that they wish their favorite teams weren't sitting at home while all across the country other teams play for a postseason berth. By virtue of its at times dominant regular season, Harvard became the first team to punch a ticket for the NCAA tournament when it beat Yale this past Friday night.
The Crimson set program records for most Ivy wins overall (13) and Ivy road wins (7) and matched the program record for wins in a season (26). Tommy Amaker & Co. can now rest, recuperate and prepare for postseason play as they wait to see who and where they'll play.

Team:
Holy Cross (19-13, 12-6 Patriot League)
Tournament dates:
March 3-12, various (higher seed hosts)
The skinny:
The Crusaders quietly had a quality season, finishing third in the Patriot League behind senior
Dave Dudzinski
(averaged a career-high 15.4 points per game) and junior
Malcolm Miller
(10.8 PPG, 5.7 RPG). Five of Holy Cross' six conference losses came against the two finalists for the league crown, American and BU. The last loss will hurt the most, though, as the Crusaders held a second-half lead on the Eagles in the Patriot semifinals but couldn't put the game away for a shot at the Terriers in the final.

Team:
Northeastern (11-21, 7-9 Colonial Athletic Association)
Tournament dates:
March 7-10, Baltimore, Md.
The skinny:
After a surprise run to the first CAA regular-season title in program history in 2012-13, Bill Coen knew this season's edition of the Huskies would face a tall task: replacing senior stalwarts Jonathan Lee and Joel Smith. It's safe to say that Northeastern was unable to do so without missing a beat. Though junior forward
Scott Eatherton
was a beast all season long, finishing second in the country with 18 double-doubles in 30 games (ahead of such luminaries as
Julius Randle
and
Jabari Parker
), he couldn't do it alone.
That said, the 5-seed Huskies were able to knock off 4-seed Drexel in the CAA quarterfinals before falling to 1-seed Delaware in the semifinals on Sunday.

Team:
UMass (23-7, 10-6 Atlantic 10)
Tournament dates:
Wednesday-Saturday, Brooklyn, N.Y.
The skinny:
The Minutemen dropped their season finale at home to No. 17 Saint Louis, coming down to the wire and, despite a last-second heave that had a chance, falling just short 64-62. But coach Derek Kellogg and a deep team led by point guard
Chaz Williams
(7.1 assists per game, third in the country) had UMass in the Top 25 for the first time in a long time this season, and the Minutemen finished the regular season ranked 12th in RPI. A win or two in the A-10 tourney would certainly help with seeding, but the Minutemen should be dancing regardless.
Team:
UMass-Lowell (10-18, 8-8 America East)
Tournament dates:
March 8-15, Albany, N.Y.
The skinny:
After starting the season 0-7 and 1-11 in their first season in Division I, the River Hawks found their stride (helped by the unexpected return of Antonio Bivins) and went 9-7 the rest of the way to finish fifth in America East. As part of their transition the River Hawks are ineligible for postseason play until 2017-18, so they'll be watching like everyone else as teams such as Stony Brook and Vermont battle it out for a Big Dance invite.
Jack McCluskey is an editor for ESPN.com and a frequent contributor to ESPNBoston.com. Follow him on Twitter @jack_mccluskey.
November, 21, 2013
11/21/13
10:32
PM ET
Here are five quick thoughts from
No. 18 Connecticut's 72-70 win over Boston College
on Thursday evening at Madison Square Garden:
X factor:
When people talk about UConn, they usually start with the talented backcourt of
Shabazz Napier
and
Ryan Boatright
. But
DeAndre Daniels
is the player who can turn this team from good into great.
The 6-foot-9, 195-pound junior scored just 19 points in the Huskies' first three games, including a goose egg against Yale. But in the team's past two games, he's exploded for 24 against Boston University and 23 versus Boston College.
Daniels is a matchup nightmare -- he can shoot the 3 or take it to the rim and has some crafty moves in the paint. If he turns into a reliable offensive threat, watch out.


The other end:
Napier and Boatright didn't have great games offensively. Napier did score 20 but shot just 6-for-17 from the field with only two assists; Boatright scored nine. But they did an excellent job on defense, blanketing Boston College star guard
Olivier Hanlan
.
Hanlan, last year's ACC Rookie of the Year, came in averaging 24.5 points per game and went off for 38 in BC's last game, a win over Florida Atlantic. But Napier and Boatright shadowed Hanlan everywhere he went Thursday night.
Hanlan still managed to score 19 points, but he had to work awfully hard to get them.
Contenders:
We're only five games into the season, but we've seen enough to say this Connecticut team is capable of making a run to the Final Four.
Four different players are capable of scoring 20-plus on any given night -- sophomore guard
Omar Calhoun
has that potential, too. They have capable, if somewhat raw, bigs. And they have experience, despite being ineligible for the postseason last year.
Speaking of Hanlan:
Yes, he finished under his scoring average. But he was impressive nonetheless.
The best part about Hanlan's night was he didn't force the issue. Most big-time scorers would feel the need to hoist up shots regardless of the defense. Hanlan played under control (5-for-14 from the field, 7-for-8 from the foul line), scoring when he could and trying to create for teammates when he couldn't.
Many teams BC will face this season won't have guards as quick as Napier and Boatright. Hanlan will have plenty of big games.
Eagles forecast:
Boston College did a very nice job hanging around against a more talented opponent. The Eagles could have wilted twice -- when they fell behind by 11 in the first half and when they again fell behind by 11 in the second half. But they bounced back both times to remain within striking distance.
They even had a 3-point shot attempt from near midcourt at the final buzzer that would have won the game, but Boatright blocked Lonnie Jackson's attempt.
On a hot shooting night, Boston College could beat just about any team in the country. But the Eagles shot just 8-for-25 from beyond the arc Thursday night. That wasn't quite good enough to take out UConn.