Boston Colleges:

NFL Draft
May, 10, 2014
May 10
3:28
PM ET
By
Jack McCluskey
| ESPNBoston.com
Andre Williams
had a feeling Friday night, and on Saturday it turned out to be true.
After former Boston College teammate and current
New York Giants
linebacker Mark Herzlich tweeted the following Friday night:
Looking for my boy @drewill44 and friend by association @derekcarrqb @carrto go tonight. And thanks to @fedex for pre draft meet & greet

— Mark Herzlich (@MarkHerzlich) May 9, 2014
Williams responded with a tweet of his own:
@MarkHerzlich part of me feels like this is am omen Herz.

— Andre Williams (@drewill44) May 10, 2014
And when the Giants and former BC coach Tom Coughlin
selected Williams with the 13th pick in the fourth round
(No. 113 overall), the feeling came full circle.
Williams shattered BC rushing records as a senior, finishing with 355 attempts for 2,177 yards (both first in the nation) and 18 touchdowns. The 6-foot, 227-pound back will bolster the Giants' backfield and perhaps provide pass protection for quarterback Eli Manning.
The Schnecksville, Pa., native was pumped about the prospect.
Proud to be a Giant! GMEN all day! Woot!

— Andre Williams (@drewill44) May 10, 2014
Just a few minutes later, another former Eagles star heard his name called when the defending champion
Seattle Seahawks
selected linebacker
Kevin Pierre-Louis
with the 32nd pick in the fourth round (No. 132 overall).
A speedy 6-1, 225-pounder from Norwalk, Conn., Pierre-Louis will look to break into coach Pete Carroll's vaunted defense.
"Have the great opportunity to be a Seattle Seahawks!" Pierre-Louis
wrote in a post on Instagram
. "I can't wait to go to work and be apart of such a great defense!"
Jack McCluskey is an editor for ESPN.com and a frequent contributor to ESPNBoston.com. Follow him on Twitter @jack_mccluskey.
May, 8, 2014
May 8
11:26
AM ET
When Leominster native
Rob Blanchflower
was 11 years old, he wrote a letter as part of a middle school project to West Point, where decades ago his uncle Tom Cafaro had set the nation's all-time points record in lacrosse. Six years later, in 2009, they were one of two Division 1 schools, along with Holy Cross, to offer the St. John's High tight end a full scholarship.
Blanchflower turned down both, instead taking out a $15,000 student loan and accepting a partial scholarship to UMass, at the time an FCS program. Four years later, he's ranked the 16th-best tight end by ESPN, a potential third-day pick looking to chip away at his college debt.
"My parents thought I was crazy. I turned down two of the best schools in the country, both gave me full rides," he reflected. "But it ended up working out. It is what it is."
A year ago at this time, Blanchflower's name was rising up the ranks of watch lists, with scouts routinely checking in. Since then, however, staying on the field has been difficult.
During the preseason, Blanchflower was told he had a fracture in his pelvis. Turns out, it was actually a bilateral sports hernia. Blanchflower suited up for the first time on Sept. 21 against Vanderbilt, and appeared in only five games the rest of the way.
Playing through pain was excruciating enough that Blanchflower rarely practiced during the week, limited typically to biking or swimming to keep his conditioning up. Days after games, he said, he'd lay in bed all day from the pain, with friends delivering food for him. It showed on the field, where he often felt winded, and "had more dropped balls than I ever have in my entire career -- Pop Warner up through my entire life."
[+] Enlarge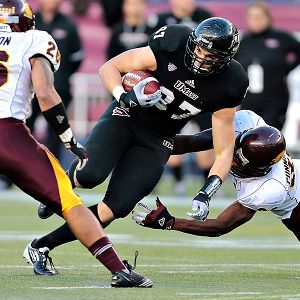 Fred Kfoury/Icon SMIRob Blanchflower played through the pain of a bilateral sports hernia last season, but managed to finish second on the Minutemen in receiving (27 catches, 333 yards, 3 TD).
Still, Blanchflower finished second on the Minutemen in receiving (27 catches, 333 yards, 3 TDs) and received invites to the coveted Senior Bowl in January as well as the NFL Combine in February. Due to his injury, he had to sit out both events, as well as UMass' pro day on March 25 -- though two dozen scouts still showed up to interview and measure.
Blanchflower held a private workout on the UMass campus on April 23, his first action since November, and says he's felt as good as he has in a long time. Around 20 NFL scouts watched him run over a dozen routes from each side of the field, and he says he didn't have one drop.
"I tell my dad, I feel like a golden retriever with a tennis ball when you put a football near me," he laughed. "That's all I wanna do is run out there and catch the ball. It was good just to be out there and show my skills and play catch, so that was all good."
When Blanchflower arrived at his hotel in Indianapolis for the NFL Combine, he was greeted to a pleasant surprise. Cal tight end
Richard Rodgers
, his former high school teammate at St. John's, was his roommate. The two hadn't seen each other in nearly two years.
Together the two led the Pioneers to state championships in both football and basketball, kick-starting the school through one of its most dominant eras in athletics. In a way, though, the two couldn't be more different.
Rodgers was a golden boy coming out of high school, a three-star prospect ranked No. 3 overall in Massachusetts by ESPN, blessed with natural gifts that seemingly come once a generation in Worcester. At Cal he followed the footsteps of his father, Richard Sr., a three-time special-teams captain who famously handled two of the five laterals in "The Play," -- the chaotic kick return in the final seconds of the 1982 Cal-Stanford game considered one of the most famous plays in the history of college football.
Having previously ballooned to 275 pounds under Jeff Tedford, Rodgers slimmed down to 257 in Sonny Dykes' new spread-oriented regime last fall, moving to wide receiver and ranking third for the Bears in catches (39) and yards (608). ESPN currently ranks him as the 12th-best tight end.
"It's a lot of weight, but I can carry it well," Rodgers told reporters at the combine. "I'm as capable at 275 as 260. Whatever weight they want me at, that's what I can do."
Blanchflower, who is listed at 6-foot-4 and 256 pounds, is in a similar mold to another local tight end prospect, Dartmouth native
Arthur Lynch
, the draft class' 11th-ranked tight end out of the University of Georgia. In an era where "move" tight ends are in vogue, Lynch is a throwback to a more traditional prototype.
"I've had to block the best players in the country for four years. There isn't a tight end in the SEC who's done that, and I'll continue to do that at the next level," Lynch told reporters at February's combine. "I can block the power, I can block the lead, I can go down the seam and catch the ball, I can do intermediate routes. My film as a collective whole has a body of work that's much different than anyone else in this draft from a tight end standpoint."
Having four locals potentially drafted is a rarity for Massachusetts, a state that on average produces just 10 to 15 Division 1 FBS signees a year. Even rarer, perhaps, is that three come from the long-overlooked Central Massachusetts region, with Worcester-bred linebacker
Yawin Smallwood
of UConn ranked as the sixth-best inside linebacker prospect. The region has produced a number of Pro Bowlers over the years, from Joe Morris (Ayer) to Howie Long (Milford) to Jerry Azumah (Worcester).
"We always talk about it, just a blue-collar, tough area, guys growing up the right way in my opinion," Blanchflower said. "The things we experienced, I learned, is not common to other areas of the country. Guys from Texas, Florida, California, Jersey, Pennsylvania, I feel like people from there don't experience the same kinds of things people from Central Massachusetts experience."
And this weekend, home is where he'll be. While others are getting dressed to the nines for a night out in mid-town Manhattan, or huddling around the television screen, Blanchflower will be out fishing with his father at one of their favorite spots, Round Meadow Pond, in neighboring Westminster.
"I'm not gonna waste any anxiety sitting around watching every pick of the draft," he said. "I'm going to be with my family. Whatever happens happens, I have no control over it."
April, 27, 2013
4/27/13
4:42
PM ET
By
Jack McCluskey
| ESPNBoston.com
And on the 2013 NFL draft's third day, Harvard tight end
Kyle Juszczyk
finally heard his name called.
With the 33rd pick in the fourth round, the 130th pick overall, the Super Bowl champion
Baltimore Ravens
chose the Crimson H-back.
Juszczyk finished his career as Harvard's all-time leader in receptions (125), receiving yards (1,576) and touchdown catches (22) by a tight end, but will likely play more of an H-back role in the NFL.
He was ranked fourth among fullbacks, according to Scouts Inc. But he was the first player taken at the position.
Once the pick was official, Juszczyk tweeted his excitement:
Couldn't be happier to be a Baltimore Raven!Dream come true!Now it's time to work!#PurpleandBlack #NFL

— Kyle Juszczyk (@JuiceCheck44) April 27, 2013
Harvard coach Tim Murphy had high praise for his former player, the fourth drafted in Murphy's tenure as head coach, in a statement Saturday.
"Guys like Kyle Juszczyk do not grow on trees," Murphy said. "He will go down as one of the great players in Harvard and Ivy Football history. His rare combination of versatility, toughness, leadership and playmaking ability was one of the major catalysts for the highest scoring offense since the Ivy League was formed in 1956."
Juszczyk is the first Harvard player drafted since Ryan Fitzpatrick in 2005, and the 18th overall.
Jack McCluskey is an editor for ESPN.com and a frequent contributor to ESPNBoston.com. Follow him on Twitter @jack_mccluskey.
February, 26, 2012
2/26/12
7:48
PM ET
INDIANAPOLIS -- Boston College linebacker
Luke Kuechly
, a projected first-round pick in this year's draft, arrived at the NFL combine with an added five pounds of weight. It was by design.
"That was one of the big things coming in, I had to prove I was a sufficient size," said Kuechly, who is up to 242 pounds after playing last season at 237. "The biggest thing is being able to move with the weight that you have. That was something I've been working on [and] I think right now, I'm comfortable where I am."
[+] Enlarge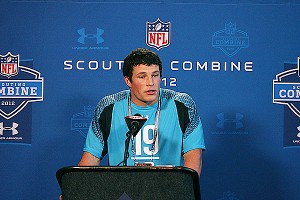 Brian Spurlock/US PresswireLuke Kuechly's draft goal: to hear his name on Day 1.
Where the 6-foot-3 Kuechly stands among his fellow inside linebackers is at the top of the class, according to many draft analysts. He's been working out in Florida to prepare for his on-field workouts at the combine, which take place Monday.
"I think that's one thing about the combine, it gives you an opportunity to show how you can move in different scenarios," he said. "There are different time drills as well as position drills led by coaches."
Kuechly, who some have labeled as one of the safest picks in the entire draft, called himself instinctual and smart on the field when asked how he'd describe himself as a player. He played in 38 games over the last three seasons for BC, with 37 starts, and totaled 532 tackles (35.5 for a loss).
"I think I do a pretty good job preparing myself, that's something I take pride in -- being prepared and knowing what each individual guy is responsible for," he said. "Knowing what everyone is doing, you can play faster [and] it allows you to be more successful."
Kuechly acknowledged that declaring for the draft after his junior season wasn't an easy decision because of his desire to finish what he started and extend an enjoyable college experience.
But he expressed excitement at entering the next phase of his football career, and what it would mean to be a first-round draft pick.
"Growing up, I've been watching the draft I don't know how long," he said. "You want to be on that first-day list when [they say] 'So and so selects, Luke Kuechly, linebacker, Boston College.' That's your goal playing in college football -- getting to that level and hearing your name on the first day."
May, 1, 2011
5/01/11
12:46
PM ET


Boston College linebacker Mark Herzlich talks on "SportsCenter" about his long wait during the NFL draft, when his name was never called. With the lockout in place, at least for now, he and other undrafted free agents are in a state of limbo.
March, 23, 2011
3/23/11
3:15
PM ET
CHESTNUT HILL, Mass. -- Boston College held its annual pro day this afternoon on campus, with players from BC and other New England schools working out in front of NFL scouts and coaches from 17 different teams. No team was represented more than the Patriots, with offensive line coach Dante Scarnecchia, director of college scouting Jon Robinson and scout Brian Smith on hand.
Scarnecchia put the offensive linemen through drills.
"He was coachuing us up. It was like a practice," said BC offensive tackle
Anthony Castonzo
, who projects to be a high-round draft pick. "It was nice, I learned some stuff today."
For Greg Niland, who grew up in East Bridgewater, Mass. and played for Northeastern and UMass, going through drills with Scarnecchia was quite the experience.
"I don't want to say it was intimidating, but it was exciting just to be coached by someone who coaches the Patriots' offensive line," Niland said.
Scarnecchia told the prospects that he would have liked to work with them longer, but they ran out of time.