Boston Colleges:

Notre Dame Fighting Irish
August, 20, 2012
8/20/12
9:00
AM ET
Charley Molnar, as Notre Dame followers can attest, is used to quarterback controversies. He faces one now in Massachusetts' fall camp, having to sit starter
Kellen Pagel
indefinitely because of post-concussion symptoms.
In that regard, Molnar's duties as UMass' head coach are similar to the ones he had in two seasons as the Irish's offensive coordinator. But in moving from college football's third-winningest program to a school beginning its first season in the Football Bowl Subdivision, Molnar has done more than leap from assistant to head coach, as he has taken on the task of building the foundation for a program looking to make its mark both in New England and at the next level.
"I think if there were two situations that were diametrically opposed it would be Notre Dame and UMass," Molnar said. "Because Notre Dame, everything is already in place: The infrastructure is there, the fan base is there, the ticket sales are there, the tradition is there.
"[Now] I'm taking over a program where virtually everything has started from scratch -- with the transition to I-A, we're moving into a new football building, we're playing our games at a new stadium," he added, referring to the Patriots' Gillette Stadium in Foxborough, two hours away from campus. "We virtually have to create almost a whole new fan base and a whole new group of season-ticket-holders. So that is really, really quite a gap that we have in front of us. But it's super-exciting to be involved in everything from the ground up."
[+] Enlarge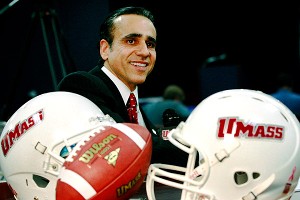 AP Photo/Elise AmendolaNew coach Charley Molnar hopes his UMass program can grow in the mold of Boise State.
Busy days preparing for Notre Dame's bowl gave way to sleepless December nights selling the Minutemen as New England's future football power, as Molnar built a staff, recruited in the leadup to national signing day and met with campus and community constituencies.
"Quite frankly that's always something that intrigued me to do this part of the job," Molnar said of his new CEO-type duties. "So I feel I was absolutely ready for it and I've embraced it. I love that part. I'd rather do it than not do it. I just think it's a lot of fun, and I like getting engaged in the community with our fans and with the ticketholders and trying to create a new fan base. I love that challenge. It's like recruiting, going out there and tying to sell another group of tickets, get another fan that follows the program."
UMass is a football-only member of the Mid-American Conference this season. It will face Big East, SEC and Big Ten schools, including Michigan, and future nonconference opponents include Notre Dame, Wisconsin and Florida. Molnar said dates with name programs will help UMass gain recognition outside of the region, with the hope that, eventually, the Minutemen will be able to compete with and some day defeat some of the elite.
To help bridge that gap, he has welcomed a pair of fifth-year former Notre Dame players, nose guard Hafis Williams and receiver
Deion Walker
, along with former Michigan running back Michael Cox.
While classmates don't view them as blue-chip saviors -- a look commonly associated with big recruits at their former campuses -- the UMass transfers have expressed surprise at the interest building on campus.
"I had someone tell me, 'Yeah, I hear they got some new guys in from Michigan and Notre Dame,' and I was like, 'Oh yeah? I'm one of those guys,'" Walker, an ESPN 150 player in high school, recalled with a laugh. "So that's exciting, that shocked me for the most part."
On signing day, Molnar stood at a podium between blown-up pictures of UMass alumni
Victor Cruz
and
James Ihedigbo
, who squared off four days later in the Super Bowl. A Morristown, N.J., native, Molnar is hoping to compete with BCS-conference programs UConn and Boston College for area players while tapping into talent-rich New Jersey and Pennsylvania. UMass has already landed a pair of three-star 2013 commitments in Connecticut quarterback
Todd Stafford
and New Jersey linebacker
Shane Huber
.
Fundamentally, Molnar said, the job remains the same from his years as an assistant, the previous six of which were spent under Brian Kelly. Now, he just returns to a second stack of files in his office every day, with administrative duties adding to his coaching itinerary.
Though mounting paperwork and inevitable early struggles present a less-than-ideal situation, Molnar remains intrigued by the idea of planting the seeds for a rising program. After all, he said, bigger makeovers have been done.
Eight months and zero losses into his tenure, he dreams of one day becoming the biggest.
"I've looked at Boise State as being a model for our program, where they took a university that was relatively unknown," Molnar said. "They had rabid fans but not a large base of fans. And they've run that program with certain fundamentals on and off the field and they continue to do so regardless of who the head coach has been.
"And that's how I see UMass growing in the future, with a great foundation that I get to help lay, and then being able to one day look back at UMass and see the program grow and prosper and feel like this was part of my legacy."
November, 19, 2011
11/19/11
6:50
PM ET
SOUTH BEND, Ind. — Notre Dame has let Boston College hang around for longer than it has any reason to
through three quarters
. Will it come back to bite the Irish?
Tommy Rees
' erratic day finally reared its ugly head with a third-quarter interception by the Eagles' Max Holloway. Rees had several near-picks in the first half that, fortunately for him, bounced harmlessly to the ground.
The Irish start the fourth quarter from the BC 48 with a chance to score and put the Eagles away once and for all, something they have struggled to do all day long. The offense has looked stagnant, and it is not a stretch to say that the players may just be shaken up after watching senior running back
Jonas Gray
leave the game with what
looks like a serious leg injury
.
Gray hobbled back to the locker room and appeared to be on the verge of tears as several players offered their condolences. As big a loss as that may be for Notre Dame, the Irish cannot let that turn into a second loss today.
November, 19, 2011
11/19/11
6:41
PM ET
SOUTH BEND, Ind. --
Jonas Gray
took a nasty hit on his way out of bounds after a 3-yard catch, and it doesn't look promising for the senior.
Gray's leg was tended to by trainers on the sideline and he appeared to be on the verge of tears as teammates took their turns giving him hugs. Gray eventually hobbled off to the locker room.
Notre Dame
leads 13-7
in the third quarter behind Gray's 26-yard opening-drive touchdown run. The senior was unheralded entering the season but has produced at a surprising rate, scoring 12 touchdowns in his past eight games, including at least one in each game during that stretch.
Gray had 11 carries for 61 yards and two catches for 15 yards Saturday before leaving the game.
November, 19, 2011
11/19/11
5:04
PM ET
SOUTH BEND, Ind. -- Another opening drive touchdown from Notre Dame had many thinking this would be another rout early, but the Boston College defense and punt coverage unit have given the Eagles a chance to stick around so far.
Jonas Gray
added to his spectacular senior campaign by rushing for a 26-yard touchdown, his eighth straight game with a score and his 12th during that stretch. The Irish added a field goal on their second drive, but they have been pinned inside their own 10 to start their last two possessions.
Luke Kuechly and Manti Te'o have played their lead roles fittingly so far, recording six and four tackles in the first period, respectively. Kuechly added a tackle for loss as well.
The Irish defense has been the better unit thus far, however, allowing just 43 total yards of offense. Boston College's defense could do its offense a big favor by creating a turnover deep in Irish territory and taking full advantage of the field position game. Notre Dame will start from its own 17 when the second quarter begins.
November, 19, 2011
11/19/11
4:46
PM ET
SOUTH BEND, Ind. — Notre Dame will be missing a starter on each side of the ball today, as both receiver
Theo Riddick
(hamstring) and lineman Stephon Tuitt (illness) will not play.
Riddick, a junior, was in a sweatshirt and sweatpants during warm-ups and is missing his second straight game.
Robby Toma
will likely make his second straight start in Riddick's place, though it's possible senior
John Goodman
could see the field first since it's Senior Day.
The news of Tuitt comes as more of a surprise, as Notre Dame announced he would not be playing just minutes ago. Fellow freshman Aaron Lynch will start in his place, with Ethan Johnson manning the other defensive end spot.
November, 19, 2011
11/19/11
4:45
PM ET
SOUTH BEND, Ind. -- Greetings from Notre Dame Stadium, where the Irish seniors will take the field for the final time as they face Boston College in their home finale.
Most of the Notre Dame players warming up on the field now are in knit caps, long sleeves and high socks. Having not played here in three weeks, this is certainly the coldest home game anyone will have played in this season.
While Senior Days are fairly official ordeals, it is always different at Notre Dame, since there is so much uncertainty surrounding the upperclassmen. As you know, not all are invited back to complete their final year of eligibility, so we may not know if this is the last we truly see of some of them in a home uniform.
The biggest enigma among the four-year players with eligibility remaining is
Dayne Crist
, who started the last two openers only to lose his job to injury and a poor first-half performance in Week 1 this season. Crist has not spoken publicly since getting the hook, and I'm interested to see how he handles this game, whether or not he is invited back for a fifth year.
Crist is, by all accounts, a strong character guy who has handled his stretch of tough luck with grace, and I think I speak for all when I say he deserves a proper send-off today, if this truly is his final game at Notre Dame Stadium.
Don't go anywhere, as we'll have plenty of more from here throughout the afternoon.