Boston Colleges:

Arizona Wildcats
December, 18, 2013
12/18/13
9:00
AM ET
We continue
our look at each of the Pac-12's opponents
during the bowl season.
AdvoCare V100 Bowl
Shreveport, La., Dec. 31, 9:30 a.m. PT
Arizona (7-5) vs. Boston College (7-5)
Boston College Eagles

Coach
: Steve Addazio (first season)
Record
: 7-5, 4-4 ACC
Combined opponents' record
: 77-67 (.534)
Common opponents
: Boston College lost to USC 35—7 on Sept. 14. Arizona lost to USC 38-31 on Oct. 10, the first game with Ed Orgeron as the interim head coach for the Trojans.
Leading passer
:
Chase Rettig
, 147-238 (61.8 percent) for 1,804 yards with 17 touchdowns and six interceptions.
Leading rusher
:
Andre Williams
, 329 rushes, 2,102 yards with 17 touchdowns.
Leading receiver
:
Alex Amidon
, 67 catches, 903 yards with five touchdowns.
Leading tackler
:
Steele Divitto
(one of the coolest names in all of football), 107 tackles.
What to know
: Boston College enters the game in relative good health, though it is worth noting that Williams, who outdistanced Arizona's
Ka'Deem Carey
and Washington's
Bishop Sankey
for the Doak Walker Award, missed a good chunk of the season finale against Syracuse because of a shoulder injury. All indications are that he'll be ready to go for this game.
Staring at a 3-4 record, the Eagles closed out the season by winning four of their last five to become bowl eligible for the first time since 2010. They faced only two top 25 opponents this year and dropped both games, falling to Florida State and Clemson -- though they picked up a signature win by topping Virginia Tech 34-27.
Obviously, the running backs take center stage in this game. Williams leads the nation in rushing this season and Carey led the nation in rushing last year. It's not unlike last year's New Mexico Bowl, where Carey and Nevada's Stefphon Jefferson were vying for the rushing title. Unless Carey has a 600-yard game, Williams can probably feel good about retaining his title.
When Williams rushes for at least 100 yards, BC is 7-2. When he doesn't, the Eagles are 0-3. It seems pretty clear what the key matchup is for the Arizona defense.
Key matchup
: But what about the other side of the ball? Arizona is 6-5 when Carey rushes for at least 100 yards, as he rushed for 100 or more yards in every game he played this season (he missed the opening-week win over Northern Arizona). Boston College's rush defense is fairly sturdy. It allows 152.8 rushing yards per game -- which is 50th in the country -- and they have only allowed 16 touchdowns on the ground. Linebacker
Kevin Pierre-Louis
isn't far behind Divitto with 104 tackles, and defensive end
Kasim Edebali
has 15 tackles for a loss on the year to go with 9.5 sacks.
March, 23, 2013
3/23/13
10:44
PM ET
SALT LAKE CITY --
Mark Lyons
has been to the Sweet 16 before. But earning another trip, with his new team, felt different Saturday -- maybe even a bit more special -- because of the position he plays.
"I'm the point guard now," the Arizona senior (and former guard at Xavier) said after he tied his career high with 27 points to help beat Harvard
74-51
. "Last year I was playing off the ball with a great point guard, and I learned from him. And now, I'm back … we're back."
The 6-foot-1 playmaker made sure the Wildcats were back -- and on to Los Angeles for the West Regional semifinal -- by pumping up his defense as well as making 12 of 17 field goals.
[+] Enlarge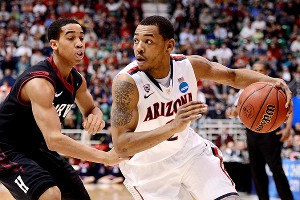 Harry How/Getty ImagesMark Lyons and Arizona used a quick start to put away Harvard early on Saturday.
Lyons and the Wildcats controlled the game from the get-go. While the 14
th
-seeded Crimson missed shot after shot -- their first 13, to be exact -- sixth-seeded Arizona built a 17-2 lead. Lyons had seven points before Harvard freshman point guard
Siyani Chambers
finally buried the Crimson's first field goal, a 3, with 12:16 left in the first half. But the Wildcats led by as many as 22 before taking a 40-22 halftime lead.
"I think in order for us to make this a magical moment for our team and program -- which we have been able to do at other points in this season -- you've got to get off to a good start against a team like that," said Harvard coach Tommy Amaker, whose team shot just 27.6 percent against the taller, more aggressive, more confident-looking Wildcats. "We had our chances. We had some open opportunities early, and once we missed some we kind of got our heads down and they took advantage of it."
Indeed, even when Harvard tried to chip back -- and Chambers got a chipped tooth in the process -- Lyons was there, doing what a point guard does: leading.
When a Chambers 3 cut the deficit to 44-30 with 17:22 to go, Lyons made a layup.
And when two free throws by Harvard's
Wesley Saunders
cut it to 16 with 13:16 left? Lyons scored on another drive.
Harvard never really threatened, but key for the Wildcats was that they never allowed it.
"When we got the lead, Coach [Sean Miller] said, 'Don't let up. Don't start walking the ball up,' because we have a tendency to let up," Lyons said.
Not this time.
Lyons also finished with three assists, two turnovers, a steal and a rebound. According to ESPN Stats & Information, he now will become the first player ever to compete in the Sweet 16 in back-to-back years with different teams. He also played on two Xavier squads that reached the Sweet 16, and practiced with another when he was a partial qualifier as a freshman.
"I think it's remarkable, really," Miller said. "It shows you how talented he is, and it also shows you the bigger the game, [it] can really bring out the best in him."
Lyons, who averaged about 15 points during the regular season, is now averaging 25 points in this year's NCAA tournament. And he thinks the best is yet to come.
"You know, it's a great feeling," Lyons said. "I'm playing for my original coach who recruited me, playing with a bunch of guys who believe in me and got faith in me. We've been coming together as a team. It's great to be back in the Sweet 16 and trying to advance."
March, 23, 2013
3/23/13
8:18
PM ET
SALT LAKE CITY -- It wasn't just about Arizona being bigger. The Wildcats, led by point guard
Mark Lyons
, also were flat-out better. Aggressive, accurate and defensive-minded from the beginning, sixth-seeded Arizona ended 14th-seeded Harvard's short-lived Cinderella run,
74-51, to advance to the Sweet 16
.

A quick look at the victory:
Turning point:
A true turning point never came, because Arizona controlled this one from the get-go. While the Crimson missed shot after shot -- its first 13, to be exact -- the Wildcats built a 17-2 lead. Freshman point guard
Siyani Chambers
finally buried Harvard's first field goal, a 3, with 12:16 left in the first half, but Arizona led by as many as 22 before taking a 40-22 lead into halftime.
Players of the game:
Lyons finished with a season-high 27 points on 12-for-17 shooting, and forward
Solomon Hill
added 13.
Chambers, who lost part of a tooth early in the second half when he caught an inadvertent elbow from Wildcat
Kevin Parrom
, finished with six points on 2-for-8 shooting. Forward
Kenyatta Smith
led Harvard with 10 points.
Stat of the game:
Arizona held Belmont to 39.2 percent shooting on Thursday. This time around, it held Harvard to 27.6 percent.
Next up:
Arizona advances to play either No. 10 Iowa State or No. 2 Ohio State in the West region semifinals.
March, 22, 2013
3/22/13
9:45
PM ET
SALT LAKE CITY -- When
Siyani Chambers
chose Harvard, he hoped to be the Crimson's starting point guard ... someday.
He dreamed of leading his team on an NCAA tournament run ... someday.
The fact that someday is today?
"Amazing," the 6-foot Ivy League rookie of the year said Friday, less than 24 hours after 14th-seeded Harvard knocked off No. 3 New Mexico for the program's first NCAA tournament victory.
That word could describe his development, too.
[+] Enlarge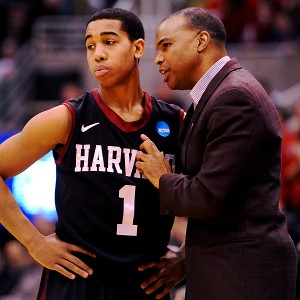 Steve Dykes/USA TODAY SportsThrown into Harvard coach Tommy Amaker's starting lineup as a freshman, Siyani Chambers has thrived.
"He's the leader on our team," said senior guard
Christian Webster
, whose team will face sixth-seeded Arizona on Saturday for the right to advance to the Sweet 16. "
Laurent [Rivard]
and I are the captains, but he's the leader. He drove this team."
It's a role the 19-year-old ball handler never expected, at least not this soon, when he arrived on Harvard's campus less than a year ago. First recruited by Crimson coach Tommy Amaker when he was in the eighth grade, Chambers decided pretty quickly that he wanted to play for the former Duke guard because of what he could learn.
But Chambers also thought he would have some time to be a pupil, while playing behind Brandyn Curry, a Cousy award candidate last season. That is, until September, when Curry and fellow senior Kyle Casey withdrew from Harvard following an academic scandal.
When the freshman heard the news, his head spun. "I was definitely nervous -- very, very nervous," Chambers said. "All of a sudden, it's your first year, you're coming in trying to learn the whole process about everything: playing, dealing with school and basketball."
To persevere, he said, he leaned on his teammates -- and they leaned back, looking for the vocal freshman to glue together a team whose chances of winning the Ivy League all of a sudden seemed precarious, at best.
But Minnesota's Mr. Basketball exceeded expectations probably because he had no other choice, gaining confidence (and his team's confidence in him) by becoming a steady assist man and scorer early; he even hit the game-winning basket with four seconds left against Boston University on Dec. 11.
"He's a special kid, and certainly he plays basketball in a special way, and I think you get excited when you watch him play," Amaker said. "I know when we recruited him, we wanted him to play in that manner; sometimes I thought he held himself back a little bit, and I told him if you ever come to play for us ... we want you to be dazzling because you're capable of it."
His season stats -- 12.6 points and 5.8 assists per game -- were dazzling enough to make him the first freshman named first-team All-Ivy League.
But the way he melded his team dazzled, too. Sophomore
Wesley Saunders
emerged as a go-to scorer (16.5 PPG). Rivard became a scary outside threat (five 3s against the Lobos on Thursday).
Kenyatta Smith
and
Steve Moundou-Missi
improved in the post. Harvard finished the regular season 19-9, winning the Ivy League.
So maybe it was fitting that as the seconds ticked down on Harvard's historic upset Thursday, Chambers was the one with the ball in his hands, grinning and carefully watching the clock. That moment is a feat the Crimson hope to repeat against another bigger, more heralded team Saturday.
And one Chambers never imagined when he thought about his goals a year ago.
"I just wanted to come in and learn as much as possible, so when it was my time I could step in and be able to contribute to the game," he said, remembering. "... When I first decided to come here, I did not think this is what I would be stepping into.
"But I'm glad I came here, and I'm glad this happened."
Now.
SALT LAKE CITY NEWS AND NOTES
SAFETY FIRST:
One teammate compared Wichita State sophomore
Tekele Cotton
to a strong safety. Shockers coach Gregg Marshall? He thinks the guard is more like a free safety.
Whatever the football analogy, you get the picture: The 6-2, 202-pound athlete is hard-nosed, hard-bodied and hard-focused on making stops. And if he can stymie a certain Gonzaga player like he did Pittsburgh guard
Tray Woodall
on Thursday (the senior was brought to tears after his 1-for-12, two-point performance), Cotton knows his team has a better chance to upset the No. 1 team in the country.
"I look forward to being that guy, to chase around their player like I did yesterday," said Cotton, who is also averaging 6.3 points and 3.9 rebounds per game this season. "So I look forward to chasing around
Kevin Pangos
. I have no problem with it; I enjoy it."
Pangos, the Zags' standout sophomore guard, is averaging 11.6 points per game this season and scored the final five points in top-seeded Gonzaga's six-point survival against 16th-seeded Southern on Thursday. He said the key to competing with a physical team such as the ninth-seeded Shockers is to be physical right back.
"We don't shy away from that; our team is tough," Pangos said. "We don't back down from that at all."
This should be an interesting matchup. The Shockers held Pitt to 35.2 percent shooting from the field -- and just 5.9 percent on 3-pointers. The Zags are third in the nation in field-goal percentage, making 50.4 percent of their shots.
NO ALARM HERE
: Zags coach Mark Few wasn't particularly rattled that the game against Southern went down to the wire; a win is a win is a win right now.
"At this point of the year, I don't think we need to worry about aesthetics or, you know, differences," he said. "I know it's cliché, 'survive and advance,' but there really is no other alternative. We're not getting style points and we're not getting graded -- you know, you either win or your season is over."
QUOTE-WORTHY:
"We know we're in for a fight, especially the confidence that they have. When you win a game like that, it doesn't just all of a sudden leave you; many times it carries through for the rest of the weekend. For us, it's not about being consumed with Harvard, as much as it is about being consumed with ourselves, making sure we're ready to go." -- Arizona coach Sean Miller