Boston Colleges:

Boston College hockey
March, 23, 2012
3/23/12
9:06
AM ET
The NCAA hockey tournament begins Friday night and UMass-Lowell is the lone local school in action, taking on Miami in Bridgeport, Conn. (ESPNU/ESPN3, 6:30 p.m. ET). You can watch the game online on ESPN (
click here
).
Boston College, BU and Maine all get started tomorrow with BC and Maine playing in Worcester in the Northeast Regional and BU playing in St. Paul, Minn. in the West Regional. Here's the schedule:
Saturday
-- BC-Air Force, 4 p.m. ET (ESPNU/ESPN3) --
Watch on ESPN3
-- Maine-Minnesota Duluth, 7:30 p.m. ET (ESPN3) --
Watch on ESPN3
-- BU-Minnesota, 5 p.m. ET (ESPN3) --
Watch on ESPN3
-- East Regional finals (6:30 p.m. ET, ESPNU/ESPN3): Union/Michigan State winner vs. Miami/UMass-Lowell winner
Sunday
-- Northeast Regional finals: Boston College/Air Force winner vs. Minnesota-Duluth/Maine winner (ESPNU/ESPN3, 8 p.m.)
-- West Regional finals: Minnesota/Boston U. winner vs. Western Michigan/North Dakota winner (ESPNU/ESPN3, 5:30 p.m.)
January, 14, 2012
1/14/12
8:24
PM ET
BOSTON -- It wasn't as majestic as a David Ortiz walkoff, but at least Boxford's Chris Kreider was there, in person, to experience a game-winner at Fenway Park for once.

No. 4 Boston College took a 2-1 win over Northeastern Saturday in the Frozen Fenway event at Fenway Park with Kreider notching the game-winning goal. It wasn't Papi off Rivera in extras, ball streaking into the night sky, Kreider's was what you would a call a dirty goal.

But postgame, the Philips Andover product and Boxford native talked about his sister's one-time insistence on leaving the ballpark early and erasing a bad memory.

"One thing I can remember, it was the year David Ortiz had all those walkoffs and my sister said she wanted to leave the game early," Kreider said of one night spent with the family at the ballpark. "Of course, he hit another one and we missed it. My grandfather said he'd never go to another game with us because he kept missing the end of those games."

Kreider tallied the game-winner at 4:02 of the third period, crashing the net on the penalty kill. The puck trickled across the goal line before Kreider took Huskies netminder Chris Rawlings with him into back of the net, pulling it from its moorings.

The junior wasn't the only BC (14-8-1, 10-5-1) skater with local ties to make an impact on the Eagles' third win over the Huskies (8-9-3, 4-9-2) this season.

BC senior goaltender Chris Venti a Needham, Mass. native and BB&N graduate made his first career start for the Eagles. He made 14 saves to collect his first career win.

Venti got the nod in nets following the Eagles' drubbing (4-0 L) at the hands of UMass-Amherst. Eagles head coach Jerry York pressed Venti into mop-up duty last night and decided to "roll the dice" with the local kid at Fenway.

"I grew up only 15 minutes away from here, so coming to Red Sox games all the time with my family, and just knowing the culture of the Sox, it's a special building to play in," Venti said. "Honestly, even more special is getting my first start at Boston College and being a playing part of this game. It was a very special night for me that I'll remember."

BC held a 13-3 shot advantage and controlled play throughout the first period. But the Eagles' two highest quality chances came on shots not placed on goal. The largely uneventful first was interrupted by two resounding pings off the post by Kreider and Kevin Hayes, both on chances coming inside the slot.

Danny Mullane had the Eagles to a 1-0 lead 4:55 into the second. Steven Whitney held up Rawlings (28 saves) behind the net just enough to sneak the puck away, and fed it out front to Mullane with a gaping net in front of him. Despite the backcheck of Huskies forward Robbie Vrolyk, Mullane was able to deposit the puck into the net before Vrolyk went crashing into the cage, himself.

Northeastern knotted the game, 1-1, with 3:41 remaining in the second with Garrett Vermeersch charging to the front of the net after an offensive zone faceoff win. After nudging the puck over to Ludwig Karlsson, Vermeersch was able to net the rebound off a back-hander.

January, 4, 2012
1/04/12
2:07
PM ET
The Red Sox and Fenway Sports Management (FSM) today announced Wednesday that game times for the January 14 hockey doubleheader -- Catholic Memorial-Boston College High School and Northeastern-BC -- have been moved to earlier start times of 1:00 p.m. and 4:00 p.m. The games were originally scheduled to start at 3:00 p.m. and 6:00 p.m.

The change was made after the announcement from the NFL that the Patriots will host a Divisional Playoff game at 8:00 p.m. on January 14 at Gillette Stadium.

"In addition to paying proper respect to the New England Patriots, this change will allow existing ticket holders for the January 14th hockey doubleheader to attend the games at Fenway Park while still having enough time to head home to root on the Patriots," said Red Sox Executive Vice President/COO Sam Kennedy. "We always make an effort to ensure fans are able to enjoy as many of their favorite sports teams as possible, and hope the vast majority will appreciate this change so they can enjoy both a hockey doubleheader and the Patriots playoff game."

Gates for the doubleheader will now open at 12:00 p.m.

October, 11, 2011
10/11/11
9:52
AM ET
Boston College men's hockey has climbed to No. 1 in both major college hockey polls -- USCHO.com and USA Today/USA Hockey Magazine -- released on Monday. BC opened its 2011-12 season with wins over Michigan State and third-ranked North Dakota in the Ice Breaker Invitational in North Dakota.

The Eagles will host Denver, which is ranked No. 3 in both polls, on Friday and travel to New Hampshire on Saturday for the their Hockey East opener.

September, 28, 2011
9/28/11
4:35
PM ET
By
Brion O'Connor, special to ESPNBoston.com
It probably took Boston College coach Jerry York and his staff a while to recover from last spring's 1-2 knockout punch, when they were dismantled by Colorado College in the opening round of the NCAA tournament, 8-4, and then immediately lost junior snipers Cam Atkinson and Jimmy Hayes to the professional ranks. However, York's Hockey East counterparts obviously believe the talent-rich Eagles will rebound just fine, as they voted Boston College No. 1 in the league's preseason coaches poll.

The Eagles edged their cross-town rivals, the Boston University Terriers, earning seven first-place votes and 88 points. The Terriers were the only other team to crack the 80-point plateau, garnering 83 points and three first-place votes. New Hampshire (72 points), Maine (64 points) and Merrimack (61 points) rounded out the Top Five. The Eagles were also the highest ranked team from the Northeast in the major national polls, tabbed 5th in both the USCHO.com and the USA Today/USA Hockey Magazine polls released earlier this week.

Boston College went 30-8-1 last season, en route to capturing the Hockey East regular season and tournament titles. This year, the Eagles open against Michigan State in the Icebreaker Tournament next weekend without their top three scorers -- Atkinson, senior Brian Gibbons, and Hayes -- and a four-year starter in goal, John Muse.

"We still have a really good nucleus," said York at the league's Media Day on Tuesday. "Now the question is, Who steps up to take Cam's spot, Gibbon's spot, (captain) Joe Whitney's spot? We've got a lot of candidates who can do that, but that's what the season will show us. Can Parker Milner step in and solidify the goaltending, with Johnny Muse leaving? We're looking at four years ago, when John Muse stepped in to replace (Vancouver Canuck) Cory Schneider. I like the mix of our club, and there's a chance for it to be a very, very good hockey team."

Milner, a junior, could be key to anchoring a defense that was the best in the league last year (2.41 goals against). He split time with Muse two year's ago during BC's national championship season, when Muse was coming off hip surgery, but saw his minutes drop last campaign.

"Parker had a great experience his freshman year, he played really well," said BC captain Tommy Cross. "Last year, I don't think his stats spoke to how really well he did play. He's a guy we know we can rely on."

York put Cross, a solid four-year blueliner despite past knee woes, in the same category, along with Brian Dumoulin, a Hockey East first-team defender as a sophomore last season. "On defense, Tommy Cross is finally healthy, and he has a chance to become a really top-end player for us" said the BC coach.

Up front, BC fans can also expect improved production from a talented group that includes Pat Mullane (8-21-29), Colorado Avalanche draftee Paul Carey (13-13-26), Rangers first-round pick Chris Kreider (11-13-24), Calgary Flames draftee Bill Arnold (10-10-20) and Steven Whitney (6-10-16). Clearly, that's what the Hockey East coaches were thinking when they tabbed the Eagles as the team to beat.

As for the Colorado College debacle last March, Cross said the Eagles are using it as motivation. "Any time its single elimination, you can't afford to have a bad period, or two bad periods. So we'll take that mentality into the whole season," said the Bruins draft choice. "Even though a game in October isn't single elimination, I think that mentality can get you ready for the playoffs."

Brion O'Connor is a frequent college hockey contributor for ESPNBoston.com

March, 24, 2011
3/24/11
12:56
PM ET
By
Brion O'Connor
| ESPNBoston.com
From here, the math gets real simple. In the NCAA hockey tournament, losers go home. Win two, and you're in the Frozen Four. Win four, and you're national champions.
It's a feat the Boston College Eagles have pulled off in two of the past three years, winning national crowns in 2008 and 2010. Last year, the Eagles used the Northeast Regional in Worcester, Mass., as a springboard to the school's third national crown since the turn of the century.
This year, the road to BC's title defense is a bit more circuitous, running through the West Regional in St. Louis, where the Eagles are the No. 1 seed and will take on 4th-seed Colorado College on Friday night at the Scottrade Center (9 p.m. ET on ESPN3).
It is a professional arena, but also one with unsettling memories for BC hockey coach Jerry York and his staff, as their Eagles lost to Michigan State, 3-1, in the 2007 NCAA championship game.
"If I can use a golf analogy, during the season we play difficult courses," said York. "We've been out to play two of the NCAA participants, two games at Denver and a game at Notre Dame. So we try to make the course as difficult as we can during the year, and now we get to the nationals, and they tell us, 'OK, Jerry, move to the back, back tees,' and we play a little more difficult schedule from here.
"We anticipate that," he said. "Every year, teams ramp up when you get to these Regionals."
Merrimack coach Mark Dennehy agreed: "There isn't a soft opponent left."
Dennehy's Warriors and a third Hockey East squad, New Hampshire, are both playing close to home in the Northeast Regional in Manchester, N.H. The Eagles, however, were sent packing, despite their lofty No. 2 national ranking and No. 1 regional seed.
"It's hard, guys," York told reporters during a conference call this week. "I've been at this a long time, and I'd like to win a lot more, but it's difficult.
"But we're excited, and I think our kids are focused. But I don't underestimate any of the other teams. These are difficult environments to play in, and difficult teams to play against."
This is Boston College's 30th NCAA Tournament appearance, including its 12th under York.
No. 1 Boston College (30-7-1) vs. No. 4 Colorado College (22-18-3), 9 p.m. (ET) Friday, Scottrade Center, St. Louis, Mo.
Last Saturday night, after winning his fourth Hockey East crown in five years, BC coach Jerry York was clearly unhappy with the prospect of his No. 1-seed Eagles getting shipped to the West Regional. He said his team was effectively "held hostage" by 4th-seed New Hampshire hosting the Northeast Regionals, and NCAA rules that prevent two teams from the same league meeting in the opening round.
[+] Enlarge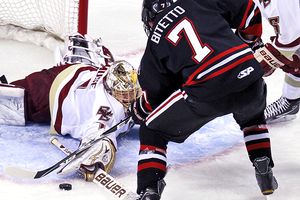 AP PhotoBC's Philip Samuelsson (right) defends as goaltender John Muse blocks a shot by Northeastern's Anthony Bitetto in the Hockey East tournament semifinal last Friday.
But by Tuesday, 48 hours after BC's ticket to St. Louis was booked, York was putting a happier face on his squad's upcoming travels.
"There are a lot of aspects to the national tournament that I really enjoy, and this is one of them," said York, gunning for his fifth national title, and fourth with his alma mater. "You get a chance to go against somebody else. We've been banging heads against Hockey East teams right down the stretch drive here, night in and night out. And now we get to play teams with different colors on."
The colors will be the black and gold of Scott Owens' Colorado College Tigers. The school is one of the smallest in Div. 1 hockey (1,960 enrollment), but its hockey team showed enormous heart in the WCHA semifinals before losing to North Dakota, 4-3.
"I'm very impressed with the speed and the creativity that the Tigers play with," said York, after watching the Tigers play the Fighting Sioux. "They had North Dakota right there in the third. Of course, North Dakota won the game, but I enjoyed watching how the Tigers play. I think they're very, very quick, very unselfish, and very creative. And those are adjectives that we like to use to describe how we play."
York said the team was buoyed by the return of skilled sophomore forward Chris Kreider, who suffered a broken jaw just three weeks ago.
"He practiced yesterday, full up, and really adds another dimension to our team," said York. "That's a welcome addition."
The Eagles also have a pair of genuine game-breakers in juniors Cam Atkinson (30-21-51) and Jimmy Hayes (20-12-32).
But the real key for BC may be the senior leadership of captain Joe Whitney, alternate captain Brian Gibbons, and goaltender John Muse, who has never lost an NCAA game. The seniors have already won three Beanpot titles, three Hockey East titles, and two national championships. And they make no bones about wanting a third.
The winner of the Boston College-Colorado College match will meet the winner of the Michigan/Nebraska-Omaha tilt on Saturday for the chance to play in St. Paul, Minn., in the Frozen Four semifinals.
No. 2 Merrimack College (25-9-4) vs. No. 3 Notre Dame (23-13-5), 7:30 p.m. Saturday, Verizon Wireless Arena, Manchester, NH
These two teams haven't met in two decades (the last coming Nov. 21, 1991; a 2-1 Notre Dame win). But when Merrimack coach Mark Dennehy looks at tapes of the Irish, he sees a lot of similarities between his No. 7 Warriors and No. 9 Notre Dame, a team that finished second in the CCHA and fourth in the league's playoffs.
"I hope this isn't a reverse compliment, but they remind me of us," said Dennehy. "Whenever I could get a copy of a Notre Dame game, of a Jeff Jackson team, and watch them play, I've tried to. I have nothing but the highest regard for coach Jackson, and what he's been able to do, both at Lake Superior State and at Notre Dame.
"I've probably stolen a lot from him," said Dennehy of Jackson, who has won two NCAA titles. "This is probably going to be a battle. They've got some big, strong players. We've got some big strong players. We have a system that we like to play, and play it with discipline, and I think they do as well. This could be a heavyweight bout."
Dennehy even referred to the legendary Vince Lombardi, saying the Northeast semifinal could be resemble the "three yards and a pile of dust" offense made famous by the great Green Bay Packer teams.
"This is not Cinderella that we're playing on Saturday," said Dennehy, employing a label that's often used to describe his own squad. "This is a team that's gearing up for a pretty good run. They're very disciplined, they have a system they stick to, and they're very well coached. They don't beat themselves. We're going to have to play with discipline and we're going to have to stick to our game plan."
Dennehy's squad is reaping the rewards of an almost unprecedented turnaround, from league pushover to national power. The reality, however, is that Merrimack hasn't been to the national stage since 1988, and the Warriors coach was mindful of that while recruiting players.
"We tried to get guys from winning programs, thinking they would know what it took and be willing to pay the price, and wouldn't be caught in the bright lights if they got there," said Dennehy of his Warriors, who fought BC tooth-and-nail in the Hockey East final before falling to the Eagles, 5-3. "We tried to build this from the net out, so we got ourselves a pretty good goaltender [Joe Cannata] and really stressed defense first.
"At the end of the day, these guys have really come in and worked their tails off. I'm glad they're getting a chance to play for something of significance."
Dennehy's squad has put up program records for league wins (16) and total wins (25) already this year. The question is whether they're still hungry.
"We like our players, and we really think we match up well with a lot of teams," he said. "At this time of year, you still have to play well, whether you have good payers or not.
I guess that's the trick, to get your team playing as well as it can when it matters. And that's something that Coach York has been able to do with his club year after year."
The winner will square off against the winner of the Miami-New Hampshire game, opening the possibility of a replay of last Friday's Hockey East semifinal, in which the Warriors upended the Wildcats, 4-1.
No. 1 Miami University (23-9-6) vs. No. 4 New Hampshire (21-10-6), 4 p.m. Saturday, Verizon Wireless Arena, Manchester, NH
Unlike Merrimack and Notre Dame, these two teams know each other, having met earlier this year at Miami. On Saturday, the Wildcats have the Red Hawks on their home ice, a nice bonus for having stepped up to host the regional.
[+] Enlarge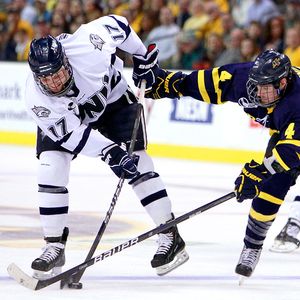 AP PhotoNew Hampshire's Paul Thompson takes a shot on goal under the stick of Merrimack's Jordan Heywood in the Hockey East tournament semifinal.
UNH managed a split in that November series, bouncing back from a 6-3 loss to take the second game by an identical 6-3 score. The Wildcats will need a similar bounce-back effort on Saturday. Dick Umile's squad is a habitual participant at the NCAAs, making its 10th straight appearance (second only to Michigan's 21 for active streaks). Still, the team has struggled to get out of the early rounds.
Last year, when they cruised past Cornell in the regional semifinal, the Wildcats got pasted by upstart R.I.T., 6-2, with a trip to the Frozen Four on the line. Conversely, Miami has made the Frozen Four each of the past two years, losing an overtime heartbreaker to Boston University in 2009, and in the semifinals last year to Boston College.
"We'll have a major challenge on our hands," said Umile. "They're a very, very skilled team."
That's an understatement, as the Red Hawks ranked in the top five in the nation in both offense and defense. Umile said his team is familiar with the Red Hawks' multitalented offense, led by Andy Miele (24-47-71), Carter Camper (19-37-56), and Reilly Smith (28-26-54), as well as Miami's solid goaltending duo of Cody Reichard and Connor Knapp.
UNH counters with some offensive pop of its own, with Hockey East Player of the Year Paul Thompson (28-24-52) and linemates Mike Sislo (13-33-46) and Phil DeSimone (10-30-40).
Umile is also familiar with the University of No Hardware taunts, despite a body of work (.659 winning percentage, 483 wins in 21 seasons) that most coaches would envy. But the fact remains that New Hampshire has never won it all, and the natives of the Granite State are getting restless. So playing in Manchester, where the expectations of the home crowd will be sky high, presents a double-edged sword.
"It's probably twofold, there's no question," said Umile when asked if the home ice was an advantage. "Just the fact that you're playing in Manchester doesn't mean you automatically win.
"It's going to be an exciting atmosphere. It's a great venue to play in. But we're going to be playing one of the top teams in the country, and we're excited about being able to play it at the Verizon. Obviously, we're going to have to play our very best Saturday afternoon."
The teams are deadlocked at 5-5-1 overall, but Miami holds bragging rights in Manchester, having ousted the Wildcats 2-1 in the Northeast semifinals in 2007. To win Saturday, Umile said the Wildcats must make the most of their scoring opportunities, something they failed to do against Merrimack in the Hockey East semifinals.
"There were times when we were there, in the shooting area, and we didn't take the shot. We tried to get too cute with the puck," said the UNH bench boss. "We need to get it on the goalie's pads, hopefully get a rebound, and be there for those second and third shots. It's a tough area. Merrimack does that extremely well, they defend in front of that scoring area very, very well, and it's going to be similar with Miami.
"We've just got to find ways to not get cute, to get pucks in the crease, and get after it."
If they don't, it will be another long offseason in Durham, N.H.
Brion O'Connor covers college hockey for ESPNBoston.com.
March, 21, 2011
3/21/11
11:54
AM ET
Boston College was awarded one of four No. 1 seeds in the 2011 NCAA men's hockey tournament. Other Hockey East teams in the tournament are UNH (No. 4 seed) and Merrimack (No. 2 seed). Check out ESPN.com's story on the tournament selection:

Yale, North Dakota, Boston College and Miami were awarded No. 1 seeds for the 2011 NCAA men's hockey tournament, as the seedings were announced Sunday morning on ESPN2.

The automatic bids for this year's tournament went to the conference tournament champions from Atlantic Hockey (Air Force), CCHA (Miami), ECAC (Yale), Hockey East (Boston College) and the WCHA (North Dakota). Boston College and North Dakota doubled as regular-season champions.

The 11 at-large bids went to Colorado College, Denver, Merrimack, Michigan, Minnesota-Duluth, Nebraska-Omaha, New Hampshire, Notre Dame, Rensselaer, Union and Western Michigan.

Defending champion Boston College (30-7-1), which beat Merrimack for the Hockey East title on Saturday night, is the No. 1 seed in the West region and will try to become the first repeat national champion since Denver in 2004-05.

"We need continued improvement from our team and we have a whole week to prepare. And we have [sophomore forward] Chris Kreider coming back [from a broken jaw]. He's a dynamic player who adds a lot to our team," Boston College coach Jerry York told ESPNBoston.com after winning Hockey East on Saturday night. "We didn't lose a lot of players to the NHL. We lost a good senior class, but we had a number of very good players come back to try to win another championship."
Click
HERE
to read more. Also, check out the
schedule
and the
bracket
.
December, 4, 2010
12/04/10
12:29
AM ET
By
Brion O'Connor
| ESPNBoston.com
BOSTON -- Round 1 goes to Boston College.

In the first of at least four meetings this season, and perhaps as many as six (depending on how the Hockey East and NCAA playoffs unfold), and with first place in Hockey East on the line, Boston's two hockey heavyweights squared off before a sellout crowd of 6,150 at BU's Agganis Arena on Friday.

After 60 wild minutes, the BC Eagles took home a 9-5 win that may not have been pretty but was certainly convincing. Expect more fireworks during Saturday's rematch at Chestnut Hill.

"Not one guy on the team had a good night," said BU coach Jack Parker after the fractured affair, adding that the Eagles beat his club in every phase of the game. "We haven't had a stinker all year, and it's too bad we had a stinker in front of a big crowd, against our biggest rival."

The No. 8 Eagles (10-5-0) had the No. 3 Terriers (7-2-5) reeling early, with two lightning-quick strikes before the game was three minutes old. The first came after BU's senior captain Joe Pereira was off for holding. BC worked the high-low game to perfection, with Pat Mullane collecting the puck down low and sending it to Brian Dumoulin at the left point. Dumoulin drifted to the middle and then ripped a shot, which BC winger Jimmy Hayes, parked to Kieran Millan's right, tipped over the BU goalie's blocker for a power-play goal and a 1-0 Eagles lead.

"They won the power play on both ends of the ice, offensively and defensively," said Parker.

Only 23 seconds later, with the teams at even strength, the Eagles doubled their lead when Paul Carey's shot from the right faceoff dot appeared to handcuff Millan, and broke past him.

"We played extremely solid," said BC coach Jerry York. "We were able to get the quick lead, and that set the tenor for the night."

Down two goals, the Terriers regrouped and forced BC's John Muse to make two good right pad stops, first off a point shot from BU's David Warsofsky, then a snap shot from the high slot off the stick of Pereira. Millan kept BU close with a tremendous save moments later, thwarting a BC two-on-one, denying Cary a second goal. BC's Bill Arnold set Cary up beautifully in the low slot, and the junior from Weymouth, Mass., drilled a shot that was targeted for the low corner. Millan, moving on the pass, dove across the crease to rob Cary, stopping the puck with his left pad.

However, Millan couldn't stop BC's junior sniper Cam Atkinson at the 17:45 mark. Finding a soft spot in the BU defense between the hash marks, Atkinson collected a slick feed from BC captain Joe Whitney and sizzled a one-timer over Millan's glove for a commanding 3-0 Eagles lead going into the first break.

Parker replaced Millan with junior Grant Rollheiser to start the middle stanza. It didn't change BU's fortunes. Atkinson rung up his second goal just 2:24 into the second period. Taking another feed from Whitney, he floated to the top of the left face-off circle and just blew a slap shot past Rollheiser's blocker for a 4-0 BC lead.

Atkinson was denied the natural hat trick 90 seconds later. Breaking in alone on Rollheiser after a BU turnover, Atkinson appeared to lose control of the puck, but it still snuck past Rollheiser's right pad. However, the on-ice officials disallowed the goal, ruling they had called a penalty on BC's Brian Gibbons before Atkinson's strike.

Oddly enough, it was Atkinson's hooking penalty at 7:51 that gave the Terriers a glimmer of hope. Freshman Max Nieto, breaking in on a two-on-one with Wade Megan, looked off the pass and fired a low wrist shot that beat Muse cleanly just under his blocker for BU's first goal on the night.

The Eagles regained their four-goal cushion on a shorthanded strike by Barry Almeida. The junior gathered the puck from Chris Kreider, cruised down the right side, juked BU freshman defender Garrett Noonan, cut across the slot and wristed a shot that beat Rollheiser high-glove side. The Eagles pushed their margin to five on a power-play strike by Philip Samuelson. With BU's Adam Clendening in the box, Samuelson unloaded a slapper from the right point that sailed though a maze of players and past Rollheiser at 15:32.

"It was 6-1 after two, and we had some great special-teams play up to that point," said York. "They were very good when the game was on the line."

The Terriers got a power play tally to start the third period, with BC's Kreider serving two minutes for tripping. Freshman Charlie Coyle tried to curled the puck around Muse, but it squirted out to Pereira, who stuffed it into the net to cut the BC lead to 6-2.

Rollheiser made a super stop on a Mullane breakaway, but Krieder stretched the lead to five again at the 6:10 mark. Crashing the net, Krieder deflected a seeing-eye pass from Patch Alber into the net, an instant before crashing into Rollheiser. The goal was initially disallowed, but upheld on video review, despite Kreider getting called for charging the goaltender.

At the 6:41, with BU enjoying a 6-on-3 advantage on a delayed call, sophomore David Warsofski cranked a shot from the left point for a power play goal.

If any BC goal was a microcosm of BU's night, it was the eighth. BU's Sean Escobedo, attempting to circle behind his own net, had the puck roll of his stick. The puck clipped the side of the BU net, where BC's Arnold picked up the gift and deposited it behind a stunned Rollheiser for an 8-3 Eagle lead.

Still, the Terriers refused to roll over. At the 15:00 mark, Max Nicastro sent a laser from the right point to the top right corner for BU's 4th, and junior Andrew Glass cut the lead to 8-5 just 13 seconds later when he shoveled a Megan feed over Muse.

A BC penalty shot at the 16:00 mark dashed any thoughts of a BU comeback. BC's Gibbons, after getting hauled down on a breakaway bid, calmly coasted in on Rollheiser and snapped the puck past the BU netminder to complete the scoring. It was the first time BU surrendered nine goals since March, 2002.

Neither coach expects another 14-goal outburst on Saturday.

"[Saturday] could be 1-0 defensive game," said York. "This certainly wasn't a typical Hockey East game."

Friday's win gives Boston College sole possession of first place atop the Hockey East standings. At least for 24 hours. Both Parker and York acknowledged that, given the rivalry between the teams, Saturday's rematch promises to be another feisty affair.

"I told them to forget about tonight," said Parker of his post-game talk to his Terriers. "It's not what happened tonight, it's how we react to it."

NOTEBOOK: In other recent Hockey East action:

No. 18 Merrimack 2, Northeastern 1
The Warriors (7-3-45) kept the Huskies (2-8-4) on the skids, taking a one-goal victory in Northeastern's home rink before 1,580 fans. Merrimack built a two-goal lead over the first two periods on strikes by Chris Barton and Stephane Da Costa, and goaltender Joe Cannata made the lead stand with 17 saves over the first 40 minutes. A goal by NU's Steve Quailer at 5:07 of the third cut the Merrimack lead in half, but the Huskies wouldn't get another puck past Cannata (27 saves on the night). NU's Chris Rawlings finished with 23 saves in the losing effort. The two teams meet again Saturday at Merrimack's Lawler Arena.

No. 5 New Hampshire 3, UMass-Lowell 0
In a rare Thursday tilt, the 5th-ranked Wildcats (8-2-4) rolled in Tsongas Arena and beat the River Hawks (2-11-2), posting a 3-0 shutout with three different players lighting the lamp. New Hampshire's Brett Kostolansky got the game-winner at the 12:54 mark of the opening period, and Stevie Moses and Mike Sislo added insurance tallies in the second. Wildcat Paul Thompson, the league's "Offensive Player of the Month" for November, continued his hot hand, collecting an assist on Sislo's goal. UNH goalie Matt DiGirolamo collected 25 saves for his eighth win of the year, while UMass-Lowell's Doug Carr had 26 stops in the losing effort. UNH takes on Vermont at home in Durham on Sunday, while the River Hawks travel to Amherst to play the UMass Minutemen on Saturday.


No. 9 Maine 3, Providence College 3 (OT)
Overtime couldn't decide this match between the Black Bears (6-3-4) and the host Friars (6-5-4). Maine took the lead three times during the game, only to have the Friars tie things up each time. With less than five minutes to go, and the Black Bears holding a 3-2 lead, Providence's Chris Rooney tallied a shorthanded goal to send the game into overtime. Despite Maine getting seven shots in the extra session, none got past Friar netminder Alex Beaudry, and each team settled for a point. Beaudry finished with 36 saves on the night, while Maine's Shawn Sirman stopped 35 Friar shots. The two teams meet again Saturday night at Providence's Schneider Arena.
September, 28, 2010
9/28/10
10:44
AM ET
Boston College men's hockey, the 2010 NCAA champion, opens the upcoming season ranked No. 1 in the USA Today/USA Hockey Magazine poll, which was released on Monday.

The Eagles collected 504 points and 28 (of 34) first-place votes to finish atop the poll. North Dakota, which totaled 462 points and four first-place votes, earned the No. 2 spot. Miami, Michigan and Yale rounded out the top five.

BC won the fourth national championship in program history last winter and its third under head coach Jerry York.

Boston College will open the 2010-11 season on the road at Northeastern on Oct. 9. Their first home game will be Oct. 29 against Merrimack.

Other Hockey East teams in the top 15 were Maine (No. 7), New Hampshire (No. 8) and BU (No. 14).