Boston Colleges:

Brian Kelly
June, 18, 2013
6/18/13
9:11
PM ET
By
Jack McCluskey
| ESPNBoston.com
BOSTON -- In the cutthroat world of college football recruiting, any edge is worth exploiting. Especially when it's an edge over a school with a similar profile, a school that just might be wooing the same type of player from the same geographic area.
At the second annual Coffee with the Coaches breakfast on Tuesday morning, Notre Dame coach Brian Kelly found something he can use against new Boston College coach Steve Addazio.
"I love to see kids that are three-sport athletes," Addazio said, answering a question about specialization in youth sports. "When we recruit guys, I want to see three-sport athletes. I love when they're three-sport athletes, and I think especially at a young age, I mean, come on -- go out and play sports, have fun.
"I played soccer all the way up, I didn't play football until I got to high school and I had a great experience."
That's when Kelly cut in.
"I'm gonna use that in recruiting," he joked, drawing a big laugh from the audience, "now that I know that you played soccer. I'm gonna have to take that with me."
After the crowd's laughter died down, all the chuckling Addazio could manage was, "Yeah."
"Now he won't say anything else," event co-host and WEEI radio personality Michael Holley joked, drawing more laughs.
At least he wouldn't say anything else to give the Eagles' longtime rivals a possible leg up in recruiting -- joke or no joke.
Jack McCluskey is an editor for ESPN.com and a frequent contributor to ESPNBoston.com. Follow him on Twitter @jack_mccluskey.
August, 20, 2012
8/20/12
9:00
AM ET
Charley Molnar, as Notre Dame followers can attest, is used to quarterback controversies. He faces one now in Massachusetts' fall camp, having to sit starter
Kellen Pagel
indefinitely because of post-concussion symptoms.
In that regard, Molnar's duties as UMass' head coach are similar to the ones he had in two seasons as the Irish's offensive coordinator. But in moving from college football's third-winningest program to a school beginning its first season in the Football Bowl Subdivision, Molnar has done more than leap from assistant to head coach, as he has taken on the task of building the foundation for a program looking to make its mark both in New England and at the next level.
"I think if there were two situations that were diametrically opposed it would be Notre Dame and UMass," Molnar said. "Because Notre Dame, everything is already in place: The infrastructure is there, the fan base is there, the ticket sales are there, the tradition is there.
"[Now] I'm taking over a program where virtually everything has started from scratch -- with the transition to I-A, we're moving into a new football building, we're playing our games at a new stadium," he added, referring to the Patriots' Gillette Stadium in Foxborough, two hours away from campus. "We virtually have to create almost a whole new fan base and a whole new group of season-ticket-holders. So that is really, really quite a gap that we have in front of us. But it's super-exciting to be involved in everything from the ground up."
[+] Enlarge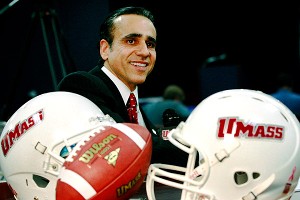 AP Photo/Elise AmendolaNew coach Charley Molnar hopes his UMass program can grow in the mold of Boise State.
Busy days preparing for Notre Dame's bowl gave way to sleepless December nights selling the Minutemen as New England's future football power, as Molnar built a staff, recruited in the leadup to national signing day and met with campus and community constituencies.
"Quite frankly that's always something that intrigued me to do this part of the job," Molnar said of his new CEO-type duties. "So I feel I was absolutely ready for it and I've embraced it. I love that part. I'd rather do it than not do it. I just think it's a lot of fun, and I like getting engaged in the community with our fans and with the ticketholders and trying to create a new fan base. I love that challenge. It's like recruiting, going out there and tying to sell another group of tickets, get another fan that follows the program."
UMass is a football-only member of the Mid-American Conference this season. It will face Big East, SEC and Big Ten schools, including Michigan, and future nonconference opponents include Notre Dame, Wisconsin and Florida. Molnar said dates with name programs will help UMass gain recognition outside of the region, with the hope that, eventually, the Minutemen will be able to compete with and some day defeat some of the elite.
To help bridge that gap, he has welcomed a pair of fifth-year former Notre Dame players, nose guard Hafis Williams and receiver
Deion Walker
, along with former Michigan running back Michael Cox.
While classmates don't view them as blue-chip saviors -- a look commonly associated with big recruits at their former campuses -- the UMass transfers have expressed surprise at the interest building on campus.
"I had someone tell me, 'Yeah, I hear they got some new guys in from Michigan and Notre Dame,' and I was like, 'Oh yeah? I'm one of those guys,'" Walker, an ESPN 150 player in high school, recalled with a laugh. "So that's exciting, that shocked me for the most part."
On signing day, Molnar stood at a podium between blown-up pictures of UMass alumni
Victor Cruz
and
James Ihedigbo
, who squared off four days later in the Super Bowl. A Morristown, N.J., native, Molnar is hoping to compete with BCS-conference programs UConn and Boston College for area players while tapping into talent-rich New Jersey and Pennsylvania. UMass has already landed a pair of three-star 2013 commitments in Connecticut quarterback
Todd Stafford
and New Jersey linebacker
Shane Huber
.
Fundamentally, Molnar said, the job remains the same from his years as an assistant, the previous six of which were spent under Brian Kelly. Now, he just returns to a second stack of files in his office every day, with administrative duties adding to his coaching itinerary.
Though mounting paperwork and inevitable early struggles present a less-than-ideal situation, Molnar remains intrigued by the idea of planting the seeds for a rising program. After all, he said, bigger makeovers have been done.
Eight months and zero losses into his tenure, he dreams of one day becoming the biggest.
"I've looked at Boise State as being a model for our program, where they took a university that was relatively unknown," Molnar said. "They had rabid fans but not a large base of fans. And they've run that program with certain fundamentals on and off the field and they continue to do so regardless of who the head coach has been.
"And that's how I see UMass growing in the future, with a great foundation that I get to help lay, and then being able to one day look back at UMass and see the program grow and prosper and feel like this was part of my legacy."