Boston Colleges:

Bryan Murray
November, 22, 2012
11/22/12
3:32
AM ET
By
Jack McCluskey
| ESPNBoston.com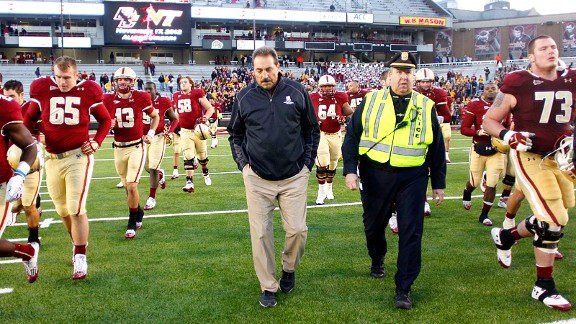 AP Photo/Winslow TownsonThe Eagles are still backing Frank Spaziani, who has at least one more game as head coach.
NEWTON, Mass. -- Things haven't been this bad at Boston College in a long, long time.
There was the 0-11 season in 1978 that ended with a loss in Tokyo. There was the 2-9 season in 1989, sandwiched between a 3-8 season and a 4-7 season.
But since Tom O'Brien posted an 8-4 record in 1999, the Eagles hadn't recorded a single losing season and had played in 12 straight bowl games.
Until the past two seasons, that is. The bottom has fallen out on BC under head coach Frank Spaziani, who has seen the record fall from 8-5 in 2009, to 7-6 in 2010, to 4-8 in 2011 to the current 2-9 in 2012.
Yet during Thanksgiving week, a number of Eagles made it clear that there's still plenty they are thankful for.
"We all owe a debt of gratitude, both for the chance and then for his belief in all of us that we can go out and get it done," fifth-year senior and offensive co-captain
Emmett Cleary
said of the only head coach he's ever played for.
"It's been bad this year, but you have to believe in the process more than you believe in the results you're seeing. I think a lot of this isn't Coach's fault, and I just hope he has his job season opener next year."
They've heard the rumors that Spaziani won't survive the end of the season. How could they not hear them? After all, Cleary said, they're on campus, too.
After a second straight losing season and with a new athletic director (Brad Bates) in charge at Boston College, Spaziani might be coaching his last game at NC State on Saturday (3 p.m. ET, ESPN3).
A loss to the Wolfpack would produce just the second season with double-digit losses in school history.
Coming as it has on the heels of a 4-8 season in 2011, the 2012 season seems to show that there just isn't enough progress being made on Spaziani's watch.
But is Spaziani entirely to blame? His players aren't so sure.
"If I'm in position to make a block and I don't make it, I'm not gonna blame somebody for calling the wrong play," Cleary said, pointing out that the players are the ones on the field. "It's toughness, discipline and just kind of approaching the game the right way that he's instilled in this team. We've had a rough season but those lessons work for football and they work for life. Nobody's lost sight of that, I think.
"With all the criticism, frankly, it's been good watching Spaz kind of model what he's been preaching for years now. You just have to worry about the day-to-day things and just keep working and that's ultimately what causes success in this world."
It also would've helped if Cleary's class had stuck around after 2008.
"We've talked about this hundreds of times among the older guys," Cleary said. "I think a lot of these games were lost three or four years ago, when my signing class -- which was, I think, 36 including walk-ons -- [decided to leave BC, and now] there's nine of us left. It's hard to win when you don't have experienced players and experienced depth.
"We've had a lot of young players playing and they've really played their asses off these last couple years, but I think you'd prefer to have those guys redshirt and have experienced backups when injuries and losses happen."
When Jeff Jagodzinski brought in Cleary and the rest of this season's crop of fifth-year seniors, the program was riding high. Cleary's redshirt year, 2008, the team was in the ACC championship game -- just as it had been the year before.
Then Jagodzinski interviewed for a job in the NFL, former athletic director Gene DeFilippo fired him and hired Spaziani, who had been the defensive coordinator from 1999 to 2008.
While hiring Spaziani meant there remained some continuity on the coaching staff, whenever there's a coaching change there will be some impact on recruiting.
"The reality is this, when you chop up recruiting, it doesn't show right away," Spaziani said before practice Tuesday. "It has unintended consequences that happen later on. … At Boston College you have to identify talent, you have to develop it and you have to have some continuity with it. There's other issues besides that. [But] that's a contributing factor."
The Eagles don't like talking about this kind of thing. It's too close to an excuse, and making excuses isn't how they operate in the Heights.
But it's true that it was an issue that they've had to navigate. Last season, the Eagles had 12 seniors. This season, they have 16 -- only eight of them significant contributors.
That makes it hard to win.
It hasn't helped Spaziani that the trend in college football has been toward giving coaches less time to succeed, rather than more, in the age of information.