Boston Colleges:

Charley Molnar
December, 27, 2013
12/27/13
6:25
PM ET
By
Jack McCluskey
| ESPNBoston.com
At some level, failure was expected.
As UMass football started the transition from the FCS level, where it was a fairly regular playoff participant and won a national championship as recently as 1998, to the FBS level in 2012, everyone from the administration to the fan base understood that there would be bumps in the road.
But when university leadership determined that the on-field failure had transitioned into off-the-field failure, as well, with certain subsections of the fan base becoming more and more disillusioned with the current leadership of the program, it decided a change had to be made.
[+] Enlarge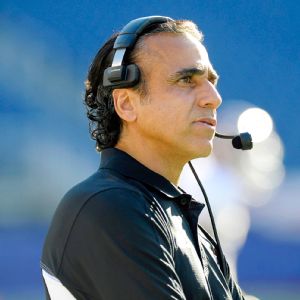 Bob DeChiara/USA TODAY SportsUMass coach Charley Molnar was fired after compiling a 2-22 record in the Minutemen's first two years at the FBS level.
So on Thursday, UMass athletic director John McCutcheon met with Charley Molnar to tell him that he was being fired as head coach after two identical 1-11 seasons produced a 2-22 overall record in the Minutemen's first two years as an FBS program.
"Really when you're in a situation like we are with the transition," McCutcheon said by phone Friday, "it's vitally important to be perceived in a positive fashion by a number of groups, be it alumni, potential recruits, the coaching community, the high school coaching community, our donors, our season-ticket holders, current players, current student body. We need all those groups really energized and engaged, and we know we'll never get 100 percent from everybody but [we need] as many as we can pulling in the right direction.
"And there just was a sense that we weren't where we needed to be looking forward if we're going to make the kind of strides that we hope to make."
McCutcheon, who prior to the Minutemen's final game of 2013 told Matt Vautour of the Daily Hampshire Gazette that he expected Molnar to be back as coach and that the team was making progress, said the final decision was made this weekend after a "more thorough evaluation" of the program's position by McCutcheon and UMass-Amherst chancellor Kumble Subbaswamy.
Coming as it did the day after Christmas, McCutcheon acknowledged the timing of the firing wasn't ideal.
"It wasn't perfect, and we realize that," he said. "But there never is a good time to do these things."
McCutcheon wouldn't get into details of his meeting with Molnar, but he did say, "Charley was very professional."
"He's been involved in this profession for a long time," McCutcheon said. "It's always difficult news to deliver and difficult news to receive. But I can say he handled it with professionalism and I respect him for that."
[+] Enlarge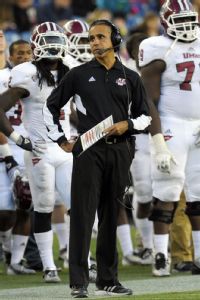 Bob DeChiara/USA TODAY SportsUniversity officials decided that the football program couldn't make positive strides without new leadership.
Molnar had three years and $836,000 left on his contract. McCutcheon said that money will be paid via "external sources," and that fundraising efforts are ongoing to account for that cost.
The AD sent an email to the current members of the Minutemen roster on Thursday, alerting them to the decision before the department made an official announcement. Later that day he held a conference call with the players -- who have scattered to their various homes for winter break -- to explain the decision and outline the timeline for hiring a replacement.
"There was pretty much silence," McCutcheon said with a laugh, when asked what the players' reaction was to the news. "As is usually the case on a conference call like that. It was difficult."
Though the players didn't say much on the conference call, McCutcheon knew there would inevitably be many questions and he encouraged them to contact him. He said he's already heard from a few players and their parents, and that many were concerned about the fate of the team's strength and conditioning program -- the first season in which the football team has had a dedicated strength and conditioning coach -- which they felt strongly about keeping.
McCutcheon said the school plans to do just that, but he declined to say whether any of Molnar's former assistants were candidates for the head-coaching position.
"Certainly [the current assistant coaches] would have an opportunity to apply for it. Realistically ... in regard to the head-coaching job, I think [hiring one of the current assistants] would be a challenge," McCutcheon said. "But certainly what we're gonna give the ones who are on the staff now is an opportunity to sit down with whoever does get the head-coaching position to have a conversation to see if there might be an opportunity to continue on with the program."
Though Molnar could not be reached for comment, the former Minutemen coach posted a message on his Twitter account Thursday afternoon:
No coach, staff, or team worked harder to build a championship program than we did. Disappointed in the results but proud of the foundation!

— Charley Molnar (@CharleyMolnar) December 26, 2013
The Minutemen have hired CarrSports Consulting to help with the search for a replacement, which McCutcheon said he hopes to complete "within a matter of weeks."
"We hope to get it done as quickly as we can," he said. "We're talking weeks, not months."
Though Molnar and his staff are currently under review after
video surfaced
of players engaging in one-on-one wrestling and boxing matches during winter conditioning sessions in 2012, with a report expected to hit Subbaswamy's desk in mid-January, McCutcheon said that is coincidental and was not a factor in Molnar's firing.
"It really was not a part of it," he said. "The interim reports [Subbaswamy's] gotten from that, there was nothing that came forward from that review that prompted us to take the action that we took."
And while the results on the field were clearly lacking, McCutcheon said that also wasn't an "overwhelming" factor in Molnar's dismissal.
"Most of the folks that we talked to were fairly understanding about the win/loss [records]," he said. "I think we all weren't that naive going into this transition, that that was going to be difficult. It was gonna take some time for us to get into a position where that would translate into more wins than losses.
"No one is ever happy when you're not winning," he said with a laugh. "You'd be disingenuous to say so. Had we made significant strides in wins and losses, that would've been one factor to consider in the overall [evaluation]. ... Certainly that wasn't an overwhelming factor. I think people were fairly understanding of that component."
The reality right now is that UMass football -- to borrow a phrase popularized by the more successful football coach to call Gillette Stadium home -- is what it is. After two years as a Mid-American Conference team, UMass is 2-22 overall and 2-14 in MAC play. That's an overall winning percentage of 0.083 and a conference winning percentage of 0.125.
The Minutemen aren't ready to win at the FBS level, a point hammered home by the likes of Wisconsin (in a 45-0 win in the 2013 opener) and Central Michigan (in a 37-0 win on Nov. 23) alike. They have struggled to draw crowds to the cavernous Gillette, which is roughly 90 miles from the school's former home on campus, McGuirk Stadium, and haven't had great success on the field or on the recruiting trail under Molnar.
"Across the board, I think whether it's with the players, whether it's the on-campus staff and students and externally," McCutcheon said, "we just weren't getting the kind of positive support and excitement about the potential for the future that we need."
And though the reality was bleak enough, in the end it was that failure combined with the negative perception of the program and its progress -- or lack thereof -- that doomed Molnar.
Jack McCluskey is an editor for ESPN.com and a frequent contributor to ESPNBoston.com. Follow him on Twitter @jack_mccluskey.
September, 6, 2013
9/06/13
8:10
PM ET
By
Jack McCluskey
| ESPNBoston.com
Week 1 went pretty much the way it was supposed to.
The Minutemen went into their opener at No. 21 Wisconsin with realistic expectations, hoping for a win but knowing they would likely start the 2013 season with a loss.
They did.
"Looking back at the Wisconsin game, they were a superior football team," coach Charley Molnar said in his weekly conference call with the media. "I knew that going in and our team knew that going in. We felt like we had to play a near perfect game [to win], and in our sport, it's really, really hard to do with any team, especially a young team, such as ours.
"Our guys played hard, we were disciplined for the most part, we had some foolish penalties, but our guys were somewhat assignment-sound. We just weren't able to make any plays, and it really cost us at the end."
The end was a 45-0 loss, with the Badgers piling up 393 rushing yards and nearly 600 yards of total offense.
But then the Badgers were coming off a Rose Bowl appearance, while the Minutemen were coming off a 1-11 season in Year 1 as an FBS program.
Week 2 brings UMass' home opener at Gillette Stadium (2 p.m. ET on ESPN3), with a familiar foe on the opposite sideline in the
Maine Black Bears
.
The UMass-Maine rivalry goes all the way back to 1909 and includes 58 previous meetings at the FCS level. The 59th meeting will be the first time the teams play with UMass at the Division I level.
"I'm sure this game is awfully important to them, and we're going to have to bring our very, very best in order to win the game, there's no doubt about it," Molnar said.
Maine opened the season with a 23-6 win at Norfolk State. Quarterback
Marcus Wasilewski
had 209 yards passing -- including an 85-yard TD toss to
Zedric Joseph
-- and 54 yards rushing in the win.
"As far as their ability to control the football, I think we are going have to make some turnovers, more than we did this past game, in order to upset their rhythm," Molnar said of the Maine offense.
But the Black Bears' defense got more attention from the UMass boss.
"I think watching their defense, they run a number of different pressures and coverage schemes. So, they keep your quarterback busy all afternoon," Molnar said. "I think that they are aggressive on defense with lots of different looks that they like to use. I think it's going be a real challenge for us offensively."
That means the Minutemen need more from starting QB
Mike Wegzyn
, who finished 9-for-23 passing for 73 yards and one interception against Wisconsin.
"For the most part, he took what the defense gave him," Molnar said of Wegzyn's day in Camp Randall. "There were some plays where I think he would've liked to have had them back. There was some tight coverage and he tried to get the ball in there -- where he had time and could've moved on to his next receiver.
"For the most part, he played poised and I thought he took a step up from some other games that he played last year."
While the competition won't be anywhere near as tough as it was in Week 1, the Minutemen will have to step up their game in Week 2 to prove to their fans that they're ready to make Year 2 better than Year 1.
Jack McCluskey is an editor for ESPN.com and a frequent contributor to ESPNBoston.com. Follow him on Twitter @jack_mccluskey.
June, 5, 2013
6/05/13
6:31
PM ET
By
Jack McCluskey
| ESPNBoston.com
Late last month, UMass coach Charley Molnar used the wide receiver position as an example of a position group that lacks depth. The numbers he typically likes to have just aren't there, he said, and it will take time to get those numbers where they need to be.
On Wednesday, the Minutemen announced an addition they hope helps address that need: UMass has officially added Michigan transfer
Ricardo Miller
, a 6-foot-4, 226-pounder who will be used at wideout and tight end.
"Ricardo has a great attitude and natural leadership ability," Molnar said in a statement. "He lights up the room when he walks in and has already made friends with most of the upperclassmen on the team.
"He is a hybrid type of athlete with the speed to stretch a defense vertically, as evident by his recruitment by Michigan as a wide receiver. He's big enough and strong enough to play tight end, so he will be a dual-purpose player for us."
Having already earned his undergraduate degree from Michigan, Miller is eligible to play right away for the Minutemen. The Orlando, Fla., native finished his Wolverines career having appeared in 14 games, though he didn't have a catch or a special-teams tackle to his name.
Miller will be the second graduate student to transfer from Michigan to UMass, after Michael Cox did so prior to the 2012 season.
Cox, a Dorchester, Mass., native, led the Minutemen in rushing with 710 yards and five touchdowns on 198 carries and was picked in the seventh round by the New York Giants in April's NFL draft.
UMass enters its second season at the FBS level in 2013, having gone 1-11 in its debut season in 2012.
Molnar and the Minutemen open their season Aug. 31 at Wisconsin. The Badgers won the Big Ten title in 2012, despite finishing the regular season just 8-5 (and 4-4 in the Big Ten), and lost to No. 6 Stanford in the Rose Bowl.
Jack McCluskey is an editor for ESPN.com and a frequent contributor to ESPNBoston.com. Follow him on Twitter @jack_mccluskey.
November, 14, 2012
11/14/12
2:40
AM ET
By
Jack McCluskey
| ESPNBoston.com
That whooshing noise you heard Saturday afternoon? It came from Amherst, and it was a "big sigh of relief from a lot of people."
That's how UMass head coach Charley Molnar described the Minutemen's first win at the FBS level (in their 10th game as a Division I-A team) on his weekly Mid-American Conference call with the media on Monday.
"Not only was it a great day just for the players on the team, but everybody associated with the program and the whole university," Molnar said of what the 22-14 win at Akron meant for UMass. "I think it was a big step that the university took to really make this into a I-A program and try to increase the visibility of our athletic program and our university across the country.
"It was a good first step for our program."
The Minutemen defense produced four interceptions against the Zips, leading to 19 points. UMass' special teams also played a role, with place-kicker
Blake Lucas
hitting three field goals and an extra point after not being called on in two of the previous three games as the Minutemen offense struggled (getting shut out by Bowling Green 24-0 on Oct. 20 and by Northern Illinois 63-0 on Nov. 3).
Molnar & Co. (1-9, 1-5 MAC) now finish off the season with two home games at Gillette Stadium. They host Buffalo (3-7, 2-4 MAC) on Saturday (3 p.m. ET), and Central Michigan (4-6, 2-4) on the day after Thanksgiving, Friday Nov. 23 (3 p.m. ET).
On Monday, Molnar broke down the Bulls.
"They have two defensive ends that are really as good as any we have played all year," he said of
Steven Means
(3.5 sacks) and
Colby Way
(5.5 sacks). "Being able to control those two and neutralize those two is gonna take a lot of work on our part. It's gonna take some outstanding work from our offensive tackles."
Molnar also praised running back
Branden Oliver
.
"He's not blazing fast but he has great vision and great cuts," he said. "It's gonna be a real challenge for our front seven playing against him."
The Minutemen are still battling for legitimacy, hoping to build on what they accomplished last weekend.
"Obviously we have a long way to go," Molnar said. "I was hoping that we'd be further along than we are right now, but nevertheless I think everybody feels pretty good and it was a big sigh of relief from a lot of people."
Jack McCluskey is an editor for ESPN.com and a frequent contributor to ESPNBoston.com. Follow him on Twitter @jack_mccluskey.
October, 1, 2012
10/01/12
9:00
PM ET
By
Jack McCluskey
| ESPNBoston.com
Close doesn't count.
That would seem to be the message Charley Molnar wants his UMass team to take away from its 37-34 loss to MAC-leading Ohio at Gillette Stadium on Saturday.
"It was a very disappointing afternoon," the Minutemen coach said on his weekly conference call Monday morning. "Our guys really had a number of chances to win the football game and we didn't take advantage of those opportunities, so of course we're disappointed.
"I guess the bright spot is that we were in a position to win the game deep into the fourth quarter. Had every opportunity to do so, we just didn't finish the job."
Redshirt freshman quarterback
Mike Wegzyn
threw 51 times in the loss, completing 27 passes for 373 yards and four touchdowns. But the Minutemen couldn't do enough on defense to stop Bobcats back
Beau Blankenship
, who had 43 totes for 269 yards and three scores.
UMass led 27-20 entering the fourth quarter, it just couldn't hold off Ohio. The Bobcats improved to 5-0 with the win, while the Minutemen dropped to 0-5 (0-2 MAC) in their first season at the FBS level.
Though it is encouraging that they were as competitive as they were, Molnar isn't looking for moral victories. The Minutemen have to get actual wins on the board.
"No doubt about it," he said. "Our guys really, really played to win. They were very, very quiet on the bus on the way home. Very, very disappointed that they didn't win. I certainly don't think anyone thought of that as a moral victory at all.
"That's the first time I've even thought of it ... as a matter of fact."
Molnar said he wants his team to work on being relentless, to play as hard as possible for as long as possible and only look up at the scoreboard to see what that work has produced at the end of the fourth quarter.
If they can do that, the Minutemen won't just be close. They'll be counting W's instead of L's.
Jack McCluskey is an editor for ESPN.com and a frequent contributor to ESPNBoston.com. Follow him on Twitter @jack_mccluskey.
August, 20, 2012
8/20/12
9:00
AM ET
Charley Molnar, as Notre Dame followers can attest, is used to quarterback controversies. He faces one now in Massachusetts' fall camp, having to sit starter
Kellen Pagel
indefinitely because of post-concussion symptoms.
In that regard, Molnar's duties as UMass' head coach are similar to the ones he had in two seasons as the Irish's offensive coordinator. But in moving from college football's third-winningest program to a school beginning its first season in the Football Bowl Subdivision, Molnar has done more than leap from assistant to head coach, as he has taken on the task of building the foundation for a program looking to make its mark both in New England and at the next level.
"I think if there were two situations that were diametrically opposed it would be Notre Dame and UMass," Molnar said. "Because Notre Dame, everything is already in place: The infrastructure is there, the fan base is there, the ticket sales are there, the tradition is there.
"[Now] I'm taking over a program where virtually everything has started from scratch -- with the transition to I-A, we're moving into a new football building, we're playing our games at a new stadium," he added, referring to the Patriots' Gillette Stadium in Foxborough, two hours away from campus. "We virtually have to create almost a whole new fan base and a whole new group of season-ticket-holders. So that is really, really quite a gap that we have in front of us. But it's super-exciting to be involved in everything from the ground up."
[+] Enlarge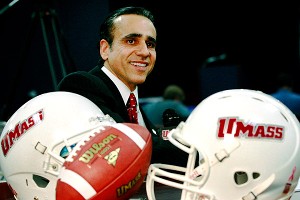 AP Photo/Elise AmendolaNew coach Charley Molnar hopes his UMass program can grow in the mold of Boise State.
Busy days preparing for Notre Dame's bowl gave way to sleepless December nights selling the Minutemen as New England's future football power, as Molnar built a staff, recruited in the leadup to national signing day and met with campus and community constituencies.
"Quite frankly that's always something that intrigued me to do this part of the job," Molnar said of his new CEO-type duties. "So I feel I was absolutely ready for it and I've embraced it. I love that part. I'd rather do it than not do it. I just think it's a lot of fun, and I like getting engaged in the community with our fans and with the ticketholders and trying to create a new fan base. I love that challenge. It's like recruiting, going out there and tying to sell another group of tickets, get another fan that follows the program."
UMass is a football-only member of the Mid-American Conference this season. It will face Big East, SEC and Big Ten schools, including Michigan, and future nonconference opponents include Notre Dame, Wisconsin and Florida. Molnar said dates with name programs will help UMass gain recognition outside of the region, with the hope that, eventually, the Minutemen will be able to compete with and some day defeat some of the elite.
To help bridge that gap, he has welcomed a pair of fifth-year former Notre Dame players, nose guard Hafis Williams and receiver
Deion Walker
, along with former Michigan running back Michael Cox.
While classmates don't view them as blue-chip saviors -- a look commonly associated with big recruits at their former campuses -- the UMass transfers have expressed surprise at the interest building on campus.
"I had someone tell me, 'Yeah, I hear they got some new guys in from Michigan and Notre Dame,' and I was like, 'Oh yeah? I'm one of those guys,'" Walker, an ESPN 150 player in high school, recalled with a laugh. "So that's exciting, that shocked me for the most part."
On signing day, Molnar stood at a podium between blown-up pictures of UMass alumni
Victor Cruz
and
James Ihedigbo
, who squared off four days later in the Super Bowl. A Morristown, N.J., native, Molnar is hoping to compete with BCS-conference programs UConn and Boston College for area players while tapping into talent-rich New Jersey and Pennsylvania. UMass has already landed a pair of three-star 2013 commitments in Connecticut quarterback
Todd Stafford
and New Jersey linebacker
Shane Huber
.
Fundamentally, Molnar said, the job remains the same from his years as an assistant, the previous six of which were spent under Brian Kelly. Now, he just returns to a second stack of files in his office every day, with administrative duties adding to his coaching itinerary.
Though mounting paperwork and inevitable early struggles present a less-than-ideal situation, Molnar remains intrigued by the idea of planting the seeds for a rising program. After all, he said, bigger makeovers have been done.
Eight months and zero losses into his tenure, he dreams of one day becoming the biggest.
"I've looked at Boise State as being a model for our program, where they took a university that was relatively unknown," Molnar said. "They had rabid fans but not a large base of fans. And they've run that program with certain fundamentals on and off the field and they continue to do so regardless of who the head coach has been.
"And that's how I see UMass growing in the future, with a great foundation that I get to help lay, and then being able to one day look back at UMass and see the program grow and prosper and feel like this was part of my legacy."
March, 16, 2012
3/16/12
2:59
PM ET
By
Roger Brown
| ESPNBoston.com
Shortly after University of Massachusetts football coach Charley Molnar secured his first recruiting class in February, he talked about how he wanted New England players to form the foundation of his program. Apparently that was more than just talk.

UMass has clearly made New England –- and Massachusetts in particular –- the focus of much of its recruiting efforts.

BC High offensive lineman Jack McDonald, Everett offensive lineman John Montelus, Xaverian defensive lineman Maurice Hurst Jr., Tabor Academy defensive lineman Tevin Montgomery, BB&N tight end Brendan O'Neil and Catholic Memorial defensive end Peter Ngobidi have each received a scholarship offer from UMass, which held two junior days last month.

In addition, Todd Stafford, a 6-foot-5, 240-pound quarterback from the Brunswick School in Greenwich, Conn., committed to UMass on Thursday. He became UMass' first commitment from the class of 2013.

"I went to the first junior day and [Molnar] said with the move to the MAC they want to start with the local kids," McDonald said. "He talked about how good the talent is around here, and they want to bring in as many local kids as they can."

UMass has been competing at the FCS level in the Colonial Athletic Association, but will move up to the FBS level when it begins play in the MAC next season. The Minutemen won't play on campus, but will use Gillette Stadium as their home field.

"It's a little bit of a drive from the campus, but I got to play at Gillette in last year's Super Bowl and it's a once-in-a-lifetime experience," McDonald said. "They'll have their own locker room there. I think the positives will outweigh the negatives."

McDonald also has offers from Boston College and Maryland, and has received significant interest from Duke and Temple.

"Right now I'm considering everything," he said.

Montelus and Hurst each have at least 10 Division 1 scholarship offers. Hurst received his offer from UMass while at one of the junior days last month.

"I'll definitely consider UMass," Hurst said. "I really like the coaching staff and a lot of Mass. kids seem to be going there."

There were six players from New England in Molnar's first recruiting class: wide receiver Khary Bailey Smith (Weymouth), tight end Nevin Cyr (Pelham, N.H.), quarterback A.J. Doyle (Lakeville), linebacker Vondell Langston (Everett), linebacker John Robinson (Springfield) and linebacker Jovan Santos-Knox (Middletown, Conn.).

Wide receiver Derek Beck, a New Jersey native who played at Bridgton Academy in North Bridgton, Maine, signed with UMass as well.

Jake Kennedy, who is perhaps the best offensive lineman from New Hampshire in the Class of 2013, also has a UMass offer. Kennedy plays for Souhegan High School in Amherst.

Kennedy received his offer from UMass defensive line coach Dave Sollazzo earlier this week. He's also receiving interest from Boston College, Connecticut, New Hampshire, Brown and Harvard.

Kennedy said UMass is a school he'll strongly consider.

"Most definitely," he said. "I could see myself there."