Boston Colleges:

Clemson Tigers
January, 4, 2014
1/04/14
8:18
PM ET
By
Jack McCluskey
| ESPNBoston.com
CHESTNUT HILL, Mass. -- Lately, the Boston College men's basketball team has looked a bit like a teenage driver in a snowstorm.
When the Eagles try to accelerate too quickly, their wheels spin and they go nowhere. And once they finally get going, they go too fast and when they need to throttle down and use a light touch instead of a heavy hand, their brakes lock up and they lose control.
Against Clemson on Saturday, the Eagles mostly spun their wheels ineffectively in the first half -- shooting 4-for-16 from the floor for 17 points, with 10 turnovers and just one assist, what coach Steve Donahue termed "absolutely horrific offense" -- and though they got going in the second half, they knew they would need a very fine touch to maneuver to a win.
[+] Enlarge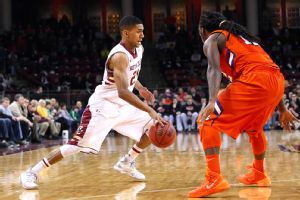 Anthony Nesmith/AP ImagesOlivier Hanlan's 22 points in the second half weren't quite enough as BC's comeback bid fell just short.
"We told our guys they're gonna make a run in the second half," Clemson coach Brad Brownell said, "you've gotta weather the storm."
Trailing by 14 at the half, the Eagles were much crisper in the second and cut the Tigers' lead to just three with 6 seconds to play. After a BC timeout, Clemson alertly fouled
Olivier Hanlan
just after he dribbled over half court.
The sophomore, a perfect 8-for-8 from the line at the time, would have two shots with the Eagles needing three points with 2 seconds to go. To give BC a chance, Hanlan would have to make the first and intentionally miss the second and hope for an offensive rebound.
With that strategy, success would require incredible control.
"Missing free throws, like on purpose? I worked on it," Hanlan said. "You kinda try to just hit it off the edge. And having guys like
Eddie [Odio]
and
Garland [Owens]
that are pretty athletic to try to slap it out, it gives us a pretty good chance to get another opportunity. I guess it's pretty hard to do."
Hanlan calmly drained the first and then, just as calmly, missed the second off the right rim. Last season's ACC rookie of the year barreled down the lane after the miss, secured the carom and threw up an off-balance shot through contact.
The whistle blew, and after a brief review to check that the foul came before the clock hit zero, Hanlan was back at the line for two shots with a chance to tie the game at 62.
When he stepped to the line, Hanlan had already delivered an astonishing second half, scoring 22 points on 12 field goal attempts after managing just five points on four field goal attempts in the first 20 minutes.
The 6-foot-4, 184-pounder stepped to the line for freebies No. 11 and 12, with his only miss having come on purpose. Those left of the 5,268 in attendance clearly sensed overtime.
Hanlan's first free throw looked true ... and then clanged off the front rim, and the air went out of Conte Forum.
"I thought we executed it perfectly, and gave our best player a chance to knock down two free throws," BC big man
Ryan Anderson
said. "He didn't make it, but we still did the same thing [Hanlan intentionally missing the second free throw] and we almost got a tip on the second time.
"I think it's something that we're confident in if we're ever in that situation again."
After Clemson secured the final rebound and the horn sounded to seal a 62-60 Tigers victory, a relieved Brownell said he felt bad for Hanlan.
"He's gotta go back to the line," Brownell said of BC's star guard. "In a pressure situation, you just missed one [and] even though you're intentionally missing it, it's still not good for you. And I think that played into him missing the last one."
Though the result was still lacking in the 62-60 loss, the first-half struggles digging too big a hole for the 4-11 Eagles to climb out of, Donahue was happy with the effort he got in the second half.
"I was really proud of our group," the fourth-year coach said. "I thought we really fought. Nothing's coming easy for us right now. They just really battled today. Clemson's really physical, really smart on defense.
"For us to fight through and have a shot to win it, I'm just really proud of our guys."
Beleaguered BC showed signs of progress in the second half, scoring 43 points, cutting the turnovers from 10 to three, turning up the defensive pressure and producing 10 points off turnovers after not producing any such points in the first half.
But the slow start, those wheels spinning in place, proved to be too much to overcome Saturday. And if the Eagles don't correct that issue quickly by learning from experience how to handle potentially treacherous conditions, they may not be able to get this trip back on track.
September, 29, 2012
9/29/12
9:28
PM ET
By
Jack McCluskey
| ESPNBoston.com
NEWTON, Mass. -- When
Sammy Watkins
didn't make the trip to Chestnut Hill because of a viral infection, the chances of a wide receiver creating a personal highlight reel on national TV seemed to take a serious hit.
Enter
DeAndre Hopkins
and
Alex Amidon
.
Though he didn't have a catch in the first quarter, Amidon was everywhere for the next three.
[+] Enlarge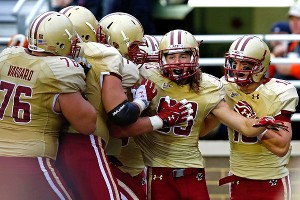 Jared Wickerham/Getty ImagesBC WR Alex Amidon had another monster game, but it came in a losing effort.
On a fourth-and-1 late in the first half from the Clemson 31-yard line, the Eagles rolled the dice. Lining up with an empty backfield, with Chase Retting in the shotgun, they made it clear they weren't just going for the first. Rettig found his favorite target, Amidon, open over the middle and the speedy wideout ran away from a Tigers defender and into the end zone.
Trailing 38-21 late in the third, Rettig faked the handoff, then rolled to his right. Amidon wasn't pressed at the line and after faking an out-cut veered sharply left and came open over the middle. Rettig saw him running free and let it fly from the Eagle logo at midfield, hitting him in stride at the 5 for the 42-yard TD.
The junior wideout finished with eight catches for 193 yards and those two scores.
"He was just being Alex," Rettig said after the 45-31 loss to Clemson. "He never stops. He probably played every snap. He played well."
Unfortunately for the Eagles, Hopkins had answers. The 6-foot-2, 205-pounder finished with 11 catches for 197 yards, including a 35-yard score that countered the 42-yarder from Rettig to Amidon on the previous drive.
Amidon said it's hard to enjoy his personal success when the team is 1-3 (0-2 ACC).
"That's all it's about is winning, so at the end of the day you come away and we're 1-3," he said. "That's really the only thing I'm looking at right now. It's pretty frustrating."
The 193 yards was the most by a BC wideout since Gerard Phelan had 226 in the Miracle in Miami game on Nov. 23, 1984.
It was Amidon's fourth career 100-plus-yard game, third this season.
The quarterback and the slot receiver both said they enjoy playing this style of offense, in which the pass is prevalent.
"It's something that's kind of new to us, on offense, is being able to move the ball like that," Amidon said. "I think when you're in the game you don't really notice, you just kinda go with it. It's fun being involved in an offense like this, for sure."
The Eagles finished with 369 yards passing and just 51 yards rushing.
Lose this battle, lose the war
When you're 1-2, trying to avoid falling into an even deeper hole and facing a heavily favored opponent, you can't afford to make many mistakes.
The Eagles made more than they could afford against Clemson on Saturday, and it just might have started with losing the field position battle.
After the Eagles' defense held the Tigers to a field goal to make it 7-3,
Spiffy Evans
fielded the kickoff at the BC 10-yard line and ran it back 12 yards to the 22. But a holding penalty on the Eagles moved the ball back to the 12, and after a three-and-out by the offense
Gerald Levano
came on to punt backed up in his own territory.
The fifth-year senior had his first bad punt of the season, netting just 26 yards and giving the Tigers the ball at the BC 43. Six plays later it was 10-7 Clemson.
History repeated itself on the next drive, with the offense going three-and-out and Levano failing to bail them out with a 30-yard punt giving Clemson the ball at the BC 41. Six plays later, it was 17-7 Clemson.
Though the short fields for the Tigers definitely hurt, linebacker
Nick Clancy
refused to place all the blame on that.
"It definitely gave them some momentum, to know that they have a smaller yardage to go," he said. "That's no excuse. We definitely need to execute more on defense. We definitely needed to make more big plays. We let up too many big plays."
Odds and ends
Place-kicker
Nate Freese
hit a 39-yard field goal to stay perfect this season, at 8-for-8. ... Rettig had the best punt of the day for the Eagles, kicking a 32-yarder in the third quarter to pin Clemson to its 4-yard line. ...
Sean Sylvia
got his first interception of the season, picking off
Tajh Boyd
in the second quarter on a pass intended for Hopkins that fell short. ... In his first game back from a knee injury,
Bobby Swigert
had just two catches for 27 yards. He made his presence felt in another way, though, when he took a flip from Rettig on a reverse and then completed a pass to Spiffy Evans for 28 yards.
Jack McCluskey is an editor for ESPN.com and a frequent contributor to ESPNBoston.com. Follow him on Twitter @jack_mccluskey.
September, 29, 2012
9/29/12
9:12
PM ET
By
Jack McCluskey
| ESPNBoston.com
NEWTON, Mass. -- Disappointed but not discouraged.
That's the mindset Boston College coach Frank Spaziani has after his team lost a wild, back-and-forth affair with No. 17 Clemson
45-31
on Saturday.
[+] Enlarge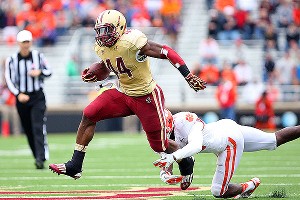 AP Photo/Anthony Nesmith/CSM BC RB Andre Williams scores the game's first TD.
"They certainly deserved to win," the fourth-year head man said of the Tigers. "You score 30-some points ... you gotta do better than that on defense. I think we were lined up right most of the time, but we just weren't able to make some plays.
"We did some good things on both sides of the ball, a couple times, but not enough on defense."
BC struck first, with
Andre Williams
breaking a couple of arm tackles at the line of scrimmage and rumbling up the right sideline for a 30-yard score with 10:16 to go in the first quarter.
But that was just the start of the seesaw on the scoreboard.
Clemson scored the next 17 points, taking a 17-7 lead. Then
Chase Rettig
led two scoring drives, ending each with a touchdown pass (a 3-yarder to
Johnathan Coleman
and a 31-yarder to
Alex Amidon
), to give BC the lead back at 21-17.
And then back came Clemson, scoring the next 21 points to establish a lead it would not relinquish.
"You can't take anything away from Clemson," linebacker
Nick Clancy
said. "They're extremely talented, man, they have lots of weapons and they're not afraid to use them. And that's what they did.
"It's just one of those things you wish you could have those plays back."
Those plays included a 58-yard catch by
DeAndre Hopkins
to rescue the Tigers from a rare third-and-long deep in their own territory, a 35-yard touchdown catch by Hopkins to swing momentum back Clemson's way after a BC score and a 46-yard run by
Andre Ellington
to put the final drive away and help the visitors run out the clock.
[+] Enlarge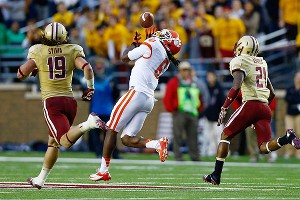 Jared Wickerham/Getty ImagesThe Eagles couldn't contain Clemson WR DeAndre Hopkins, who had 11 catches for 197 yards.
Tajh Boyd
finished 28-for-38 for 367 yards and three TDs. The bulk of those numbers came on hookups with Hopkins, who had a monster game with 11 catches for 197 yards and that 35-yard TD. (He had what looked like another TD catch waved off by officials, a call that was upheld by a review.) Ellington carried 25 times for 132 yards and a score.
"Those are very good players and they've done it to a lot of people," Spaziani said. "We just didn't make enough plays. We just weren't able to make plays when we had to."
When asked if Boyd was the best QB the Eagles have faced so far, Clancy said he couldn't say that but "he is very, very talented, and he beat us today."
BC's offense was good, just not good enough to overcome the defense's shortcomings.
The Eagles' junior signal-caller finished 25-for-43 for 341 yards, three touchdowns and two interceptions. More than half of Rettig's yards and touchdowns were to Amidon, who finished with eight catches for 193 yards and two scores.
"It puts a little edge on it when it's back and forth," Rettig said. "It was fun, but we just gotta do better ... and score probably two more touchdowns."
Looking for the silver lining, the Eagles were asked if they can take any solace from the fact the teams they've lost to are a combined 13-2 so far this season.
"I mean you have to take solace from it, but we're 1-3," Rettig said. "At the end of the day, those are the numbers."
Spaziani agreed, to an extent.
"I guess you can take some [solace]," he said. "They're good football teams."
But the coach also doesn't want his team to have a false sense of security, saying, "It's dangerous to think like that. They're good football teams but we still got beat."
BC has to know what it is right now, and that is a team which has made undeniable strides on offense but is still trying to put together a complete effort.
"You know we just gotta keep working," Rettig said. "Those are the situations we're gonna be in a lot this year, I feel like. So you've just gotta go in with that mindset in practice and make it happen on the field."
Until the Eagles can get both offense and defense clicking at the same time, chances are they'll continue to leave their fans disappointed, if not outright discouraged.
Jack McCluskey is an editor for ESPN.com and a frequent contributor to ESPNBoston.com. Follow him on Twitter @jack_mccluskey.
September, 29, 2012
9/29/12
7:32
PM ET
By
Jack McCluskey
| ESPNBoston.com
NEWTON, Mass. --
Boston College
gave No. 17
Clemson
a scare in the first half of their nationally televised matchup before
succumbing 45-31
.


How it happened:
This was a wild, back-and-forth affair.
The Eagles took an early lead (7-0), then gave up 17 straight points (17-7), then scored 14 straight points to retake the lead (21-17). But true to form in this one, Clemson scored the next 21 points.
And this time, BC had no answer.
Though
Chase Rettig
found
Alex Amidon
running free down the left side for a 42-yard score just before the end of the third quarter,
Tajh Boyd
and
DeAndre Hopkins
answered with a 35-yard scoring strike of their own just a minute into the fourth and the Tigers held on for the win.
Amidon and Hopkins were the stars of the show, piling up huge numbers through the air. Hopkins had 11 catches for 197 yards, including that 35-yard TD. Amidon, despite not catching a pass in the first quarter, had 8 catches for 193 yards and two touchdowns, including that 42-yarder.
What it means:
BC falls to 1-3 on the season, with three consecutive road games on tap.
What's next?
The Eagles travel to West Point, N.Y., to take on Army (noon ET, CBS Sports Network). The Black Knights are 0-4, falling 23-3 to Stony Brook on Saturday.
Jack McCluskey is an editor for ESPN.com and a frequent contributor to ESPNBoston.com. Follow him on Twitter @jack_mccluskey.