Boston Colleges:

Derrick Gordon
April, 29, 2014
Apr 29
3:46
PM ET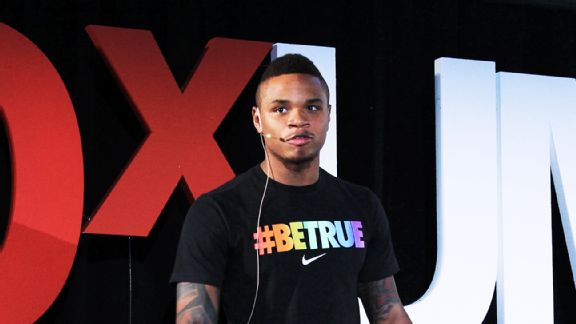 Courtesy Juliette SandleitnerUMass guard Derrick Gordon says he's thrilled he doesn't have to hide anything anymore.
AMHERST, Mass. -- On April 8,
Derrick Gordon
was just a shy young kid from Plainfield, N.J., a former high school teammate of NBA stars Kyrie Irving and Michael Kidd-Gilchrist and a central figure for the burgeoning UMass basketball program. Getting four words out of him was a journey.
A day later, getting four minutes of his time was an adventure. Gordon was in headlines worldwide after telling ESPN he is gay, making him the first openly gay Division I men's basketball player. Anderson Cooper was giving him shout-outs. Tyra Banks was sending him direct messages on Twitter.
Gordon can only sigh, "Gosh," as he reflects on his overnight celebrity.
The starting off-guard for a UMass squad that ended a 15-year NCAA tournament drought last month isn't just a public figure now. He's a culturally significant one, a voice for social change, part of a first wave of openly gay male athletes in team sports alongside Brooklyn Nets center Jason Collins and Missouri defensive end Michael Sam.
And with it, he has been thrust into new, unfamiliar waters as a public speaker.
Sunday afternoon in the Mahar Auditorium on the UMass campus, Gordon was the last of 10 speakers in the school's annual TEDx series, an independently organized local version of the popular global conference series. The subject of his speech was written across his black Nike T-shirt in a rainbow pattern, the same shirt he wore in the picture he tweeted of himself announcing his coming out -- "Be True."
"Honestly I didn't expect this at all," Gordon told ESPNBoston.com before his 15-minute speech that concluded the day's events. "I've been doing so much. Now I know how those celebrities feel when they're always on the move and can't be at certain places. I kinda know it a little bit now. I'm a public figure; everywhere I go everybody knows me. I gotta make sure that I'm keeping my head on straight."
Proudly sporting his "Be True" shirt, along with a rainbow-colored rubber bracelet from the Stonewall Center, the school's LGBT-geared resource center, Gordon said he has felt a new bounce in his step. Even in simple pickup games, he says he "could feel it," a newfound confidence and even keel.
"I might even surprise myself next season," said Gordon, who averaged 9.4 points per game and 48 percent from the floor last season, his sophomore year.
Gordon says support from his team and student body has been 99 percent positive since he came out.
"I don't have to hide nothing anymore," he said. "My teammates want to ask me a question, 'Where you going?' I'm going to the gay club. Back then, I couldn't say that. I had to say, 'I'm going home with friends to hang out.' Now I can finally be able to tell them and not have to worry about me being nervous or anything like that."
It wasn't always that simple.
In his talk with the capacity crowd in Mahar, Gordon let his emotions out, at times pausing as he held back tears while he told his story.
He recalled his time as a freshman at Western Kentucky when he first began to experiment with gay-oriented social networking apps. Gordon said he began dating a female cheerleader at WKU as a cover-up and in retrospect felt bad about the way he treated her.
"I used her to hide my sexual orientation," he said.
Gordon transferred to UMass after his freshman season with the Hilltoppers in 2011-12 and began to explore more. One pivotal moment came last year, when he revealed to a few teammates that he was at a gay nightclub.
Telling his own mother? That might have been the toughest. Gordon choked back tears talking about his mother.
"Every day I talked to her on the phone, I wanted to cry, but I couldn't. She didn't know I had to cry myself to sleep every night," he said, struggling.
When he finally revealed to his mother that he was gay, he says she froze. When he revealed it to his team, he recalls teammates having "a shocking look on their face," though noting "nobody was surprised."
"It still wasn't enough," he said. "I felt that it wasn't there yet. I needed to go to the next level. We needed to go public with this."
Gordon reached out to a good friend at the You Can Play foundation. Soon, interviews were set up with ESPN and Out Sports. The rest is history.
"If I'd have known this before, I would have came out as soon as I came out of my mom's stomach," he said, laughing.
Gordon ended his speech with a message he's learned to embrace: "Stay true to yourselves."
He then thanked the audience and invited dozens in the front rows on stage to join him in what he loves doing best these days -- dancing.
December, 29, 2013
12/29/13
12:37
AM ET
AMHERST, Mass. -- Call it the Court of Dreams.
For Derek Kellogg, that has always been the Mullins Center. During his playing days for NCAA tournament teams at the University of Massachusetts in the early and mid-1990s, Kellogg knew Mullins to be one rocking place. Game after game the arena sold out. The crowd was always 9,493.
But as sixth-year head coach at his alma mater, Kellogg has come to know more than his fair share of empty seats. The Minutemen, who have not been to the NCAA tournament since 1998, routinely were playing to an arena that seldom filled to half its capacity. The atmosphere was often listless.
Kellogg clung faithfully to a belief: If you rebuild it, they will come back.
Saturday night was sweet vindication. Playing before their first full house at the Mullins Center in more than seven years, the 23rd-ranked Minutemen gritted and willed their way to a 69-67 overtime victory over Providence on a putback basket by
Derrick Gordon
with 1.1 seconds remaining.
[+] Enlarge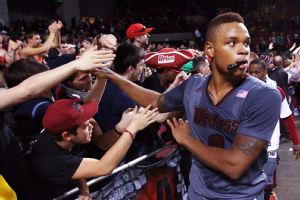 Mark L. Baer/USA TODAY SportsDerrick Gordon celebrates with Minutemen fans after his game-winning basket.
"I apologize for the delay," Kellogg said, explaining to the media his team's late arrival at the postgame press conference. "There were a lot of kids in the back getting autographs from the players, which was a nice sight. It hasn't been that way in a little while."
Kellogg credited the juiced-up crowd for putting his team over the top, especially after it lost senior leader
Chaz Williams
, who fouled out with 1 minute, 36 seconds remaining in regulation.
"That was great," Kellogg said. "For the fans to come out and really support this team today is what helped us win the game."
It was not an artistic effort, but even the great UMass teams of the '90s seldom got it done with aesthetics. Despite 39.1 percent shooting from the floor and a grimacing 9-of-18 effort from the free throw line, the Minutemen prevailed thanks to rebounding aggressiveness (a 45-36 edge) and pressure defense. It was just enough against a resurgent Friars team that fell to 10-3.
Providence closed regulation on a 9-0 run, tying the game on a great knifing layup by
Bryce Cotton
(a game-high 24 points while playing all 45 minutes). In overtime, the Friars appeared to have the edge with Williams relegated to cheerleading status on the bench. Williams had shaken off a scoreless first half to post another double-double with 10 points and 10 assists.
UMass led for most of the feisty overtime period, but Cotton fought free to drill a 3-pointer with 36 seconds left to tie the game at 67.
The 11-1 Minutemen looked a bit out of sorts on the ensuing possession, with
Trey Davis
dribbling the ball way out on the perimeter near the UMass bench. With 3 seconds left he sent up a leaning jump shot from just inside the arc that caromed hard off the front rim. Gordon extended his right arm out toward the foul line to corral the rebound and scooped it back up and in with just over a second left.
"It just happened to bounce my way," said Gordon.
For Providence, the loss was the worst kind of déjà vu. The Minutemen beat them in similar fashion a year ago on a tip-in just before the buzzer by Terrell Vinson.
[+] Enlarge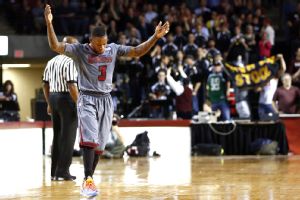 Mark L. Baer/USA TODAY SportsChaz Williams fouled out with 1:38 left in regulation, but the Mullins Center was rocking all the way through overtime.
"That's two years in a row, man," said Providence coach Ed Cooley. "Merry Christmas."
UMass had five players score in double figures, led by
Cady Lalanne
with 14 points and 10 rebounds.
Sampson Carter
also had a double-double with 12 points and 12 boards. Trey Davis had 12 points.
Maxie Esho
was a major force for UMass off the bench with 11 points, including a crucial tip-in late in overtime.
Providence got 16 points from
Tyler Harris
and 13 from
LaDontae Henton
.
The Friars came into the game as the national leader in free throw shooting, but hit only 5 of 8 in overtime.
"I was shocked that we missed free throws in overtime," said Cooley, sounding like he had just heard about gambling in Casablanca. "Shocked."
Cooley credited UMass for its "grittiness" in persevering after Williams went out.
"The little guy does everything for them," he said. "He's a load. You're going to have to have a man and a half on him all the time. He's a great player."
Williams, who went careening back to the bench after getting called for the fifth foul, maintained that he still believed UMass would prevail.
"It was hard because I wasn't out there and couldn't contribute on the floor," he said. "But it felt good. ... I have the same amount of confidence in my teammates as I do myself."
The game featured two teams with some interesting history. For UMass fans of a certain age, basketball became a different animal against Providence 44 years ago in 1969, a year in which man first walked on the moon and the Miracle Mets somehow won the World Series. That year the season opener featured a powerful Providence team coming to Amherst to play UMass. The Redmen -- as UMass was then known -- won thanks to a sophomore playing his very first varsity game. Julius Erving made quite the impression with 27 points and 28 rebounds. There was a sense then that winter nights in Amherst could become magical on the basketball court.
[+] Enlarge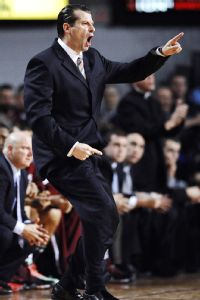 AP Photo/Jessica Hill"When I heard there was going to be a sellout, I wanted to come out and perform for the fans and the people of Western Massachusetts," Minutemen coach Derek Kellogg said.
Both schools have some Final Four history. Providence made it twice, most recently in 1986-87 under a precocious coach who played his college ball at UMass: Rick Pitino. UMass made it in 1995-96 under John Calipari.
As fate would have it, Calipari and Pitino -- coaches of the past two national championship teams at Kentucky and Louisville, respectively -- were also in action Saturday. Kentucky triumphed just moments before Calipari's protégé got set for one of his biggest games at UMass.
Both the Minutemen and the Friars have been off the national stage for a while: 16 years away from the NCAA tourney for UMass, 10 for Providence. Both now seem to be on the upswing.
Kellogg admitted he was nervous when he heard about the crowd.
"I had some anxiety," he said. "I guess I was a little short around the house. I was excited. When I heard there was going to be a sellout, I wanted to come out and perform for the fans and the people of Western Massachusetts."
To lose in front of that crowd would have been a colossal disappointment.
"You wouldn't have seen me for about a week," Kellogg joked.
Kellogg knows that that the 2013-14 season will not be judged by the odd-numbered year. There is still work to do, of course, an entire Atlantic 10 season to play. But the Minutemen rang out the old with a rousing win and look forward to the new with their eyes on a certain Sunday in March.
That will be the measure. This year's team has all of its eggs and one deep-grooved Spalding in that one basket. For the past 15 years, that Sunday has been filled with a lot of rejection, dejection and occasional introspection about what happened to great basketball at UMass. This year the hope is that Selection Sunday will be a moment of deliverance.