Boston Colleges:

Deshaun Thomas
March, 23, 2012
3/23/12
1:55
AM ET
BOSTON -- Greg Paulus knows a thing or two about good point guards.
For four years he played the part of one at Duke University.
From his catbird seat on the Ohio State bench, though, Paulus is pretty sure he's watching something special in the person of
Aaron Craft
, particularly when it comes to an on-the-ball defender.
"He's the best I've ever seen,'' said Paulus, now the Buckeyes' video coordinator. "I know Tom Izzo said after our game that he's never seen anyone like him, and he's coached a few games.''
Craft did not lead the Buckeyes in scoring against Cincinnati. In fact, he had a pretty dismal shooting night, connecting on just 2 of 7 shots and missing his first five.
Yet no one in an Ohio State uniform was more critical than Craft on Thursday. It was his quick hands and blanket defense, evident in his six steals, that all but erased Cincinnati's short-lived lead and helped the Buckeyes over their Sweet 16 hump with an
81-66 win
.
Ohio State will face Syracuse on Saturday. The Buckeyes, with the power duo of
DeShaun Thomas
(26 points and seven rebounds) and
Jared Sullinger
(23 and 11), advanced to their first Elite Eight since 2007.
"You have to want to play defense,'' said Lenzelle Smith, Craft's backcourt cohort. "Me and Aaron, that's what we do. We aren't afraid to yell at our guys, slap them around a little bit and they feed off that energy.''
That wasn't always the case. Craft admitted earlier this season there was more infighting among the Buckeyes than in a "Real Housewives" episode.
A blown assignment or a bad pass would inevitably lead to finger-pointing and you-a culpas, never a mea culpa.
No one was terribly interested in taking the blame or the heat, and amid all of the bad chemistry, Ohio State slid off course.
[+] Enlarge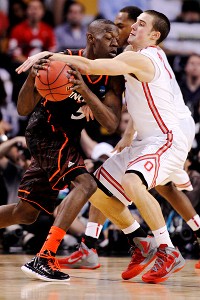 Greg M. Cooper/US PRESSWIREAaron Craft is arguably the top perimeter defender in America.
Losing can make or break a team. Fortunately for the Buckeyes, it was the former, the lousy results serving as a needed eye opener to what it takes to win and win consistently.
The hardest sell, always is defense. It is a choice for some, a chore for most.
Except for Craft. He finds art in what most people consider misery. His face is almost like a defensive thermometer -- the redder the blush in his cheeks, the harder he's working and the more suffering the opponent is doing.
Most folks looked at this game against Cincinnati and concentrated on the inside, and certainly that's where the Buckeyes had and exploited their advantage.
Equally critical, though, was the flip side. The Bearcats start four quick guards, every one able to get to the hoop off the bounce or shoot from 3.
"What we wanted to do was be in position and force them to make quick decisions,'' Thad Matta said. "We told each other, 'Just be sound, just be in the right spots at the right time. They're going to make shots. They're a high-powered offensive team. They've got plenty of guys who can score.' That was where our minds were -- just positioning, faking, staying.''
In all, the Bearcats coughed up the ball a crucial 18 times, seven more than their average.
Never were those mistakes more costly for Cincinnati, trying to make its first Elite Eight since 1996, than at the midpoint of the second half. Switching from zone to man-to-man, the Bearcats confused and rattled Ohio State enough to take a 52-48 lead on a
Yancy Gates
and-1 play.
With the Cincinnati half of the all Ohio crowd on its feet, the Bearcats had seized momentum from a team that has felt the squeeze of this particular game.
Cincinnati should have frozen the scoreboard at that moment. The next time they scored, Ohio State had dashed out on a 17-1 run to not only retake the lead, but take the game over.
And the Buckeyes did it with defense. Cincinnati committed five turnovers in that critical span, with Craft forcing three of them. The miscues led out to runouts and buckets for Ohio State, including the dagger 3-pointer from Craft, that made it 61-53.
"We weren't making the right plays, we weren't making the right pass,''
Cashmere Wright
said. "We were over dribbling the ball, doing things uncharacteristic of our team.''
And Craft was playing his part without fault.
The box score says the point guard played just 39 minutes, 60 seconds shy of a yeoman's load.
What the box score doesn't reveal is that Craft came out only when the game was in hand and Matta wanted to get his point guard an ovation.
When the buzzer finally sounded, Matta turned, a wide grin spreading across his face and pumped fists with his point guard.
Craft smiled back before putting his game mask back on. As he walked to shake hands with the Bearcats, he emphatically raised his finger, catching
William Buford
in the eye.
He wasn't labeling his team No. 1.
No, like a good point guard, Craft was reminding Buford what was next: one more game, one more win to get to the Final Four.
"He can make such an impact in the game in so many different ways,'' Paulus said of Craft. "But the best thing about him? All he wants to do is win.''
March, 23, 2012
3/23/12
12:16
AM ET
By
Jack McCluskey
| ESPNBoston.com
BOSTON -- A quick look at No. 2 seed Ohio State's
81-66 win over No. 6 seed Cincinnati
in Sweet 16 action in the East Regional at TD Garden on Thursday night:
Overview:
Both teams were looking to take advantage of mismatches. Cincinnati hoped its four-guard lineup would cause problems for the bigger Ohio State lineup. Ohio State hoped its size and skill inside would prove overpowering.


Turns out, both teams were right at times.
Deshaun Thomas
had scored 30 points in the paint in Ohio State's first two tourney games, the most in the Dance. So of course the 6-foot-7, 225-pounder took his game outside on Thursday -- hitting 3 of 5 first-half 3-pointers and scoring 20 points in the opening 20 minutes.
But in the second half, the Bearcats turned up the intensity on defense and started hitting shots, their guards using their quickness to cause turnovers and score in transition.
Sean Kilpatrick
hit a long 2, then a 3, then another 3 and suddenly the 6-seed was back in it.
Turning point:
Cincinnati scored the game's first five points, but Ohio State scored 15 of the next 19 to take control. The Buckeyes led by as many as 13 in the first half and were up a dozen at the break.
Thad Matta's bunch was 26-1 this season when leading at the half, so this one was in the bag, right?
Cincinnati had other ideas.
The Bearcats used a 14-2 run early in the second half to even the game at 41, then an 8-4 run to take their largest lead since the opening minutes at 49-45 with 12:13 to go.
But after
Yancy Gates
converted an old-fashioned three-point play to put Cincinnati up 52-48, Ohio State went back to its strength inside.
Jared Sullinger
got fouled in the paint and hit two free throws, sparking a 17-1 Buckeyes run that essentially ended the drama in this one.
Key player:
Jared Sullinger. While Thomas fueled the Buckeyes in the first half, he wasn't nearly as effective in the second. Luckily for OSU, Sullinger was just as effective in the final 20 minutes as he was in the first 20 minutes.
The sophomore big man followed up a 10-point, nine-rebound first half with a 13-point, 2-rebound second half to post final line of 23 and 11.
Key stats:
Second-chance points and free throws.
Ohio State took advantage of its size inside, and its willingness to crash the offensive boards, to compile a 13-5 edge in second-chance points.
And while points in the paint were relatively similar (30 for OSU, 28 for Cincinnati), the Buckeyes' banging inside helped them get to the line often. Led by Sullinger's 9-for-10 performance, OSU shot 19-for-27 from the charity stripe on the night.
What's next:
Ohio State moves on to the Elite Eight on Saturday. The Buckeyes will face No. 1 seed Syracuse, which beat No. 4 seed Wisconsin in a thriller 64-63 in the first game Thursday.
Jack McCluskey is an editor for ESPN.com and a frequent contributor to ESPNBoston.com. Follow him on Twitter @jack_mccluskey.