Boston Colleges:

Dion Waiters
March, 24, 2012
3/24/12
9:42
PM ET
By
Jack McCluskey
| ESPNBoston.com
BOSTON -- A quick take on No. 2 seed Ohio State's
77-70 victory
over No. 1 seed Syracuse in Elite Eight action in the East Regional at TD Garden on Saturday night:


Overview:
Unfortunately, the officiating was more of a story in this one than anyone would've liked. There were some truly questionable calls, on both teams. And while these are two physical teams and there was always going to be some contact, the crew of John Higgins, Michael Nance and Thomas O'Neill was often far too willing to blow the whistle.
Jared Sullinger
picked up two quick fouls in the first half and was limited to four points (2-for-4 shooting) and three rebounds in only six minutes. Syracuse had more personal fouls at the half (12) than it had made field goals (10).
The result was an uneven flow to the game, with lots of stops and starts and not as much back-and-forth action.
Turning point:
It came late in the second half. Ohio State had taken a 10-point lead early in the half on a combination of Sullinger offense and
Aaron Craft
defense, and forced Syracuse to play from behind.
The Orange chip, chip, chipped away at the Buckeyes lead for the next few minutes, cutting it all the way to one. But every time the Buckeyes absolutely had to have a bucket, their big man was there. Sullinger managed to stay on the floor in the second half, and showed what he's capable of when he can avoid the whistles.
After
Brandon Triche
hit a 3 to pull Syracuse within one at 55-54, Sullinger got the ball on the right block and threw in a turnaround jumper off the glass to keep Ohio State ahead.
He consistently got the ball in the post, didn't shy away from the inevitable contact (and, yes, occasionally benefited from a questionable call) and made more of his foul shots than he missed (9-for-12).
And when Syracuse was mounting a furious charge late -- including a 3-point play by
Dion Waiters
that cut the Buckeyes' lead to three with 33.1 remaining -- Sullinger got the ball on the inbounds, got fouled and made one of two free throws to give Ohio State a four-point lead.
That essentially booked the Buckeyes' trip to the next round.
Key player:
Sullinger. The big man was the difference in the second half, scoring 15 points and giving Ohio State a steady offensive presence with which to combat the vaunted Syracuse zone.
Key stat:
Free throws. In a game dominated by physical play and riddled with whistles, it figured that the team with the better showing at the free throw line would have a big advantage.
While Syracuse actually shot a better percentage, 80 to 73.2, Ohio State took 17 more freebies (42-25) and made 11 more (31-20).
What's next:
For Ohio State, a trip to New Orleans. For Syracuse, a trip home.
Next Saturday in the Final Four, Ohio State will face the winner of Sunday's Midwest final between No. 2 seed Kansas and No. 1 seed North Carolina in the Mercedes-Benz Superdome.
It's the 11th Final Four appearance for Ohio State, the second under Thad Matta, and the first since 2007, when the Buckeyes lost in the national championship game to Florida.
Jack McCluskey is an editor for ESPN.com and a frequent contributor to ESPNBoston.com. Follow him on Twitter @jack_mccluskey.
March, 22, 2012
3/22/12
11:55
PM ET
BOSTON – The T-shirts were only gifts from Nike, concocted by some faceless marketing whiz, not crafted by clever seniors looking to send a message.
Still, if Syracuse players got together to try to formulate a motto for their team and for their season, they couldn't have come up with better than the three words emblazoning their Ts:
By Any Means.
Syracuse has won 34 games this year, nail-biters and blowouts, won with defense and won with offense, with their starting center and without him.
The Orange just win, amazing even their seen-it-all coach with their pluck and knack for pulling victory from the jaws of defeat.
"If I wasn't the coach, I'd be sitting there thinking, how are they going to win that game? They can't win
that
one,'' Jim Boeheim said last week. "And then they do.''
And really that's all that matters at this time of year. From October until February, a team has to justify its worth, prove it deserves a bid, prove it merits a high seed.
Now, though, the means needn't justify the end. Pretty or ugly, easy or hard, it makes no never mind.
Syracuse opted for a plateful of the last Thursday night, surviving a Wisconsin shooting clinic that was equal parts awe-inspiring, amazing or terrifying, depending on your team color choice, to advance to the Elite Eight for the first time since its national title run in 2003,
64-63
.
"Yeah, by any means, that's perfect for us, that's how we played today, how we've played all season,'' sophomore guard
Dion Waiters
said. "By any means. It fits.''
The means in this matchup came in the form of Fair and prayer. That would be
C.J. Fair
, who was so ineffective in Pittsburgh that reporters were probing for health issues or injury to explain his 1-of-10 shooting in the first two rounds of the tournament, and who out of nowhere shot 7 of 9 to finish with 15 points and seven rebounds on Thursday.
As for the prayer, that came from Waiters, who looked for a little divine intervention as Wisconsin, which shot a blistering 14 of 27 from the arc, had the ball, 15 seconds and a chance to win the game.
"I just kept saying, 'Please don't make it, please don't make it, please God, let him miss,'' Waiters said.
Whether it was a prayer or simply good defense, Waiters' request was heeded, with
Jordan Taylor
's long-distance 3 falling short and
Josh Gasser
's desperation heave missing on the buzzer.
"That clock just had to end,'' Orange junior
Brandon Triche
said.
When it did, Taylor and his Wisconsin teammates lay prone on the floor. There is one way to beat a zone and the Badgers executed it to near perfection, at one point draining six 3s in succession to go from down seven points to up by three.
[+] Enlarge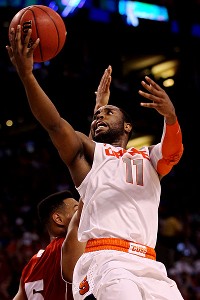 Photo by Elsa/Getty ImagesScoop Jardine had 14 points and 4 assists as Syracuse slipped by Wisconsin to reach the Elite Eight.
But when Wisconsin needed those shots, they couldn't come up with them, missing their final five, including Taylor's heave.
The loss once more denies Wisconsin coach Bo Ryan a chance to get out of the regional semifinal. The man who racked up Division III titles like a tie collection is now 1-4 in the Sweet 16.
"It was on the line, and I felt like I got my legs into it,'' said Taylor, who finished with 17 points. "I knew it was a deep three but it felt good and then to see it kind of come up short was kind of heartbreaking.''
One team's heartache …
"This is one of the best games I've been involved in in a long time,'' Boeheim said. "I think the best game anyone played against us and didn't beat us.''
Truth be told, this game was a microcosm of that entire season – an unexpected star, timely defense and an answered prayer has been both the Orange's means and recipe all year.
Blessed with a roster deep enough to field a second team, Boeheim has the luxury of finding the hot hand and then feeding it well. In three NCAA tournament games, three different players have led the Orange in scoring.
Fair hadn't been the guy in a while, though. He's been on this side of terrible since the postseason began, 2 of 17 from the beginning of the Big East tournament through the third-round victory over Kansas State. He swears he never lost confidence because Boeheim never gave up on him -- Fair retained his starting position and kept playing minutes.
On Tuesday, he said he had a feeling -- not quite a premonition -- that he would play well against the Badgers. And then he promptly turned the ball over on his first touch and missed two free throws a few minutes later.
"I was like, 'Oh man, this cannot happen,' '' Fair said.
But with five minutes left until the halftime break, Waiters found Fair in transition and the sophomore slammed home the dunk, igniting the partisan Syracuse crowd and his own offensive game.
He'd tack on four more points in quick succession before intermission and keep rolling in the second.
"These were the same shots I was taking last week,'' he said. "This time they were just going in.''
Of course, it seemed like most everything was going in during this game. It was a mathematical misnomer, with Wisconsin shooting better from outside the arc than inside of it and Syracuse hitting nine fewer 3s.
And winning.
Which is why it makes only perfect sense that defense sealed the victory.
After watching the Badgers hedge toward Loyola Marymount's seemingly untouchable record of 21 made 3s in 1990, Syracuse extended its zone a good two steps beyond the line.
Those extra inches made all the difference, pushing Taylor just enough out of his comfort zone to make that last shot difficult, it not downright impossible.
"We wanted to get a stop,'' said
Scoop Jardine
, who with Waiters crowded Taylor on his final shot. "We knew it was going to be something with Jordan trying to penetrate or kick out to one of his shooters. We've been in that situation before throughout the year. … We believed in our defense. We didn't panic, we stayed with them and we believed in it and got the stop to win the game.''
By any means.
March, 22, 2012
3/22/12
9:31
PM ET
By
Jack McCluskey
| ESPNBoston.com
BOSTON -- A quick look at No. 1 seed Syracuse's
64-63 victory
over No. 4 seed Wisconsin in Sweet 16 action in the East Regional at TD Garden on Thursday night:


Overview:
After all the talk about how Wisconsin would solve the vaunted 2-3 zone of Syracuse, it was the Wisconsin defense -- the top scoring defense in the country this season -- that struggled to contain the Syracuse offense early. Syracuse shot 63.6 percent in the first half, including 50 percent on 3-pointers, and led 33-27 at the break.
In a wild second half, the Orange weathered a furious storm of 3s from the Badgers and held on -- just barely -- for the win. The last time Syracuse won a game by one point in the NCAA tournament was the Sweet 16 in 2003, when the Orange beat Auburn 79-78 and went on to win the national championship.
Turning point:
This was a game of punch-counterpunch in the second half. It seemed that whenever one side would hit a big shot, the other would invariably answer.
So after
Jordan Taylor
hit yet another big 3 -- he had four in the half -- to put Wisconsin up 59-56 with 7:05 to go, was there any doubt Syracuse would find a way to answer?
If there was any doubt in the Orange, it didn't show.
Baye Keita
converted a layup, then
Dion Waiters
made one of his own to give Cuse back the lead at 60-59.
Taylor had a chance to win it for Wisconsin as time expired, but his heave was short and the Badgers couldn't get a good shot off the air ball as the Orange escaped.
Key player:
This was a balanced effort by the Orange. Four players scored in double figures, led by
C.J. Fair
with 15.
Key stat:
This one's easy -- without the 3, there's no way the Badgers get back into the game at all. Wisconsin shot 51.9 percent from beyond the arc for the game and was 9-for-16 in the second half as it rallied to make things interesting at the end.
Syracuse also shot well from 3, hitting 55.6 percent for the game. The difference was in the number of shots. Wisconsin took 27 as it attempted to rally from a double-digit deficit, while Syracuse took only nine.
What's next:
Syracuse will now move on to the Elite Eight, where it will face No. 2 seed Ohio State on Saturday night in Boston.
Jack McCluskey is an editor for ESPN.com and a frequent contributor to ESPNBoston.com. Follow him on Twitter @jack_mccluskey.