Boston Colleges:

Doug Flutie
August, 27, 2014
8/27/14
4:50
PM ET
By
Brett Edgerton
| ESPNBoston.com
When one thinks of in-state rivalries in college football, Boston College and Massachusetts isn't exactly top of mind. But we can always get behind a little rivalry hijinks during game week.
In advance of Saturday's matchup between the Eagles and Minutemen at Foxborough's Gillette Stadium, someone -- we're just going to guess a UMass supporter -- decided to go to BC's Alumni Stadium and dress up the statue of the school's most famous football alum: 1984 Heisman Trophy winner Doug Flutie.
Whether they had anything to do with it or not, the UMass program and its mascot were more than happy to point it out to Flutie on Twitter.
#UMASSNATION: Do you think @DougFlutie knows his statue got a @UMASSFootball upgrade? Tweet him so he knows #GoUMass pic.twitter.com/cbvilRsENX"

— Sam The Minuteman (@Sam_Minuteman) August 27, 2014
Do you think he noticed? Oh, he certainly noticed. And he wasn't too impressed.
August 27, 2014
December, 12, 2013
12/12/13
9:00
AM ET
Andre Williams
is a philosopher, an eccentric. His off-the-field exploits this season, which include writing a memoir,
have been well documented
. He takes in questions and, unlike most in his position, spends his time digesting them before delivering appropriate answers rather than spewing out tired cliches.
But the 6-foot, 227-pound Boston College running back is anything but sophisticated when discussing his on-the-field exploits for the resurgent Eagles this season.
"You can draw it up any way you want, you can run any type of offense," Williams said. "But it's really just about the 11 guys on the field and how strong you guys are as a unit and as a team. Any kind of offense can work, not one is better than the other. It's really about the 11 guys that you have on the field and the chemistry and the things that you can't draw on paper that really count in the game of football."
Reducing his day job to the simplest of elements has powered Williams to a remarkable senior season. Boston College's first Heisman Trophy finalist since Doug Flutie took home the prize 29 years ago, Williams has posted the ninth-best single-season rushing mark (2,102 yards) in college football history. He is a throwback of the highest order, more than happy to carry the mantle for a position group that has seemingly seen its significance decrease in the national eye in recent years.
[+] Enlarge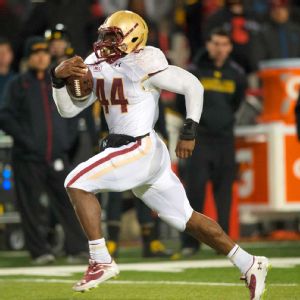 Tommy Gilligan/USA TODAY SportsAndre Williams' 2,102 rushing yards this season gave him the ninth-best single-season total in college football history.
Consider that no running backs were taken in the NFL draft's first round this past spring, the first time that had happened in 50 years. Or that the recruiting pitch of the college game's most iconic active coach, Nick Saban,
revolves around his backfield getting the most mileage out of the lightest workload possible
.
Williams and Auburn's
Tre Mason
are two of the six finalists for an award Saturday that will likely go to a quarterback for the fourth straight season. And Williams understands why, though he is thankful to have a leader like Steve Addazio in his corner. The first-year Boston College coach has emphasized a smashmouth style that has seen the Eagles carry the rock on better than 66 percent of their plays -- with Williams rushing it on nearly 69 percent of those runs.
"I love being a running back, I love representing running backs," Williams said. "I don't necessarily think it's unfair that it's been quarterbacks really high up in the Heisman contention lately, because that position is hard to play. It's hard to be good at it. And with the trend toward teams playing spread offenses and throwing ball more, I think really that's one of the factors behind it -- you have to have a good quarterback to be able to do that with your offense.
"But football is a funny game, because you can draw up all the X's and O's you want, but it's really an emotional and physical and mental game, and you can line up with any type of scheme and it can work if you have the right group of guys."
Williams could possibly meet his match in the AdvoCare V100 Bowl when he faces Arizona's
Ka'Deem Carey
, who actually touts a higher per-game workload (29.27) than Williams (27.41) after being suspended for the season opener.
The workhorses are scheduled to cross paths in Orlando, Fla., this week as finalists for the Doak Walker Award, with each expressing his admiration of the other's role in being flag-bearers for running backs this season. Both have relished the relative downtime before the bowl, especially Williams, whose shoulder injury forced him to exit the regular-season finale.
At 5-10, 207 pounds, the smaller Carey, a Tucson, Ariz., native, said he prepared for his workload this season by doing what he always does: hiking the various mountains surrounding the region, joking that there's not much else to do in his hometown.
His mindset is similar to Williams' in that each refuses to see the open field as a 1-on-11 game of tag.
"Every time I touch the ball I run hungry," Carey said. "I know the whole 11 is after me, and I feel like I should be after them, so I go after them instead of them just chasing me."
Nine running backs have accounted for 11 trips to New York in the previous 10 years. (Darren McFadden and Reggie Bush each went twice). By the time of the Heisman ceremony, none had tallied more rushes than Williams (329) or Carey (322) has this fall. And none had touched the 2,000-yard barrier that Williams crossed in the regular-season's penultimate game, at Maryland.
If there is a caveat with Williams, it comes in the passing game, where he has been a non-factor. He has zero catches this season and just 10 for his career, and he knows it is an area he will need to prove himself in for pro scouts come pre-draft evaluations. In comparison, Carey has 26 catches for 173 yards.
What Williams' hands lack in catching, they make up for in other areas, namely his signature stiff-arm, a move that Carey lauded him for, and one that several ACC defenders
have fallen victim to while standing in the thoroughbred's way
.
Jim Morgans, Williams' coach at Parkland (Pa.) High, recalls his protege elevating the entire team with a well-delivered blow that would enliven the sideline.
"It's the timing of it," Morgans said. "He knows when to deliver it. He puts a little dip in his legs and he really delivers a heckuva [hit].
"There's other things that he did, too: He would turn on defenders if he had the sideline and he's breaking down the sideline, and you know that he could probably take the angle away from defensive backs because he always had another gear. But sometimes he would relish just turning right into the defensive backs and running into them and running them over."
November, 20, 2013
11/20/13
7:44
PM ET
By
Jack McCluskey
| ESPNBoston.com
Though he's a quarterback through and through, Doug Flutie is also a true Boston College product.
And while he loves seeing a wide-open receiver streaking underneath a deep throw with nothing but green grass between him and the end zone, Flutie also loves to see a powerful offensive line punishing opposing defenses and an explosive back bursting through holes for big gains.
So of course, the former BC star, the school's only Heisman winner, has really enjoyed watching
Andre Williams
this season.
"First of all, it's awesome," Flutie said by phone Wednesday. "He's had an amazing year. He's as good as anyone out there. There's no doubt about it. He runs physically, lowering his shoulder, and has the speed to pull away."
Williams has a school- and ACC-record 1,810 yards rushing with two games remaining this season. He got two votes in ESPN.com's latest
Heisman Watch
piece, and his name has been bandied about by fans and journalists alike.
Since Flutie, only QBs Glenn Foley (finished fifth in 1993) and Matt Ryan (finished seventh in 2007) have received Heisman votes while at Boston College, according to Lee Singer of ESPN Stats & Info.
"As far as being mentioned in the Heisman race, it's great because it brings attention to the school," Flutie said of Williams entering that conversation.
That could help in recruiting, he said, with skill position players seeing that it's possible to put up big numbers and get mentioned for coveted honors at BC.
Flutie is a college football analyst for NBC Sports and serves on the advisory board for the Capital One Cup, an award given out annually to the best men's and women's Division I college athletics programs in the country.
But when it comes to actually winning the Heisman, or evening getting an invite to New York for the trophy presentation, Flutie has his doubts.
"I think it's a little late in the year to get the attention necessary to be a true contender," he said. "There are a handful of guys who've been getting the attention all year long. People are just starting to hear about Andre, which is a shame."
But while the general public has been introduced to Williams late, like many BC fans, Flutie has been waiting for him to do something like this for years.
"You saw the explosiveness," he said. "You could tell he was a big-time back. You could tell he ran with power and speed. You could see it in him, but he would be nicked up, he would sit out a game."
So far, Williams has held up fairly well under an intense workload. (He revealed this week that he suffered a separated AC joint in his right shoulder in the loss to North Carolina, but said it's not a big deal anymore.) As ESPN.com's Andrea Adelson noted, Williams
has accounted for a whopping 49 percent
of BC's total yardage this season. He leads the country in almost every major rushing category, including attempts (288), yards (1,810), yards per game (181.0) and 200-yard games (four).
Though Flutie said he's partial to Troy Stradford, his running back while at BC, Williams deserves the spot he's grabbed for himself in the school's record books.
Stradford finished his BC career with 3,504 yards, making him the Eagles' career leader at the time. Williams has 3,372 yards entering Saturday's game at Maryland, fifth all-time, 132 yards behind Stradford.
Williams needs 364 yards in his final two regular-season games to become BC's all-time rushing leader.
"As far as being a dynamic back," Flutie said, "he's as good as we've had."
Jack McCluskey is an editor for ESPN.com and a frequent contributor to ESPNBoston.com. Follow him on Twitter @jack_mccluskey.
October, 10, 2013
10/10/13
6:22
PM ET
By
Jack McCluskey
| ESPNBoston.com
Nearly three decades removed from his college playing days, Doug Flutie still says "we" as often as he says "they" when he's talking about Boston College.
"Did you honestly think we were going to give Florida State a fit?" Flutie asked rhetorically, referring to BC's 48-34 loss to then-No. 8 FSU two weeks ago, during a recent phone conversation to promote the
Capital One mascot challenge
. "Do I think BC is gonna beat [No. 3 Clemson]? Probably not. But, I mean, every year upsets happen."
Flutie is a college football analyst for NBC Sports these days, with a focus on Notre Dame, so he watches a lot of games. But he'll always have a special place in his heart for his alma mater, and he's liked what he's seen of the Eagles in 2013.
"They played 'em toe to toe," Flutie said of the Week 5 matchup with the Seminoles.
Maybe the Noles were looking ahead to their meeting with then-undefeated Maryland, or maybe not. Either way, it's probably safe to say the game in Chestnut Hill didn't start exactly the way they wanted.
"They had a rude awakening in the first quarter of that game and then it was like, 'Holy mackerel,' " Flutie said. "It took them a while to get rolling. ... I don't know anymore when it comes to college football. Maryland was up and coming and looking like a team that's gonna give Florida State a fit. And then it's 63-0 [FSU over Maryland in Week 6]. So BC should go beat Maryland now, right? That doesn't happen."
Flutie said the transitive property does not appear to apply in college football anymore. Just because Team A beat Team B and Team B beat Team C doesn't mean Team A will beat Team C.
"I don't think Clemson's on another level from FSU, I think they're on the same type of level," Flutie said. "I don't think we're gonna surprise anybody anymore. Clemson's just darn good. But I think we can give them a fight. I think any given day you've got a shot. You've gotta play your best football.
"For Boston College to knock off Florida State, for Boston College to knock off Clemson, you need [the other team to make] a couple mistakes," he said.
The 1984 Heisman Trophy winner said teams can force opponents into mistakes through an aggressive approach.
Few teams have taken better care of the football this season than Clemson (5-0, 3-0 ACC). The Tigers are tied for second in the country with a 1.80 turnover margin. They have 13 turnovers gained (four fumbles and nine interceptions) and just four lost (two fumbles and two interceptions).
Boston College (3-2, 1-1 ACC) has had pretty good ball security, as well, with eight turnovers gained (three fumbles recovered and five interceptions) and only four turnovers committed (one fumble lost and three interceptions). The Eagles' turnover margin of 0.80 is tied for 28th nationally and tied for fourth in the ACC.
Against an explosive offense like the one the Tigers run, the Eagles can't afford to lose the turnover game. They need to win that one to give themselves a shot at winning Saturday's matchup (3:30 p.m. ET on ABC/ESPN2).
"Turnovers, you make those breaks for yourself," Flutie said. "Get in [Tajh] Boyd's face, hit him a few times, create a turnover or two and create some momentum and you never know what could happen."
Jack McCluskey is an editor for ESPN.com and a frequent contributor to ESPNBoston.com. Follow him on Twitter @jack_mccluskey.