Boston Colleges:

Emmett Cleary
April, 25, 2013
4/25/13
4:20
PM ET
By
Jack McCluskey
| ESPNBoston.com
To watch, or not to watch?
That is the question for potential late-round NFL draft picks like Boston College linemen Emmett Cleary and John Wetzel.
Whether 'tis better to sit in front of the TV and stew, or to get out and find something to do.
Both Cleary and Wetzel were invited to the combine in February, where they were poked and prodded, questioned and tested. In Scouts Inc.'s full
seven-round mock draft
, both are projected to be drafted in the final round.
"It's definitely been interesting," Cleary said Thursday of the pre-draft process. "It's been great to kind of go through the whole thing and learn how to comport yourself and treat yourself as a job applicant for the first time."
The strangest part of the combine for Cleary was during the testing at Indianapolis' Lucas Oil Stadium.
"It's so quiet in that dome," the 6-foot-6, 316-pound left tackle said. "Watching on TV for a couple years, you always expected this is the big thing. Then you get up to the start line and the whole NFL is looking at you …."
"It's a once-in-a-lifetime experience," said Wetzel, a 6-foot-7, 315-pound right tackle. "I was training at ING in Florida for two months before, and just spent so much time preparing for the things in the combine. And then when you get there, the first two days it was a lot of waiting. You just want to get out there and get it done.
"Then the last day, it just went by so fast. It was a great experience. I enjoyed talking to all the coaches and meeting a bunch of new people there that I'll be playing with in the NFL later on."
Neither Cleary nor Wetzel knows exactly what to expect this weekend.
"I heard a lot of stuff," Wetzel said of where he might be selected. "I heard I could possibly even go [from] three to seven, within that range. … Some teams think real highly of me and really want me and some teams might have a different perspective."
Cleary doesn't expect his phone to ring with good news until Saturday.
"I think it's a crapshoot, honestly," he said. "I'll be a late-rounder. Regardless, it'll be either Saturday or free agency."
Whatever happens, the Illinois native is keeping his eyes on the horizon.
"My focus is on making a team and making the best of the situation that I have," he said. "I don't think [whether I'm drafted or not] really changes my outlook."
For now, there is no backup plan.
"Geez, I hope I don't have to worry about that for a couple years," Cleary said. "This is something I want to do so I'm gonna chase this dream for as long as I reasonably can."
As offensive linemen from Boston College, Cleary and Wetzel both said they feel some added pressure to continue the tradition the school has established at the position.
"You want to do everything you can to keep that going," Wetzel said. "It's something we pride ourselves on. We still think we have some good linemen who can continue that tradition of O-line U at Boston College."
Anthony Castonzo, who first Wetzel and then Cleary replaced at left tackle in Chestnut Hill, was the latest high-profile lineman to make the successful transition from college to the pros when he was taken in the first round by Indianapolis in 2011 and started as a rookie. Also included in the lineage are players like Marc Colombo, Jeremy Trueblood and former Patriots center Dan Koppen.
That the Eagles have struggled in recent seasons, going 4-8 in 2011 and 2-10 in 2012 under former coach Frank Spaziani, just adds to the pressure.
"Our year last year was terrible," Cleary said, "but we're hoping to prove that we're just as good as those guys who've gone before."
All the workouts now done, the interviews finished, Cleary and Wetzel just have to decide whether or not to watch.
Cleary said he'll probably watch the first round, but he's not sure about Friday or Saturday. He said he doesn't want to be "stuck in front of the TV all day."
Wetzel, meanwhile, said he might get in a workout instead of watching Thursday night. But the Pittsburgh, Penn., native has a different plan for Rounds 2-7.
"The next two days I'll be in front of the TV with my family watching," Wetzel said. "And if I get picked, after that I'll have a bunch of family and friends over to celebrate."
Jack McCluskey is an editor for ESPN.com and a frequent contributor to ESPNBoston.com. Follow him on Twitter @jack_mccluskey.
November, 22, 2012
11/22/12
3:32
AM ET
By
Jack McCluskey
| ESPNBoston.com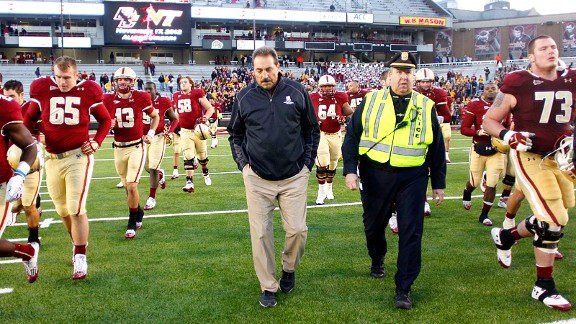 AP Photo/Winslow TownsonThe Eagles are still backing Frank Spaziani, who has at least one more game as head coach.
NEWTON, Mass. -- Things haven't been this bad at Boston College in a long, long time.
There was the 0-11 season in 1978 that ended with a loss in Tokyo. There was the 2-9 season in 1989, sandwiched between a 3-8 season and a 4-7 season.
But since Tom O'Brien posted an 8-4 record in 1999, the Eagles hadn't recorded a single losing season and had played in 12 straight bowl games.
Until the past two seasons, that is. The bottom has fallen out on BC under head coach Frank Spaziani, who has seen the record fall from 8-5 in 2009, to 7-6 in 2010, to 4-8 in 2011 to the current 2-9 in 2012.
Yet during Thanksgiving week, a number of Eagles made it clear that there's still plenty they are thankful for.
"We all owe a debt of gratitude, both for the chance and then for his belief in all of us that we can go out and get it done," fifth-year senior and offensive co-captain
Emmett Cleary
said of the only head coach he's ever played for.
"It's been bad this year, but you have to believe in the process more than you believe in the results you're seeing. I think a lot of this isn't Coach's fault, and I just hope he has his job season opener next year."
They've heard the rumors that Spaziani won't survive the end of the season. How could they not hear them? After all, Cleary said, they're on campus, too.
After a second straight losing season and with a new athletic director (Brad Bates) in charge at Boston College, Spaziani might be coaching his last game at NC State on Saturday (3 p.m. ET, ESPN3).
A loss to the Wolfpack would produce just the second season with double-digit losses in school history.
Coming as it has on the heels of a 4-8 season in 2011, the 2012 season seems to show that there just isn't enough progress being made on Spaziani's watch.
But is Spaziani entirely to blame? His players aren't so sure.
"If I'm in position to make a block and I don't make it, I'm not gonna blame somebody for calling the wrong play," Cleary said, pointing out that the players are the ones on the field. "It's toughness, discipline and just kind of approaching the game the right way that he's instilled in this team. We've had a rough season but those lessons work for football and they work for life. Nobody's lost sight of that, I think.
"With all the criticism, frankly, it's been good watching Spaz kind of model what he's been preaching for years now. You just have to worry about the day-to-day things and just keep working and that's ultimately what causes success in this world."
It also would've helped if Cleary's class had stuck around after 2008.
"We've talked about this hundreds of times among the older guys," Cleary said. "I think a lot of these games were lost three or four years ago, when my signing class -- which was, I think, 36 including walk-ons -- [decided to leave BC, and now] there's nine of us left. It's hard to win when you don't have experienced players and experienced depth.
"We've had a lot of young players playing and they've really played their asses off these last couple years, but I think you'd prefer to have those guys redshirt and have experienced backups when injuries and losses happen."
When Jeff Jagodzinski brought in Cleary and the rest of this season's crop of fifth-year seniors, the program was riding high. Cleary's redshirt year, 2008, the team was in the ACC championship game -- just as it had been the year before.
Then Jagodzinski interviewed for a job in the NFL, former athletic director Gene DeFilippo fired him and hired Spaziani, who had been the defensive coordinator from 1999 to 2008.
While hiring Spaziani meant there remained some continuity on the coaching staff, whenever there's a coaching change there will be some impact on recruiting.
"The reality is this, when you chop up recruiting, it doesn't show right away," Spaziani said before practice Tuesday. "It has unintended consequences that happen later on. … At Boston College you have to identify talent, you have to develop it and you have to have some continuity with it. There's other issues besides that. [But] that's a contributing factor."
The Eagles don't like talking about this kind of thing. It's too close to an excuse, and making excuses isn't how they operate in the Heights.
But it's true that it was an issue that they've had to navigate. Last season, the Eagles had 12 seniors. This season, they have 16 -- only eight of them significant contributors.
That makes it hard to win.
It hasn't helped Spaziani that the trend in college football has been toward giving coaches less time to succeed, rather than more, in the age of information.
September, 21, 2012
9/21/12
6:00
AM ET
By
Jack McCluskey
| ESPNBoston.com
[+] Enlarge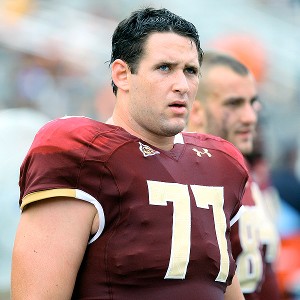 Cal Sport Media via AP ImagesLeft tackle Emmett Cleary is eager to get back in action.
NEWTON, Mass. -- There seem to be two distinct schools of thought at BC concerning the bye week.
On the one hand, there is the offense.
"I don't personally like having this taste in my mouth for two weeks," left tackle
Emmett Cleary
said. "That said, though, we need the work. There were certain things on the tape that need to be corrected. We're kind of getting back to basics this week, going a lot of good on good in practice, and just fixing the technical flaws."
The offense managed only 25 yards rushing on 21 carries in the 22-13 loss to the Wildcats, to go with
Chase Rettig
's 291 yards passing and a touchdown. The Eagles felt they left points on the field, and would love another chance to execute and put those points on the scoreboard.
"So no I don't like it," Cleary said, "I wish we had a game on Saturday, but it's kind of the medicine we need to take to make us better."
On the other hand, there is the defense.
"To be honest with you, I think that it's better that we have the bye," linebacker
Nick Clancy
said. "Especially guys on defense, we played 98 or 100 snaps, guys were tired after the game. So this bye week is much needed after a game like Northwestern."
The Wildcats ran 100 offensive plays this past Saturday, 60 of them on the ground, and produced 560 total yards that they turned into 22 points. The BC defense was on the field for a whopping 35:56 on the day.
"To have a game this week would be nice, because when you lose you want to go out and get a victory," Rettig said. "But I think it's also beneficial to us to recoup and get healthy again. I think the guys have the right mentality right now.
"We just gotta move forward, that's all you can really do."
The next chance the Eagles will have to get a win comes next Saturday, Sept. 29, at home against No. 10 Clemson.
In the meantime, though, the Eagles will have plenty of time to watch the Tigers take on No. 4 Florida State on Saturday night.
Jack McCluskey is an editor for ESPN.com and a frequent contributor to ESPNBoston.com. Follow him on Twitter @jack_mccluskey.
September, 20, 2012
9/20/12
10:30
PM ET
By
Jack McCluskey
| ESPNBoston.com
NEWTON, Mass. -- For a team known as physical and blue-collar, the numbers were unacceptable.
Twenty-one carries for 25 yards, an average of 1.19 yards per carry.
"Yeah, absolutely," BC head coach Frank Spaziani said when asked if jump-starting the running game will be a focus during this bye week. "We were disappointed in how we ran the ball, obviously, last week."
[+] Enlarge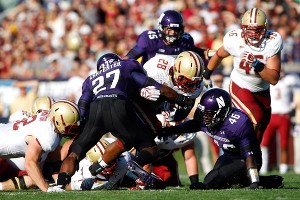 Jerry Lai/US PresswireBC RB Deuce Finch gained just 19 yards on 8 carries and lost a fumble on Northwestern's 4-yard line.
The Eagles are averaging just 2.99 yards a carry, tied for 108th in the country.
Left tackle
Emmett Cleary
said he was frustrated by the line's performance against Northwestern.
"We took too long to kind of catch on to what they were doing," he said. "Something we normally pride ourselves on is we're a smart bunch of guys, we sniff stuff out and we get it blocked up. For whatever reason, we missed too many blitzes and cut some guys loose, so the running backs didn't even have a chance.
"It's not like we're getting overpowered up front. It's not like we're that technically deficient. It's just we gotta have all five guys on their jobs. The holes are there. We watched the film and there's gaps, it's just one guy leaking off late and making the play."
Cleary's teammates don't put the failures all on the offensive line's shoulders.
"I think the guys up front have done well so far this year," quarterback
Chase Rettig
said. "We have this off week so we're gonna use it to our advantage, work on just getting a lot of reps for our running game because we're gonna need to be able to run the ball against Clemson."
"I don't think really you can pinpoint it down to one thing," wideout
Alex Amidon
said. "It's just a couple of things that have gone wrong that we just need to fix in practice. There's nothing wrong with the personnel; I think it's definitely fixable.
"I think you'll definitely see the running game improve vastly from where it's been so far."
Spaziani is optimistic that focusing on fundamentals will bring about the positive change that's needed.
"Everything is fixable," he said. "The problems we're having aren't ones that can't be fixed."
Though fumbles have been a problem for the Eagles this season, including a costly one against Northwestern when
Rolandan Finch
turned it over on the Wildcats' 4-yard line, Cleary said he doesn't think the issues will linger.
"Motivation's not really an issue," he said. "It's always on to the next play. It was a big play and I know [Finch] was disappointed about it, but he's going to make some very important contributions to this team this season. He can't be thinking about what happened or any of that. And he knows that.
"He's had huge games for us before, and so I fully expect him to come back with an extra little chip on his shoulder and just run over some people next week."
And while the work will be shared this week, Cleary believes he knows who needs to carry the biggest load.
"At the end of the day," he said, "the responsibility for running the football lies on the five guys up front."
Jack McCluskey is an editor for ESPN.com and a frequent contributor to ESPNBoston.com. Follow him on Twitter @jack_mccluskey.
September, 7, 2012
9/07/12
1:57
AM ET
By
Jack McCluskey
| ESPNBoston.com
NEWTON, Mass. -- Because of the type of player they attract, the Eagles don't reload -- they rebuild.
And by nature rebuilding takes a lot longer than reloading.
[+] Enlarge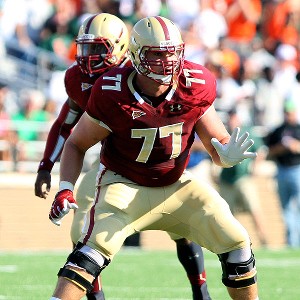 Cal Sport Media/AP ImagesThe Eagles are counting on left tackle Emmett Cleary to anchor the offensive line.
For a number of reasons, the Eagles have found themselves in a rebuilding period in recent seasons. By all accounts the players calling the Yawkey Center home these days are cut from the same cloth their hardworking predecessors were, and that's leading to hopes that the lean times -- four years of declining win totals, and an end to the 12-year streak of bowl berths -- are nearing an end.
If they are, one major reason could be the bulking up of the offensive line.
"This is one of the few times we've had five guys in there for a pretty long time, the same guys," head coach Frank Spaziani said before practice Wednesday. "That helps."
Led on the field by mammoth left tackle
Emmett Cleary
(6-foot-7, 313 pounds) and off the field by new offensive line coach/running game coordinator Jim Bollman, the unit BC has become known for kept quarterback
Chase Rettig
upright and mostly unmolested in the 41-32 loss to Miami.
"With the cohesiveness of those guys, they should get more confidence and that should lead to better play and hopefully that'll lead to W's," Spaziani said.
Cleary, selected as an offensive co-captain this season, said the communication on the line has been good. The five-man unit has been together all spring and summer, time they've used to jell.
The group has good size.
Bobby Vardaro
(6-5, 312) lines up next to Cleary at left guard, with
Andy Gallik
(6-3, 300) at center,
Ian White
(6-5, 303) at right guard and
John Wetzel
(6-8, 302) at right tackle.
Asked about his line's performance, Rettig didn't hesitate.
"I thought the offensive line played great," he said. "Coach Bollman got them ready for the week. I think we're really good up front."
Cleary was a little more circumspect.
"Overall we did play well," he said. "You'd like to have more on the ground, but kind of the situation of the game dictated that we were throwing in the second half.
"We protected well, we just gotta get more than 3 yards a carry when we do run the ball. We've gotta be more productive."
BC had 96 net yards rushing on 34 attempts against Miami, good for an average of 2.8 yards a carry. That's not going to cut it.
"Offensively, we kinda take pride in that [if there are] bad conditions, we aren't hitting passes, whatever, we can just take the ball, put it on our shoulders, take the air out of the ball and march down the field," Cleary said. "We were splitting some runs but it wasn't at the consistent level that we need to be."
But when Miami got out to a lead and knew that BC would have to pass to catch up, the line still had little trouble keeping Rettig protected in the pocket.
"I thought they did a good job -- we didn't have any sacks," Spaziani said. "I think that's a combination of those guys protecting him and Chase knowing where to distribute the ball."
Rettig said new coordinator Doug Martin's offense may help by spreading the defense out a bit more than the Eagles have in previous seasons, which makes it harder for defenses to rush the passer.
"I was hit like four times, I think, no sacks," Rettig said, appreciatively. "Whenever you can get no sacks, that's great. That's a great stat to have in any game.
"I felt comfortable the whole game, and I guess it's just because I expected the offensive line to play great. … Not having pressure definitely got me into having a rhythm."
That rhythm helped him set career highs in completions, attempts and passing yards, and got the offense to the 30-point mark.
And while Cleary was pleased with the performance he and his linemates had on Saturday, it clearly irked him that the Eagles averaged what they did on the ground.
Deuce Finch, last season's leading rusher, should be back on the field this weekend. And Cleary & Co. will be raring to go, ready to open holes for him and the other backs.
The left tackle said the Maine defense likes to move a lot, which means one thing for the O-linemen on whose massive shoulders rests so much responsibility.
"We gotta be able to head 'em up," he said.
After one game, the offensive line has good reason to hold its head up high. And if that continues, things will likely start to look up for all the Eagles.
Jack McCluskey is an editor for ESPN.com and a frequent contributor to ESPNBoston.com. Follow him on Twitter @jack_mccluskey.