Boston Colleges:

Harvard basketball
February, 10, 2012
2/10/12
3:01
PM ET
By
Jack McCluskey
| ESPNBoston.com
CAMBRIDGE, Mass. -- The No. 21 Crimson expect to have their hands full on Friday night.
At 20-2 overall and 6-0 in the Ivy League, Harvard is off to the best start in school history and sits in first place in the Ancient Eight. In third place? Friday night's opponent, Penn, at 12-10 and 4-1 a half-game behind Yale (15-5, 5-1).
The Quakers have Zack Rosen to thank for that.
Rosen is averaging 18.3 points, 6.0 assists and 3.2 rebounds in 38.1 minutes a game as a senior. And he's proven capable of rising up when his team needs him most.
"Yeah, he's been killing it," Crimson captain Oliver McNally said. "If you look at his numbers they're pretty impressive. … He's been by far the focal point of their team. They have some other talented players but when he's going they're going as a team, and if he has an off night I think they haven't been too successful as a team.
"He's gonna be the main focus of our defense."
Asked how he plans to defend Rosen, coach Tommy Amaker laughed.
"Hopefully he kinda gets lost coming to the gym," he joked. "He's so good. I really have a great deal of respect for him and his play. He's been as good as anyone in our league this year."
The 6-foot-1, 175-pound guard leads the Ivy League in assists and is second in scoring.
"He has the ball in his hands so much," Amaker said. "He's similar to what I used to refer to about Jeremy Lin -- it's not always the points he scores, it's the points he's responsible for. He scores a lot and he's responsible for many more, which make him incredibly dangerous."
McNally said he's confident that Brandyn Curry's on-ball defense can slow Rosen, with help from the rest of his teammates. The Crimson D ranks third in the country, allowing only 53.6 points per game.
"We're hopeful one, he can maybe have an off day, two, he is in foul trouble, and three, we can limit his touches," Amaker said of defending Rosen. "It's gonna be an incredible challenge for us to keep him under wraps, and I'm not sure that that's possible.
"We'll try to rotate different people on him and see if there's a way that we can possibly keep him to a level that doesn't absolutely destroy us. He's capable of dominating a game and putting his team on his back. He's a bear."
If the Crimson hope to leave the Palestra with a win on Friday night, defending Rosen is a burden they'll have to bear well.
Jack McCluskey is an editor for ESPN.com and a frequent contributor to ESPNBoston.com. Follow him on Twitter @jack_mccluskey.
January, 16, 2012
1/16/12
2:59
PM ET
By
Jack McCluskey
| ESPNBoston.com
After another two-win week, the Crimson moved up one spot to No. 24 in the ESPN/USA Today Coaches Poll but remained nowhere near the AP Top 25.
Harvard, led by leading scorer Keith Wright -- named Ivy League Player of the Week for the second time this season after averaging 14.5 points and 11.5 rebounds in wins over Monmouth and George Washington -- has a week off before starting Ivy League play for good with a game at Dartmouth (Saturday, 7 p.m.).
After dropping a surprising decision at Fordham on Jan. 3, Harvard has taken care of business. The Crimson dispatched Dartmouth 63-47 at home on Jan. 7, keeping them in the ESPN/USA Today poll at No. 25, then went to Monmouth on Tuesday and won 70-61 and ran George Washington out of Lavietes Pavilion on Saturday in a 69-48 win.
The W over the Colonials pushed the Crimson's home win streak to 23 games, the fifth longest such streak active in the country. Harvard is off to its best start since the 1945-46 season, when it started 16-1, and the best start for an Ivy team since Princeton also started 15-2 in 1997-98.
While Harvard remained in the ESPN/USA Today rankings with 61 points, it received only 22 in the AP poll -- 80 behind No. 25 Kansas State. While the Crimson have a respectable RPI of 57, they do not play another team in the top 100 the rest of the season. Yale, at 102, is their best remaining opponent.
Jack McCluskey is an editor for ESPN.com and a frequent contributor to ESPNBoston.com. Follow him on Twitter @jack_mccluskey.
January, 4, 2012
1/04/12
2:03
PM ET
By
Jack McCluskey
| ESPNBoston.com
The No. 21 Crimson had been in this spot before. Against both Florida Atlantic and Boston College, Harvard didn't always fire on all cylinders and had to clamp down late on defense and put together a run on offense to pull out wins.
Against Fordham, the flaws in that formula were exposed.
Though they led 27-24 at the half, the Crimson were never able to distance themselves from the Rams. Fordham then used a 12-0 second-half run to take a double-digit lead, forcing Harvard to play from behind for much of the rest of the game.
And this time, the Crimson just didn't have a big enough run in them and fell 60-54. It was just the sixth time this season an opponent scored 60 or more points against Harvard, and the Crimson are now 4-2 in those games.
"We're not gonna be able to get runs on every team," Tommy Amaker said after the 63-51 win over Florida Atlantic on Dec. 22. "We're gonna be in some tough, tight games. I think we recognize being ranked and the success we've had this year, we're gonna be a target and people are gonna play incredibly hard against us."
A week later, the Crimson had to put together a run to put away a game Eagles team 67-46 in Chestnut Hill. Afterward, Amaker was asked if he was concerned about his team's tendency to start slow.
"Yeah, it's not good for any team," he said. "But you give credit to the opponent for being ready to play and coming right after us. I wish we could've played better right out of the blocks, but I think it had a lot to do with how BC played."
The loss to Fordham no doubt had a lot to do with how well the Rams defended, holding the Crimson to just 36.4 percent shooting overall, 26.7 percent from 3. But it also hammers home just how important it will be for Amaker & Co. to find a solution for the persistent problem of their intermittent offense.
Because one thing's for sure: That No. 21 ranking, the best in program history,
does
make the Crimson a target. And if their own aim isn't good (they missed half the free throws they attempted in the Bronx), they'll find themselves back where they were Tuesday night -- forced to watch an opponent celebrate an upset win.
Jack McCluskey is an editor for ESPN.com and a frequent contributor to ESPNBoston.com. Follow him on Twitter @jack_mccluskey.
January, 2, 2012
1/02/12
2:19
PM ET
By
Jack McCluskey
| ESPNBoston.com
With wins over Boston College (by 21) and Saint Joseph's (by five) in the past week, Harvard has moved itself up the rankings again. The Crimson are now No. 21 in the ESPN/USA Today Coaches Poll, up from a program-best No. 23 the previous week.
The Crimson are ranked No. 22 in the AP Top 25, up from No. 24 the previous week.
Led by the sharpshooting Laurent Rivard's 18 points (including four 3-pointers) and its usual stifling defense, Harvard beat BC for the fourth straight season Thursday night at Conte Forum.
After a quick turnaround, the Crimson hosted the Hawks at Lavietes Pavilion on New Year's Eve. Phil Martelli's team shot a blistering 19-of-24 in the first half to lead by 10 at the break, but Harvard's defense saved it in the second half as the Hawks shot just 8-of-27 in final 20 minutes. Kyle Casey led the way offensively for Tommy Amaker's 12-1 team, scoring 26 points -- including seven in the last 4:25.
Next up for Harvard: a road game at Fordham on Tuesday, followed by the start of Ivy League play Saturday versus Dartmouth.
Jack McCluskey is an editor for ESPN.com and a frequent contributor to ESPNBoston.com. Follow him on Twitter @jack_mccluskey.
December, 9, 2011
12/09/11
4:46
PM ET
By
Jack McCluskey
| ESPNBoston.com
Matt Griffin and his Terriers teammates paid special attention to Thursday night's game between Connecticut and Harvard, in which the No. 9 Huskies beat the No. 24 Crimson 67-53 in Storrs, Conn.

And not just because it may just have been the most important -- or at least the highest profile -- game between New England schools in the 2011-12 season. Consider it homework, of sorts.

The Terriers host the Crimson on Saturday at 4 p.m. (NESN) in Agganis Arena.

"Obviously Harvard's having a great season and has a great program," Griffin said by phone before practice Thursday. "They beat us pretty handily last year, so we know they're a good team."

Harvard beat BU 87-71 at Lavietes Pavilion on the same weekend a year ago.

"They shared the ball extremely well," Griffin, a senior captain for BU, said of the teams' previous meeting. "Their offense was run very crisply. In the second half, they had us chasing them around the court. They did a great job controlling the tempo.

"They have guys at every position that can make plays, so that makes them very difficult to defend."

And while the Terriers lost John Holland, the team's top scorer and the second-leading scorer in school history, and coach Patrick Chambers after last season, the Crimson returned every player from 2010-11. The early results reflect the chemistry challenges each team has faced. BU is 4-5, having dropped a close game at St. Joe's on Wednesday night, while Harvard is 8-1 and has an early-season tourney title on its résumé.

"I think they're pretty solid across the board," Griffin said of the Crimson. "They have really good size, they shoot the ball extremely well and they've very well coached. It's gonna be a good challenge, but every game on our schedule's a challenge."

Harvard coach Tommy Amaker said the loss will test the Crimson.

"Our kids have been able to handle things thus far in a very admirable way," Amaker said, referring to the attention the Crimson have received for their play early in the season. "We'll see now, after our first loss. We're gonna have to regroup and respond and we have a tough game and a quick turnaround at BU."

To come out on top in Saturday's challenge, Griffin said the Terriers have to stay disciplined and stick to their principles.

"We've gotta come up with toughness plays," he said. "I think we have to play very good definitely, rebound the ball especially well and we have to limit their runs. So when they make a run we have to be able to withstand that and be able to respond and answer their run."

November, 29, 2011
11/29/11
1:01
PM ET
ESPN Insider's John Gasaway look at the hot start by Harvard and wonders how far they can go. Writes Gassaway:

Consider the unlikely series of events that has Harvard lurking just outside the top 25 in both major polls. As a mid-major in a one-bid conference, you don't often certify yourself as ready for national attention by shooting 12-of-44 from the field. Yet that is exactly what Tommy Amaker's team did.

The Crimson's 46-41 win over Florida State last Friday in the Battle 4 Atlantis semifinals in the Bahamas put this team on the map, so to speak. No one, except for a certain cunning and modest ESPN Insider, expected Harvard to beat an FSU team that, at the time, was ranked No. 20 in the nation. But look at the Crimson now. What's their secret, and just how far can they go?
Click
HERE
(Insider access required) to read the rest of this story.
Also, check out Myron Metcalf's
Mid-major report
, which leads with Harvard's impressive start.
October, 18, 2011
10/18/11
1:58
PM ET
ESPN.com college basketball writer Andy Katz caught up with Harvard coach Tommy Amaker recently to talk about expectations this season for the Crimson:

BOSTON -- Harvard will hang its Ivy League championship banner at Lavietes Pavilion.

According to the Ivy League, this is completely legitimate. The Crimson did share the Ivy League regular-season championship with Princeton, which matched Harvard with a 12-2 conference mark last season. The Crimson get rings if they want -- just like Princeton. The league doesn't issue co-champs on the banner, so both programs are Ivy League champions.

But Princeton won a one-game playoff between the teams, earning the NCAA tournament automatic bid on a shot at the buzzer by Douglas Davis that denied the Crimson their first NCAA tournament berth since 1946.

Harvard coach Tommy Amaker celebrated the title. He's making sure that everyone knows the Ivy League championship is a big deal in Cambridge. But the problem is that the rest of the world and even his own players know the NCAA tournament berth is what matters most.

"For our school, winning the Ivy is, in some ways, maybe as big as going to the tournament,'' said Amaker, who has transformed the Crimson into legit Ivy title contenders the past four seasons with players like former standout Jeremy Lin to current preseason Wooden All-America candidate, senior forward Keith Wright. "We have been to the tournament in 1946 but never had a chance to put up an Ivy League banner. There was a hollow feeling at Harvard, and they don't have to feel that way anymore.''
Click
HERE to read
the rest of the story.
Also, check out
Blue Ribbon's Harvard preview
(insider) and previews for the
rest of the Ivy League
.
March, 3, 2011
3/03/11
5:31
PM ET
By
Jack McCluskey
| ESPNBoston.com
In some ways, the Harvard Crimson have it easy. There's no worrying about their status on the bubble, no fretting over their at-large profile. They don't have to stress about impressing the selection committee.

Since the Ivy League doesn't have a postseason tournament, it's either win the regular-season title or watch the NCAA tournament on TV.

And with two regular-season games remaining at Lavietes Pavilion, the Crimson will have to win out for a chance to get in.

The Crimson are 21-5 and sit a half game behind the Princeton Tigers in the Ancient Eight standings. They host Penn on Friday night and Princeton on Saturday night (7 ET, ESPN3.com), needing to win both to clinch at least a share of the school's first Ivy title.

Princeton is 22-5 and 10-1 in Ivy play, and finishes with three road games: at Dartmouth on Friday, at Harvard on Saturday and at Penn on Tuesday.

In his fourth season in Cambridge, Harvard coach Tommy Amaker has his team on the cusp of a second straight postseason appearance. (Last season the Crimson finished the regular season 21-7 and were selected to the CollegeInsider.com tournament, where they lost 93-71 to Appalachian State).

In fact, had Harvard not lost a nail-biter to Yale 70-69 last Saturday -- in New Haven, Conn., on senior day for the Bulldogs -- this Saturday's season finale against Princeton would be the de facto Ivy championship. Instead, the Crimson have two must-win games to clinch a share of the championship and force a one-game playoff for the Ancient Eight title -- and a berth in the NCAA tourney.

"There will be a lot of excitement and energy in our gym on Friday and Saturday night," Amaker said.

With good reason. Before the 2009-10 season, Harvard men's basketball had never won 20 games in a season. It has now surpassed that mark in two straight seasons. With 21 W's already, the Crimson will have two chances to break their 1-year-old record for wins in a single season. At 10-2 in the Ivy League, the Crimson can match or better the best conference record in school history (11-3, set in 1970-71).

Not to mention with a league title the Crimson can advance to the Big Dance for the second time in school history, and the first time in 65 years (since 1946).

"This is not a moment to be anxious for, this is a moment to embrace," Amaker said of playing under the pressure added by the potential to make history. "We're aware how difficult it is in front of us, but I do think our kids will be excited. We just have to remain who we've been and have some fun with it and hope for the best."

Harvard won't take either opponent lightly. Though Penn sports a 12-13 record overall and is just 6-5 in the Ivy, it took two overtimes for Harvard to beat the Quakers at the Palestra (83-82 on Feb. 5). And Princeton, well, the Tigers gave the Crimson their only other Ivy loss (65-61 on Feb. 4).

Though the Crimson have leaned heavily at times on junior big man Keith Wright, their leading scorer (15.2 points per) and rebounder (8.8 boards per), Amaker said the key to their success has been balance. Four Crimson players average 10 points or more; six average 25 minutes or more; and six regulars shoot better than 70 percent from the foul line (where the Crimson rank second in the country at 80.2 percent for the season).

Even with everything on the line this weekend, don't expect the focus on balance to change.

"I don't think there's anything we're gonna try to pull out of our hat," Amaker said. "We earned the right to have this moment and hope it'll be a unique moment for all of Harvard."

Jack McCluskey is an editor for ESPN.com and contributes to ESPNBoston.com.

January, 6, 2011
1/06/11
4:41
PM ET
By Jack McCluskey
Special to ESPNBoston.com
Though they'll probably never admit it, the Boston College Eagles may be happy to see only Atlantic Coast Conference teams left on their 2010-2011 schedule.
That means there are no remaining games to play against Ivy League schools, against which the Eagles are just 1-4 in the past three seasons (the lone win coming over Dartmouth in the 2009-10 season opener). BC has lost to Harvard for three straight years -- meaning the Eagles have never beaten the Crimson under Harvard's fourth-year head coach Tommy Amaker -- and added a loss to Yale to its resume this season.
BC's new men's basketball boss Steve Donahue has great respect for the quality of play in the Ivy League, as you would expect: Donahue spent the previous decade-plus in the Ancient Eight, first as an assistant at Penn and then as head man at Cornell.
Because of that experience, Donahue also knows what Harvard's 78-69 win over BC on Wednesday means for its program.
"It's huge. There's a lot of good basketball being played in the Ivy League and to be honest I'm proud of those kids and how they're playing," Donahue said after BC's loss. "I don't want them to beat me, but I know the obstacles it takes [overcoming] to win at that level. They're a very good team. ... This [type of] win is huge for your program, for your kids. You try to sell it that you're gonna play these teams and now you're beating them. It's huge for your program when you're building it, for sure."
[+] Enlarge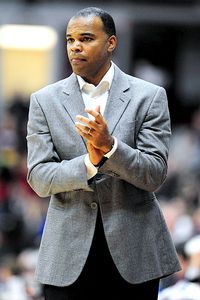 Kyle Terada/US PresswireUnder coach Tommy Amaker, Harvard stands at 10-3 and will attempt to challenge Princeton, Penn and Cornell for the Ancient Eight title and a berth in the NCAA tourney.
Harvard improved to 10-3, with the three losses all coming on the road -- in the opener against George Mason, at Amaker's previous school (Michigan) and at No. 4 UConn. With their 23-for-24 performance from the free-throw line on Wednesday, the Crimson move into first place in the nation in percentage from the charity stripe (81.5 percent as a team).
The aggressive Crimson are proving they're no pushovers. They won 21 games last season and made it to the CollegeInsider.com Tournament (where they lost to Appalachian State, 93-71). This season, Amaker & Co. -- even without star point guard Jeremy Lin, who graduated after last season and now plays for the NBA's Golden State Warriors -- will attempt to challenge perennial powers Princeton, Penn and a Donahue-built Cornell for the Ancient Eight title and a berth in the NCAA tourney. (To read more on this in Andy Katz's blog, click
HERE
.)
Donahue cited the Crimson's success at the foul line as a key component to Wednesday's game, and also said he thought the smaller but perhaps more versatile players on the visitors' roster presented matchup issues for the Eagles. Perhaps the biggest problem, though, was mental.
"I think they allowed the faults of the past [to affect them], and for the first time I felt that negative vibe," Donahue said of what went wrong with the Eagles. "They shouldn't be like that. We're a good basketball team, we're working hard each and every day and we're gonna bounce back and learn from this."
The Chestnut Hill club will need to learn those lessons in a hurry to avoid squandering the momentum built in an unexpectedly hot start under Donahue. Prior to the loss to Harvard, BC had won eight of its previous nine games. The Eagles finished the nonconference portion of their schedule 10-4 and head into the brunt of ACC play tied with Florida State for the second-best record in the league at 11-4 overall (1-0 ACC). No. 1-ranked Duke leads the league at 14-0.
Donahue said he's not concerned that the inability to set aside past failures will continue to plague the Eagles.
"We've had great wins this season, we've got to take our medicine right now," he said. "We're gonna learn from this and there's no reason to allow negativity to stretch into what we're doing. These guys work extremely hard, do everything I want, and we're gonna get better because of this.
"I think what you do is you learn from everything," the coach said. "There's positives in this. I think I saw some things that we can correct and we're gonna correct it, and if you learn from those I think it's a positive. Every team's gonna have moments during the season, you're definitely gonna get tested, and we're getting tested mentally right now.
"We'll go back [Thursday] and work extremely hard and get it out of our system and get excited to play and get into the ACC."
To extremes
So far under Donahue, the Eagles have been a team of extremes.
They rank near the top of the ACC in a number of offensive categories, including free-throw percentage (third, 73.2), field-goal percentage (third, 48.5), and 3-point percentage (third, 39.7). But they also rank at or near the bottom of the conference in a number of defensive categories, including field-goal percentage defense (11th, allowing opponents to shoot 43.8 percent), rebounding margin (11th, minus-0.7), blocked shots (12th, 2.6 per game) and steals (12th, 5.1 per game).
The Eagles are fifth in the league in scoring, averaging 75.5 points a contest. But they allow opponents to score an average of 68.9 points, which ranks them next-to-last in the league (only Wake Forest has been more accommodating to opponents, allowing 73.8 points per).
Of more immediate concern, however, may be their difficulty rebounding. Because the new systems Donahue implemented stress spacing the floor, they require a conscious effort to crash the boards and secure caroms. The Eagles are 11th in the ACC in defensive rebound percentage (66.1) and 10th in offensive rebound percentage (30.4). Their next opponent, meanwhile, gobbles up the boards: while Georgia Tech is only ninth in defensive rebounds per game (24.4), the Yellow Jackets lead the ACC in defensive rebound percentage at 72.0 percent.
That means the Yellow Jackets, who will be in Conte Forum on Saturday to play the Eagles (4 p.m.), nab nearly three out of every four rebounds on the defensive end. So if the Eagles have an uncharacteristically lackluster shooting afternoon, and don't improve significantly in their efforts to clean the offensive glass, they may find themselves in a hole that they'll struggle to get out of.
And that could, in turn, lead the Eagles to another place they'd rather not be: smack in the midst of a two-game losing streak heading into the teeth of their schedule.
Jack McCluskey is an editor for ESPN.com and contributes to ESPNBoston.com.