Boston Colleges:

Harvard Crimson
March, 23, 2013
Mar 23
10:44
PM ET
SALT LAKE CITY --
Mark Lyons
has been to the Sweet 16 before. But earning another trip, with his new team, felt different Saturday -- maybe even a bit more special -- because of the position he plays.
"I'm the point guard now," the Arizona senior (and former guard at Xavier) said after he tied his career high with 27 points to help beat Harvard
74-51
. "Last year I was playing off the ball with a great point guard, and I learned from him. And now, I'm back … we're back."
The 6-foot-1 playmaker made sure the Wildcats were back -- and on to Los Angeles for the West Regional semifinal -- by pumping up his defense as well as making 12 of 17 field goals.
[+] Enlarge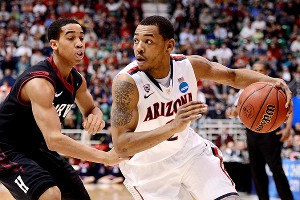 Harry How/Getty ImagesMark Lyons and Arizona used a quick start to put away Harvard early on Saturday.
Lyons and the Wildcats controlled the game from the get-go. While the 14
th
-seeded Crimson missed shot after shot -- their first 13, to be exact -- sixth-seeded Arizona built a 17-2 lead. Lyons had seven points before Harvard freshman point guard
Siyani Chambers
finally buried the Crimson's first field goal, a 3, with 12:16 left in the first half. But the Wildcats led by as many as 22 before taking a 40-22 halftime lead.
"I think in order for us to make this a magical moment for our team and program -- which we have been able to do at other points in this season -- you've got to get off to a good start against a team like that," said Harvard coach Tommy Amaker, whose team shot just 27.6 percent against the taller, more aggressive, more confident-looking Wildcats. "We had our chances. We had some open opportunities early, and once we missed some we kind of got our heads down and they took advantage of it."
Indeed, even when Harvard tried to chip back -- and Chambers got a chipped tooth in the process -- Lyons was there, doing what a point guard does: leading.
When a Chambers 3 cut the deficit to 44-30 with 17:22 to go, Lyons made a layup.
And when two free throws by Harvard's
Wesley Saunders
cut it to 16 with 13:16 left? Lyons scored on another drive.
Harvard never really threatened, but key for the Wildcats was that they never allowed it.
"When we got the lead, Coach [Sean Miller] said, 'Don't let up. Don't start walking the ball up,' because we have a tendency to let up," Lyons said.
Not this time.
Lyons also finished with three assists, two turnovers, a steal and a rebound. According to ESPN Stats & Information, he now will become the first player ever to compete in the Sweet 16 in back-to-back years with different teams. He also played on two Xavier squads that reached the Sweet 16, and practiced with another when he was a partial qualifier as a freshman.
"I think it's remarkable, really," Miller said. "It shows you how talented he is, and it also shows you the bigger the game, [it] can really bring out the best in him."
Lyons, who averaged about 15 points during the regular season, is now averaging 25 points in this year's NCAA tournament. And he thinks the best is yet to come.
"You know, it's a great feeling," Lyons said. "I'm playing for my original coach who recruited me, playing with a bunch of guys who believe in me and got faith in me. We've been coming together as a team. It's great to be back in the Sweet 16 and trying to advance."
March, 23, 2013
Mar 23
8:18
PM ET
SALT LAKE CITY -- It wasn't just about Arizona being bigger. The Wildcats, led by point guard
Mark Lyons
, also were flat-out better. Aggressive, accurate and defensive-minded from the beginning, sixth-seeded Arizona ended 14th-seeded Harvard's short-lived Cinderella run,
74-51, to advance to the Sweet 16
.

A quick look at the victory:
Turning point:
A true turning point never came, because Arizona controlled this one from the get-go. While the Crimson missed shot after shot -- its first 13, to be exact -- the Wildcats built a 17-2 lead. Freshman point guard
Siyani Chambers
finally buried Harvard's first field goal, a 3, with 12:16 left in the first half, but Arizona led by as many as 22 before taking a 40-22 lead into halftime.
Players of the game:
Lyons finished with a season-high 27 points on 12-for-17 shooting, and forward
Solomon Hill
added 13.
Chambers, who lost part of a tooth early in the second half when he caught an inadvertent elbow from Wildcat
Kevin Parrom
, finished with six points on 2-for-8 shooting. Forward
Kenyatta Smith
led Harvard with 10 points.
Stat of the game:
Arizona held Belmont to 39.2 percent shooting on Thursday. This time around, it held Harvard to 27.6 percent.
Next up:
Arizona advances to play either No. 10 Iowa State or No. 2 Ohio State in the West region semifinals.
March, 22, 2013
Mar 22
9:45
PM ET
SALT LAKE CITY -- When
Siyani Chambers
chose Harvard, he hoped to be the Crimson's starting point guard ... someday.
He dreamed of leading his team on an NCAA tournament run ... someday.
The fact that someday is today?
"Amazing," the 6-foot Ivy League rookie of the year said Friday, less than 24 hours after 14th-seeded Harvard knocked off No. 3 New Mexico for the program's first NCAA tournament victory.
That word could describe his development, too.
[+] Enlarge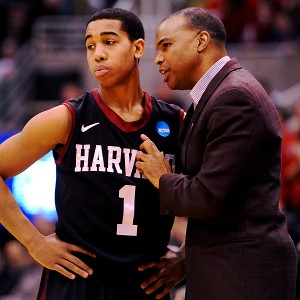 Steve Dykes/USA TODAY SportsThrown into Harvard coach Tommy Amaker's starting lineup as a freshman, Siyani Chambers has thrived.
"He's the leader on our team," said senior guard
Christian Webster
, whose team will face sixth-seeded Arizona on Saturday for the right to advance to the Sweet 16. "
Laurent [Rivard]
and I are the captains, but he's the leader. He drove this team."
It's a role the 19-year-old ball handler never expected, at least not this soon, when he arrived on Harvard's campus less than a year ago. First recruited by Crimson coach Tommy Amaker when he was in the eighth grade, Chambers decided pretty quickly that he wanted to play for the former Duke guard because of what he could learn.
But Chambers also thought he would have some time to be a pupil, while playing behind Brandyn Curry, a Cousy award candidate last season. That is, until September, when Curry and fellow senior Kyle Casey withdrew from Harvard following an academic scandal.
When the freshman heard the news, his head spun. "I was definitely nervous -- very, very nervous," Chambers said. "All of a sudden, it's your first year, you're coming in trying to learn the whole process about everything: playing, dealing with school and basketball."
To persevere, he said, he leaned on his teammates -- and they leaned back, looking for the vocal freshman to glue together a team whose chances of winning the Ivy League all of a sudden seemed precarious, at best.
But Minnesota's Mr. Basketball exceeded expectations probably because he had no other choice, gaining confidence (and his team's confidence in him) by becoming a steady assist man and scorer early; he even hit the game-winning basket with four seconds left against Boston University on Dec. 11.
"He's a special kid, and certainly he plays basketball in a special way, and I think you get excited when you watch him play," Amaker said. "I know when we recruited him, we wanted him to play in that manner; sometimes I thought he held himself back a little bit, and I told him if you ever come to play for us ... we want you to be dazzling because you're capable of it."
His season stats -- 12.6 points and 5.8 assists per game -- were dazzling enough to make him the first freshman named first-team All-Ivy League.
But the way he melded his team dazzled, too. Sophomore
Wesley Saunders
emerged as a go-to scorer (16.5 PPG). Rivard became a scary outside threat (five 3s against the Lobos on Thursday).
Kenyatta Smith
and
Steve Moundou-Missi
improved in the post. Harvard finished the regular season 19-9, winning the Ivy League.
So maybe it was fitting that as the seconds ticked down on Harvard's historic upset Thursday, Chambers was the one with the ball in his hands, grinning and carefully watching the clock. That moment is a feat the Crimson hope to repeat against another bigger, more heralded team Saturday.
And one Chambers never imagined when he thought about his goals a year ago.
"I just wanted to come in and learn as much as possible, so when it was my time I could step in and be able to contribute to the game," he said, remembering. "... When I first decided to come here, I did not think this is what I would be stepping into.
"But I'm glad I came here, and I'm glad this happened."
Now.
SALT LAKE CITY NEWS AND NOTES
SAFETY FIRST:
One teammate compared Wichita State sophomore
Tekele Cotton
to a strong safety. Shockers coach Gregg Marshall? He thinks the guard is more like a free safety.
Whatever the football analogy, you get the picture: The 6-2, 202-pound athlete is hard-nosed, hard-bodied and hard-focused on making stops. And if he can stymie a certain Gonzaga player like he did Pittsburgh guard
Tray Woodall
on Thursday (the senior was brought to tears after his 1-for-12, two-point performance), Cotton knows his team has a better chance to upset the No. 1 team in the country.
"I look forward to being that guy, to chase around their player like I did yesterday," said Cotton, who is also averaging 6.3 points and 3.9 rebounds per game this season. "So I look forward to chasing around
Kevin Pangos
. I have no problem with it; I enjoy it."
Pangos, the Zags' standout sophomore guard, is averaging 11.6 points per game this season and scored the final five points in top-seeded Gonzaga's six-point survival against 16th-seeded Southern on Thursday. He said the key to competing with a physical team such as the ninth-seeded Shockers is to be physical right back.
"We don't shy away from that; our team is tough," Pangos said. "We don't back down from that at all."
This should be an interesting matchup. The Shockers held Pitt to 35.2 percent shooting from the field -- and just 5.9 percent on 3-pointers. The Zags are third in the nation in field-goal percentage, making 50.4 percent of their shots.
NO ALARM HERE
: Zags coach Mark Few wasn't particularly rattled that the game against Southern went down to the wire; a win is a win is a win right now.
"At this point of the year, I don't think we need to worry about aesthetics or, you know, differences," he said. "I know it's cliché, 'survive and advance,' but there really is no other alternative. We're not getting style points and we're not getting graded -- you know, you either win or your season is over."
QUOTE-WORTHY:
"We know we're in for a fight, especially the confidence that they have. When you win a game like that, it doesn't just all of a sudden leave you; many times it carries through for the rest of the weekend. For us, it's not about being consumed with Harvard, as much as it is about being consumed with ourselves, making sure we're ready to go." -- Arizona coach Sean Miller
March, 22, 2013
Mar 22
2:51
AM ET
SALT LAKE CITY -- A year ago, Harvard guard
Laurent Rivard
was in awe just seeing the midcourt NCAA logo; after all, the Crimson hadn't made the tournament in six decades.
So helping the program to its first tournament victory -- a
68-62 win
over No. 3 New Mexico that marked the biggest seed upset by an Ivy League team?
That, he said, was indescribable. Although he tried: "You imagine it … it's something everyone dreams about," Rivard said after scoring 17 points and going 5-for-9 from 3-point range, "but it's a different feeling when it actually becomes real."
The win seemed improbable for a plethora of reasons: The Lobos (29-6) were bigger (7-footer
Alex Kirk
finished with 22 points and 12 rebounds), and more seasoned by playing in a conference many considered one of the nation's toughest. Heck, some even thought UNM was robbed by the tournament committee when it didn't earn higher than a No. 3 seed.
But Harvard countered with a four-guard lineup that was sharpshooting (52.4 percent overall, including 8-for-18 from 3-point land) and that frustrated Lobos leading scorer
Kendall Williams
into a forgettable, 1-for-6 night. Led by their tallest starter, 6-foot-8
Kenyatta Smith
, the Crimson also aggressively banged with Kirk and 6-9
Cameron Bairstow
(15 points, nine rebounds).
[+] Enlarge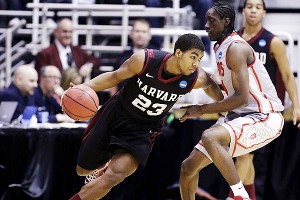 AP Photo/Rick BowmerHarvard's Wesley Saunders drives past New Mexico's Tony Snell on his way to 18 points.
"We knew they were going to be tough," Smith said. "We just had to be confident."
And they were, particularly down the stretch.
New Mexico, trailing for most of the game, took a 53-52 lead with 6:26 left on yet another Kirk inside move. But Harvard, even with its three bigger guys in foul trouble, countered with a 7-0 run -- beginning with another 3 from Rivard and including a jumper from guard
Wesley Saunders
(18 points) -- to rebuild its cushion. The Lobos never got closer than four after that.
"For me to see the composure that we had is meaningful to me as a coach," Harvard's Tommy Amaker said. "We had the lead. We lost the lead. We had to make plays and to have an answer each time when things got really tight there. We had to make pressure free throws. … But we didn't wilt or cave in."
Somehow, the Crimson (20-9) didn't seem to feel the pressure of being a No. 14 seed on the brink of making history.
"I was just playing in the moment, enjoying the moment," freshman point guard
Siyani Chambers
said. "… It felt like, just getting here, was our night."
Indeed, not long ago it seemed like a long shot that the Crimson would make the tournament at all -- much less advance to the round of 32.
First there were the offseason academic problems that led the team's co-captains -- Kyle Casey and Brandyn Curry -- to withdraw from school.
And although those departures gave Chambers (5 points, 7 assists in 40 minutes Thursday) the opportunity to develop more quickly, the team wasn't quite the runaway favorite it might have been to dominate the Ivy League -- as evidenced by back-to-back road losses at Princeton and Penn in early March.
Yet the Crimson endured. And prevailed.
And forget about last year's awe-inspiring NCAA logo. Now, there's a new daydream: the Sweet Sixteen.
"Before this, we wanted to be the Cinderella story," Smith said. "And I guess now, we kind of are."
March, 17, 2013
Mar 17
9:48
PM ET
By
Jack McCluskey
| ESPNBoston.com
CAMBRIDGE, Mass. -- It was a day of celebration, of continuing a tradition passed down from one generation to the next.
A day to wear the bright color so closely associated with the group of people being honored.
Oh, and it was also St. Patrick's Day.
In Cambridge on Sunday, the crimson-clad Harvard faithful gathered for what is fast becoming an annual event: A viewing party in the Murr Center's Hall of History for the NCAA tournament selection show.
[+] Enlarge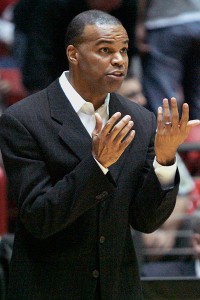 AP Photo/Jake SchoellkopfMaking the NCAA tournament for a second straight year, particularly with the inexperience of his team, means a lot, said Harvard coach Tommy Amaker.
For the second straight year, Tommy Amaker's team assembled before flat screen TVs, velvet ropes setting them off from the crowd, to see who and where they would play in the postseason.
There were a few anxious moments, the crowd letting out an audible sigh of relief when No. 2 seed Ohio State was matched with No. 15 seed Iona in the Dayton regional, as the names were called and the brackets filled up. And then there was a roar.
After landing a No. 14 seed and a matchup with No. 3 seed New Mexico in Salt Lake City, the Crimson and their fans let loose. It had been a long 30 minutes, but now they knew who their dancing partner would be.
A few minutes later, the Crimson talked about what this accomplishment means to them, considering all they've been through this season.
"We're proud to have an opportunity to represent our conference and our institution," Amaker said. "I can't say enough about these guys and what they've been able to accomplish this year."
After going 65 years between its first NCAA appearance and its second, Harvard now has made two in a row -- and if not for a Princeton buzzer-beater in an Ivy League playoff game in 2011, the streak would be at three.
This season's success might be the most surprising. Amaker lost his two would-be senior captains, Kyle Casey and Brandyn Curry, to an academic cheating scandal prior to the season; both withdrew from school to preserve their eligibility while the process works its way out. Combined with the graduation of four-year vets Oliver McNally and Keith Wright, the mantle was left on the shoulders of youngsters such as
Wesley Saunders
and
Siyani Chambers
.
In the preseason, Harvard was picked to finish third in the Ivy League. Then conference play began, and the Crimson proved they were still a force to be reckoned with in the Ancient Eight. Until a late-season hiccup (back-to-back losses at Princeton and Penn) threw a wrench into the machine, it seemed the young Crimson were headed for a wire-to-wire Ivy win. But rather than wallow in self-pity after the bad weekend, the Crimson came home and took care of business against Columbia and Cornell (and got help from Princeton, which lost at Yale and at Brown) to seal the Ivy title and NCAA berth.
"I think it means a lot," Amaker said of making back-to-back tournaments, despite the change in leadership on the court. "For us to have our name called on Selection Sunday, it's very meaningful. I think it's certainly something I'm sure that will sink in with us at some point, but we certainly know it's taken a lot to get to this point.
"We're proud of it, we were proud last year. And if you can continually become a contender in your conference -- and certainly we've been fortunate to win it now for three years and two years to be involved in the NCAA tournament -- I just think it's an incredibly impressive few years for Harvard basketball."
For
Christian Webster
, a co-captain and Harvard's lone senior, this berth meant even more than last season's did.
"I'd say so," Webster said. "Just overcoming all the adversity we had to go through this season -- that's one of the greatest feelings you can ever have, is overcoming adversity. And us being able to get to this point, with no one thinking we can get here -- it's just an awesome feeling."
For the second straight season, the Crimson are headed west for the Big Dance. Last season the Crimson, a No. 12 seed, flew to Albuquerque, N.M., to take on No. 5 seed Vanderbilt.
In the immediate aftermath of the selection show, the Crimson said they didn't know much about the Lobos (29-5, Mountain West champions). Most of the players at the post-show news conference have never been to Utah (
Laurent Rivard
said he had, but not since the sixth grade).
They're not sure when they'll be leaving for Salt Lake City; plans might be complicated by an approaching winter storm.
But as Amaker said, these are the problems they were hoping to have. And on Sunday night, they were just happy to be back in this position for another year, with another group.
"With the youth of our team, the way these guys have responded -- accepting different roles, stepping forward, young guys stepping in," Amaker said. "You can't say enough about what this team has done for this season."
This Harvard team has done enough to ensure that its season isn't done quite yet.
There's still dancing to do.
Jack McCluskey is an editor for ESPN.com and a frequent contributor to ESPNBoston.com. Follow him on Twitter @jack_mccluskey.
March, 15, 2012
3/15/12
10:14
PM ET
ALBUQUERQUE, N.M. -- Vanderbilt finally solved its Kentucky problem by winning the SEC tournament on Sunday in New Orleans.
But that did nothing to answer its larger issue: winning in the NCAA tournament.
Double-digit seeds had flummoxed the Commodores in three of the past four NCAA tournaments with losses to Siena, Murray State and Richmond.
Harvard was a sentimental favorite in making its first NCAA tournament since 1946. Oh, and the Crimson were seeded No. 12, making this one of those dreaded 5-12 games.
"It's well publicized that Vandy's lost in the first round the last three out of four years,'' said Harvard senior guard
Oliver McNally
. "So we knew if we were hanging around, we'd put that thought in their head and see what happened. And I thought we were going to do that.''
Vandy had an 18-point lead on Harvard on Thursday afternoon at the Pit. And then suddenly it was five.
"Credit to them for coming out really strong after that and being strong with the ball and making free throws,'' McNally said. "But we made a great run.''
The Commodores held on to win
79-70
and looked every bit the part of a team that could beat No. 4 Wisconsin on Saturday in a third-round game for the right to possibly take on East top seed Syracuse (if the Orange can knock off Kansas State in Pittsburgh on Saturday).
John Jenkins
was sensational with 27 points. The Dores got plenty of pop from
Brad Tinsley
,
Jeffery Taylor
and 11 boards from
Festus Ezeli
. Vanderbilt's big four came through when it mattered most.
Vandy can exhale -- for now.
"I didn't want to be in that tight of a situation with the way we had the game going in our favor,'' said Vandy coach Kevin Stallings. "But since we won, I'm glad it unfolded that way.''
Stallings knew the toughness question was relevant with this squad during the SEC tournament. The Dores simply didn't have the track record to back up their belief that they were over their late-game issues.
And comments like Taylor's that the big lead led to a bit of relaxation and too much standing on offense just contributed to the narrative. But there was something the Dores had that had been missing even in last-second losses in previous NCAAs to Siena and Murray State: composure.
Jenkins used a different word -- poised. "I think leadership is definitely a factor in that guys huddled up and decided we need to lock down and get rebounds down the stretch," he said. "We did what we had to do. We hit big free throws.''
The Dores had one possession that took the lead from 11 to 14 with a four-shot sequence that ended up in a traditional 3-point play for Jenkins. That lead ballooned to 18. Harvard made its run, but the hole was too deep.
"I think our maturity showed up a little bit there,'' Tinsley said. "We were playing not to lose instead of playing to win. You can never do that, especially in the NCAA tournament.''
[+] Enlarge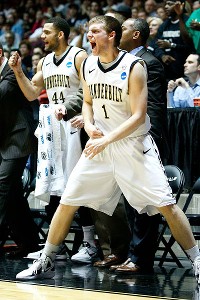 AP Photo/Matt YorkBrad Tinsley, right, and Jeffrey Taylor cheer as Vanderbilt puts away Harvard during their second-round meeting.
Vanderbilt could finally talk about its albatross after the win.
"It really means a lot for the seniors to be our last time in the NCAA tournament,'' Tinsley said. "We just kind of got that monkey off our back and win a close game in the first round. It just means a lot to us old guys, the coaching staff and the program.''
Getting into the NCAA tournament did that as well for Harvard. The Crimson didn't just show up for the first time in 66 years. They got off to a rocky start and scrapped their way back.
Harvard senior
Keith Wright
said that getting into the NCAA tournament and representing the Ivy League, especially after losing the playoff to Princeton at the buzzer last season, was a celebration of all the hard work put forth.
"It's just really special and I'm really glad to be a part of it,'' said McNally. "They sell you on all kinds of dreams but Coach (Tommy) Amaker had a plan and this plan was followed through. Not only were there good players but really good people. We made the tournament. We wanted to advance. That was obviously the ultimate goal.''
But this meant more to the Ivy League and to Harvard to have its flagship name finally make the dance.
Alumni from the White House to an 86-year-old surviving member of the 1946 team — the Crimson's previous NCAA entry — could all feel good about this run. The latter was Don Swegan, who was at the Pit in his old Harvard sweater. He was in his glory, talking to other alumni. The Friends of Harvard hoops read about Swegan on ESPN.com and wanted to make sure he made it to Albuquerque from near Youngstown, Ohio, so they paid for his expenses. NCAA president Mark Emmert and Harvard alumnus and Pac-12 commissioner Larry Scott wanted to have their picture taken with Swegan.
These were good memories for him, the Harvard program and a clear signal that the Crimson aren't going into NCAA tournament hibernation.
"For us to represent our school and conference for the first time in so many years and to have so many folks come and cheer us on means so much to us,'' Amaker said. "This has been and is a big deal.''
March, 15, 2012
3/15/12
8:16
PM ET
By
Jack McCluskey
| ESPNBoston.com
While the Crimson's season ended in disappointment with a 79-70 loss to No. 5 seed Vanderbilt in the second round of the NCAA tournament, the future remains bright in Cambridge.
[+] Enlarge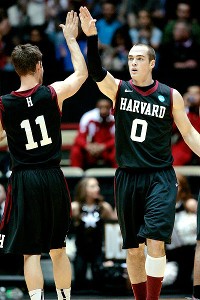 AP Photo/Jake SchoellkopfHarvard co-captain Oliver McNally, left, is graduating, but Laurent Rivard, who scored 20 points (6-of-7 on 3s) against Vanderbilt, is only a sophomore.
Tommy Amaker loses only three seniors off the school's first NCAA tourney team since 1946, albeit two of them starters and key contributors.
Oliver McNally
and
Keith Wright
, who've served as co-captains the past two seasons and played a huge role in putting the Crimson on the path they're currently on, will be missed dearly.
But there's a lot of talent remaining on the roster, and another highly regarded class incoming.
Kyle Casey
, an all-Ivy first-teamer in 2011-12, and
Brandyn Curry
were juniors this season, and likely will be counted on to lead the team next season.
Laurent Rivard
was just a sophomore, and while his effectiveness tailed off after he became a starter midseason the Canadian native has showed great potential in his first two seasons.
In addition,
Steve Moundou-Missi
,
Corbin Miller
,
Wesley Saunders
and
Jonah Travis
all showed flashes as freshmen -- each being named Ivy Rookie of the Week at least once during the season. And while Corbin will leave the Crimson after this season to go on his Mormon mission, the other freshmen should improve with a year's experience under their belts and an offseason of work on their games.
And Amaker has a four-player class committed for 2012-13, including one three-star prospect (
Agunwa Okolie
) and three two-star prospects (
Mike Hall
,
Siyani Chambers
and
Evan Cummins
). Four-star prospect
Zena Edosomwan
, a 6-foot-8, 220-pound power forward from Harvard Westlake School in North Hollywood, Calif., is reportedly enrolling in prep school for a postgrad year to improve his grades and his game for Harvard.
He could come aboard in the Class of 2013.
So though the loss to the Commodores will sting for a while, all signs point toward Amaker & Co. making an extended run at the top of the Ivy League.
It's unlikely that it will take another 66 years for Harvard to make it back to the Big Dance.
Jack McCluskey is an editor for ESPN.com and a frequent contributor to ESPNBoston.com. Follow him on Twitter @jack_mccluskey.
March, 15, 2012
3/15/12
7:29
PM ET
ALBUQUERQUE, N.M. -- Reaction from No. 5 Vanderbilt's
79-70 win
over No. 12 Harvard.


Overview:
Vanderbilt had lost to a double-digit seed in three of the past four NCAA tournaments.
Possibly none of them was as beloved as Harvard. Siena, Murray State and Richmond all knocked off the Commodores. But this Vandy team is not like the others. This one finally knows how to close. Vandy carried the momentum from the SEC tournament to snuff out the Crimson's historic bid to win their first NCAA tournament game. It was Harvard's second appearance and first in 66 years.
Turning point:
Harvard made a series of runs in the second half, and there was a sense the game could be turning when the Crimson cut the lead to 11. But the Commodores had a possession that changed the momentum. Harvard had put on a tremendous run to cut an 18-point deficit to two possessions. But a
John Jenkins
jumper gave the Commodores a 13-point lead. On the plan, the Commodores had four shots to make one. Harvard couldn't grab an offensive rebound, and Vandy kept getting opportunities. That possession signaled a shift that contributed to Harvard getting down five more.
Key player:
Jenkins scored 27 points, made three 3-pointers and was 10-of-13 from the line. He made key plays consistently when the Commodores were challenged. Jenkins always has had the most talent on this team, but there have been a few moments during his career when he has disappeared. That hasn't been the case recently. He's on a tear from being named the SEC's most outstanding player at the tournament last weekend in New Orleans to a fantastic start at the NCAAs.
Key stat:
The Commodores got to the free throw line in bunches, and ultimately that's what did the Crimson in because they couldn't play catchup fast enough. There was no officiating issue. Vanderbilt simply created more contact and got to the line while Harvard did not. The final number had Vandy 21-of-30 while Harvard was 11-of-14.
Miscellaneous:
Harvard '46 grad Don Swegan was in attendance. He's one of three or four surviving members (he's not sure) from the last NCAA tournament team from the Crimson. Swegan was a hot commodity. The 86-year-old was tracked down by Pac-12 commissioner Larry Scott (Harvard '86, where he was a tennis player). NCAA president Mark Emmert also made his way over to talk to Swegan. The Friends of Harvard basketball reacted to a story on Swegan on ESPN.com and paid for his expenses down from near Youngstown, Ohio, to the game. ... The NCAA has plenty of logistical issues in scheduling and bracketing. But there used to be a rule that would prevent a school from hosting and its team playing at the same time. The Pit crowd was near capacity but probably would have been a sellout if the University of New Mexico wasn't playing at the same time as Vanderbilt-Harvard. ... I anticipate Harvard won't have to wait long to be back here. The Crimson will be the favorite again in the Ivy. ... I'm not sure whose whistle is louder, Miami's Jim Larranaga or Vandy's Kevin Stallings. I can beat them with my loud clap. But the whistle is heard over crowd noise pretty easily.
What's next:
No. 5 Vanderbilt will take on No. 4 Wisconsin on Saturday at the Pit in what should be a tantalizing third-round game. The winner has a legit shot to knock off Syracuse, assuming the Orange get past Kansas State, next week in Boston. The Dores and Badgers will play a rugged, 3-point shooting game Saturday. It should be a good watch, as these are two teams that could make a run to the Elite Eight.