Boston Colleges:

Jack Parker
March, 24, 2013
3/24/13
1:19
AM ET
By
Brion O'Connor
| ESPNBoston.com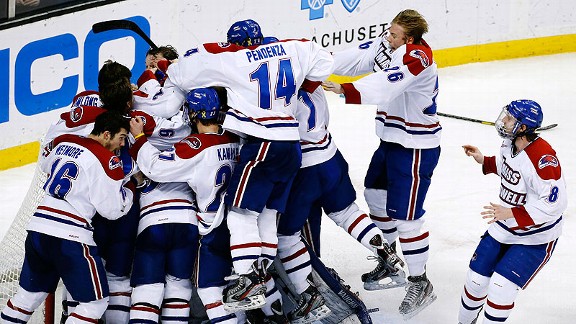 AP Photo/Michael DwyerThe River Hawks celebrate after winning Lowell's first ever Hockey East tourney title.
BOSTON -- Adieu, Coach Parker.
There would be no storybook ending in the storied career of the best hockey coach in Boston University history. Faced with a must-win scenario, and his Terriers unable to duplicate Friday's stunning comeback victory against Boston College, BU coach Jack Parker saw his 40-year career come to an end during the Hockey East finals on Friday at the hands of a determined Lowell River Hawks squad in a 1-0 thriller.
"From the opening faceoff, I thought both teams played extremely well. It was a great college hockey game," said Parker, employing one of his favorite assessments. "It was unbelievable that it was a 1-0 game, with all the chances going on. I was very, very pleased with our effort. I thought it was one of the best games we played all year. A real 60-minute effort.
"I was really happy with my team. I was really happy with everything that happened, except we couldn't put it by their goaltender, and they got one by ours. Both teams played extremely well. We got 36 shots. We had our chances. I guess it wasn't to be."
[+] Enlarge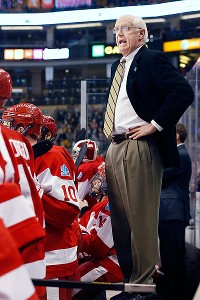 AP Photo/Michael Dwyer"Both team played extremely well. We got 36 shots. We had our chances. I guess it wasn't to be," BU coach Jack Parker said.
Instead, an unmistakable sense of "a changing of the guard" permeated the TD Garden after the final whistle. It was a fairytale run for Lowell (26-10-2), led by second-year coach Norm Bazin, as the top-seeded River Hawks captured their first Hockey East title. It was the exact opposite result of the 2009 title game, when Lowell needed to beat BU to advance to the NCAAs, only to lose 1-0. It was also particularly sweet for Bazin, who was a senior on the 1994 Lowell team that lost to BU in the 1994 Hockey East finals, 3-2.
"I congratulate UMass Lowell for a terrific season. I thought they were a terrific team all year long," said Parker. "I thought we gave them one heck of a game tonight, but they had a heck of a year. Winning the league, and then winning the playoffs, is quite an accomplishment for them, and for Norman. He's had a great year as a coach and deserves that Coach of the Year award."
Parker admitted that, when the game ended and he watched the Hockey East banner lowered so Lowell could be added, he thought of how the competition in the league had gotten progressively tougher over his tenure.
"When I first started coaching, and a good friend of mine [and former BU teammate], Billy Riley, was the coach at Lowell Tech," said Parker. "BU hockey was something special when I got the job here. Lowell Tech, now UMass Lowell, has come a long way, to the point where they're now the dominating team in Hockey East."
While the sentimental vote may have been in Parker's corner, the see-saw game turned in Lowell's favor with one dramatic play halfway through the third period, after the River Hawks had withstood a dogged BU attack.
With just over nine minutes left in the game, UML's Derek Arnold broke the heart of Terrier Nation. The junior from Foxboro, Mass., finishing a rare 3-on-2 break, spun around the back of the net and flicked a backhander that caromed off BU netminder Sean Maguire and into the net. It was the last goal that Parker would see scored from his viewpoint behind the BU bench.
Arnold, in the handshake line after the game, even managed to draw a laugh out of the outgoing BU coach.
"He said he wished he played for me. And I told him, I wished he did, too," said Parker with a wry smile. "He's a really good kid and a really good player."
[+] Enlarge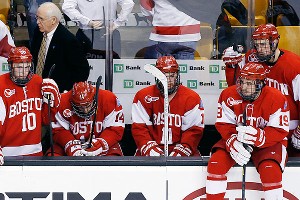 AP Photo/Michael DwyerParker's BU teams made the NCAA tournament 24 times in his 40 years at the helm, but couldn't make it 25 in his final season.
The loss means Parker's Terriers (21-16-2) won't get an invitation to the NCAA tournament, which starts next weekend. Parker finishes his four-decade run with 897 wins, third all-time (behind BC's Jerry York, 935, and Ron Mason, 924) and the most by any coach at a single institution. He already has a record 24 NCAA appearances, but while disappointed the Terriers couldn't get a 25th, he said he left the TD Garden without regrets.
"I couldn't ask for more of my team," said Parker. "I couldn't ask for a better weekend for us. We played really well. We played really hard."
The Terriers kept the game close with a gritty, relentless style that Parker loves to preach. It was the same style he played with when he suited up for BU for three years, 1966-68.
"He was a very good skater. The best part of his game was his faceoffs and his forechecking," said longtime rival and friend, BC's York. "He was tenacious forechecking. So you could see some of the fire that he's had in his coaching career as a player."
For his players, the loss was compounded by the fact they weren't able to send their coach out on top.
"Obviously, we wanted to extend the season for Coach Parker for as long as we possibly could," said BU captain Wade Megan, a member of the senior class that will be the first in 40 years to leave the program at the same time as its coach. "At the end of the day, we played as hard as we possibly could, and we left it all on the ice. It's tough to have regrets when you play like we did tonight. We just couldn't solve their goaltender. That was the bottom line. It would have meant a lot to extend the season, especially for Coach Parker, but it wasn't meant to be."
Ryan Ruikka, an assistant captain, echoed Megan's sentiments. "This is my fifth year with Coach," said the Michigan native. "It's been a great time. He's an unbelievable coach, unbelievable person.
"We wanted to make the run as long as we could for him. We pushed hard at the end. We didn't get what we wanted, but he had a great 40 years here," said Ruikka, prompting a chuckle from his coach. "Some kids say he's the face of BU hockey, and I just thank him for all he's done for me and this organization."
March, 23, 2013
3/23/13
1:51
AM ET
By
Brion O'Connor
| ESPNBoston.com
BOSTON -- Jack Parker's farewell tour picked up steam Friday night, as his Boston University Terriers fought back from a 2-0 deficit to beat archrival Boston College 6-3 in the Hockey East semifinals at TD Garden.
The third-seeded Terriers (21-15-2) turned the tables on the second-seeded Eagles (22-11-4) with five straight goals, including three critical goals in the second period that gave BU a 3-2 lead going into the final stanza. After BU sophomore Evan Rodrigues finally sealed Parker's 897th win with an empty-net tally at 17:31 of the third period, the Terriers locked up their date in the finals against UMass Lowell on Saturday.
"We came back from the dead, I thought," said Parker, who is retiring after the season. "The game could have been a lot worse in the first half. We hung in there and hung in there, got a little life and took advantage of it.
"I was very proud of these guys," he said.
[+] Enlarge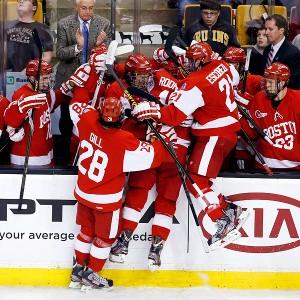 AP Photo/Michael DwyerThe Terriers extended their season by beating BC, but they likely have to win the Hockey East final to continue their postseason run.
Saturday's final will mark BU's 10th time in the Hockey East championship game, where the Terriers have a 7-2 record. Perhaps more importantly, it gives Parker's players a chance to win the league crown, and the automatic bid to the NCAA tournament that comes with it, in their coach's swan song.
"Now we have a chance to not only win a championship, but if we do, we'll have a chance to go to another tournament, which is what we would like to do. And we'll have all we can handle with Lowell tomorrow night," said Parker. "I was real pleased with my team. I was real pleased with my special teams. We got a very, very competitive effort tonight."
It didn't look that way early on. The Terriers took three first-period penalties, and the Eagles' power play looked impressive, moving the puck crisply and patiently. But BU's bend-but-don't-break defense, and some timely saves by freshman goaltender Sean Maguire (44 saves), kept BC off the board.
"The game was so out of hand the first half," said Parker. "I thought my guys were uptight, I thought we were struggling to move the puck, I thought we were outskated. I thought our goaltender really stood tall. Forget the fact that we were outshot badly. We were tentative."
At 17:50, BC's Johnny Gaudreau, the league's leading scorer and player of the year, had Maguire down and out, with the puck on his backhand, but he snapped it over the crossbar. Eventually, though, playing a man down caught up with the Terriers.
With BU's Sean Escobedo serving two minutes for tripping, the Eagles broke the scoreless tie at 18:33. Eagles forward Bill Arnold, driving down the right wing, threw the puck in front. It never got there. Instead, the puck deflected off BU defender Garrett Noonan and ramped over Maguire's left shoulder for a 1-0 BC lead.
"Kind of a bad hop," said the junior defender, who just returned from injury.
Quinn Smith nearly doubled the BC lead at the 5-minute mark, on another power play, but the sophomore forward's bid from the low slot rang iron. At 8:25, Whitney, streaking down the left wing, rifled a shot that narrowly missed the cage while being pressured by Matt Grzelcyk.
Twenty seconds later, though, the Eagles were attacking again. Smith didn't miss on his next bid, taking a picture-perfect feed from BC captain Pat Mullane and redirecting it over Maguire's glove at 8:46 for an even-strength tally.
BU showed some life at 12:17, halving the Eagles' lead. BU's Rodrigues executed a nifty toe drag that tripped up Smith, and then fired a wrister that broke through Parker Milner (21 saves). The goal gave the BU offense some spark, and the Terriers started strafing the BC net.
[+] Enlarge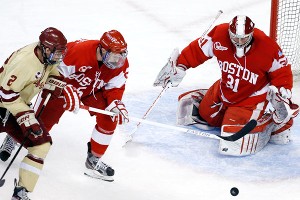 AP Photo/Michael DwyerFreshman BU goalie Sean Maguire came up with 44 saves to thwart the Eagles.
"I think it was almost two completely different games," said BC associate head coach Greg Brown, who along with Mike Cavanaugh was handling bench duties for a recuperating Jerry York. "I thought the first half, we were controlling a lot of the play, dictating the tempo. And then basically, right from their first goal by Rodrigues, their bench got a huge lift, and it seemed like they were asserting themselves more than we were after that."
The Terriers clawed all the way back at the 14:21 mark. When BC's Danny Linell, a converted forward playing defense, bobbled the puck at the BU blue line, Terrier Matt Lane seized the opportunity. Jumping past Linell, Lane raced in on Milner, switched to his backhand and tucked the puck between the legs of the BC netminder.
At 16:55, Milner came up with a big blocker stop on BU's Rodrigues, who got off a quality backhand bit while being tripped by Mike Matheson. The Terriers capitalized on the ensuing power play, with Noonan taking a super-cross-ice feed from Grzelcyk and threading the needle between Milner and the short side post from a bad angle. Noonan's sixth goal of the season gave BU a 3-2 lead at 17:59.
"I think we just finally figured it out," said BU's superb freshman Danny O'Regan. "Coach [was] telling us to play wings out of the zone. Our D's made some great looks up the ice. Nieto and Rodrigues are tough to keep track of. They slipped behind them a couple of times. A couple of skill guys, tough to contain sometimes. So I think it was us adjusting to them."
Milner made amends with 34 seconds left, denying Nieto with a great blocker stop on another breakaway bid. But the second-period collapse was an ominous sign, as BU had a 15-1-0 record this season while leading after two periods and the Eagles were 1-9-0 when trailing after the middle stanza.
BU went right back on the power play to start the third when BC's Gaudreau was whistled for cross-checking Escobedo behind the BU net, resulting in a five-minute major. And again, the Terriers made BC pay.
The Terriers were patient, sending the puck around the perimeter before it was sent to an unmarked O'Regan in prime scoring position. With Ryan Santana setting a monster screen in front of Milner, O'Regan calmly snapped a shot low glove side for a 4-2 Terriers advantage at 1:42.
The Terriers kept firing away, slowly wearing down the Eagles. Arnold and Whitney got off a pair of short-handed shots, but they were long-range efforts that Maguire handled easily. O'Regan then put the game out of reach with another power-play strike.
With BC's Whitney serving two minutes for high-sticking, BU's Nieto launched a bomb from the right point that Milner blocked but couldn't control. O'Regan, cruising in the low slot, found the puck on his stick and immediately deposited it into the BC net, stretching BU's lead to 5-2.
BC showed some life when BU's Patrick MacGregor was sent off for cross-checking at 9:16, but the Eagles couldn't get the puck past Maguire.
"Maggie's been unbelievable this whole stretch, the last eight games or so," said O'Regan. "We'll rely on him tomorrow. He's the most competitive kid I know, so I know he's going to bring it tomorrow as well."
Whitney got one back for BC when he took a carom off the backboard and chipped a bad angle shot that rolled over Maguire's left shoulder at 13:43, cutting the BU margin to 5-3.
At 17:31, with Milner pulled in favor of the extra BC attacker, Rodrigues buried the Eagles with a short-handed, empty-net goal. But the Terriers were keenly aware that their season could easily end Saturday if they don't bring the same effort against Lowell.
"The job's not done yet," said Noonan afterward. "We have to win tomorrow. But it was a good win tonight."
Saturday's Hockey East championship will be a rematch of the 2009 title game won by BU 1-0. Both Lowell and BC have already punched their tickets to the NCAA tournament by virtue of their lofty national and PairWise rankings. BU, however, doesn't have the same luxury. The Terriers need to win to keep playing and extend Parker's legendary career for at least another game.
"Especially after the first period, we kind of realized he's such a great coach," said O'Regan. "We weren't going to let him lose to BC at the Garden as his last game, and we were willing to do whatever we had to."
"Much appreciated, Danny," quipped Parker. "Thank you."
In Lowell, BU faces a squad that swept three straight games with the Terriers this season. "They've had everybody's number," said Parker of the River Hawks.
"We have our backs to the wall," he said. "We have to win to continue our season. More importantly, we have to win for our seniors, not for me. We have to win for these guys who would like to win a championship."