Boston Colleges:

Jameis Winston
September, 28, 2013
9/28/13
9:16
PM ET
By
Jack McCluskey
| ESPNBoston.com
NEWTON, Mass. -- Many things go into deciding the outcome of a college football game.
There are carefully crafted game plans going in and in-game adjustments once the rubber hits the turf. There are things the teams can control (effort, execution) and things they can't (bad bounces, questionable calls by officials).
And sometimes, there are just miraculous plays made by tremendous players.
Unfortunately for the Eagles,
Jameis Winston
is a tremendous player. And he made a truly miraculous (Eagles fans, read: disastrous) play to put No. 8 Florida State on top for good Saturday afternoon.
"It was devastating giving up that big play before the half," BC coach Steve Addazio said after the 48-34 loss. "We had that kid on the ground."
The BC offense, playing it safe, went three-and-out in its final possession of the first half, giving FSU the ball at its own 40 with no timeouts and 50 seconds to go 'til halftime. Winston was sacked on the first play, losing nine yards when
Kasim Edebali
came around the right end of the line and brought him to the ground.
Devonta Freeman
picked up 14 yards on the next play, but the clock was ticking down. Eight, seven, six, five, four, three, two.
It didn't seem like Winston would be able to get another play off, but somehow he managed to get his offense set and took the shotgun snap with the clock at 1.
Immediately, the pocket collapsed around him.
Mehdi Abdesmad
came flying up the middle, but Winston saw him and expertly side-stepped the 6-foot-7, 278-pounder.
Backup linebacker
Mike Strizak
came around the left side and reached for the QB, but Winston slipped him with a shove of his right arm and stepped up and to the right to find space. His eyes darted downfield and found
Kenny Shaw
running up the right sideline, with a step on
Spenser Rositano
.
[+] Enlarge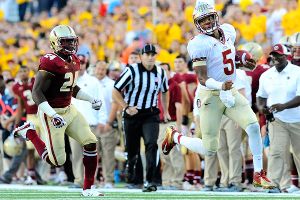 Eric Canha/CSMThe BC defense just couldn't keep Florida State QB Jameis Winson bottled up.
Winston stepped into a throw from the 41, letting it fly just before absorbing a big blow from linebacker
Steven Daniels
.
Shaw leaped to make the catch over Rositano's outstretched arms, falling to the ground just inside the right pylon. Florida State's sideline went berserk, and the air completely went out of an Alumni Stadium crowd that had been hoping for an upset after a two-touchdown first quarter for the hosts established an 11-point lead going into the second quarter.
"It is upsetting, but we're in a football game and we're playing a fast, athletic team that hits big plays," Edebali said. "When that happens, all you gotta do is come back to the sideline or come back to the locker room, make the proper corrections and keep playing. If you get influenced by that, you shouldn't be playing football. You gotta forget, you gotta keep playing, and you gotta keep staying motivated."
Some teams would quit when hit with that kind of body blow, coming a second away from going into the locker room tied with an overwhelming favorite only to see a superior athlete make a spectacular play to give his team a seven-point lead.
To their credit, the Eagles didn't quit.
Myles Willis
returned the opening kickoff of the second half 71 yards, leading to a field goal. When Florida State responded with another scoring drive and then another, the Eagles kept fighting even though the results they were hoping for refused to surface.
"I thought our team played with a lot of pride, a lot of toughness and made plays," Addazio said. "But I also told them that there's no moral victories in football. And while I'm proud of their effort -- and I really am proud of their effort -- I want them to absorb that feeling of what it takes to compete with a top-eight team in the country.
"That's what it's supposed to be. That's how you play. That what goes into major college football and winning. ... Feel that, bottle that and understand that and move that forward and then those wins will come."
Florida State ended up with 489 yards of total offense, Winston providing 67 yards on the ground and 330 yards and four touchdowns through the air. Though BC sacked him four times, the redshirt freshman took care of the ball for the most part (his one interception coming on a deflection) and the Seminoles finished plus-one in takeaways.
"He's an athletic kid. He makes good decisions. He's fast," Edebali said of Winston. "But that couldn't change our game plan. We still tried to pressure him a lot, and we did that. But he got away a couple times, broke a couple tackles and hit the big plays. We've gotta make sure as a defense that can't happen."
Chase Rettig
tried to rally the BC offense, but the senior's four passing TDs (a career high) were offset by two interceptions, one returned for a touchdown, and the Eagles were never able to get closer than 24-20 in the second half.
There were a lot of things the Eagles didn't do and a lot of things the Seminoles did do. Ultimately, a careful observer could point to many different plays as the tipping point.
But Winston's great escape and rocket of a TD throw to Shaw -- the QB, in a veteran move, told reporters afterward his wideout made the play happen -- is sure to stand out.
"It was kinda painful to see," said linebacker
Kevin Pierre-Louis
, on the sideline for the play, "because I saw the guys just hustling, grinding and trying to bring him down, and he just used his athleticism on that play and he was able to capitalize on that mistake by us."
Winston made the play, and FSU delivered the knockout blow.
Jack McCluskey is an editor for ESPN.com and a frequent contributor to ESPNBoston.com. Follow him on Twitter @jack_mccluskey.
September, 24, 2013
9/24/13
6:22
PM ET
By
Jack McCluskey
| ESPNBoston.com
NEWTON, Mass. -- In a way, Florida State's redshirt freshman sensation reminds Steve Addazio of a player he used to coach.
A very famous player, one who until the end of NFL training camp was attempting to latch on with the New England Patriots.
"He's big, strong, he can run and he can throw it," Addazio said of FSU QB
Jameis Winston
. "He's a real dual-threat guy. You've got to tackle that guy. That guy will break tackles and keep the chains moving and then give 'em another loaded set of downs.
"It's hard to get off the field against a guy like that. I remember at Florida we had [Tim] Tebow, it was hard to get off the field for defenses with Tebow. He could find a way on third-and-4 to move the chains and then you get another set of downs."
Though his career is still in its infancy, Winston could do worse than be compared to Tebow, a Heisman winner and two-time national champion at Florida under Urban Meyer.
[+] Enlarge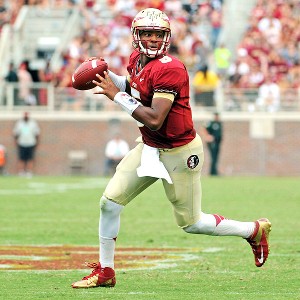 Melina Vastola/USA TODAY SportsIt hasn't taken long for Florida State QB Jameis Winston to catch Steve Addazio's attention.
Addazio was on Meyer's staff with the Gators, and since taking over at BC has often been asked about his former signal-caller. On Monday, though, the comparison came unprompted.
Winston, a 6-foot-4, 228-pound Alabama native, had an incredible collegiate debut as FSU demolished Pitt 41-13 in the season opener, Winston completing 25 of 27 passes for 356 yards and four touchdowns and adding eight carries for 25 yards and another touchdown.
And while he hasn't been quite as dominant in his past two starts, it's safe to say Winston has hit the ground running (and throwing) as he takes over for EJ Manuel, a first-round pick in the 2013 NFL draft by the Buffalo Bills.
So when the eighth-ranked Seminoles take the field in Alumni Stadium on Saturday (3:30 p.m. ET on ABC/ESPN2), the Eagles will be focused on containing the redshirt freshman.
"He's a strong, fast kid," junior linebacker
Josh Keyes
said. "He's only a freshman, though, so if we get in his face and get on him he might be able to hold off a little bit and make some mistakes and we might be able to get some picks or some sacks."
Kasim Edebali
doesn't care what year Winston is in. He just wants to make things hard on him this weekend.
"You've got to prepare for everybody the same," the fifth-year senior co-captain said. "You can't say 'Oh, he's a freshman, he's a senior' and all that. It's just really important that we see his strengths and try to see his weaknesses and try to get after him.
"We're going to keep playing aggressive, we're not going to play any softer. So we've just got to get after him."
After his first three games, Winston ranks first in the ACC in passer rating (210.39), completion percentage (78.1) and yards per attempt (11.2), second in passing touchdowns (eight), tied for third with just one interception and fourth in passing yards per game (239.3). With Winston under center and
Devonta Freeman
, James Wilder and
Karlos Williams
all running the ball effectively, the Seminoles rank first in the ACC in scoring average (52.3 PPG) and total offense (547.3 yards per game).
"They're very productive on offense," Addazio said. "You get a lot of productivity, that quarterback is playing at a high level. And he's playing at a high level. They're rolling in here with a lot of confidence, ranked No. 8 in the country. It'll be a great challenge for us. We're looking forward to the challenge."
Add everything up, and one can't help but be impressed by Winston's performance to date. Addazio clearly is.
"Extremely," he said. "I'm telling you, the guy is a really good football player. He throws it, he sees it, he can break tackles, he's a competitor, he seems completely unfazed by whatever stage he's on. I'm very impressed by him."
Jack McCluskey is an editor for ESPN.com and a frequent contributor to ESPNBoston.com. Follow him on Twitter @jack_mccluskey.