Boston Colleges:

Jerry York
November, 7, 2013
11/07/13
11:10
PM ET
In his 20th year as head coach of the Boston College hockey program, Jerry York intends to stick around for a while longer.

York and BC have agreed to a contract extension that will run through the 2019-20 season.

"Jerry York is the most successful coach in the history of college hockey," BC athletic director Brad Bates said in a press release. "We are extraordinarily fortunate to have a leader and representative of his caliber continue to serve this great institution and his alma mater."

York, whose 939 total victories is an NCAA hockey record, has coached BC to 472 wins since 1994, including four national championships. Before that, he coached at Clarkson (1972-79) and Bowling Green (1979-94).

"I am very excited and proud to extend my contract here at Boston College," York said in the press release. "As always, the focus of our program will be to graduate student-athletes and strive to add championships. The current state of Boston College hockey is strong and I envision it only getting stronger."
March, 28, 2013
3/28/13
1:03
PM ET
By
Brion O'Connor
| ESPNBoston.com
Boston College may have lost its first Hockey East playoff game in four years this past weekend, but the Eagles still have an ace up their sleeve as they get their head coach back just in time for the opening round of NCAA tournament play on Saturday
In the East Regional, held in Providence, R.I., the second-seeded Eagles (22-11-4) will begin defense of their 2012 national championship against the Union Dutchmen (21-12-5) late Saturday night. Like Wisconsin, Rick Bennett's Dutchmen punched their ticket into the NCAAs by catapulting from a regular-season 4th-place finish to capture the ECAC Hockey crown last weekend in Atlantic, City, N.J.
"We're concerned about any team you play in the national tournament because you know they're a good club – they've all qualified," said BC coach Jerry York, who will return to the bench after another surgical procedure on his right eye. "Union certainly is one of those teams with a legitimate chance to win a national title. We watched them play last year and they're gritty. They're very well schooled in fundamentals. Rick has them playing from the goal out -- really good defense. They move pucks through -- excellent special teams, so they concern me."

York also said the Eagles will take steps this week to limit the stretch passes that Boston University used so effectively to create multiple scoring opportunities -- and five straight goals -- while knocking BC out of the Hockey east semifinals, 6-3, last Friday.

"You learn from every game, from wins and losses," said York. "You look at them and say, 'How can we get better here?' We're certainly not a finished product by any means. This week we'll try to really make sure we balance our practice sessions with offense and defense. Defensively, to win at this level we'll need strong play from our defense and strong play from our goaltender.

"We are going to have to score when we have great chances," he said. "We had some terrific chances against the Terriers but could not score. We can say, 'Hey, that goalie played well,' but from our perspective we have to really make sure to bury some pucks. BU was able to get some breakaways on us, and we've looked at that and talked about pucks that are flipped up in the neutral zone. There are different areas that we have to tighten up on."

Bennett's squad was dominating in the ECAC playoffs, strafing Dartmouth twice in the quarters, 4-1 and 5-2, before knocking out Yale in the semifinals, 5-0, and Brown, 3-1, in the championship game. Though his Eagles have never faced Union, York knows his defense will need to step up its game.

"We're going to look to our two seniors in Pat Wey and Patch Alber to really settle us down. We've seen continued improvement this year from Isaac MacLeod, Mike Matheson, and Teddy Doherty is going to give us some good minutes also," said York. "They have to play better as a unit … and that helps our goaltender, that helps our offense with their breakouts. They are the keys to whether we can get passed Union. "


January, 10, 2013
1/10/13
4:39
PM ET
By
Jack McCluskey
| ESPNBoston.com
Jerry York, with 925 wins the winningest college hockey coach in history, will miss No. 2 Boston College's two games against No. 4 New Hampshire this weekend after undergoing outpatient eye surgery on Thursday.
After complaining of slightly blurred vision, York consulted an ophthalmologist Thursday morning, was diagnosed with a detached retina and immediately had surgery to repair the problem, according to a team spokesman. The coach is resting comfortably at home after having the procedure performed by Dr. Jeffrey Heier at Ophthalmic Consultants of Boston.
York will be re-evaluated on Friday.
Associate head coaches Mike Cavanaugh and Greg Brown will coach the team while York recuperates.
The home-and-home series with UNH begins Friday night at Kelley Rink (7 ET, NESN) and ends Saturday night in Durham, N.H.
York passed Ron Mason (924 wins) for sole possession of the most wins in college hockey history with a 5-2 win over Alabama-Huntsville on Dec. 29. Since that win, the Eagles (12-3-2) are 0-1-1 with an 8-1 loss to Minnesota and a 3-3 tie with Yale.
Jack McCluskey is an editor for ESPN.com and a frequent contributor to ESPNBoston.com. Follow him on Twitter @jack_mccluskey.
December, 29, 2012
12/29/12
8:53
PM ET
By
Brion O'Connor
| ESPNBoston.com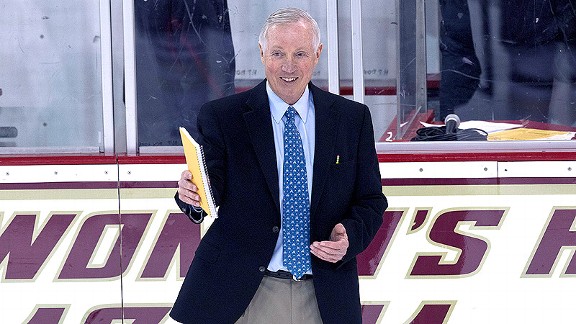 Matthew J. Lee/The Boston Globe/Getty ImagesLess than a year after nabbing win No. 900 (above, on Feb. 17), Jerry York got his 925th.
Call it anticlimactic, but a win is a win is a win.
And for Boston College hockey coach Jerry York, Saturday's
5-2 triumph over Alabama-Huntsville
was win No. 925 in a long and illustrious career, giving him sole possession of the all-time collegiate victory record, surpassing Ron Mason.
Admittedly, the matchup against the independent Chargers (3-15-0) in the opening leg of the Mariucci Classic in Minnesota didn't qualify as high drama. But the convincing win by the No. 1 Eagles (12-2-1) seemed somehow appropriate, simply because it took place far from the media glare of Boston.
After all, York, according to his assistant coaches and legions of former players, has never been concerned with the spotlight. It's never been about winning at any cost. He has always been more interested in shaping the lives of young men. He has always wanted to win, but only if his teams won the right way.
Now he can take a large measure of pride in accomplishing both.
"As he was approaching this milestone, I started to reflect back a little bit, and the most impressive thing to me is that Jerry York is the same great person that came up to Levack [Ontario] to recruit me to Clarkson in 1973," said Dave Taylor, a former collegiate All-American and NHL All-Star who is now an executive with the St. Louis Blues. "As a person, he's absolutely the same great guy.
"I was talking to Bill O'Flaherty [who took over the Clarkson program when York departed for Bowling Green in 1979] when Jerry was getting close to becoming the winningest coach in Division I hockey," said Taylor. "And Billy said, 'Well, the old adage that nice guys finish last certainly doesn't apply in this case.'"
As a testament to York's legacy as a coach who not only won often but did so with his moral compass intact, the BC coach has been swamped with emails, phone calls and texts -- and even tweets on his new Twitter account -- from former players who want the Watertown, Mass., native to know how much his milestone means to them as well.
"He just loves it," former BC captain Matt Price said. "You can just tell he loves everything about his job. I think he loves being around the guys he helps. He loves helping the guys get better. From day one, it's the littlest things. When the raindrops are freezing and Coach says, 'Oh, it's hockey weather.' Everything reminds him of hockey, and he has such a passion for the game that I don't think he can help but bring energy, because I don't think he can imagine doing anything else."
For York, the delight is in the details, teaching the game and seeing the results of those efforts producing banners and trophies for his program and school. He has won five NCAA championships: one at Bowling Green and four at BC.
"When you think about Jerry, it's hard not to talk about what type of person he is," Hockey East commissioner Joe Bertagna said. "It's a hockey story and a hockey accomplishment, but he just distinguishes himself. It's not just the winning, because some people make the argument, as [BU coach] Jack Parker says, the coach that gets off the bus with the best players usually wins. But there's more to Jerry than just having great players.
"He tries to let everybody be a part of these things and share in them. He really does not like attention. I've been to his house, and he doesn't have a lot of trophies and plaques. It's very modest. It's not an act. I really think he's uncomfortable with people talking about him. So he's probably not looking forward to whatever accompanies this record."
[+] Enlarge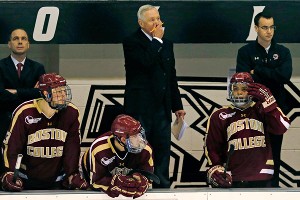 AP Photo/Charles KrupaBC coach Jerry York cringed when Providence scored with 10.5 seconds left on Dec. 7 to force overtime and eventually salvage a tie, but securing the career wins record was only a matter of time.
But the record was bound to raise eyebrows, and York, after his record-tying victory over Boston University on Dec. 1, seemed genuinely embarrassed by the attention it garnered. However, the celebrations had to be put on hold after the Eagles failed to hold onto a 3-1 lead against Providence on Dec. 7 and settled for a 3-3 tie when the Friars scored with less than 11 seconds remaining in regulation. That result emphasized the reality that York refers to often -- winning hockey games is not easy.
"The parity in college hockey has never been more obvious," said former BC captain and current Providence Bruin Tommy Cross. "Anyone can beat anyone else on a given night, yet Coach still finds a way to win 30 games a year."
The comment echoes those made by BC associate head coaches Mike Cavanaugh and Greg Brown, who agreed that while BC has been fortunate to recruit superb players, it isn't the only school that's been able to do so. However, York's teams have achieved a consistent level of excellence that's rare.
"The extra thing is Coach and the culture he has established at BC," said Cross. "It's more than just a framework, more than just a foundation. It's been secured year in and year out.
"Everyone understands that the culture isn't going to change. The culture is what it is. Team before individual, Energy and passion, being good citizens -- that's what Coach has established."
It is a culture that has followed York through his stints at Clarkson (1972-79, 125 wins) and Bowling Green (1979-94, 342 wins).
"He's seen all of us come and go, and I'm sure he'll see a few more," said Rob Blake, a former Bowling Green All-American, NHL All-Star and current NHL executive. "But he's also been able to adapt to the game. You can keep a certain style for a certain amount of time, but the games change. College games change. NHL games change. And I'm sure he's had to adapt with that."
To earn the record, York surpassed Mason, the man he succeeded at Bowling Green. But despite his success with the Falcons, including his first national championship in 1984, York's greatest success has come with his alma mater.
As a player for the Eagles, York improved every year, according to longtime rival and foil Boston University's Parker, who stands in third place on the career win list with 886 entering BU's Saturday night game versus Denver.
"He became a terrific offensive player his senior year," said Parker, referring to York's 1966-67 All-American season. "In high school, he was a pretty good player, but I don't think he was a huge recruit coming out of BC High. He was a guy who got better and better as his career went on."
York has made a career of helping his players follow the same blueprint.
"What's most important is that you need good players," said York. "But you need good players who want to get better every day."
That formula hasn't changed in four decades.
"He always stressed, 'You don't stay the same as a player. If you stay the same, you're falling behind. You're regressing. So you've got to work to improve,'" said Taylor. "He always pushed the players to improve, working on the small details, working on the strength training, eating properly, all the little details to make yourself better as you went along.
"As I reflect back on 40 years, that's a trademark of Jerry York's teams. For me, the players that go to him get better over their career. The teams seem to get better over the course of the year, and they seem to peak during playoff time. So certainly a lot of credit to Jerry as a coach and the methods and how things have evolved for him over the years."
York has taken that ideal to an entirely different level behind the Boston College bench (458 wins in 19 seasons). Taking over a team that was battling through a rare downturn in the early 1990s, York constructed a perennial contender at The Heights. The Eagles have made the NCAA field of 16 in 13 of the past 15 years, winning four national titles during that span, including three of the past five.
"They play an incredible transition game, and they're always fun to watch," Bertagna said. "And they're particularly fun to watch late in the year, when they seem to have everything going.
"There is something about that team, in the (NCAA) Regionals. You watch them playing pretty well, and all of a sudden, they just click. The puck is not on their stick for a second. Jerry always says that people talk about how fast our skaters are. But fast hockey isn't skating; it's moving the puck. And when they're doing that, when they're clicking on all cylinders, that's fun to watch."
So what's the secret?
"People asked me all the time: 'What is it that we do at BC?'" Cross said. "There's really not anything different. There's only so many systems, so many forechecks you can do. Coach says it all year: 'I don't have a magic wand. We're not going to just make a run in February and March. We need everyone to buy into everything we're doing. The culture doesn't have a lot to do with hockey and the X's and O's. It's more about attitude, commitment to the program and selflessness. Those kinds of things that happen off the ice but also affect the result on the ice as well."
And Jerry York has the record to prove it.
"I'm just very proud, and very appreciative, to have been a part of it for just a sliver of his years," Price said. "Especially now, having left, you see how much it means to him but also how much the wins are insignificant to everything else that his program is about. Just how much he cares, and the little things he remembers.
"It's about winning hockey games, but it's also about making the members of his program better as young men. It's nice that that can all culminate in a significant number of wins and championships."
Not that York will talk about them. Odds are he'll be too focused on Sunday's game against No. 4 Minnesota to consider what, if any, significance the record holds for him.
"I was part of Jerry's first recruiting class, which was a stroke of good fortune for me," Taylor said. "But that was 1973, 40 years ago. And he's still the same person. He's got that bounce in his step. He's always optimistic. He truly enjoys what he does. It's just a way of life for him."
December, 8, 2012
12/08/12
4:16
AM ET
Jerry York's coronation as college hockey's all-time winningest coach is on hold for at least three more weeks.

Boston College blew a 3-1 lead Friday night at Providence College, which forced overtime by tying the game at 3-3 with just 11 seconds remaining in regulation. A scoreless extra session ensued, so York remains stuck on 924 career wins, tied with Ron Mason for the college record.

"Providence played hard, they played physical, and they were difficult to play against," York said, according to The Boston Globe. "We take the point, we leave with some real good learning experiences for our club, too."

BC won't take the ice again until Dec. 29, when the Eagles will play Alabama-Huntsville in Minneapolis at the Mariucci Classic.
December, 1, 2012
12/01/12
2:29
AM ET
By
Brion O'Connor
| ESPNBoston.com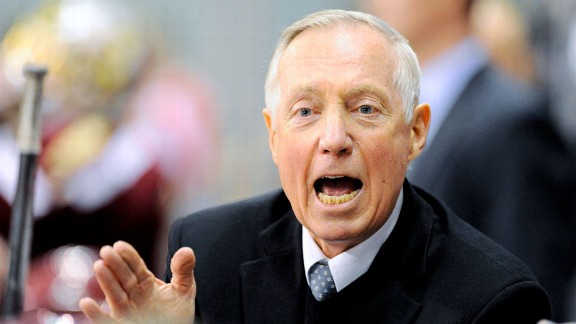 Cal Sport Media via AP ImagesBC coach Jerry York will remain No. 2 on the career wins list for at least one more night.
BOSTON -- Not in our house.
The No. 9 Boston University Terriers made sure that Boston College hockey coach Jerry York's date with the record book would have to wait another day, protecting their home ice Friday by outgunning the No. 1 Eagles, 4-2, before 6,150 at Agganis Arena. The Terriers' victory ensured that York will not break Ron Mason's record of 924 wins this weekend, though he could tie it Saturday at home, against BU on the back end of this home-and-home series.
"I thought BU was better than we were tonight," said York. "We had some excellent flurries, and (BU goaltender Matt) O'Connor made some very good saves. But for the most part, I thought BU had the territorial edge. Their transition game was very good tonight. They had a lot of odd-man rushes off turnovers. So hats off to them. They played better and deserved to win the game."
It was the first time that BU (8-4-0; 6-3-0 Hockey East) had beat the No. 1 team in the nation since Jan. 27, 2006, a 4-3 win over -- you guessed it -- Boston College. The BU victory also snapped BC's 10-game win streak.
"All in all, it was a good effort by us," said BU coach Jack Parker. "It wasn't like we dominated that game. You've got to come up with a top game to beat Boston College the way they're playing right now.
"They've just come off a streak where they've won 29 of their last 30 games" dating back to last season, said the BU coach. "That's a pretty good club. I thought we were fortunate. I thought we deserved to win tonight. I thought we played hard tonight. And we feel glad that we could raise our game up to beat a club that's as good as they are."
Both teams came out flying in this 260th meeting of the storied rivalry, and the action flowed from goal line to goal line for the full 20 minutes. O'Connor, BU's freshman netminder (35 saves), stood tall over the first 10 minutes, constantly thwarting the BC attack. BC's Parker Milner (30 saves) was forced into duty at the 10:30 mark, blunting a clean breakaway bid by BU's Sahir Gill. Two minutes later, the senior netminder from Pittsburgh smothered a snap shot by BU's Matt Nieto off the left wing.
[+] Enlarge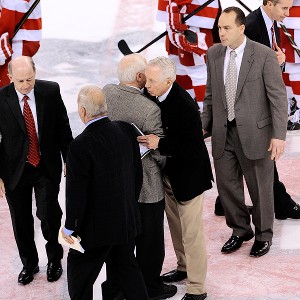 Eric Canha/CSM/AP PhotoBU coach Jack Parker (grey jacket) and BC coach Jerry York (blue blazer) meet at center ice after BU's 4-2 win.
The theme continued for the rest of the opening stanza, with both squads getting quality chances but unable to find the back of the net. BU's Alexx Privitera came close, ringing a shot off the left post, and Kevin Hayes forced O'Connor into a terrific left pad stop on his cross-slot bid.
"It was an unbelievable job of goaltending by both goalies," said Parker. "In a game that was 0-0 for as long as it was, there was a lot of things happening out there. There were a lot of opportunities for both teams."
BU kept the accelerator pegged to the floor to start the second, and Milner was called to make several big stops, none better than back-to-back saves on Nieto as he slashed across the crease. Not to be outdone, O'Connor kept the game scoreless with dandy stops on BC's Patrick Brown and Quinn Smith before swallowing up Steve Whitney's off-wing wrister with his glove.
"I thought we picked it up a little bit" in the second period, said Parker. "Obviously, we outshot them a bit more in the second. That had something to do with it. But I didn't notice any momentum swings, one way or the other."
The Terriers broke the drought at 9:04. BU's Evan Rodrigues made a great shift across the high slot, but fired his shot over the crossbar. Nieto pounced on the rebound, and snapped a shot off the right post. BU defenseman Garrett Noonan, cruising into the low slot, tipped the fluttering puck out of midair and past Milner for a 1-0 BU lead.
Unfazed, Milner made a dazzling left pad stop of Danny O'Regan's tip at the doorstep, but BU kept pressing. Fifteen seconds later, Rodrigues took an O'Regan feed and blistered a shot over Milner's glove for a 2-0 BU margin at 16:04.
BC answered immediately, with captain Pat Mullane stepping up for the Eagles (10-2-0; 8-2-0 HE). Stationed in the low slot, Mullane took a pass from Johnny Gaudreau and snapped a quick shot underneath O'Connor's blocker to halve BU's advantage at 16:42. With 10 seconds left in the period, BU captain Wade Megan steamed a short-hand bid that beat Milner over the left shoulder, but clanked off the crossbar.
The Terriers stretched their lead to 3-1 at 1:46 of the final period on a nifty individual effort by defender Matt Grzelcyk. The freshman from Charlestown, Mass., drove down the left wing, looped behind the BC net, and before Milner could recover, banked a shot off the stick of Eagles defender Teddy Doherty.
"That was the biggest goal of the game, I thought," said Parker. "They make it 2-1, and they can come out and start grinding away at us. And we immediately get the two-goal lead right back. I thought that was huge."
Milner kept the Eagles close with a nice glove stop on a Cason Hohmann bid, and O'Connor twice stuffed Steve Whitney in tight. Nieto was denied by the right post (the third time the Terriers hit iron), and Milner twice stuffed Megan after the BU captain stripped BC defender Patch Alber at the side of the net.
A late BC flurry with just over two minutes left in the game kept the Terriers pinned in their own end, but O'Connor continued his stellar play, making several top-notch stops while scrambling from post to post.
"We did have four or five really Grade A chances to score, we didn't capitalize on those," said York. "But for the most part, BU had more chances than us during the game."
Megan sealed the win with an empty-net shorthanded tally at 18:21. With 25 ticks left on the clock, and BU down two men, Gaudreau brought the Eagles back to within two, but BC wouldn't get any closer. Combined with BC's 4-2 win over BU on Nov. 11, the Terriers' victory on Friday sets up the rubber match for the season series on Saturday at BC's Conte Forum.
"I think (the win) was real big," said Parker. "It's real important for us to beat some teams that are ahead of us. We've got four losses, and three of those four losses are against the No. 1 and 2 teams in the nation (BC and New Hampshire). And the other one is against North Dakota at North Dakota. We feel pretty good that we're a good team, but we still have to beat those guys. It'll be interesting to see how things unfold tomorrow night, on another sheet of ice."
York, meanwhile, said he was looking forward to the opportunity to get right back to work on Saturday, and getting the Eagles back on track.
"It should be another outstanding game tomorrow night," said the coach, who remains just a single win shy of the career record. "Just switch venues."
January, 27, 2012
1/27/12
5:45
PM ET
Malden Catholic freshman defenseman Casey Fitzgerald has committed to Boston College, Lancers head coach John McLean confirmed to ESPN Boston Friday evening.

The North Reading resident has nine points (1-8-9) in 10 games for the defending Super 8 champions and has split time playing on the Lancers' first and second defensive pairings, along with the power play unit, in his first season.

"What he's done so far has been impressive," McLean said of Fitzgerald's time with the Lancers. "He's a high-IQ player with a great sense for the game and he sees the ice extremely well."

Fitzgerald is expected at the Heights for either the 2015-16, or 2016-17 season. His older brother, MC junior center Ryan, is committed to the Eagles for 2013. Casey and Ryan Fitzgerald are the sons of former Bruin and Austin Prep star Tom Fitzgerald.

"I'm sure the family will have a lot of fun watching them both at BC," McLean added.

Eagles head coach Jerry York was seen at MC's 2-2 tie against Catholic Conference rival BC High Wednesday night at UMass-Boston.