Boston Colleges:

Johnathan Coleman
October, 27, 2012
10/27/12
6:49
PM ET
By
Jack McCluskey
| ESPNBoston.com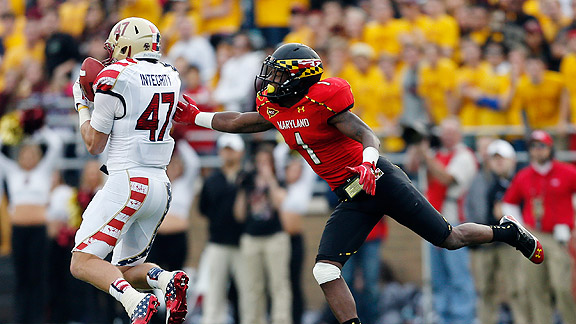 AP Photo/Michael DwyerSpenser Rositano intercepted this Maryland pass to clinch BC's clutch comeback.
NEWTON, Mass. -- It was a true make or break moment.
A couple of Maryland freshmen had just combined on a 66-yard scoring play -- QB
Caleb Rowe
to wideout
Stefon Diggs
-- to complete the comeback from 13-0 and put the Terps on top 17-13. There was 8:47 to go in the game, and Boston College had to make something happen.
Chase Rettig
led the Eagles' offense back onto the field, needing to go 70 yards for a score.
To that point in the afternoon, BC was 0-for-10 on third down.
But the Eagles finally converted one, with Rettig finding
Chris Pantale
for 8 yards and a first down on third-and-2. It seemed like momentum might actually be building for a potential winning drive.
And then disaster struck.
Joe Vellano
sacked Rettig and forced a fumble that
A.J. Francis
recovered. Maryland had the ball back, and if BC was to have a chance its much-maligned defense would have to get it back.
[+] Enlarge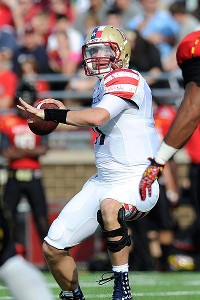 Bob DeChiaraChase Rettig led BC down the field for the game-winning TD.
"When I was coming off the field, the defensive guys obviously told me 'We got your back. We're gonna get a stop,'" Rettig said. "It worked out well."
The defense forced the Terrapins to go three-and-out and gave Rettig and the offense one more shot. The junior quarterback didn't waste it, completing passes to four different receivers and standing his ground and taking a big shot from a Maryland defender to complete a 17-yard pass to
Alex Amidon
on third-and-9 from the Terps' 36-yard line.
That diving catch by Amidon set up a 14-yard score to
Johnathan Coleman
two plays later, giving BC back the lead at 20-17 and propelling the Eagles to their first ACC win.
"What can I say?" BC head coach Frank Spaziani said. "It was an exciting, exhilarating victory and I can't say enough about the job that the kids did to hang in there. We struggled on offense but were able to make a bunch of plays at the end."
It started with the defensive stop after the turnover.
"It was a big momentum swing," linebacker
Nick Clancy
said. "Getting the D off the field and not having the offense capitalize on that stop was frustrating. But the attitude of our defense was almost like we wanted to be back out there. I've never seen our D-linemen so fired up to get back out on the field and our DBs so ready to play. I think that was a huge part of why we were so successful today.
"It was almost like we wanted to be out there and have the game on our shoulders."
For a unit that's struggled all season -- and that had struggled at times earlier in the afternoon -- to make big plays when it needed to, that was important.
But it wouldn't have meant anything if the offense, which had failed to do much of anything for most of the game against Maryland's solid defense, hadn't come through.
They were ready for the challenge.
"That's kind of been our mindset, just let us have the ball with two minutes left and we'll go win the game," Amidon said of the offense's stepping up late with the game on the line.
Rettig was exemplary on the final drive. The junior went 8-for-12 for 90 yards and a TD on the series, bumping his final numbers for the day to 21-for-39 for 287 yards and two touchdowns.
He kept it together in crunch time, even recovering his own fumble after the Maryland pass rush pushed his own offensive lineman into him and knocked the ball loose.
That's not something this Boston College team has proven especially adept at this season. The Eagles have come up short in those situations more often than not, leading to the five-game losing streak they were on coming into this afternoon's matchup.
"The last five weeks have been tough, obviously," Rettig said. "Offensively we've done some good things this year and people have taken notice, but we could've done more in other games. It's just nice that we finally put it together at the end of the game there and scored a touchdown."
The win is BC's first against an FBS opponent, and improves the record to 2-6 overall, 1-4 in the ACC.
"It feels great," Amidon said. "It doesn't fix everything, it just feels awesome."
And while the win was far from perfect -- with the Eagles giving up four sacks, fumbling on the goal line on their second offensive possession and finishing just 3-for-13 on third down conversions -- Spaziani said it delivered a message.
"It's a confirmation for me of what we believe in, and what those kids have in them," he said. "I'm glad they were able to get the result. See I know it's there, and I know how to get it out of them. But they're young, 18, 20, 21, 22 years old and they need to have something like that."
Asked what the win meant, Spaziani said, "It was like" -- then he paused and took a deep breath -- "the next breath of air.
"We were at the end of our rope there a little bit. It was good to get that one and hopefully we'll get some confidence and continue on and get better."
Jack McCluskey is an editor for ESPN.com and a frequent contributor to ESPNBoston.com. Follow him on Twitter @jack_mccluskey.
September, 10, 2012
9/10/12
11:10
PM ET
By
Jack McCluskey
| ESPNBoston.com
Wide receiver is not a glory position at Boston College. Never has been.
But could it be?
That's up to the Eagles' wideouts themselves. If they can prove they deserve to get the ball more, it seems new offensive coordinator Doug Martin is willing to give it to them.
"I said in the beginning of camp we had some real potential there," coach Frank Spaziani said in his Sunday conference call. "Better than we've had here, really. We're starting to see some of those guys grow."
[+] Enlarge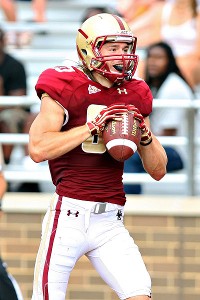 Anthony Nesmith/CSM /Cal Sport Media/AP ImagesAlex Amidon is the only experienced threat at wideout for BC.
Alex Amidon
(16 catches for 248 yards and a TD through the first two games),
Johnathan Coleman
(5 for 64 and a TD) and
Spiffy Evans
(6 for 64 and a TD) are stepping up after injuries sidelined expected top options
Bobby Swigert
and
Chris Pantale
.
In the first two weeks, quarterback
Chase Rettig
has almost half the total passing touchdowns he had last season (five through two games, 12 in all of '11). He's hit five different receivers for scores, including the three aforementioned plus running back
Tahj Kimble
and H-back
Jake Sinkovec
.
Rettig's 660 yards passing ranks sixth in the country, his completions (48) are tied for 18th and his attempts (83) are tied for 12th.
Clearly, the Eagles are going to throw the ball. And while the lofty rankings Rettig is currently occupying may be a case of statistics misrepresenting the facts -- the Eagles were forced to throw 51 times in the opener against Miami because they trailed for much of the game; they threw a more normal amount against Maine, with 33 attempts, closer to their average of 27 attempts a game last season -- there's no denying that BC will be more dangerous if the offense can spread the opposing defense out.
Before getting hurt in the opener,
Colin Larmond
Jr. talked excitedly about the potential he saw at his position. Coleman, he said, could play Division I basketball anywhere in the country. Amidon never gets tired and is as dedicated as anyone.
How about that guy Spiffy? (Evans, who told reporters after the game Saturday that he got his nickname in part because of his massive sneaker collection, goes by @spiffy_thatsme7 on Twitter.)
The 6-foot, 184-pound wideout from Hollywood, Fla., had his first two career catches against the Hurricanes, but gained just 11 yards on the grabs. He was the receiver who got stood up at the goal line late in the fourth against Miami, setting up Rettig's unsuccessful QB keeper on the next play.
But against the Black Bears, Evans wouldn't be kept out of the end zone. He scored his first career touchdown on a 7-yard pass from Rettig in the second quarter, and in the third quarter returned a punt 82 yards for another touchdown.
It was BC's first punt return TD since Rich Gunnell (now a graduate assistant for the Eagles) had one against Northeastern in 2009, and it showed just how explosive Spiffy can be.
Of course, the FCS Black Bears are a long way from, say, the
Clemson Tigers
. But the BC wideouts' performances so far this season show that there is at least potential there for big-play ability, which isn't something the Eagles have always had.
Just how stiff a test Northwestern's secondary will be remains to be seen. The Wildcats lost three starters to graduation after last season and allowed 470 yards through the air in their opener against Syracuse, but just 217 to Vanderbilt in their second game.
And while it remains to be seen if the Eagles' wideouts can ace the next test and help the team to win No. 2, Spaziani is high on the collection of players he has at the position.
"I think the future is bright over there," he said.
Jack McCluskey is an editor for ESPN.com and a frequent contributor to ESPNBoston.com. Follow him on Twitter @jack_mccluskey.
August, 31, 2012
8/31/12
12:21
AM ET
By
Jack McCluskey
| ESPNBoston.com
NEWTON, Mass. -- Eventually it got to a point when all they could do was shake their heads in disbelief.
One player went down, then another. And then another.
Injuries will always be a part of football, and the Eagles understand that. But to have this many, this early in the process?
Chris Pantale
was lost first, then
Al Louis-Jean
got hurt. Deuce Finch,
Tahj Kimble
and
Kaleb Ramsey
all missed time in camp with various injuries. And now
Bobby Swigert
, QB
Chase Rettig
's go-to guy for much of last season, is out for several weeks with an injury of his own.
[+] Enlarge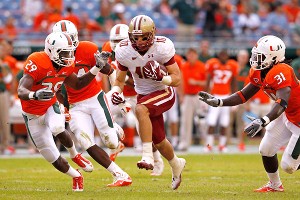 Mike Ehrmann/Getty ImagesWR Bobby Swigert is one of several key Eagles who are sidelined by injuries at the start of the season.
"It's always gonna have an effect on a team when your playmakers are not on the field, but I think that our offense is dynamic enough to overcome the injuries," running back
Andre Williams
said Wednesday as the Eagles were preparing for their season opener against Miami on Saturday (3:30 p.m., ESPN2).
Williams has seen first-hand the effect injuries can have on a team. Though he's been healthy through training camp, Williams was held out of a scrimmage because of injuries to fellow RBs Finch and Kimble. Head coach Frank Spaziani didn't want to risk an injury to Williams, too.
No one in Chestnut Hill is looking to use the injuries as an excuse. Don't get things twisted.
"That's just something that you just gotta go with," senior receiver
Colin Larmond
Jr. said. "I suffered that a few years ago."
Larmond, who missed the 2010 season with an ACL injury, said BC's coaches have preached accountability to the players, before and after the recent spate of injuries.
"They always tell us if you go out there, don't take practice for granted," he said. "Take it one step at a time, one day at a time. You have to give it your all, keep trying, keep getting better."
Players have to know that they may be one snap away from being a starter. And they have to prepare accordingly.
That doesn't mean the losses of Pantale, who was voted a captain this season before breaking a bone in his foot and undergoing surgery to repair it, and Swigert, who is out with a knee injury, will hurt any less.
"It hurts, just because me and him are close off the field," Rettig said of Swigert's injury. "He just loves playing football and he has a great work ethic, he's always there, 24-7. On the field he's quiet and calm and smooth.
"It's just a target that we're gonna miss for a couple weeks but someone else will step up. Guys have been stepping up in practice so we just need to see that transition onto the field."
Larmond agreed with his quarterback.
"It just gives other people a chance to step up," he said.
And if you ask the veteran, there is no shortage of wideouts capable of filling in. He cited
Johnathan Coleman
and
Alex Amidon
as two players to watch.
August, 16, 2012
8/16/12
10:30
AM ET
The bad news just keeps coming for Boston College this summer.

Featured tailback
Rolandan Finch
, the team's leading rusher last season,
injured his foot
in Wednesday night's scrimmage, according to the Boston Herald.
"I hate to say it, but it is his foot, but it's a little too early to say more," coach Frank Spaziani told the paper. "We put some ice on it and do the usual routine, X-ray and MRI."
The Eagles had recently announced the news of injuries to starting tight end
Chris Pantale
and cornerback
Al Louis-Jean
. Boston College was already missing one of its top rushers, as
Montel Harris
was dismissed from the team in early May.
In Wednesday's scrimmage, junior tailback
Andre Williams
carried the ball seven times for 18 yards and two touchdowns, which included one touchdown in goal-line simulation. Freshman
George Craan
, who also scored one touchdown in goal-line simulation, carried five times for 12 yards. Senior
Mike Javorski
carried the ball nine times.
The good news is that the quarterbacks played well.
Starter
Chase Rettig
completed 14-of-21 passing attempts for 259 yards and one touchdown. He completed passes of at least 12 yards seven times, including a 72-yard touchdown to senior
Colin Larmond Jr.,
passes of 30 and 35 yards to junior
Alex Amidon
, and a 26-yard completion to junior
Johnathan Coleman
.
"I'm looking for him [Rettig] to run the operation, make good decisions, and, right now, run our offense," Spaziani said, according to the team's scrimmage report. "We did a couple new things out here today, gave him some more stuff to do. I thought the quarterbacks -- they looked fine. I think he's been practicing well."
He's going to have to play well, too, if the Eagles are going to overcome all of these injuries.