Boston Colleges:

Johnny Gaudreau
June, 26, 2014
Jun 26
10:05
PM ET
By
Jack McCluskey
| ESPNBoston.com
Johnny Gaudreau's college career is over and his professional career with the Calgary Flames is just starting off, but the Boston College star may not be done collecting hardware for his collegiate feats just yet.
The diminutive winger, listed at 5-foot-8 and 155 pounds on his
ESPN player page
, won the 2014 Hobey Baker Award after putting up 80 points with 36 goals and 44 assists in 40 games as a junior at BC.
He played in one game for Calgary after signing following the Eagles' season, playing 15:11 and scoring a goal (of course) on his only shot.
And now Johnny is up for
an ESPY
.
Miss Johnny? So do we but he was just nominated for the 2014 @ESPYS for Best College Athlete! http://t.co/sg6fhLYSd9 pic.twitter.com/MuJqE5qgsZ

— BC Athletics (@BCSportsNews) June 26, 2014
Gaudreau is up against Creighton's Doug McDermott (basketball), Penn State's David Taylor (wrestling), Albany's Lyle Thompson (lacrosse) and Florida State's Jameis Winston (football).
Voting is open (starting from the bottom) and will continue until host Drake says the awards show is here on July 16 at 9 p.m. ET.
Jack McCluskey is an editor for ESPN.com and a frequent contributor to ESPNBoston.com. Follow him on Twitter @jack_mccluskey.
March, 29, 2014
Mar 29
7:16
PM ET
By
Brion O'Connor
| ESPNBoston.com
WORCESTER, Mass. - Boston College continues to mine a rich vein in this working-class city, as the top-seeded Eagles got a first-rate performance from their first line and clobbered the Pioneers of Denver 6-2 in the opening game of the NCAA Northeast Regional.
The third-ranked Eagles (27-7-4) have now won nine straight postseason contests at the DCU Center since 2005 (11-1 overall), and hope to make it 10 straight Sunday when they face the winner of the UMass Lowell-Minnesota State Mankato nightcap. All of BC's four title runs since 2001 have originated in Worcester. More important for this year's squad, the Eagles showed little rust from their two-week layoff after getting bounced from the Hockey East playoffs on March 16.
[+] Enlarge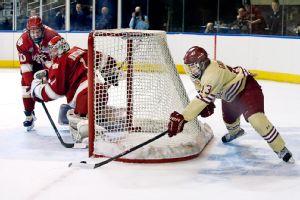 AP Photo/Elise AmendolaJohnny Gaudreau beat Denver goalie Sam Brittain on a wraparound for his second goal of the game.
In the first postseason clash between these two traditional collegiate powers since 1973, the result emphasized a well-established belief regarding the country's most potent offense: If you're going to beat the Eagles, you need to contain BC's top line of Johnny Gaudreau, Kevin Hayes and Bill Arnold. The high-flying linemates accounted for all of BC's six goals, and 13 of the Eagles' 17 points. The game was effectively over by the end of the first period, with the Eagles registering as many goals (3) as the 17th-ranked Pioneers (20-16-6) had shots.
In a classic confrontation between student and teacher, BC's Gaudreau, the odds-on favorite to win the Hobey Baker Award, got the best of his former USHL coach Jim Montgomery, Denver's bench boss. Just 25 seconds into the contest, Gaudreau found a seam behind the Pioneers' defense, took a brilliant behind-the-back, no-look pass from Hayes and roofed the puck over DU goalie Sam Brittain's right shoulder for his 33rd on the season and a 1-0 BC lead.
Montgomery, Gaudreau's coach during his tenure with the USHL's Dubuque Fighting Saints, had almost predicted the goal the night before. "You don't want to be running at them defensively, because they'll make you look stupid. You've got to mark your men well.
"I know, coaching Johnny ... his anticipation of when to transition from defense to offense is going to happen. He doesn't end up on breakaways like he does by a fluke. His timing is impeccable," said Montgomery. "I've been trying to show our players that when you realize a turnover has happened, he's already two strides ahead of you and behind you."
BC's second goal showcased Hayes' brute strength and patience. Starting deep in the left corner, the senior from Dorchester, Mass., skated in a large circle, waltzing through the entire Denver defense along the way. The final move was a crisp deke on Brittain, who bit, and Hayes switched the puck to his forehand before jamming it home.
Gaudreau stretched the lead to 3-0 with his second of the game before the midway point of the first period. Collecting the puck at center ice, Gaudreau burst down the left side, leaving DU's David Makowski in his wake. The junior then sliced behind the DU net, and before Brittain could recover, tucked the puck neatly inside the right post for his 34th of the season.
The trend continued in the second, when Hayes got his second. Gaudreau's pass from the corner glanced off Arnold to Hayes, who took it in stride and fired a dart into the top right corner at 5:29. Gaudreau then completed his hat trick at 8:13.
Brittain made a dandy right pad save on defenseman Michael Matheson as he slashed across the crease, but Gaudreau was Johnny on the spot. The junior from New Jersey pounced on the rebound, and fired a shot from behind the goal line that caromed off a prone Brittain and into the DU net for a 5-0 BC lead.
At 15:35, Arnold got into the act, beating his man down the ice and converting a perfectly weighted pass from Hayes to put the game completely out of reach, 6-0.
The Pioneers got a goal back in the final minute of the middle frame when Trevor Moore snuck a backhander past BC's Thatcher Demko while the freshman netminder was distracted by his defenseman Ian McCoshen and DU's Ty Loney tangled in the crease.
However, Montgomery all but sent up the white flag to start the third, pulling his senior netminder for freshman Evan Crowley. The Pioneers, playing to the final whistle, cut the final margin to four with only 13.4 seconds remaining, when the puck deflected off DU's Evan Janssen and past Demko. But it would be the last goal of Denver's season.
Sunday, it will be another team's turn to try to stop Gaudreau and his BC Eagles.
January, 12, 2013
1/12/13
12:32
AM ET
By
Brion O'Connor
| ESPNBoston.com
CHESTNUT HILL -- After a three-game hiatus, the Johnny Gaudreau Show returned to Boston College on Friday, as the superb sophomore led the Eagles to a convincing 5-2 win over Hockey East rival No. 4 New Hampshire before a crowd of 7,884 at Conte Forum.
It's been an uneven semester break for the No. 3 Eagles (13-3-2; 10-2-1 Hockey East), full of highs and lows. Head coach Jerry York secured the all-time wins record on Dec. 29, only to see his Eagles manhandled the next night as they lost, 8-1, to Minnesota. A 3-3 tie against the Yale Bulldogs at home on Jan. 4 did little to rally the BC faithful before Friday's marquee matchup with New Hampshire (13-4-2; 8-3-1 HE).
And just when BC got some reinforcement in the form of Gaudreau, fresh off his gold-medal performance in the World Junior Championships in Russia (where he was Team USA's leading scorer with seven goals), the Eagles lost York for the weekend due to outpatient eye surgery. However, York has always maintained that players win games, and it was Gaudreau who played the pivotal role in BC's thumping win, collecting three points on a goal (the game-winner) and two assists as the game's No. 1 star.
"It's pretty nice to have him back," said BC captain Pat Mullane, the recipient of two seeing-eye passes by Gaudreau that led directly to goals. "He makes some special plays. He sees the ice better than just about anyone I've ever played with.
"When I give him the puck, it's my job to get open, and find those lanes, and if I do my job, Johnny's just so good at making those special passes," Mullane continued. "And he did that tonight."
BC associate head coach Mike Cavanaugh, who along with associate head coach Greg Brown ran the BC bench in York's absence, said the influence Gaudreau has on the Eagles can't be discounted.
"Johnny is about as humble a superstar as you're going to find," Cavanaugh said. "He'll probably be upset that I called him a superstar, but he just wants to be one of the guys. That's his really unique trait. He's such a fun hockey player to watch, but he really just wants to be one of the guys, and he gets so much respect from our players. He clearly lifts our team when he's playing."
[+] Enlarge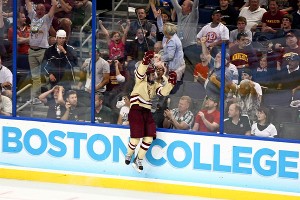 Douglas Jones/USA TODAY SportsJohnny Gaudreau, pictured above after scoring a goal in BC's 2012 Frozen Four championship win over Ferris State, didn't miss a beat upon rejoining the Eagles after the World Junior Championships.
York had a hunch that New Hampshire would be a contender this season, casting his preseason coaches' poll ballot in favor of the Wildcats. The early-season success of Dick Umile's squad has proven York's vote prophetic, riding the nation's fifth-best offense and sixth-best defense to a No. 4 ranking in both national polls. On Friday, the Cats jumped out of the gate quickly. Junior Dalton Speelman ripped a wrister off the right wing at the 3-minute mark that beat BC's Parker Milner cleanly but clanked off the post.
At 8:54, UNH broke the ice. Matt Willows forced BC defender Patrick Wey into a turnover behind the Eagles' net, and quickly slipped the puck in front to linemate Jay Camper, who tucked it past Milner for his second on the year and a 1-0 Wildcat lead.
The Eagles got level at 13:29. Forward Bill Arnold (like Gaudreau, a Calgary Flame draft choice) swung wide behind the UNH net before feathering a pass into the slot to a waiting Kevin Hayes, and the junior from Dorchester sizzled a shot past Casey DeSmith's glove. Milner (31 saves) kept the score tied with a dandy right pad stop on UNH's Austin Block at 16:20.
A minute later, Gaudreau began to put his imprint on the game, recording points on the next three goals. With a UNH defender draped on his back, Gaudreau slipped a slick backhand pass to Mullane, who wasted no time in roofing the puck over DeSmith's right shoulder for a 2-1 BC lead.
"He's a very cerebral player," said BC's Brown. "He really sees things a little earlier than everyone else. Some guys have anticipation; his anticipation is a little quicker than everyone else's. So he puts himself in terrific positions, and then he's got the skill level to carry it through once he does get the puck."
BC stretched its lead to 3-1 at 5:01 of the second. Moments after Mullane missed a tip-in at the left post, Gaudreau was sent in alone by a nice touch pass from BC's Destry Straight. Before UNH defender Brett Pesce could close him down, Gaudreau went to his backhand and went top shelf over DeSmith's glove for his 12th goal of the season.
"Coming back here (after the Worlds), playing with Steve (Whitney) and Pat, I think we've got a pretty good connection, and a pretty good feel for each other," Gaudreau said. "So it was pretty exciting to get back to see if we still had it."
They did. The Eagles effectively salted the game away at 15:43, with Gaudreau again the catalyst. Gathering a loose puck from Whitney deep in the right corner, Gaudreau spun around and rifled a perfect pass past two UNH players to Mullane at the doorstep, and the senior from Connecticut tapped it past DeSmith for a commanding 4-1 lead.
"Obviously, they're a real good hockey team," Umile said. "We can't give them odd-man rushes, and when you do, that's what they do. They bury them."
With less than 15 seconds left in the middle stanza, Arnold (two points on a goal and an assist) took a behind-the-net feed from Hayes and stuffed the puck past DeSmith to put the game out of reach.
New Hampshire cut the lead to three just 37 seconds into the third period, when junior Kevin Goumas took a feed from Pesce and snapped a low shot between Milner and the right post. But the Wildcats weren't able to build any momentum off the strike, and BC's counterattack kept them off balance and off the score sheet. UNH's Jeff Wyer finished with eight saves in relief of DeSmith, who stopped 12 BC shots.
York will get credit for career win No. 926, even though he wasn't on the bench (Cavanaugh reported the 67-year-old coach was resting comfortably). The Eagles will look to deliver York win No. 927 when the two teams square off again Saturday night at UNH's Olympic-size rink at the Whittemore Center. And, in a strange twist, the larger ice surface could spell trouble for the Wildcats.
Earlier in the week, when asked what was one of the major differences he found playing in the World Junior Championships, Gaudreau replied: "I think the bigger ice. I can use it to my advantage. We're playing at UNH this weekend, and they have a pretty big sheet of ice, and hopefully I can use that to my advantage like I did out in Russia."
Not exactly a prospect that the Wildcats will be looking forward to, considering what Gaudreau did to them on the smaller ice surface at Kelley Rink. But Goumas said he's looking forward to the challenge.
"Anytime you have a home-and-home series against a team, especially them, atop (Hockey) East and the nation, it's good to get them back at your place if things like tonight don't go well," he said.
"We didn't play our best game tonight, especially defensively, and we better wake up tomorrow night," Umile said.